Cheesy Cajun chicken with potatoes. Ground chicken and potatoes cooked together in this phenomenal one pot dish. Jazzed up with Cajun seasoning and topped with cheddar and mozzarella. Big on flavors with a subtle spicy kick, this hearty dish ticks all the boxes when it comes to an easy 30-minute meal.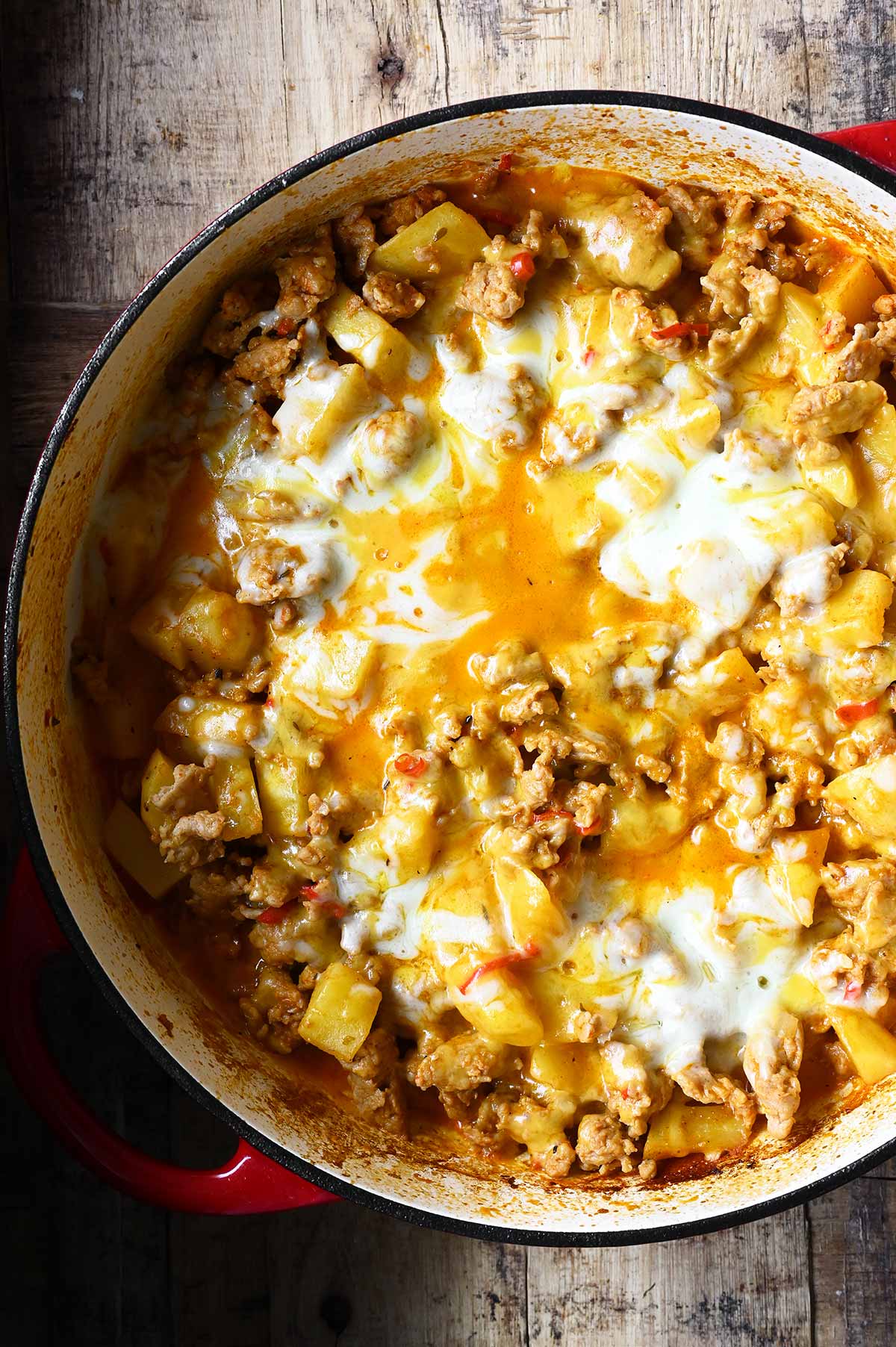 This Cajun chicken and potatoes skillet is pretty much one of the easiest and tastiest weeknight dinners. Made in one skillet for amazing flavors! 30 minutes is all you need to transform ground chicken and potatoes into a flavor-packed meal the your whole family will love. Plus, it requires almost zero cleanup.
It's hard not to love a dish that starts with 'cheesy' and has 'Cajun' somewhere in the middle. These juicy chicken potatoes will have you falling hard for them. The recipe is built on everything my family loves, and I hope you'll love it too.
On the surface, one skillet meals are simply a gift to the home cook. Their prep and cleanup is minimal and the ingredients are simple. But one bite of the juicy, Cajun-flavored chicken with its cheesy coating and hint of spicy flavor, will ensure that everyone at the table loves it. Because this recipe is so easy to make in big batches, it's one of those marvelous meal prep recipes. Serve with a leafy side salad for a hit of green.
Let me guide you through the recipe with this step-by-step VIDEO.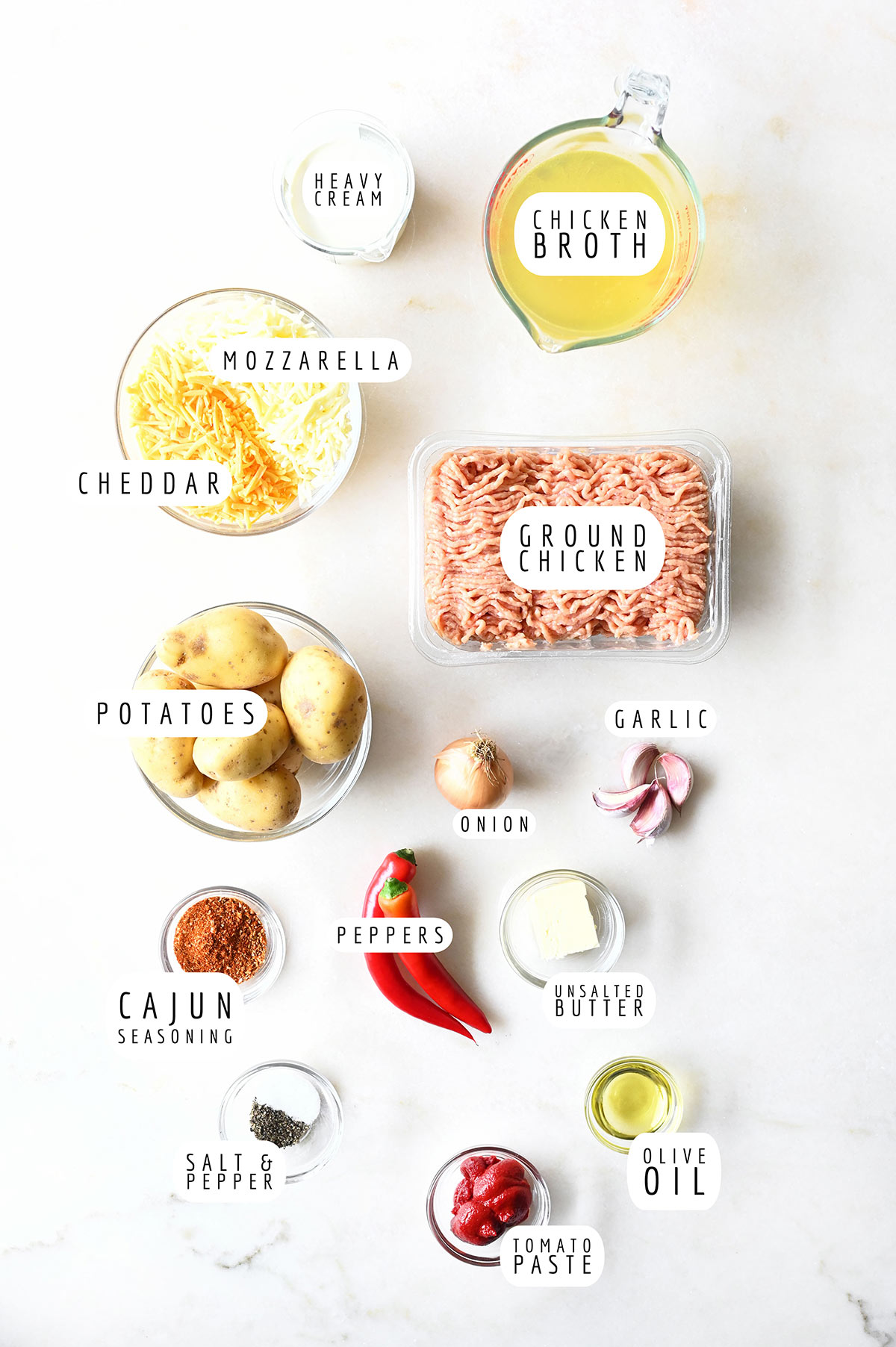 Ingredients, Tips & Substitutions
Potatoes: You can use any type of starchy potato, like Russet, Yukon or red potatoes.
Ground Chicken: If you happen to have ground beef or pork on hand, it will work well too in this recipe.
Onion and Garlic: To add extra delicious flavors.
Cajun Seasoning: You can use store-bought or make your own to get the right balance of flavors. You can find my favorite blend in the recipe notes.
Seasoning: Salt and black pepper.
Tomato Paste: To create a tomatoey broth.
Chili Peppers: I used mild red chili peppers, you can substitute with 1/4 teaspoon chili flakes or if you don't like hot dishes, add red bell pepper.
Oil and Butter: To brown the potatoes and add as much flavor as possible to the whole dish.
Chicken Broth: You can substitute it for vegetable broth, but I recommend not to use only water.
Cream: You can use heavy cream or 20% fat cream.
Cheese: A mix of mozzarella and cheddar. You can also use Swiss cheese, Gouda, Fontina, Monterey Jack, Gruyère or Provolone.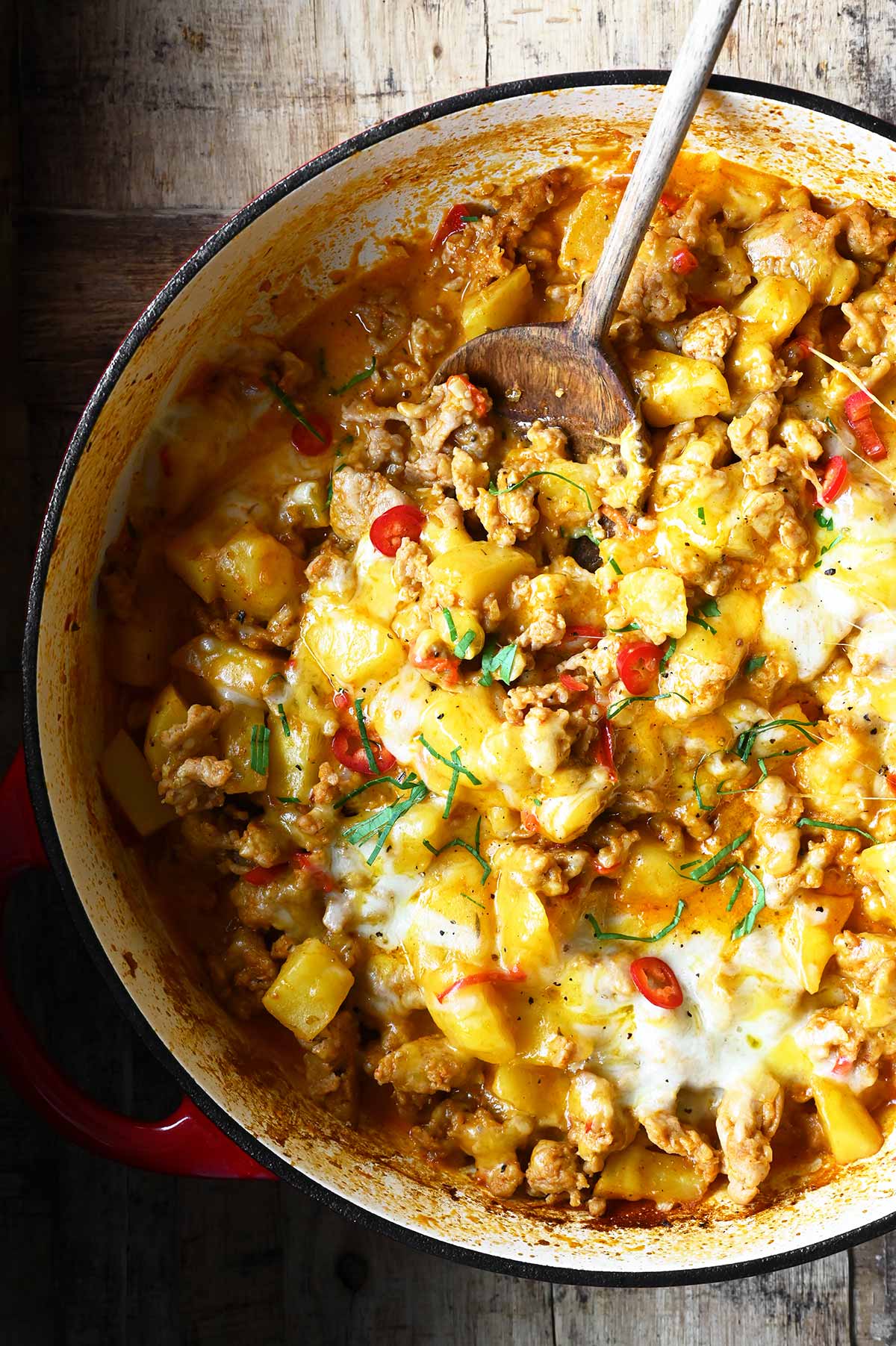 Recipe Notes
Serve with a big leafy salad drizzled with caesar dressing or with a tomato salad.
Use more veggies like zucchini, carrots or bell pepper.
Make it spicy: Feel free to use hot chili peppers or add some chili flakes.
Make your own Cajun spices: 2 tbsp smoked paprika, 2 tsp each onion powder + garlic powder, 1 tsp each dried thyme + dried oregano + salt + black pepper + cayenne pepper + chili powder + ground cumin.
Storage: Store leftovers refrigerated in an airtight container for up to 3 days.
For meal prepping: Store in the freezer in airtight containers for up to 3 months. Let thaw completely before reheating.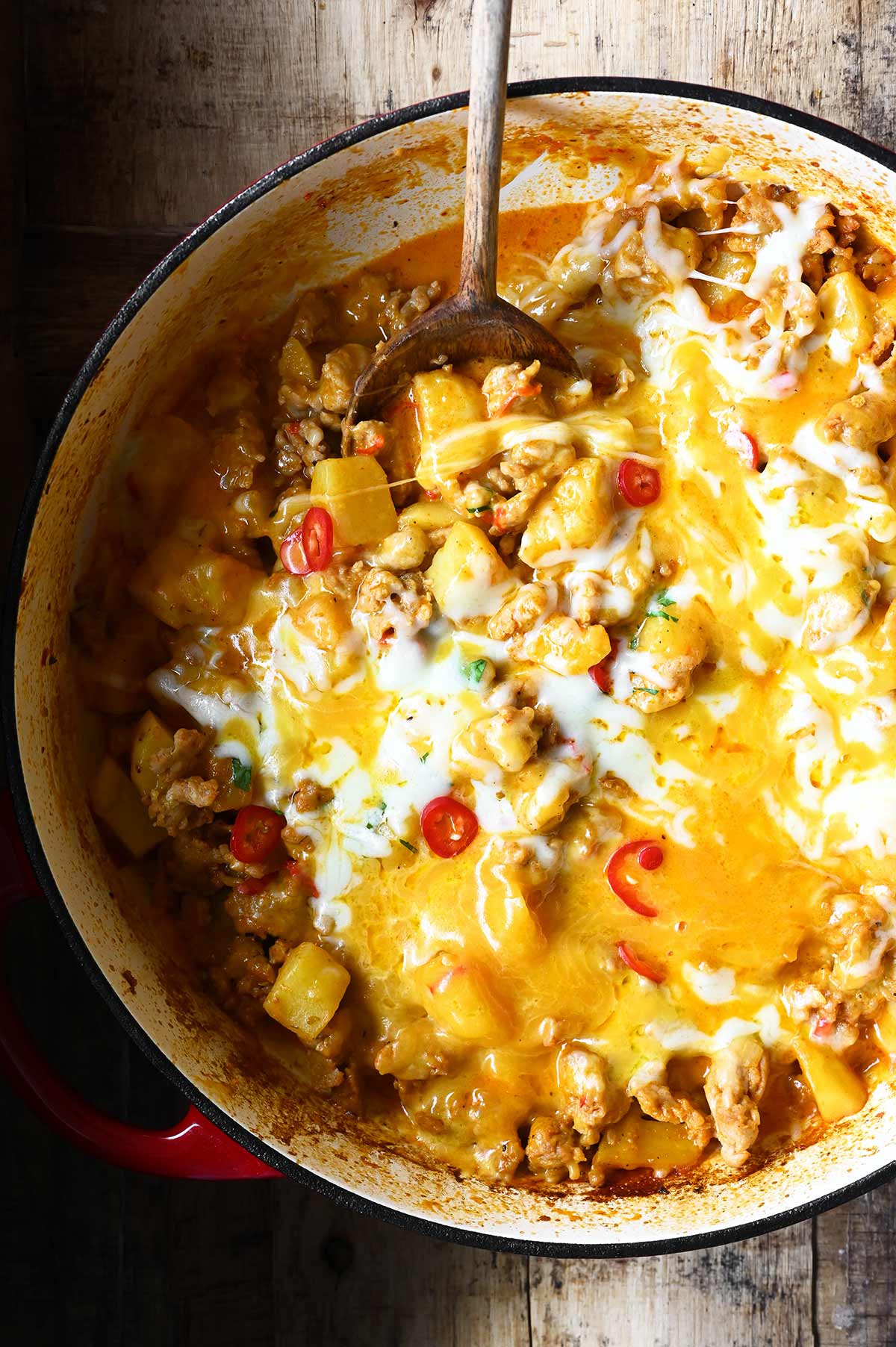 Try These Next
Cooking Video
Yield: serves 4
Cheesy Cajun Chicken with Potatoes
Ingredients
1 tbsp unsalted butter
1 tbsp olive oil
1.1 pounds/500 g starchy potatoes, peeled and diced
1.1 pounds/500 g ground chicken
2 tbsp Cajun seasoning
¼ tsp salt
1 tsp black pepper
1 medium yellow onion, finely chopped
4 garlic cloves, minced
2 tbsp double concentrated tomato paste
2 mild red chili peppers, chopped
1 ½ cups/360 ml chicken broth
½ cup/120 ml heavy cream
1 ½ cups/180 g cheese mix, cheddar and/or mozzarella
chopped parsley, for serving (optional)
Instructions
Get your prep done before you start cooking. Peel and dice the potatoes. Finely chop the onion and mince the garlic. Deseed and chop the chili peppers.
Heat oil and butter over medium in a large heavy bottomed skillet or pan. Add potatoes and cook until golden brown, about 5 minutes. Remove from skillet.
To the same skillet, add ground chicken and break up into pieces. Cook until the meat starts to brown, about 3 minutes. Add salt, pepper, Cajun seasoning, garlic and onion. Stir to combine and cook for 2 minutes.
Next, stir in tomato paste and add chili peppers. Return potatoes to the skillet and stir to combine. Pour in chicken broth, cover the skillet with a lid and cook over medium low for about 10 minutes until the potatoes are tender.
When ready, sprinkle cheddar and mozzarella on top, close the lid and let it melt completely over low for about 3 minutes.
Top with parsley and serve immediately while still hot with a big side salad. Enjoy!
Notes
Calories Per Serving: 616 kcal
Nutritional information is only an estimate. The accuracy of the nutritional information for any recipe on this site is not guaranteed.

//= __('Print recipe (no photos)', 'servingdumplings' );?> //= __('Print recipe (with photos)', 'servingdumplings' );?>