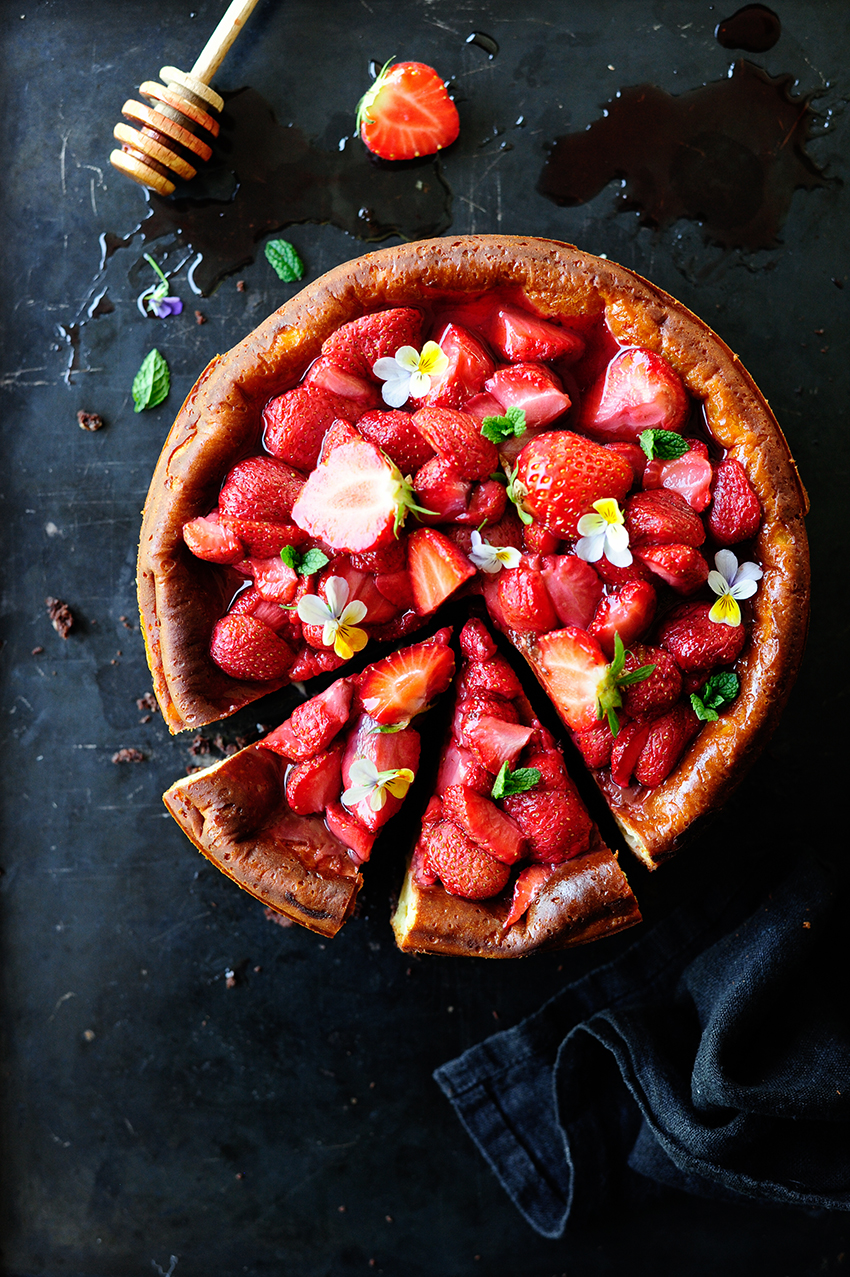 I wanted to make a chocolate bottom cheesecake. And I mean not a common chocolate bottom, but a dense and fudgy brownie! I also added some strawberries, baked it shortly in the oven, topped it with cheese, put it back in the oven and after thirty minutes my kitchen started to smell amazing and the cheesecake was golden brown. But, as if that was not enough, I decided to garnish the top with roasted strawberries. Strawberries baked in the oven are wonderful, the high temperature gives the berries a very intense flavor, leaving the sweetest and softest fruit you will ever taste. I mean, you've got to be addicted by now, I sure am!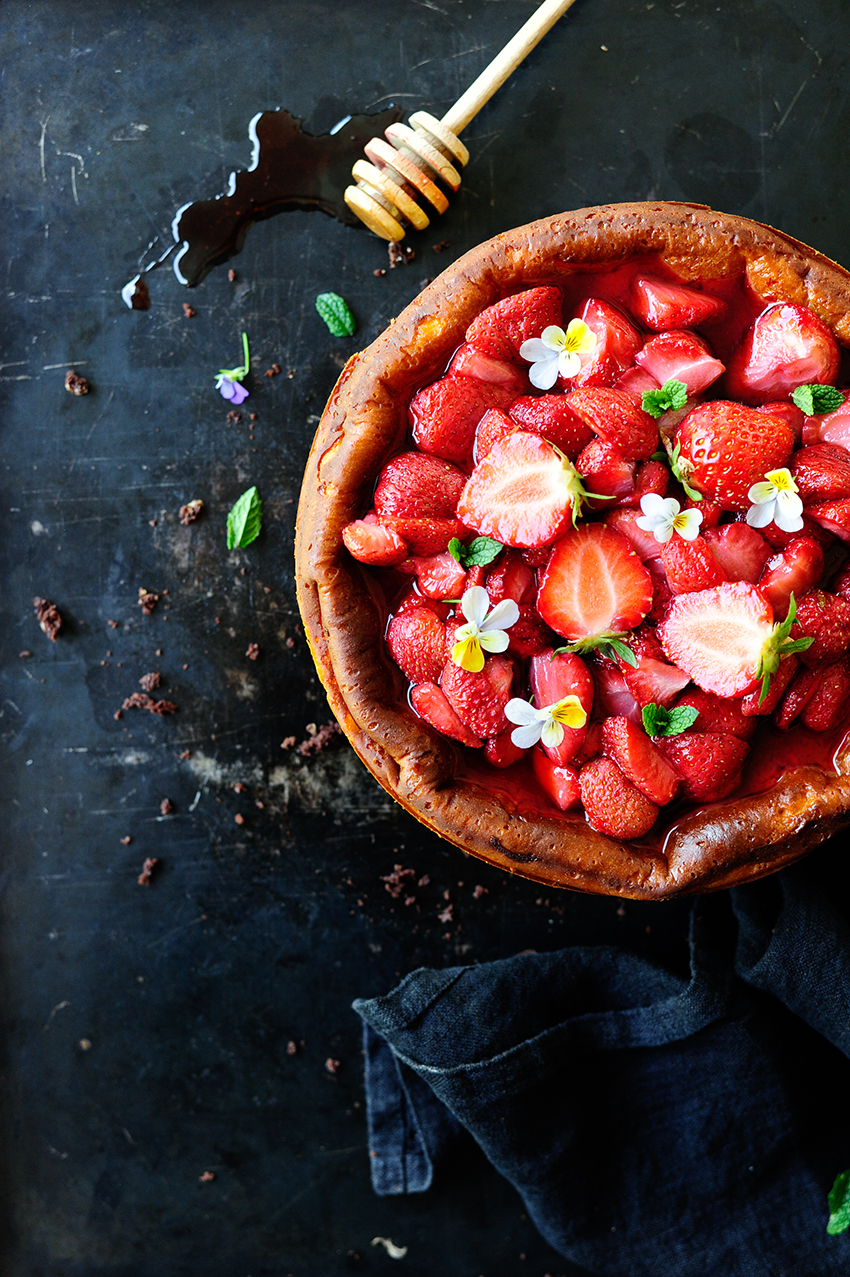 Ingredients
brownie dough
1 organic egg
140 g sugar
1 teaspoon vanilla extract
1 teaspoon vegetable oil
100 g Greek yoghurt
60 g flour
45 g cocoa powder
100 g strawberries, cut into small pieces
cheese filling
250 g fat natural quark cheese
100 g  Greek yoghurt
2 organic eggs
2 egg yolks
100 g sugar
1 tablespoon potato starch
roasted strawberries
200g strawberries
1 tablespoon honey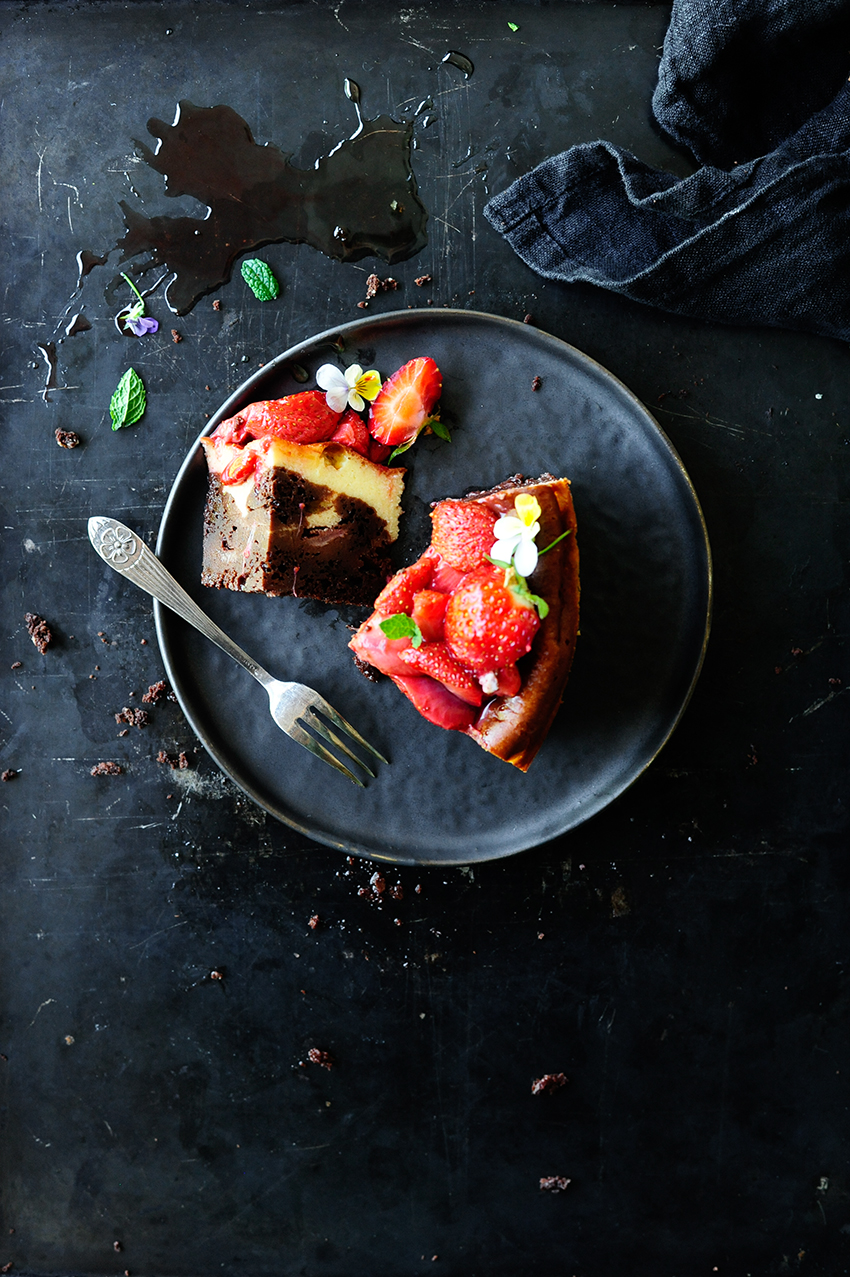 Instructions
Preheat the oven to 180°C.
Beat the egg with the sugar until the mixture has thickened and turned into very pale yellow. Add yogurt, vanilla extract and oil. Sift the flour and cocoa, combine into a homogeneous mixture. Add the strawberries and stir gently. Line a 20 cm springform pan with baking paper and grease the sides with butter. Pour the batter into the pan, place in the oven and bake for 20 minutes.
Beat the eggs, egg yolks and sugar until the mixture has thickened and turned a very pale yellow. Add cheese, yogurt and potato starch, stir gently with a spatula. Pour the cheese filling  onto the brownie and put back in the oven for 20 minutes. Then reduce the temperature to 150°C and bake for 50 minutes more. Allow to cool.
Cut the strawberries in half, place on a baking sheet lined with baking paper and bake for 15 minutes at 160°C. Let chill slightly and than top the cheesecake with the roasted strawberries. Enjoy!