Manchego cheese polenta with shrimps and chorizo. A garlic butter sauce with green olives and cherry tomatoes. Beyond any doubt a 20-minute knock-out flavor bomb.
There are about as many polenta recipes as there are reasons to love it. It's quick to cook, creamy with a nice texture and it can take on so many flavors. Spicy chorizo? Check. A butter sauce? Check. Garlicky shrimp? Double check.
This recipe is great for busy weeknights or that (virtual) dinner party you're planning. The hardest thing about this recipe? Deciding how many times per week you want to eat this polenta. If you're always excited about shrimps or a creamy polenta, then this recipe is made for you. It's easy to make and delicious, you can throw it together whenever the craving strikes.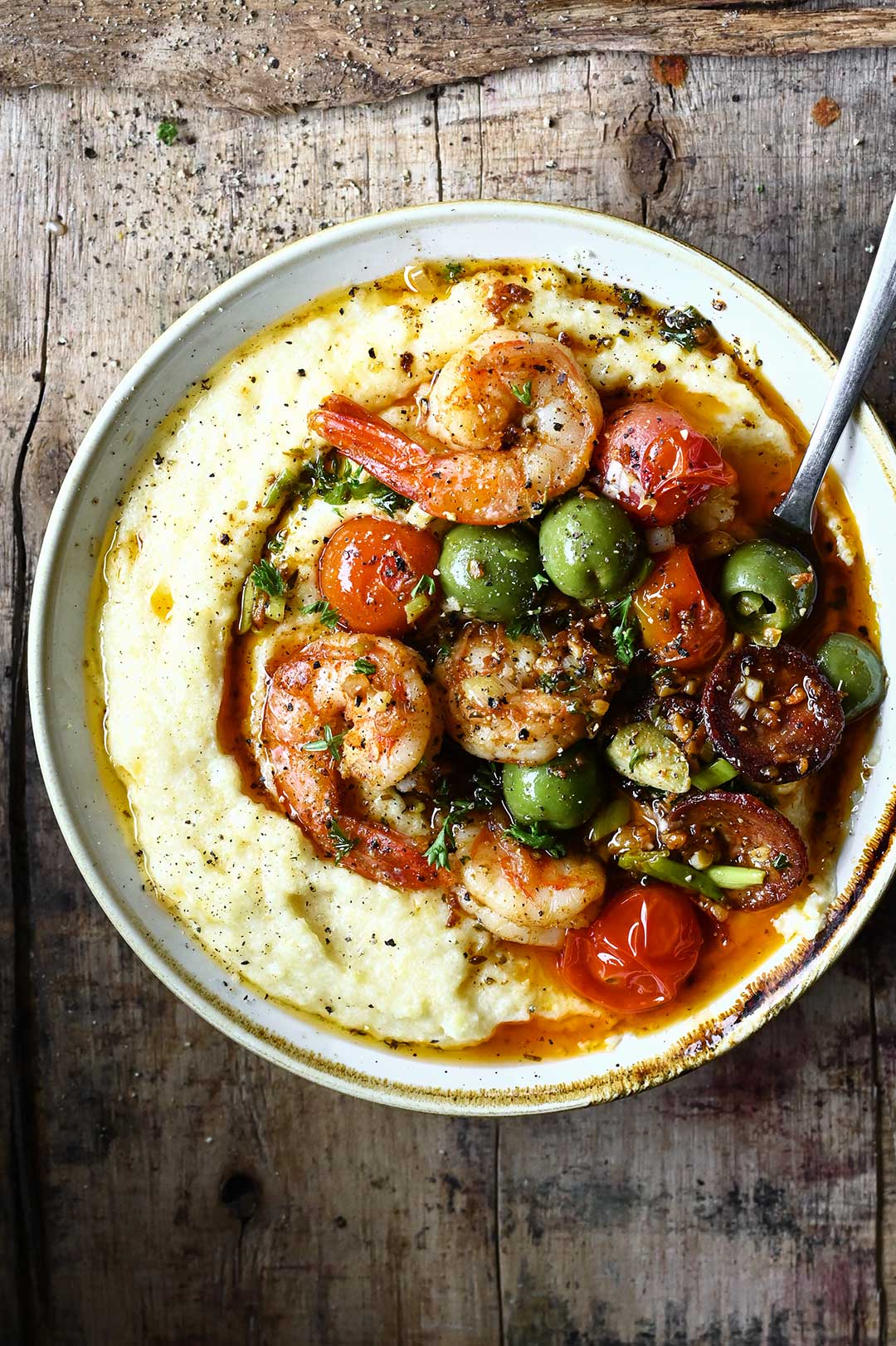 First we fry the chorizo, add shrimp, then garlic and the spices, this will add a lot of depth to the sauce. Next we throw in the cherry tomatoes and olives, and cook everything together for a couple of minutes. When the tomatoes start to burst, we help them a little by pressing down the tomatoes with a wooden spoon to release their juices and create a flavorful sauce that makes for nice tender bites.
Lastly, we make the polenta. Instant polenta works really well in this recipe, you'll only need 2 minutes to boil it, then stir in Manchego cheese and some butter. Done.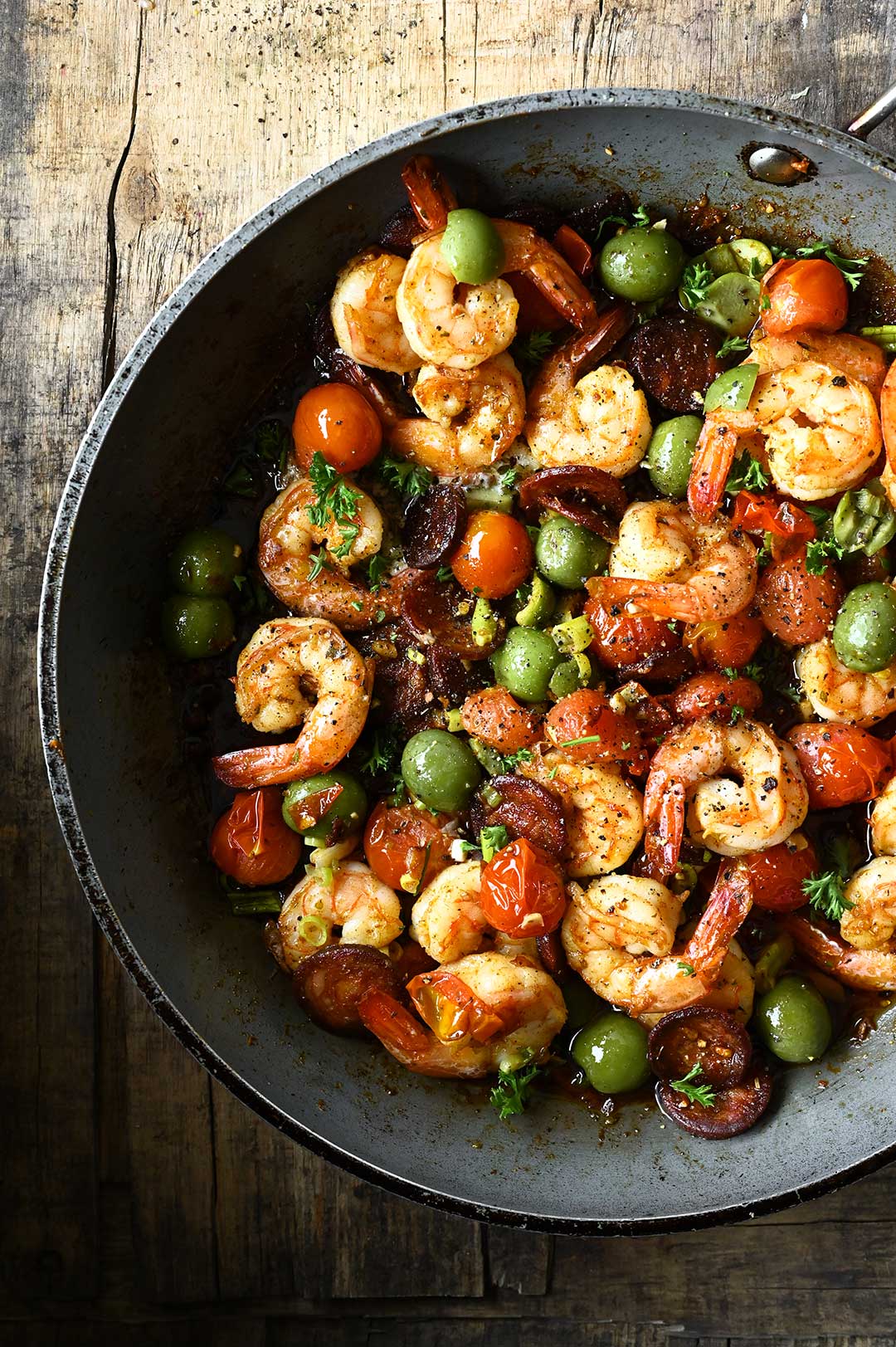 You can use kielbasa or bacon in this recipe, but spicy chorizo gives this polenta a nice kick.
Can't find Manchego cheese? Use fontina cheese, pecorino, mozzarella or mild cheddar.
Got some leftover mashed potatoes? Use them instead of polenta and just add some cheese.
Let me guide you through the recipe with this  step-by-step VIDEO
More delicious polenta recipes:
Creamy Parmesan polenta with roasted vegetables
Polenta with Creamy Miso Mushrooms and Sun-Dried Tomatoes
Creamy Parmesan polenta with beer sautéed mushrooms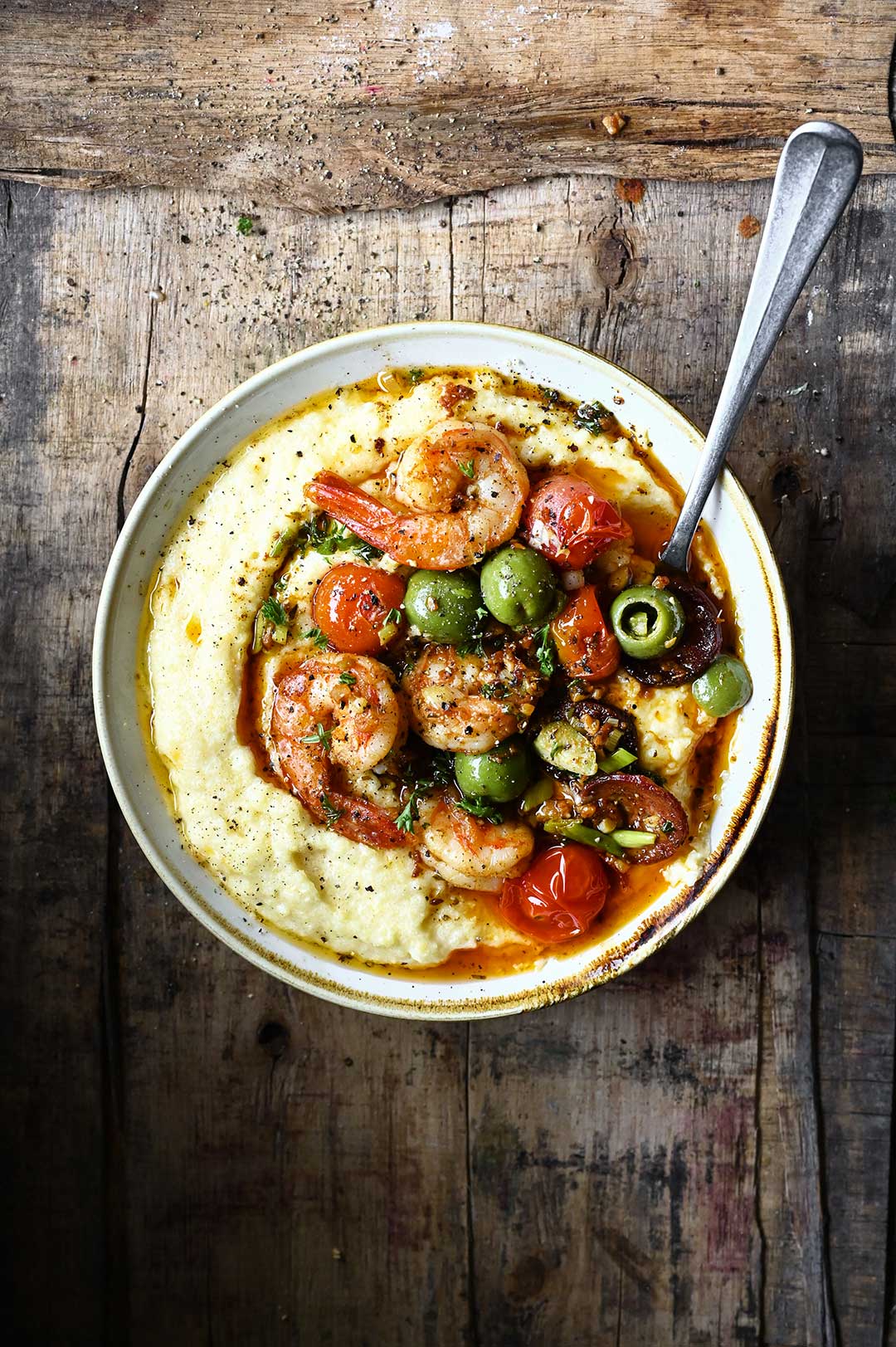 You need
polenta
200 g (1 cup) instant polenta
400 ml (1 3/4 cup) milk
400 ml (1 3/4 cup) unsalted chicken broth
130 g (4.7 oz) grated Manchego cheese
2 tbsp unsalted butter
sea salt + black pepper
chorizo & shrimp
450 g (1 pound) shrimp, peeled and deveined
100 g (3.5 oz) spicy Spanish chorizo sausage, cut into slices
150 g (5.2 oz) green olives, pitted
200 g (7 oz) cherry tomatoes
4 garlic cloves, minced
olive oil
2 tbsp unsalted butter
1 tsp each: dried oregano, smoked paprika, cayenne pepper
1 tbsp lemon juice
4 scallions, chopped
fresh parsley, for serving (optional)
How to
Let me guide you through the recipe with this  step-by-step VIDEO
Heat 3 tbsp olive oil in a large skillet. Add chorizo, cook for 1 minute over medium-high heat. Then slide chorizo a little aside and add shrimp. Cook for 2 minutes, tossing often. Add garlic, sauté for 1 minute, stirring often. Add more olive oil, about 3 tbsp. Stir in oregano, smoked paprika and cayenne pepper. Season with salt and pepper.
Add cherry tomatoes, cook about 2 minutes or until the tomatoes start to burst. Don't forget to stir from to time, you don't want to burn anything as we are cooking on high heat constantly. Press on the back of the tomatoes with a wooden spoon to release their juices and stir to combine. Stir in olives, scallions, lemon juice and butter. Set aside.
In a saucepan, bring chicken stock and milk to a boil. Slowly whisk in the polenta, stirring continuously, about 2-3 minutes, over low heat. Stir in butter, Manchego cheese, salt and black pepper. Turn off the heat, cover and let stand for 1 minute. If the polenta thickens too much, thin with some additional milk or chicken stock.
Divide polenta over bowls, top with chorizo and shrimp mixture. Serve!