Charred cherry tomatoes with burrata. Imagine saucy, still-warm roasted tomatoes played up with roasted garlic and a big shot of balsamic vinegar. All this makes for a tangy-sweet sauce that plays nice with the creamy burrata cheese. If you're looking for a quick appetizer, fast lunch or a light dinner, I got you. It's ready in just 25-minutes, it's bright, looks elegant, and tastes just as fancy. Out of burrata? Use ricotta or Greek yogurt. Add some rucola and serve with hunks of crusty bread for a memorable meal.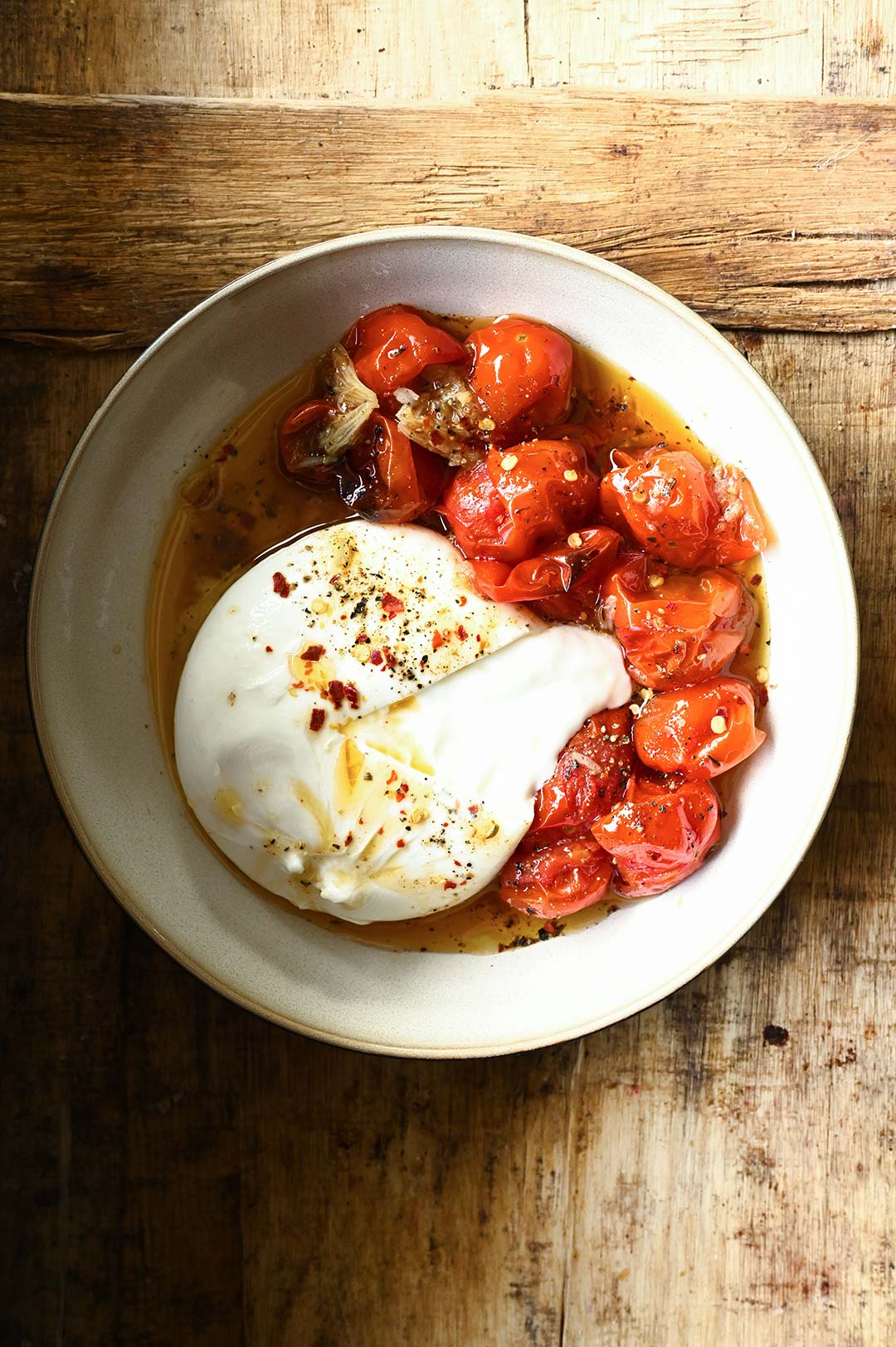 This dish is a simple combination of only a few ingredients. First, cherry tomatoes are roasted just until they start to char, collapse and release their juices. They're jazzed up with smoked paprika, cumin seeds and lots of tender roasted garlic. The only thing left to do is to create some punchy flavors by adding balsamic vinegar, honey and lemon juice. This way the tomatoes caramelize while they roast, which brings out even more of their natural sweetness.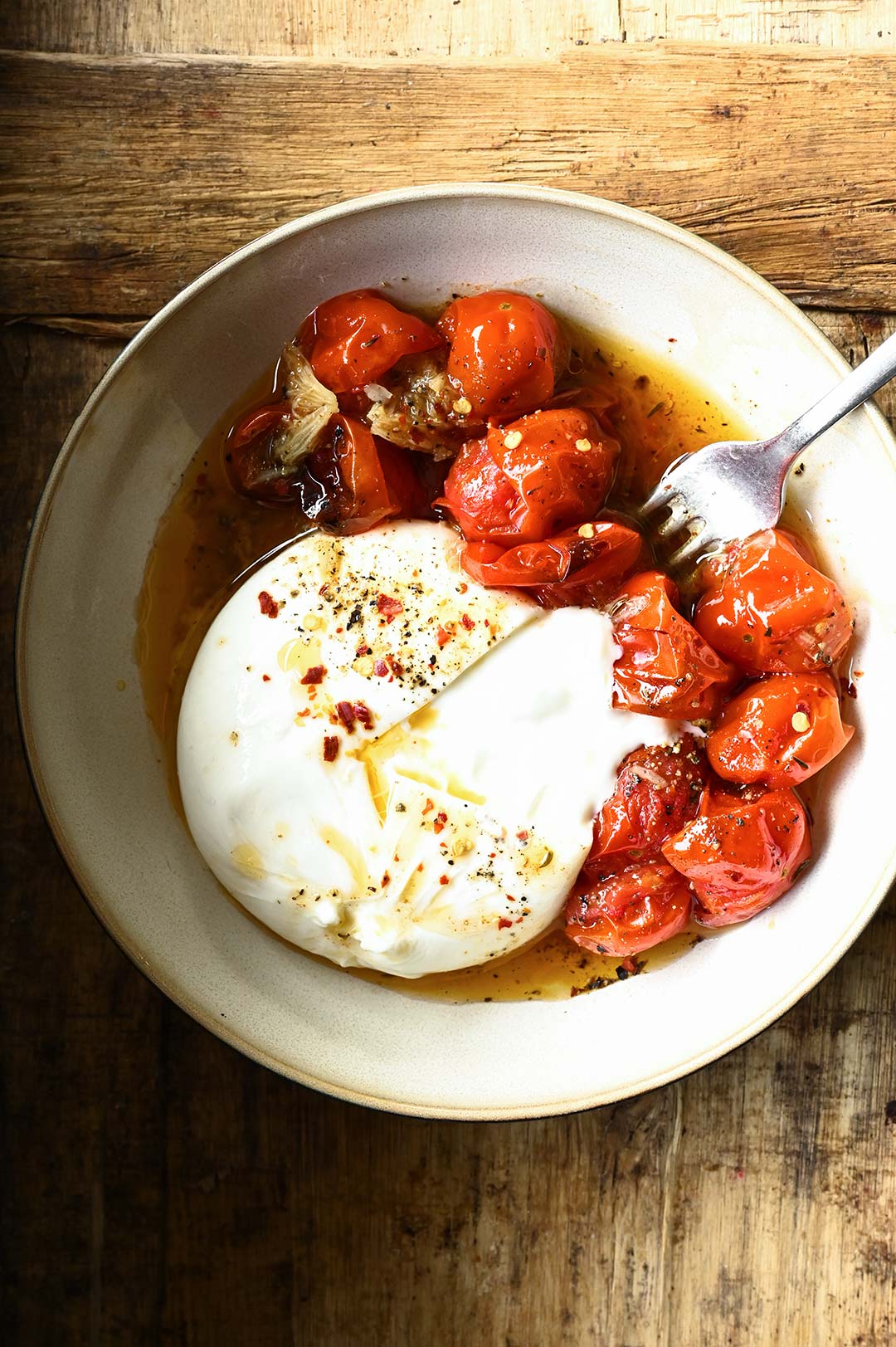 Burrata is a white Italian cheese that looks like the softest mozzarella ball you can imagine, filled with a buttery cream that runs out when you cut it open. If you've had burrata, you know what I'm talking about, and if you have not met it yet, do your best and change that ASAP.
The blackened boiling hot tomatoes combined with cold creamy burrata is one of the most magical things you can imagine. It sounds simple and it is, but it's one of those dishes that once you make it you'll probably end up making it again and again.
Let me guide you through the recipe with this step-by-step VIDEO.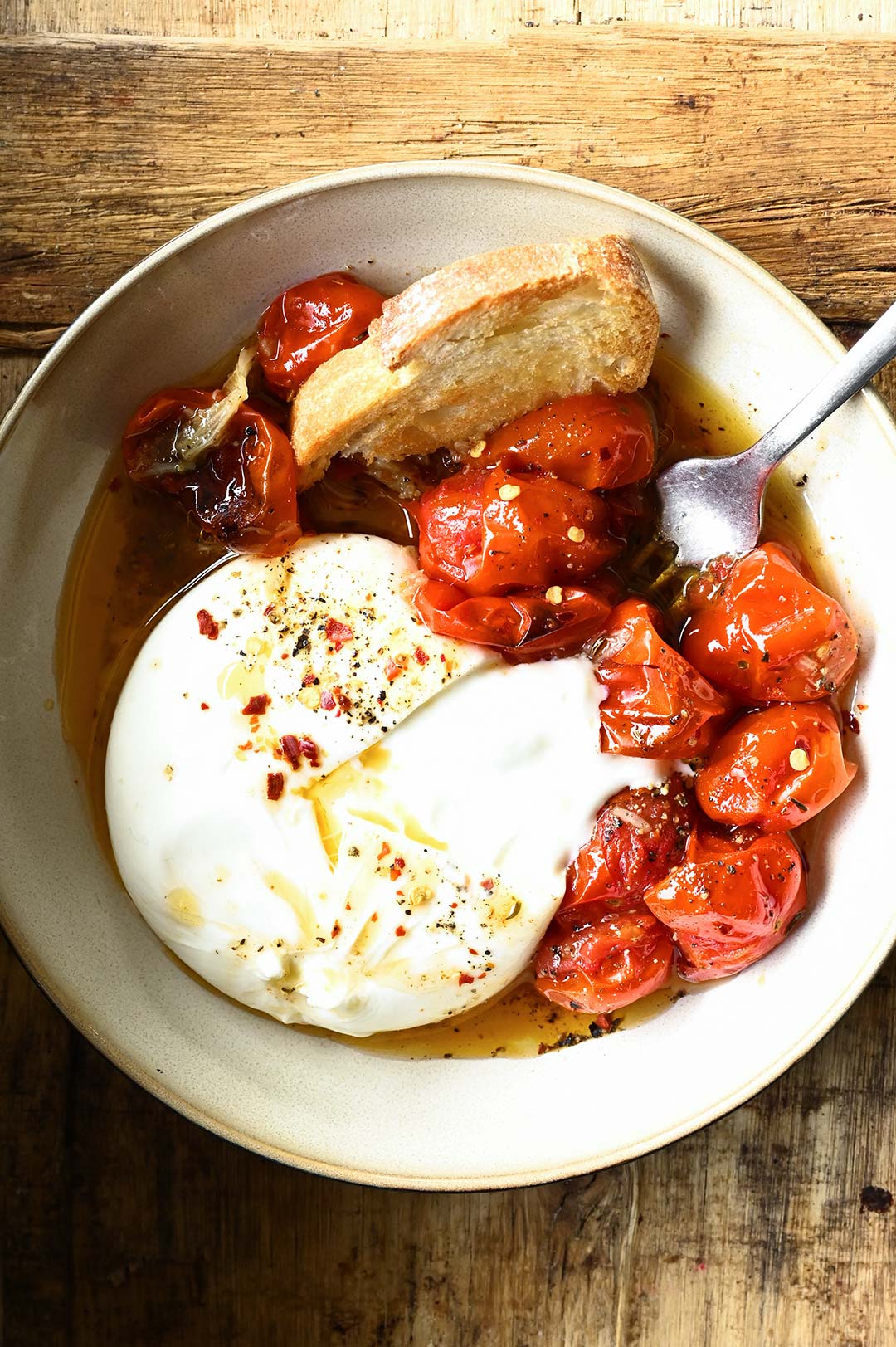 RECIPE NOTES
The beauty of a recipe as simple as this, is that it can be personalized, to change and evolve to suit seasons or whims.
pair with pasta to turn this dish into a main
use cherry tomatoes or grape tomatoes
use whatever amount of tomatoes you have, and however much garlic you like!
burrata is available at cheese shops or well-stocked supermarkets. If you can't find it, get fresh mozzarella instead
you can spoon the tomatoes over almost everything! Try it with ricotta, Greek yogurt, toast with scrambled eggs, grilled fish, steak or chicken fillets
serve with radicchio, rucola or romaine lettuce for a delicious slightly warm salad, and don't forget that crusty bread or flatbread to mop up the last drip of the oil-infused tomato juices
top with pistachios, pine nuts, fresh basil, fresh oregano or thyme
serve as starter, appetizer, lunch or a light dinner
you can easily double the ingredients
Try These Next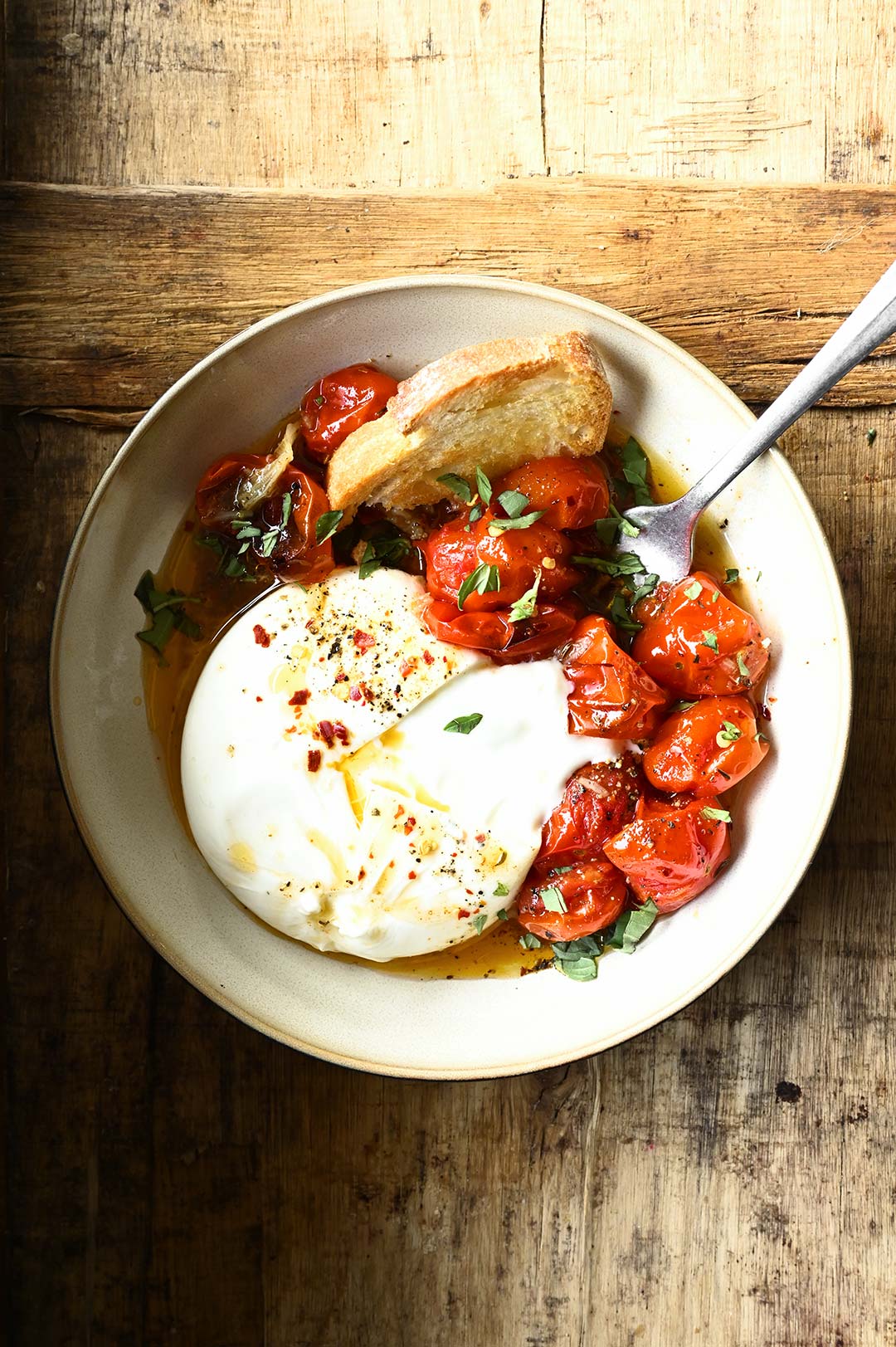 Cooking Video
Yield: serves 4
Charred Cherry Tomatoes with Burrata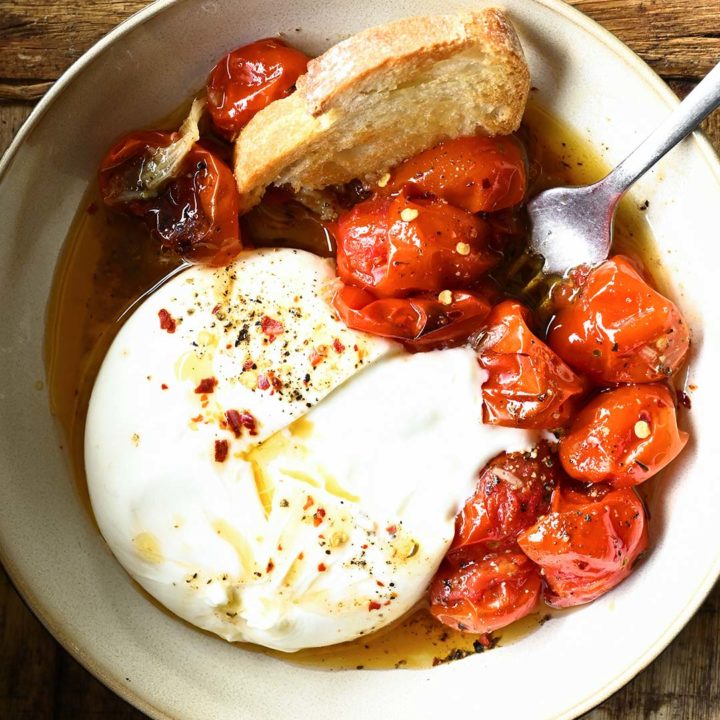 Prep Time 5 minutes

Cook Time 20 minutes

Total Time 25 minutes
Ingredients
500 g/18 oz cherry tomatoes
¼ cup olive oil
1 tsp each: cumin seeds, smoked paprika, dried thyme
3 tbsp balsamic vinegar
1 tbsp honey
1 tbsp lemon juice
4 garlic cloves, unpeeled
2 small or 1 large burrata ball
flaky salt, for serving
freshly ground black pepper, for serving
crushed red pepper flakes, for serving
fresh basil leaves, optional
Instructions
Preheat the oven to 220°C:450°F, non-fan.
In a bowl, combine olive oil with honey, balsamic vinegar, lemon juice, paprika, thyme and cumin seeds.
Place the cherry tomatoes on a baking sheet, sprinkle with the prepared balsamic-honey-oil and add garlic cloves. Toss.
Transfer to the oven, roast for about 20 minutes, or until the tomatoes start to char, collapse and release their juices.
Remove from the oven. Squeeze each garlic clove out of its skin, using a fork. Discard the skin. Mash the garlic with oil.
Place burrata in a shallow bowl, spread the tomatoes and sprinkle with the oil and all of the released juices. Finish off with freshly ground black pepper, red pepper flakes and flaky salt. Serve with some crusty bread, enjoy!
Notes
Calories Per Serving: 203 kcal
Nutritional information is only an estimate. The accuracy of the nutritional information for any recipe on this site is not guaranteed.

DOWNLOAD PRINTABLE RECIPE PDF