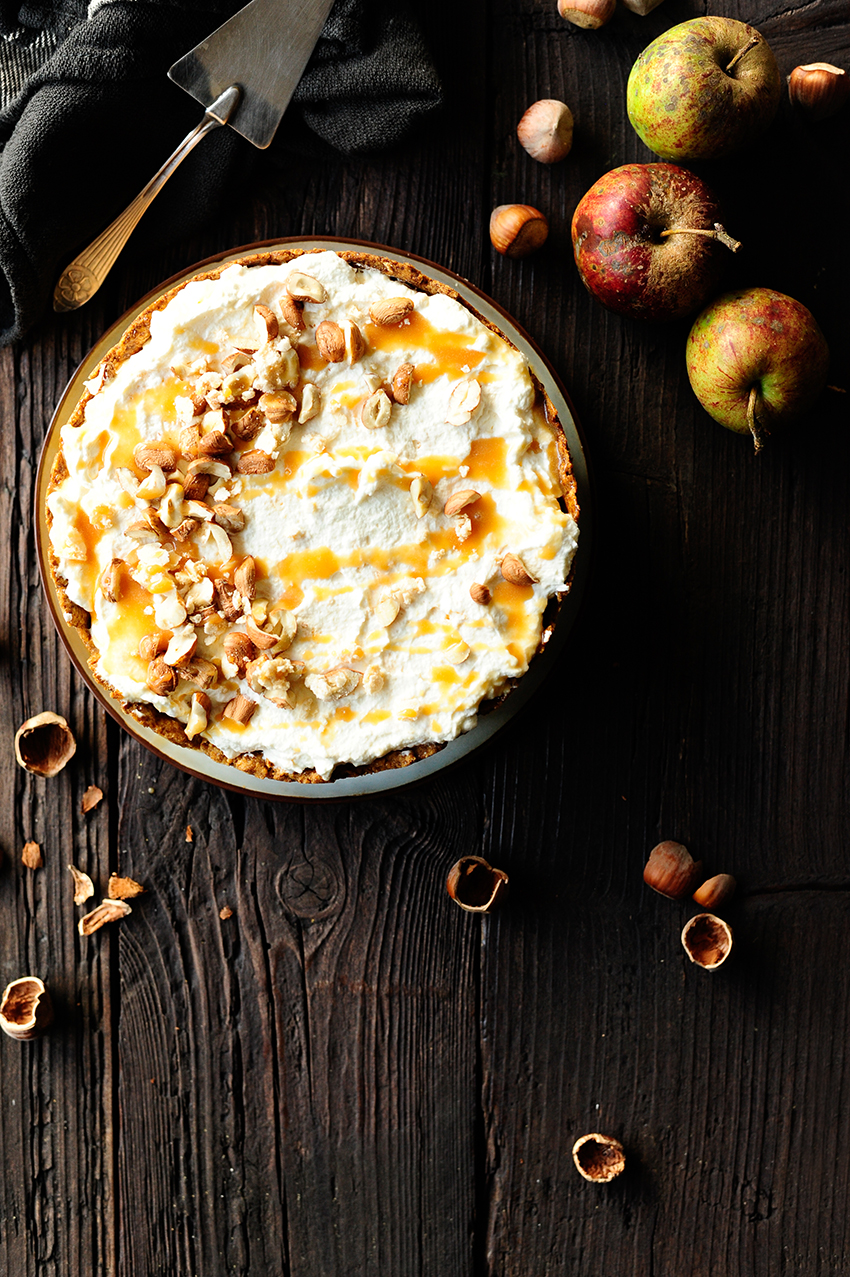 This delicious apple pie has a crispy, buttery dough, a filling of cinnamon apples covered with creamy caramel and airy whipped cream with crushed meringue. It's a tasty apple pie that will charm every one!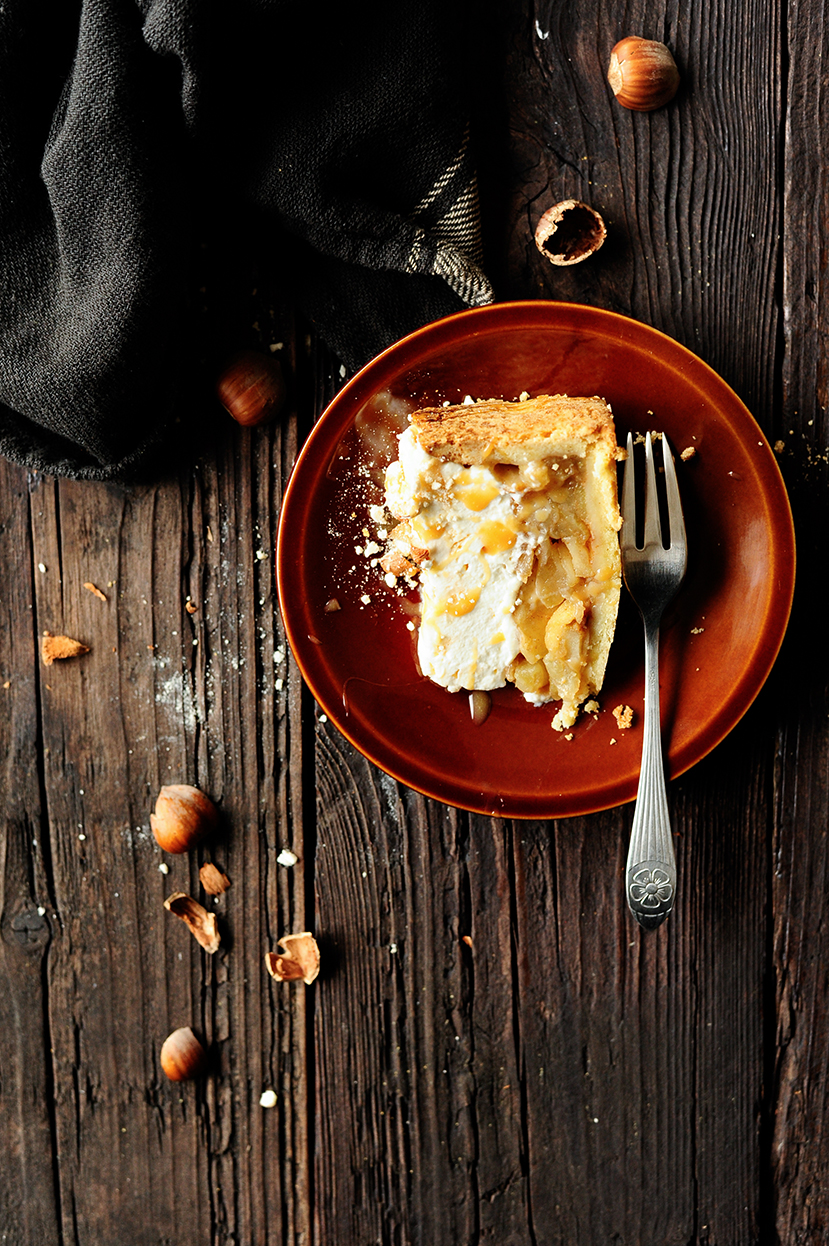 Ingredients
the crust
250 g flour
125 g cold butter
2 egg yolks
50 g sugar
the apple filling
1200 g apples, sour sweet
70 g sugar
1 teaspoon cinnamon
1 tablespoon butter
3 tablespoons lemon juice
the caramel
80 g sugar
30 ml heavy cream
30 g butter
meringue
2 egg whites
100 g sugar
1/2 teaspoon cornstarch
pinch of salt
also
50 g chopped hazelnuts
250 ml heavy cream
3 tablespoons sugar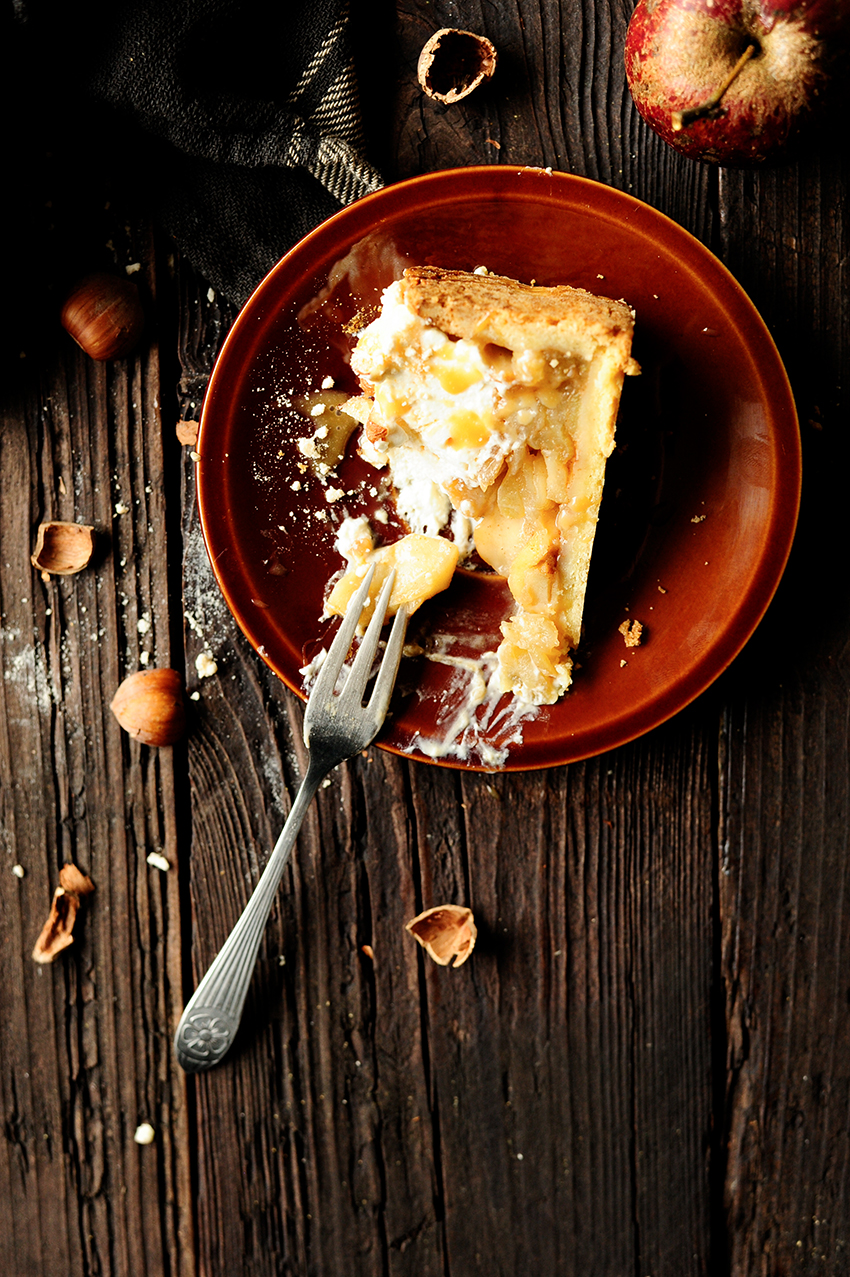 Instructions
In a large bowl, mix together the butter and sugar. Add the egg yolks, sift half of the flour into the bowl and start to knead. Add the remaining flour and knead the dough. Chill for 30 minutes.
In the meantime, peel the apples and cut into thin slices. In a deep frying pan heat the butter, add the apples, sugar, cinnamon and lemon juice. Simmer over medium heat, stirring occasionally, for about 10 minutes.
Grease the bottom and sides of a 20 cm springform pan with butter. Remove the dough from the refrigerator and roll out on a floured pastry board into a 1/2 cm thick circle. Cover the bottom and sides of the pan, make holes with a fork, sprinkle with flour, cover with baking paper and put weights on the cake. Bake for 15 minutes at 200°C. Then remove the paper and weights, bake for another 5 minutes until golden brown.
Remove from the oven, fill the half-bakedcrust with apple mixture and flatten the surface. Bake for 25 minutes at 180°C.
Make the caramel; in a saucepan, dissolve the sugar over medium heat until golden brown, pour the cream, stirring constantly until the caramel is dissolved. Turn off the heat, add the butter and stir until the butter is melted.
Remove the cake from the oven and immediately pour the caramel, leave 1/3 of the caramel for decoration. Set aside to cool.
Meanwhile, beat the egg whites with sugar, salt and cornstarch until stiff. On a baking tray lined with baking paper, form small meringues, leaving space between them. Dry in the oven for 60 minutes at 140°C.
Just before you serve the apple pie, beat the cream with powdered sugar. Crush 3/4 of the meringue and gently stir with the whipped cream. Spread on the apples, sprinkle with chopped hazelnuts, the rest of the crushed meringue and pour the rest of the caramel. Enjoy!