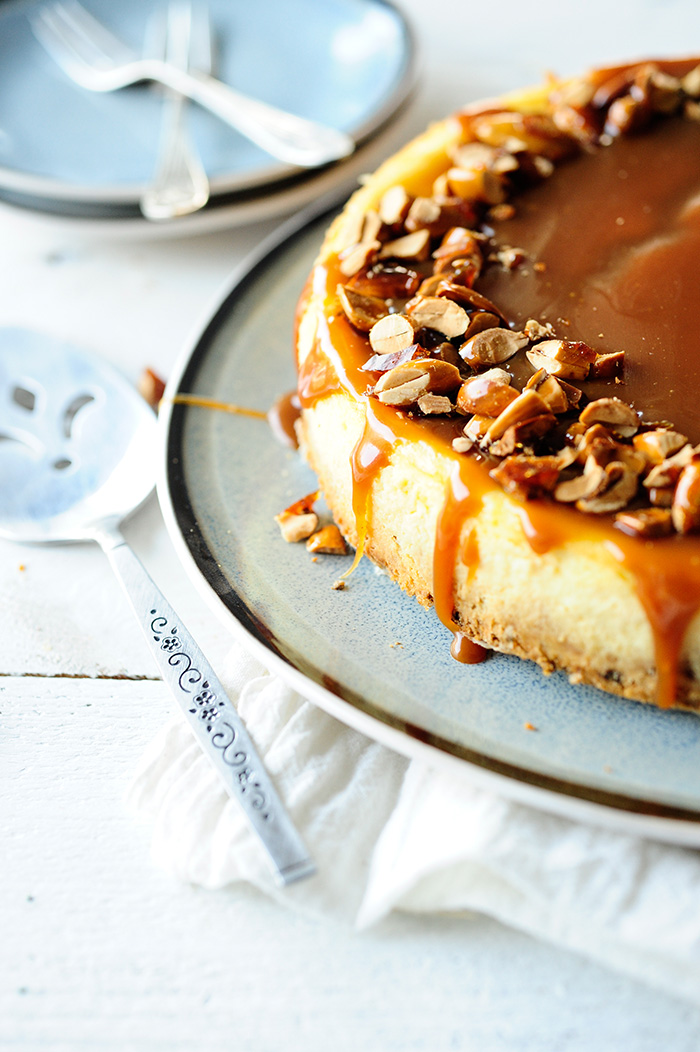 A creamy cheesecake on a delicate coffee flavored cookie crust. Topped with sweet caramel and caramelized almonds. This cheesecake is just perfect, a melt-in-your mouth creamy texture which brilliantly matches with the crunchy nuts.
Ingredients
crust
200 g butter cookies
40 g butter
1 heaped teaspoon instant coffee
cheese filling
500 g cream cheese, Philadelphia
300 g sour cream
150 g sugar
4 farmers eggs
1 teaspoon vanilla extract
caramelized almonds
100 g peeled almonds
50 g sugar
2 tablespoons water
caramel topping
60 g butter
150 g sugar
100 ml heavy cream
Instructions
Preheat the oven to 180°C.
Put the almonds on a baking sheet and roast in the oven for 10 minutes. Set aside.
In a small saucepan, melt the butter and mix with coffee. Blend the cookies, add the butter and mix. Place a sheet of parchment paper on the bottom of the cake pan, press the mixture into the bottom.
In a large bowl, stir the cream cheese, sour cream, sugar, vanilla extract and eggs until light and fluffy. Spoon the mixture onto the crust, spread evenly. Place in the oven, reduce temperature to 150°C. Bake for 80 minutes. Cool with the oven door slightly open.
In a small saucepan, melt the sugar with water, when it starts to brown add the roasted almonds and simmer for another 5 minutes, stirring constantly. Pour onto a baking tray lined with baking paper and set aside to cool. Then chop into small pieces.
Make the caramel topping. Dissolve the sugar in a saucepan over medium heat until golden brown, reduce heat and add the cream, stirring constantly until caramel is melted. Turn off the heat, add the butter, stir until dissolved. Set aside to cool.
Decorate the cheesecake with caramel and almonds. Serve cold straight from the fridge.
Enjoy!
//= __('Print recipe (no photos)', 'servingdumplings' );?> //= __('Print recipe (with photos)', 'servingdumplings' );?>