Cajun garlic butter cod. Incredibly tasty, super easy to make and ready in 20 minutes. Pan-seared cod fillets rubbed with Cajun seasoning then simmered in a mouth-watering garlic butter sauce with asparagus. It's a flavor packed and surprisingly delicious dinner that will knock you off your feet!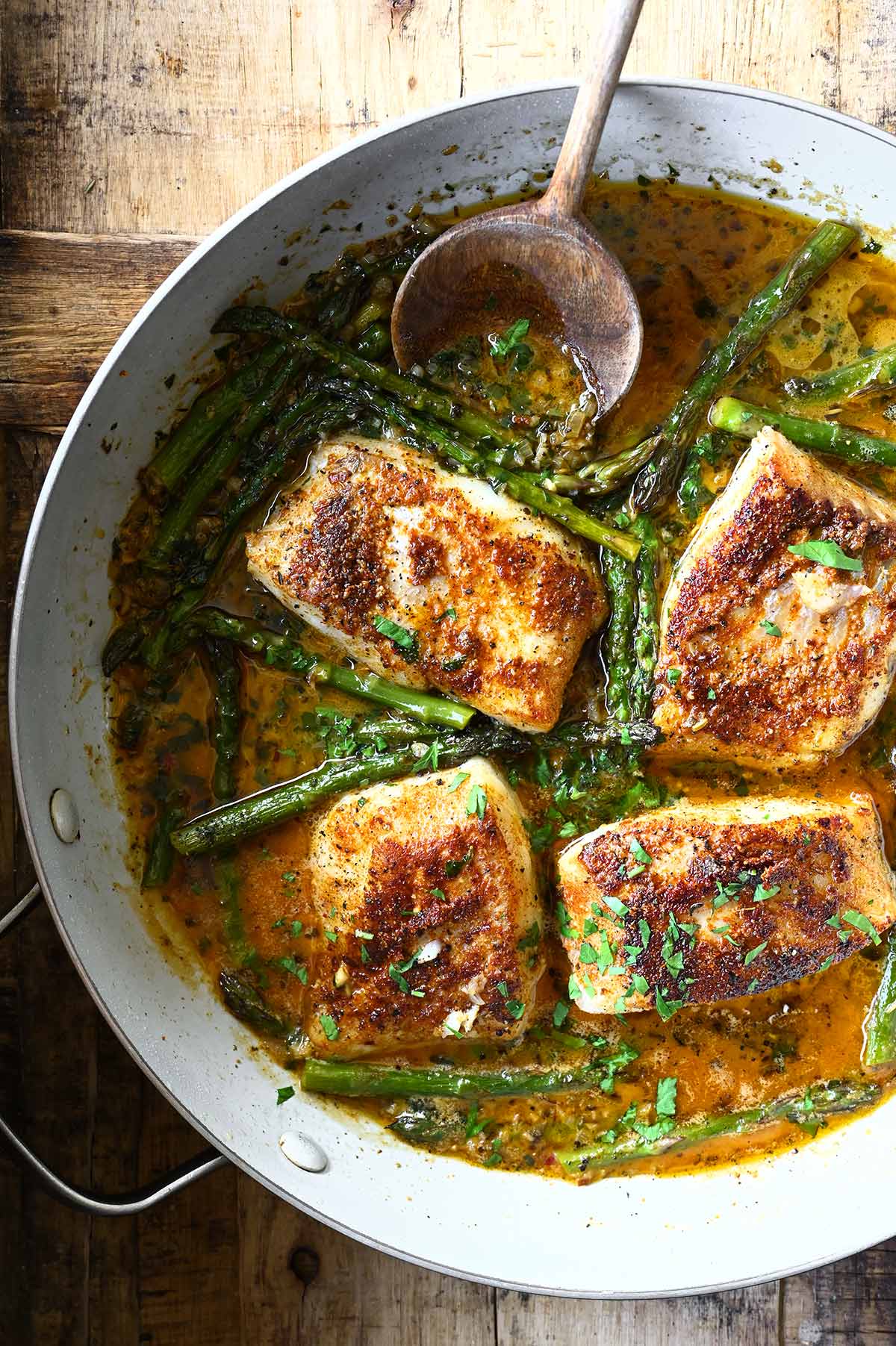 Cod fillets are weeknight dinner superheroes. They cook quickly and are extremely versatile, and feel like a treat every time you set it down on the dinner table. This recipe calls for ingredients you probably already have on hand, like Cajun seasoning, butter, garlic or lemon, which together create a dinner that's just begging to be at the center of your plate tonight.
Pan-seared cod with Cajun spices is so delicious, you get a nice crispy crust with a moist and tender center without a ton of effort. But when you add a stick of butter and lots of garlic, pan-seared cod goes from wonderful to wow.
We briefly simmer the seared cod and asparagus in a garlic butter sauce. This way the fish and vegetables will soak up tons of flavor. Once you tried it, you'll never eat your cod differently again. The cod is mild and buttery, and this preparation couldn't be easier or more weeknight dinner prove. I promise, you'll be pleasantly surprised by this one.
Cajun cod in a garlic butter sauce is hard to beat. This recipe is quick enough to pull off on a busy weeknight, but special enough for a Saturday night too. How you serve it is up to you. Spoon some sauce over pearl couscous, toss it with pasta, serve over rice, orzo, creamy polenta or mashed potatoes.
Let me guide you through the recipe with this step-by-step VIDEO.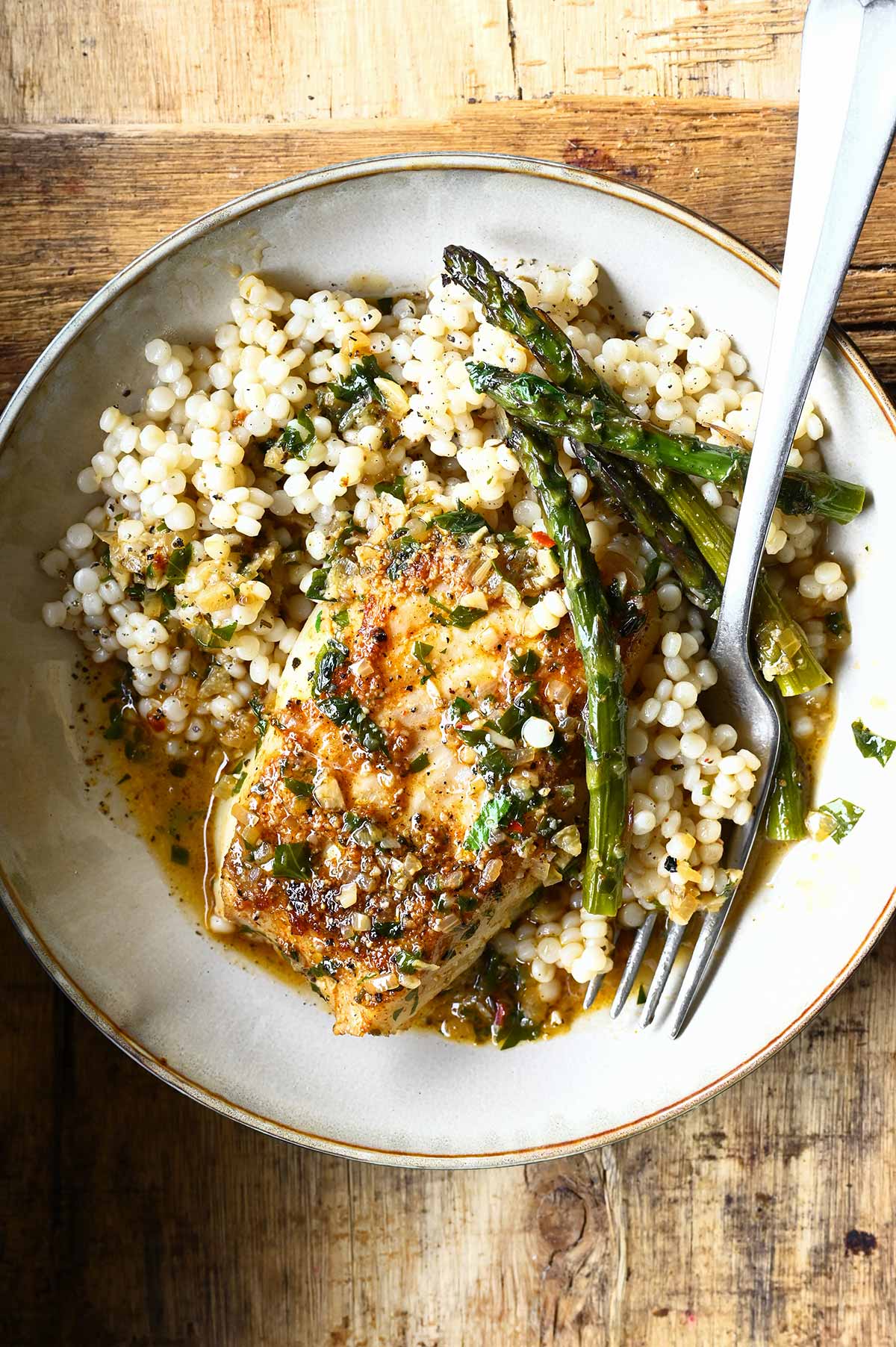 How to Make Cajun Garlic Butter Cod
This is a fast one skillet dinner, check it out. We start by rubbing the cod fillets with Cajun seasoning and sear them in oil and butter. We sweat garlic and shallot in that flavorful base, add spices and pour in chicken broth. We add butter and stir until melted it melt into that mixture, this will emulsify the sauce, while adding richness and sheen.
Next, we add the asparagus and let them simmer in the garlic butter sauce just until they start to soften. Finally we return the cod fillets to the skillet, let them simmer for a couple of minutes. Add a sprinkle of lemon juice and we're ready to serve.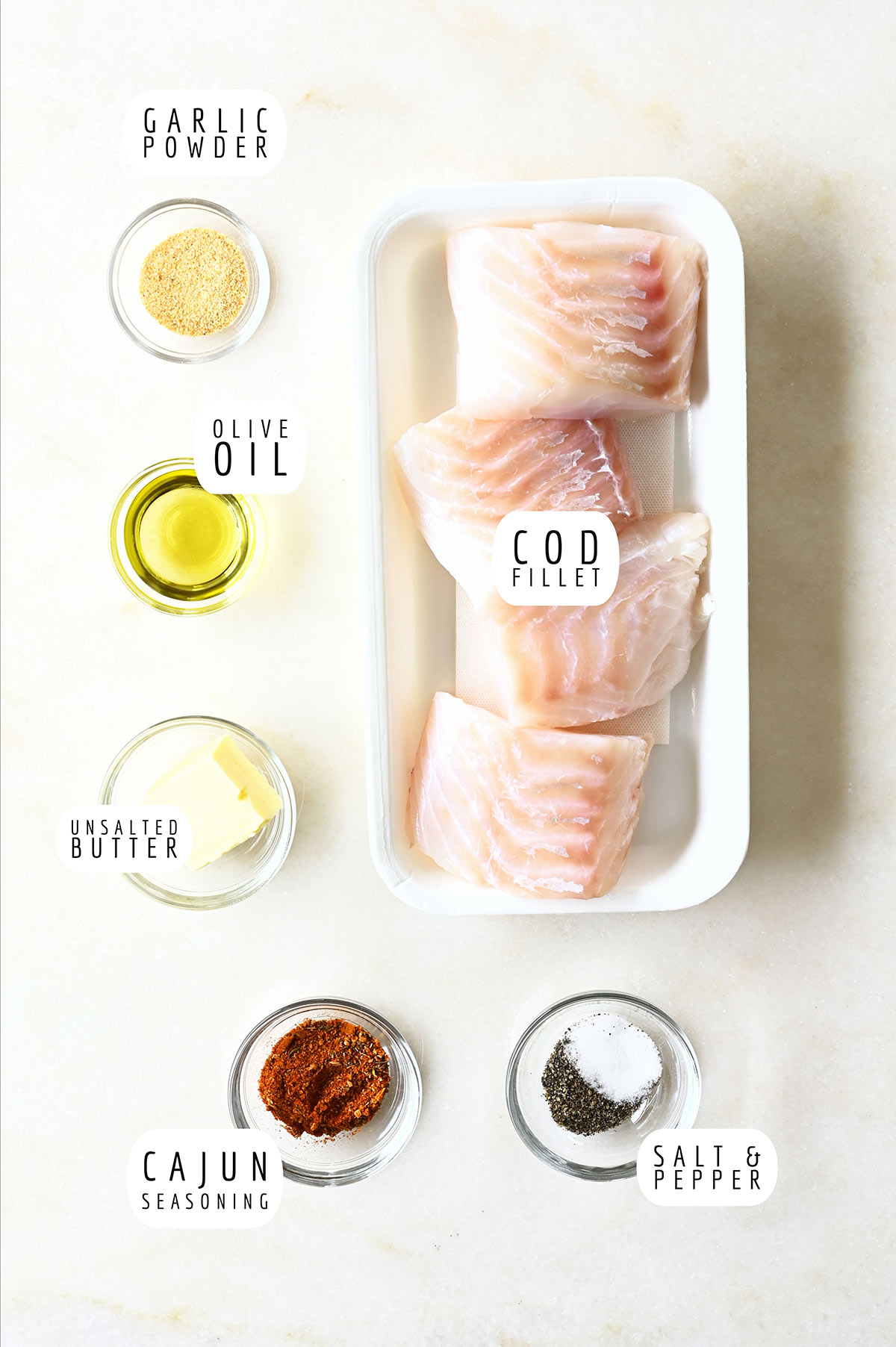 Ingredients, Tips & Substitutions
The Fish
Cod Fillets: Use cod fillets of the same size and thickness so they can cook evenly. If you want to try this recipe with an other type of white fish, use haddock, hake, pollock, snapper or bass.
Seasoning: A mix of salt, black pepper, garlic powder.
Cajun seasoning: You can use store-bought or make your own to get the right balance of flavors. You can find my favorite blend in the recipe notes.
Unsalted Butter and Olive Oil: For searing the cod fillets. We would never get the same crispy sear with only oil, and butter alone would burn.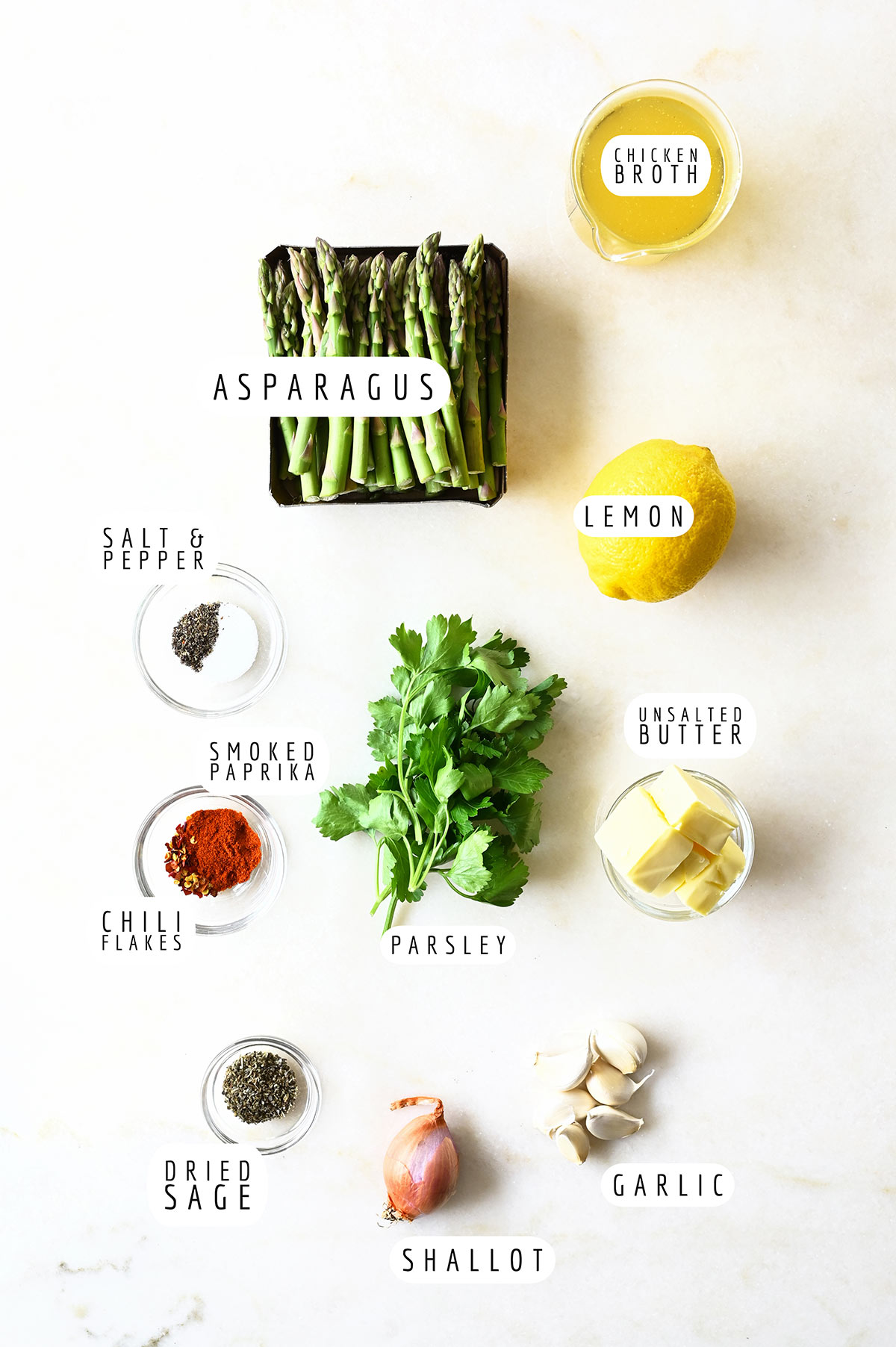 Butter Garlic Sauce
Asparagus: Try to use baby green asparagus. If you only can find the larger ones, you'll need to cut them halfway lengthwise for a faster cooking time. Swap asparagus for broccolini, green peas, spinach or zucchini.
Garlic: Freshly minced garlic is the way to go in this recipe, try not to use pre-chopped store bought garlic. It has substantially less flavor, fresh garlic always tastes better.
Shallot: An aromatic to lift up the flavor.
Seasonings: A mix of salt, black pepper, dried sage, chili pepper and smoked paprika. If you want to swap sage, try it with dried thyme.
Chicken Broth: To deglaze the skillet and create the base for the sauce. You can also use vegetable broth.
Butter: Obviously, we can't have a butter sauce without butter. I highly recommend to pick a good quality butter.
Parsley: To add a little freshness.
Lemon Juice: Adds a nice level of acidity and zing to the sauce and fish.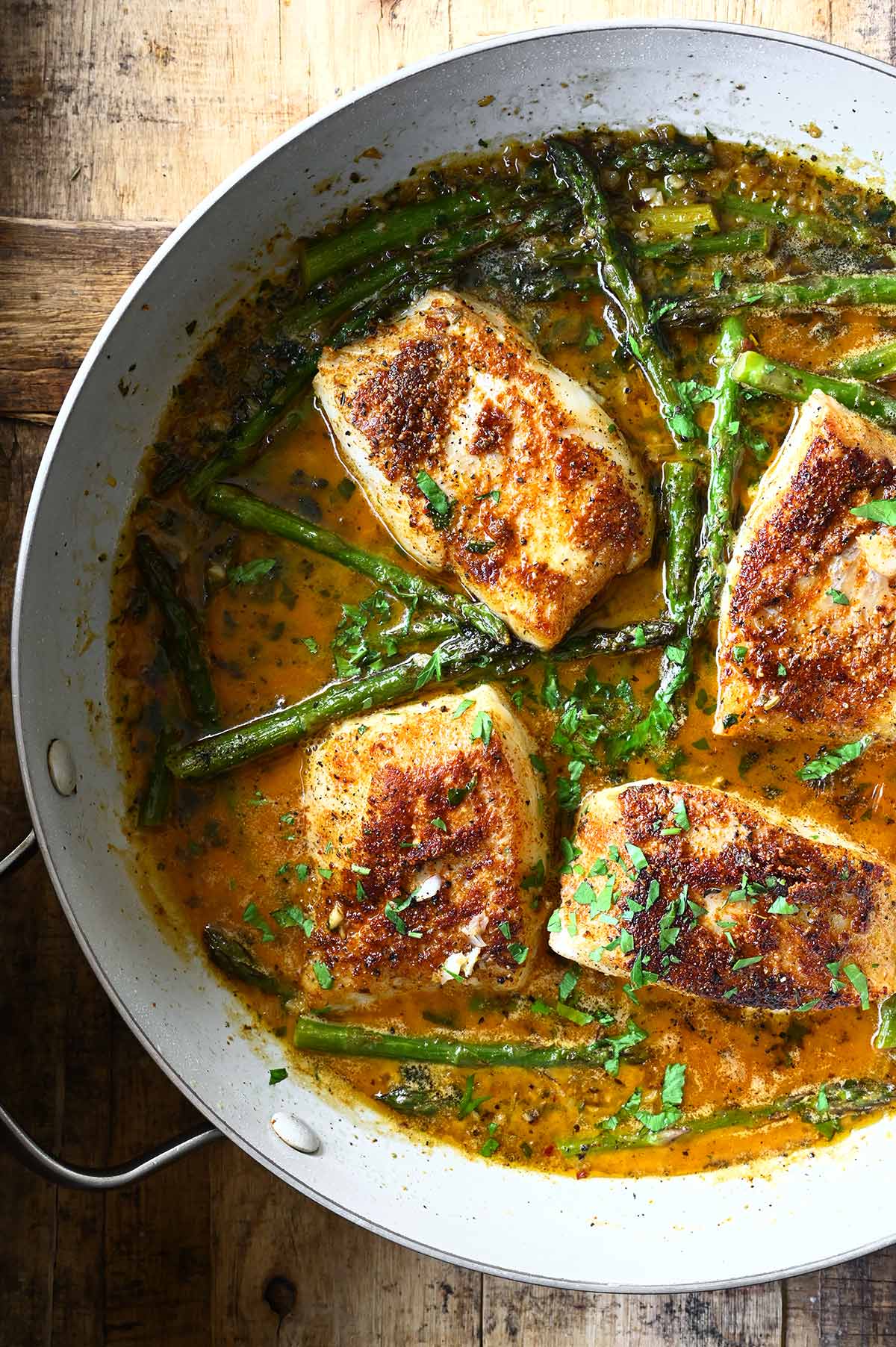 Recipe Notes
Serve over rice, spoon the sauce over pearl couscous, toss it with pasta, orzo, creamy polenta or buttery mashed potatoes.
Pair with a leafy salad or roasted vegetables.
Swap cod fillets for chicken fillets, shrimp or cauliflower steaks.
Make your own Cajun spices: 2 tbsp smoked paprika, 2 tsp each onion powder + garlic powder, 1 tsp each dried thyme + dried oregano + salt + black pepper + cayenne pepper + chili powder + ground cumin.
Storage: Store leftovers refrigerated in an airtight container for up to 1 day.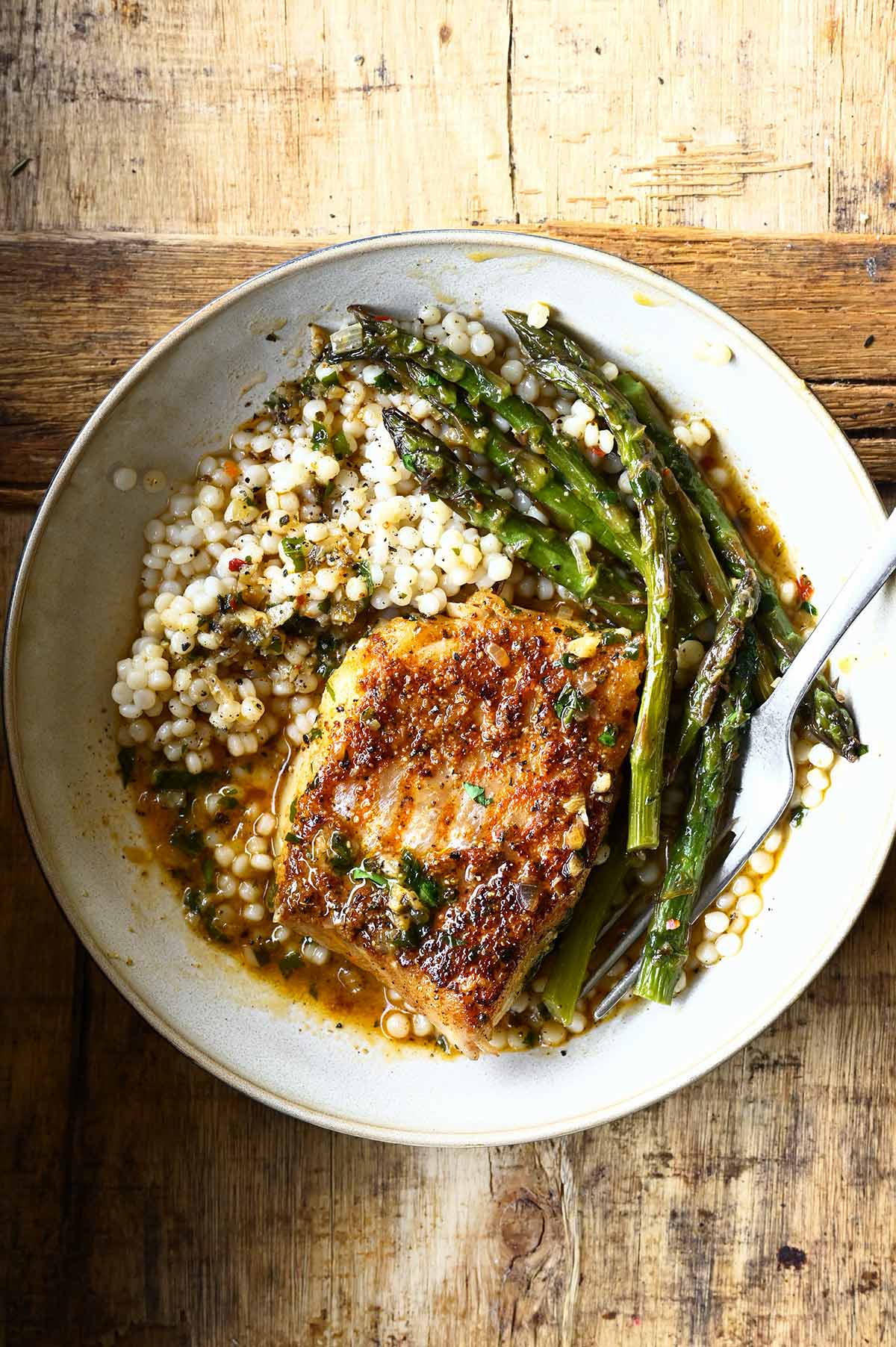 Try These Next
Cooking Video
Yield: serves 4
Cajun Garlic Butter Cod
Ingredients
Cajun Cod
4 cod fillets
2 tsp Cajun seasoning
1 tsp each: lack pepper, garlic powder
½ tsp salt
1 tbsp olive oil, for frying
1 tbsp unsalted butter, for frying
Garlic Butter Sauce
6 garlic cloves, minced
1 shallot, finely chopped
½ tsp each: black pepper, salt, smoked paprika
¼ tsp chili flakes
1 tsp dried sage
1 cup/250 ml low sodium chicken broth
4 tbsp unsalted butter
8 ounces/230 g green baby asparagus
2 tbsp chopped parsley, more for serving
2 tbsp lemon juice
Instructions
Get your prep done before you start cooking. Pat the cod fillets dry with a paper towel. Season both sides with salt, pepper, garlic powder and Cajun spices. Set aside.
Finely chop the shallot, mince the garlic and chop the parsley. If using large asparagus, cut them in half lengthwise.
Heat oil and 1 tablespoon butter over medium high in a nonstick skillet. Add cod fillets and sear for 3 minutes. Turn and cook for 2 minutes more. Remove from skillet onto a clean plate.
Reduce heat to medium low, add garlic and shallot. Cook for 2 minutes until soft and fragrant. Stir in salt, pepper, sage, paprika and chili flakes. Pour in chicken broth and bring to a boil. Add butter and stir until melted.
Add asparagus and parsley, cook for 3 minutes. Return cod fillets to the skillet and simmer for 3 minutes or until just heated through. Sprinkle with lemon juice. Top with parsley and freshly cracked black pepper. Serve immediately. Enjoy!
Notes
Calories Per Serving: 394 kcal
Nutritional information is only an estimate. The accuracy of the nutritional information for any recipe on this site is not guaranteed.