Cajun bang bang salmon bowls. Spicy, hearty, comforting and all the good things. These Cajun salmon bites are addictive! They're coated in a spicy seasoning, seared and served bowl-style with a creamy chili sauce for a delicious crowd-pleasing dinner. So quick, yet a super tasty dinner you can make in less than 20 minutes.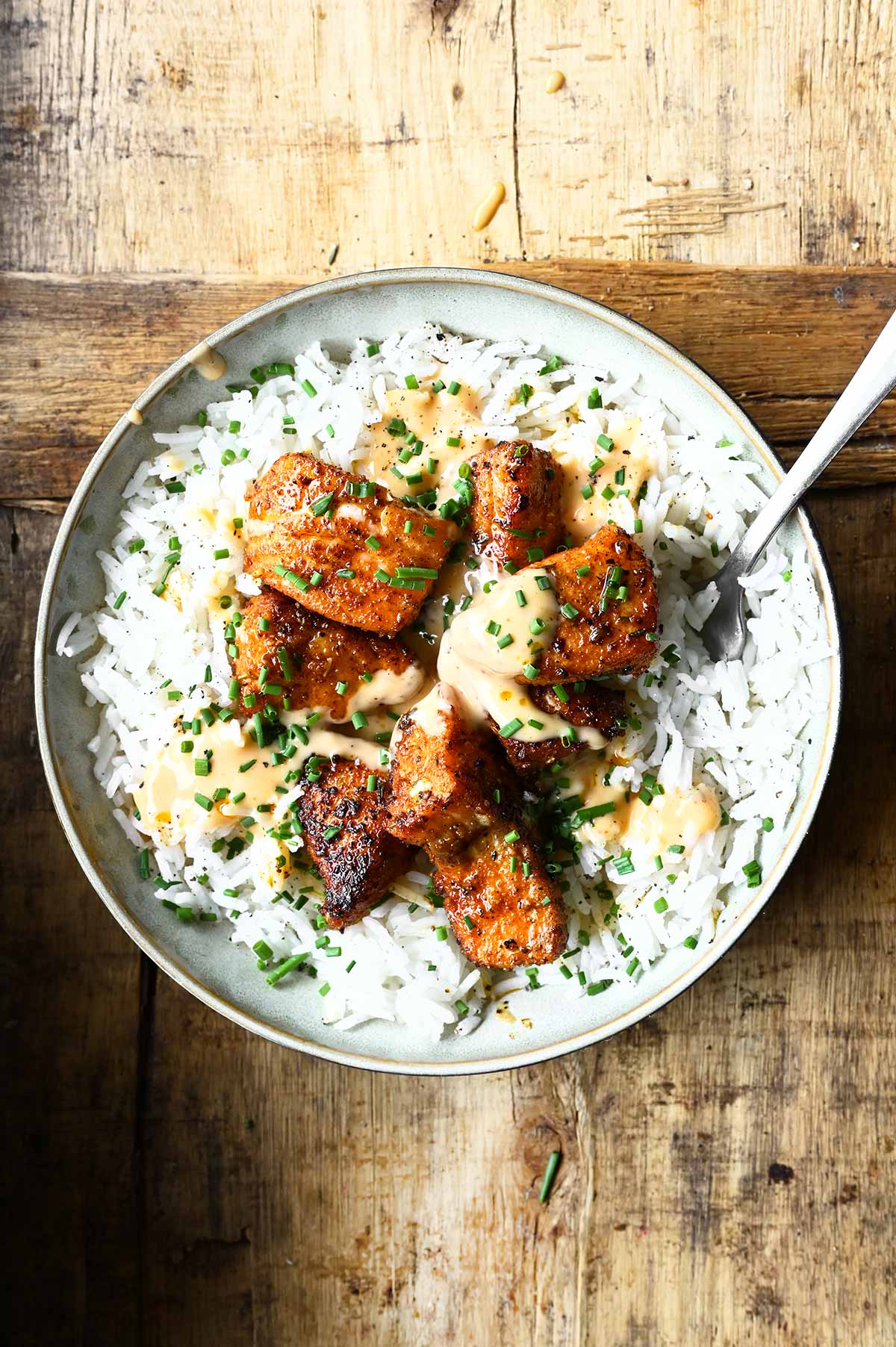 This dish combines crispy seared salmon bites with a spicy and creamy sauce that will wow your tastebuds. When served over rice and finished with a garnish of chives, this one is sure to become a favorite.
Seared salmon combined with a spicy Cajun seasoning is the star of this dish. But there's more, we're going to load in even more flavor and a bit of extra spice. Get ready, you're in for a treat!
Salmon bites are a delicious way to achieve a crispier texture and they cook quicker than salmon fillets. For this recipe, we sear the salmon in a skillet for a crispy outer layer with a juicy center. But you can also air fry the salmon cubes to achieve that beautiful char.
This is a great dish to serve for lunch or dinner, or to share with friends. Whether you're a seafood lover or just looking for a new way to prepare salmon, this recipe is a super delicious way to treat everyone at your table.
Let me guide you through the recipe with this step-by-step VIDEO.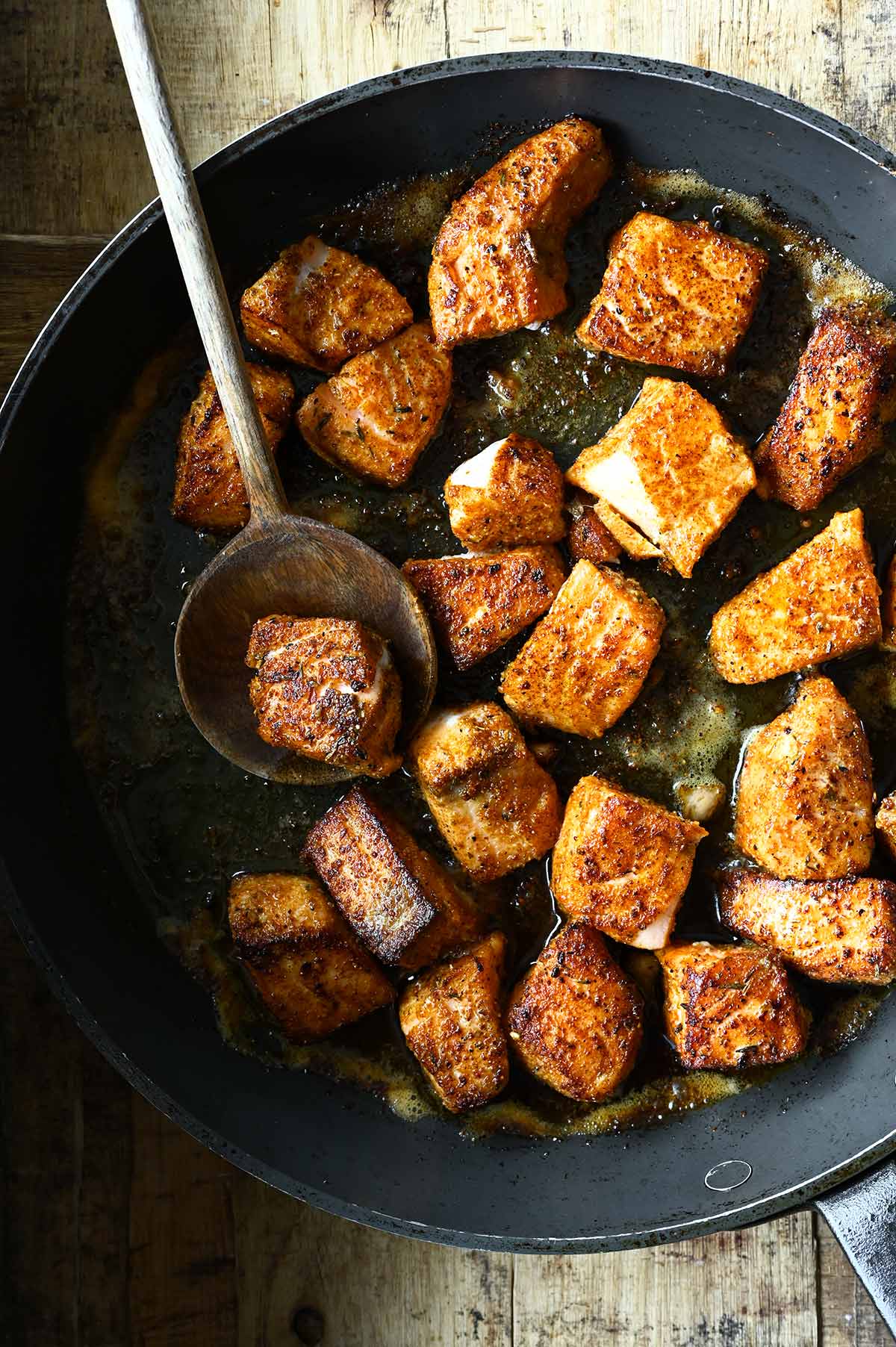 What Is Bang Bang Sauce?
Bang Bang sauce is a magical combination of just a few ingredients. Made with mayonnaise, Thai sweet chili sauce and Sriracha for heat. If you like your sauce with some extra 'bang', feel free to add more Sriracha. We'll also add honey and lime juice to balance out the flavors. To lighten it up, you can swap the mayonnaise for full fat Greek yogurt.
These simple ingredients make for a creamy spicy sauce, but don't be fooled by its simplicity. It has a flavor punch that's exciting and elevates whatever it's added to, to the next level. You can use it on chicken strips, seared shrimp or roasted veggies like cauliflower or broccoli.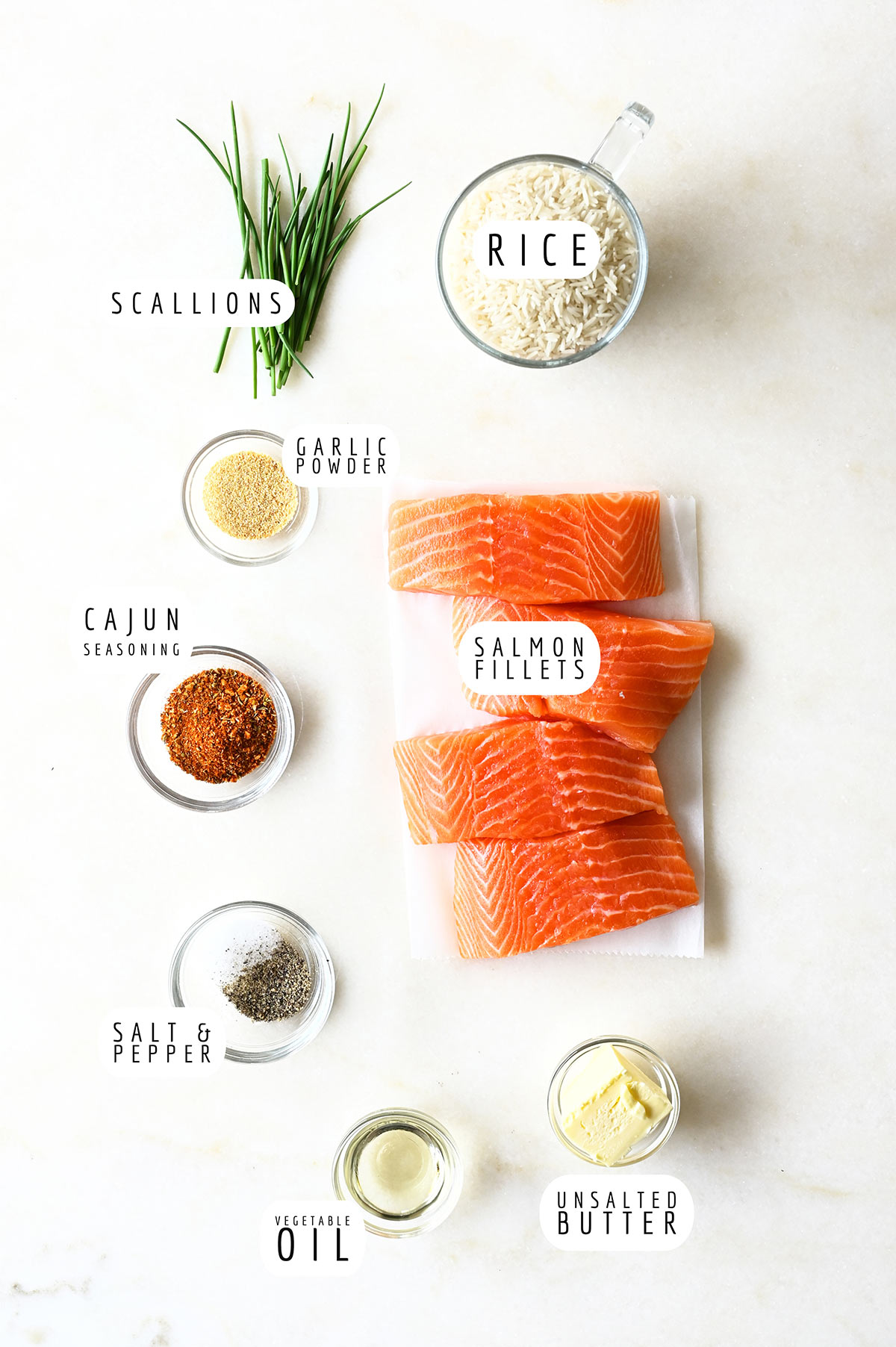 INGREDIENTS, TIPS & SUBSTITUTIONS
Salmon fillets: Cut into cubes. Try to buy salmon fillets of the same size so they can sear evenly.
Oil and Butter: To sear the salmon. We would never get the same crispy sear with only oil, and butter alone would burn at high temperature.
Seasoning: A mix of garlic powder, salt and black pepper.
Cajun seasoning: You can use store-bought or make your own to get the right balance of flavors. You can find my favorite blend in the recipe notes. If using store-bought, you might use less salt to season the salmon.
Chives: Swap for scallions.
Rice: Use white rice, jasmine rice or cauliflower rice.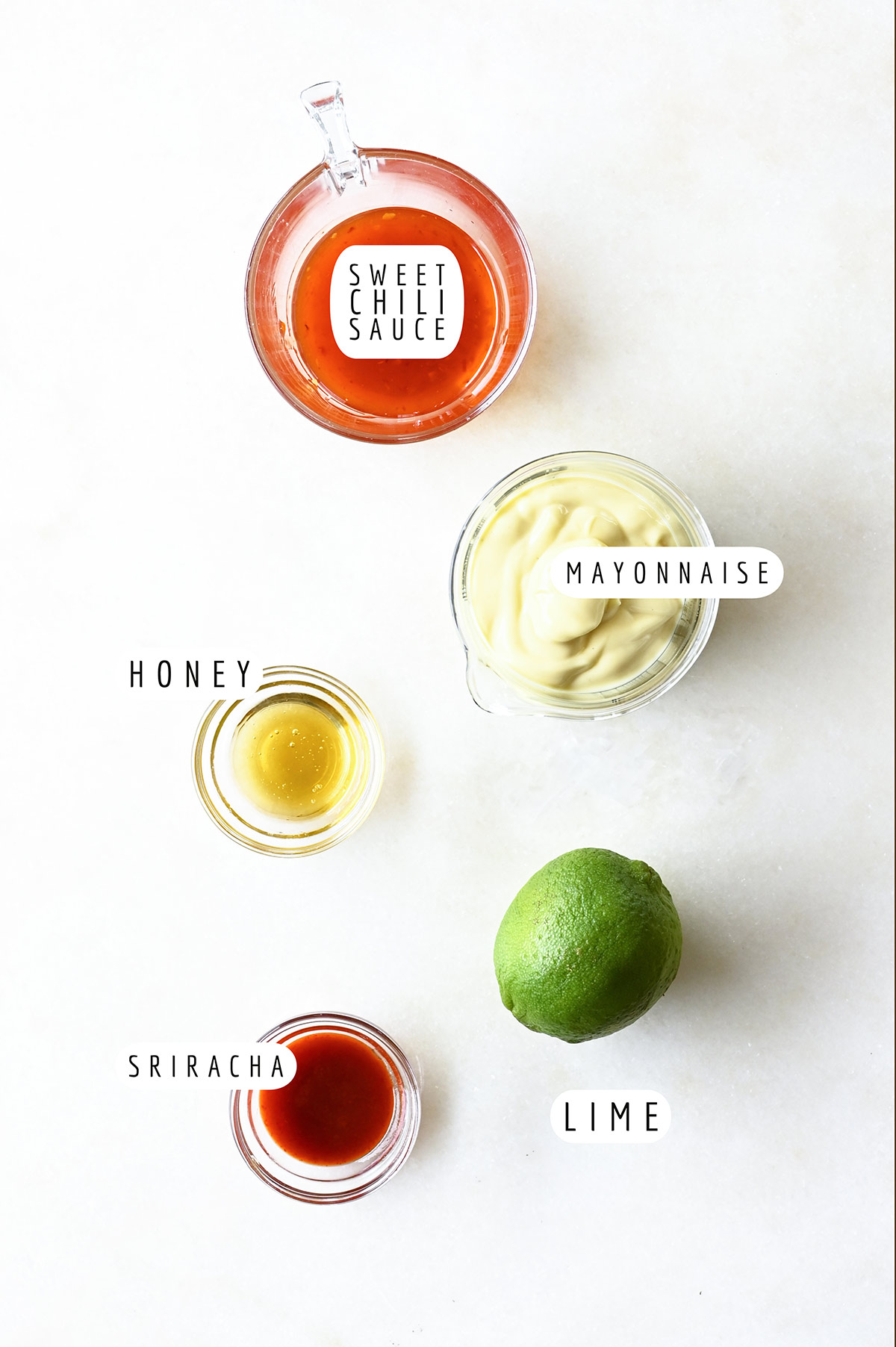 BANG BANG SAUCE
Mayonnaise: You can use regular, light or non-fat mayonnaise. For a lighter version, use full fat Greek yogurt.
Sweet Chili Sauce: This sauce is sweet and spicy and delivers the flavor in bang bang sauce. You should be able to find it in the Asian section of your grocery store.
Sriracha: This adds a spicy kick. Use more or less depending on how spicy you like your food. Can't find it? Use sambal oelek or gochujang paste.
Honey: To sweeten the sauce and counter balance the heat.
Lime juice: This helps to bring the flavors together. As we are using such a small amount you can use lemon juice.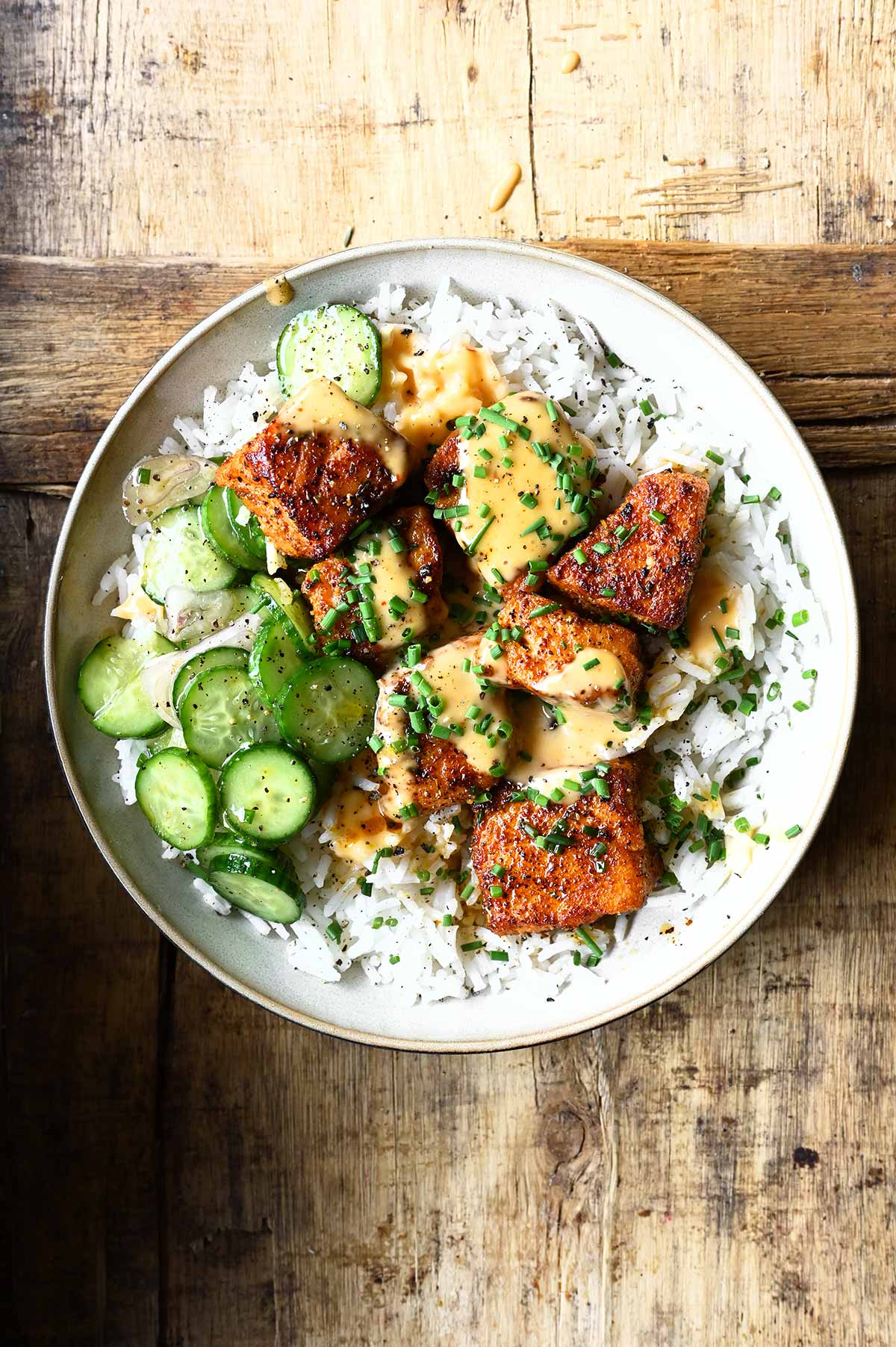 RECIPE NOTES
How to make air fryer salmon bites? Cook salmon bites for 8-10 minutes at 375°F/190°C. If you find that after 10 minutes, the salmon bites aren't golden, air fry for another 1-2 minutes until charred.
Make your own Cajun spices: 2 tbsp smoked paprika, 2 tsp each onion powder + garlic powder, 1 tsp each dried thyme + dried oregano + salt + black pepper + cayenne pepper + chili powder + ground cumin
Pair with a cucumber salad, steamed or air fried broccoli, avocado, shredded carrots or edamame beans.
Top with sesame seeds, crispy fried onion or chili oil.
Get your pan super hot before searing the salmon. A hot pan will result in an even sear and a delicious crust
Leftovers will keep for 2 days in the fridge.
TRY THESE NEXT
COOKING VIDEO
Yield: serves 4
Cajun Bang Bang Salmon Bowls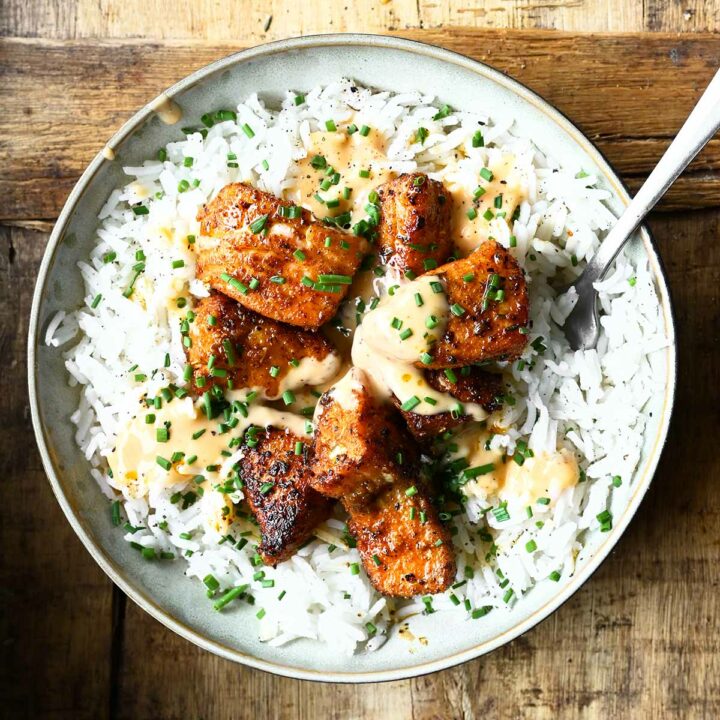 Ingredients
1 cup/250 g uncooked white rice
4 salmon fillets, cut into cubes
1 tsp each: garlic powder, salt, black pepper
3 tsp Cajun seasoning
1 tbsp vegetable oil, for searing
1 tbsp unsalted butter
3 tbsp chopped chives
Bang Bang Sauce
½ cup mayonnaise
¼ cup sweet chili sauce
2 tbsp sriracha sauce, less or more to taste
1 tbsp honey
1 tbsp lime juice
Instructions
Cook rice in salted water according the package directions.
In the meantime, pat the salmon fillets dry. Cut lengthwise in half, then into 1 inch/2.5 cm cubes. In a bowl, combine the salmon cubes with salt, pepper, garlic powder and Cajun seasoning. Toss well to coat the salmon evenly. Set aside.
Make the bang bang sauce by adding the ingredients to a bowl or jar. Whisk well to combine.
Chop the chives.
Heat oil and butter over medium high in a nonstick skillet. Add salmon cubes and place in a singel layer. Sear for 1 minute, turn and sear for 1 minute more.
Serve immediately over rice. Drizzle with prepared sauce and garnish with chives. Pair with a cucumber salad. Enjoy!
Notes
Calories Per Serving: 532 kcal
Nutritional information is only an estimate. The accuracy of the nutritional information for any recipe on this site is not guaranteed.