Caesar white beans. These could be the best beans you'll ever try! It takes just 15 minutes to whip up this mouthwatering white bean recipe. The beans are smothered in a creamy, garlicky sauce enriched with Parmesan, mimicking the beloved Caesar dressing. Perfect as a hearty side dish or an easy meatless dinner with your favorite crusty bread.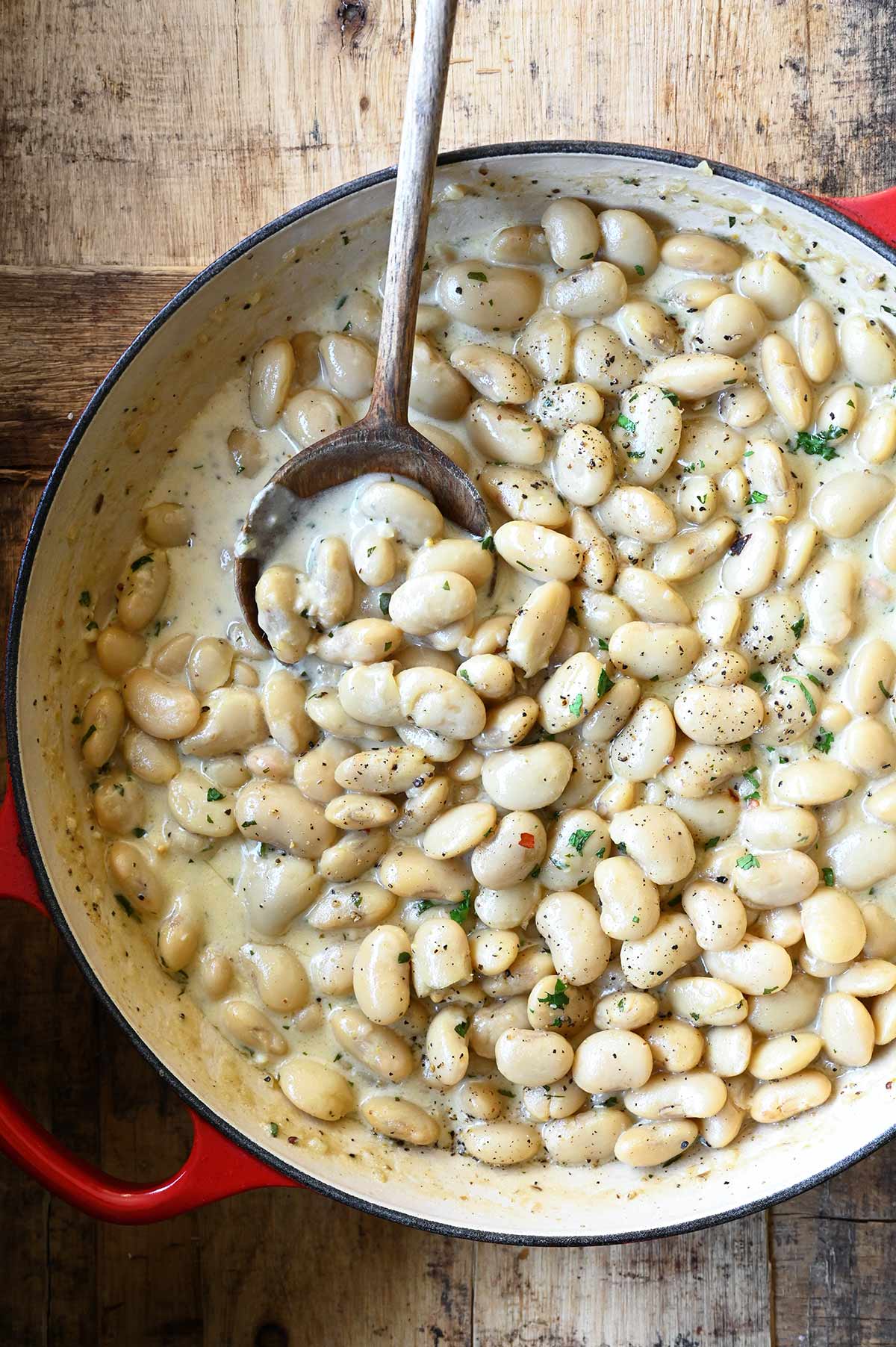 Delightfully comforting, incredibly satisfying, and bursting with flavor, this dish places affordable white beans at the forefront. They're coated in a creamy Caesar sauce, making it a hassle-free dinner that's sure to impress.The secret to its simplicity lies in using canned white beans, which are already tender. No need for overnight soaking or boiling! Garlic is a must-have in this recipe, but we'll enhance the flavor further with anchovy, mustard, and Worcestershire sauce. To add richness and creaminess, a touch of grated Parmesan and half-and-half does the trick, while a squeeze of fresh lemon imparts just the right amount of zing to balance the flavors.
If you're a fan of white beans, you won't want to miss trying my 'Spicy Tomato Beans with 'Nduja', 'Brothy Beans with Garlic and Parmesan' or 'White Bean Stew with Feta and Poached Egg'.
This one-pan creamy white bean recipe makes for a truly satisfying meatless dinner that pairs beautifully with some crusty bread.
Let me guide you through the recipe with this step-by-step VIDEO or follow along on YouTube.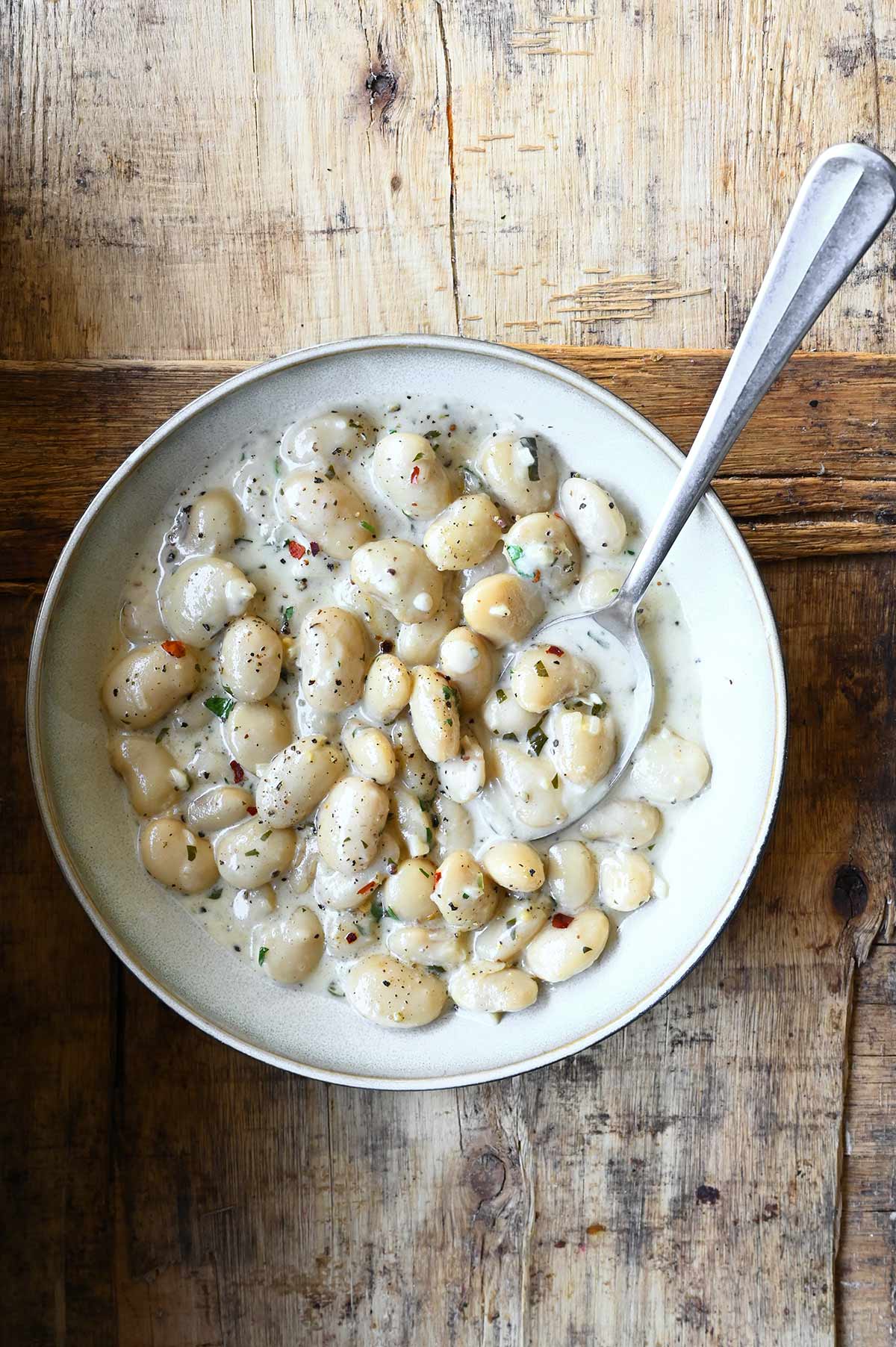 Why You'll Love This Caesar White Bean Recipe
Simple Ingredients: This recipe is made with straightforward ingredients.
Quick Prep: Ready in just 15 minutes!
Versatility: It's incredibly versatile! You can easily enhance it by incorporating greens like spinach, kale or broccoli.
Whether you prefer it as a hearty side dish, a satisfying meatless main, or with the addition of cooked proteins such as chicken, pork chops or chicken meatballs for an effortless dinner, this recipe offers numerous options.
Umami Heaven: The Caesar dressing is an umami-rich delight, brimming with garlicky, lemony, and cheesy flavors that pair perfectly with white beans.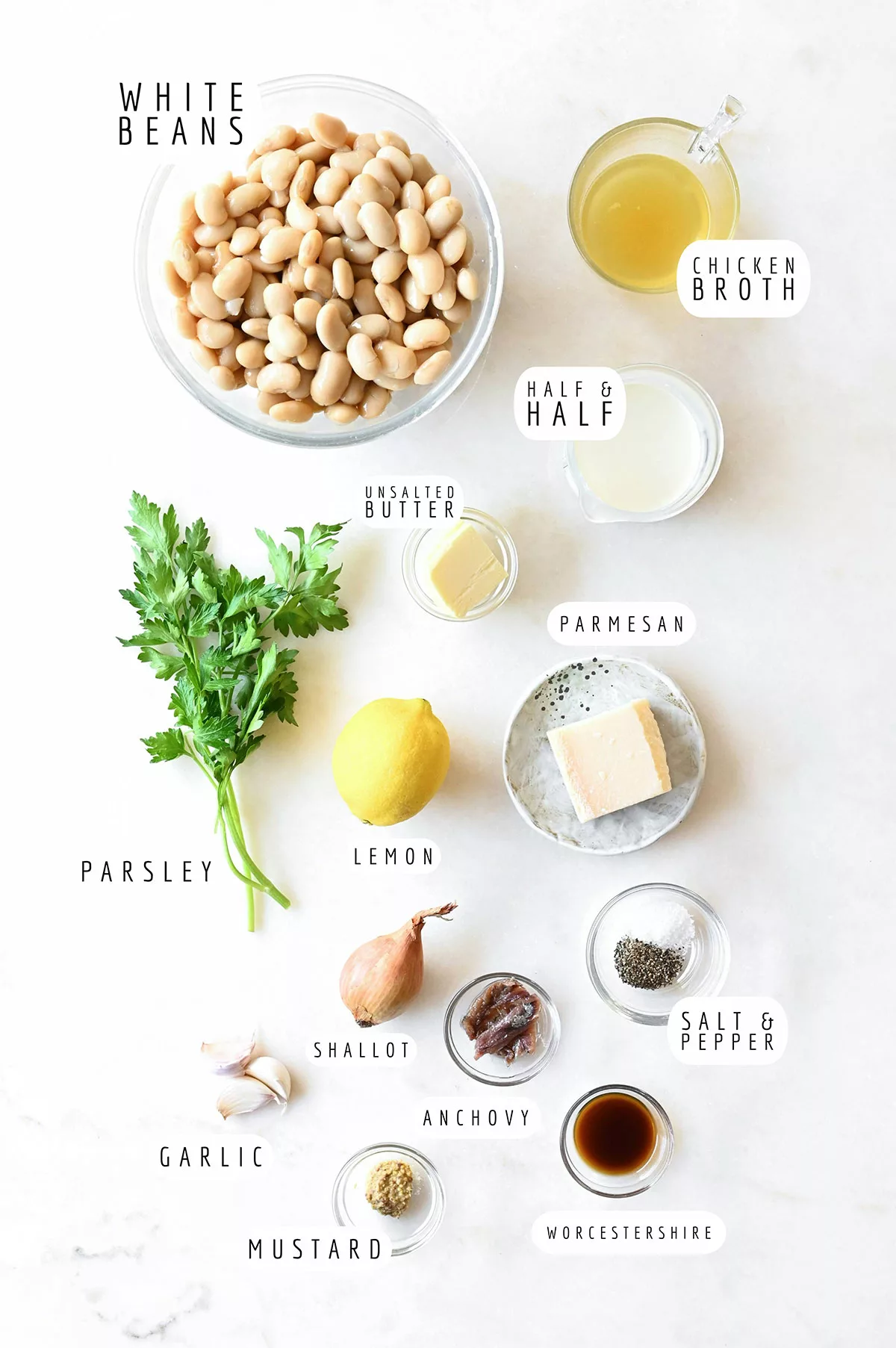 Ingredients and Substitutions
White Beans: Canned butter beans, also known as Gigante beans, serve as the recipe's cornerstone. However, you can easily substitute them with other white bean varieties like navy beans, cannellini beans, "great northern" beans, or lima beans, based on what you have available.
Shallot: It adds a delightful touch. But don't worry if you have a different onion on hand.
Garlic: The perfect companion for white beans, infusing them and the Caesar sauce with a robust flavor. Adjust the amount to your taste preference.
Anchovy: A must for achieving that authentic Caesar flavor. If you prefer, you can opt for anchovy paste as a convenient alternative.
Unsalted Butter: Used for sautéing the garlic and shallot, enhancing the overall richness.
Chicken Broth: Alternatively, you can use vegetable broth.
Cream: Half-and-half is the secret to enhancing the creaminess of white beans.
Mustard and Worcestershire Sauce: These staples are crucial for imparting the signature Caesar sauce flavors.
Parmesan: Opt for freshly grated Parmesan to attain the most exquisite flavor. You can also experiment with Pecorino Romano or a blend of the two.
Lemon Juice: A simple squeeze of lemon juice brings instant brightness to the dish, elevating its creamy and tangy profile.
Herbs: Fresh parsley, a classic choice to add a hint of freshness to the dish.
Helpful Tips
Incorporate Greens: Elevate the dish by stirring in greens like kale or broccoli, making your meal even more wholesome.
Versatile Serving: This recipe offers incredible versatility. Enjoy it as a hearty side dish, savor it as a satisfying meatless main, or enhance it by adding cooked proteins such as rotisserie chicken, sausage, pork chops or chicken meatballs for a quick and delightful dinner.
Bacon Bliss: For an added burst of flavor, consider topping your dish with crispy cooked bacon. It's a savory addition that's sure to please.
Complete the Meal: Create a well-rounded meal by pairing it with a simple salad, a side of broccoli, or a slice of crusty bread. With these accompaniments, you'll have a weeknight-friendly dinner that's destined to be a family favorite.
Want to make this recipe with dried beans? Go ahead if you've got more time! You'll need about 3 cups dry beans, soak them overnight, then cook for 30 minutes, before adding to the skillet.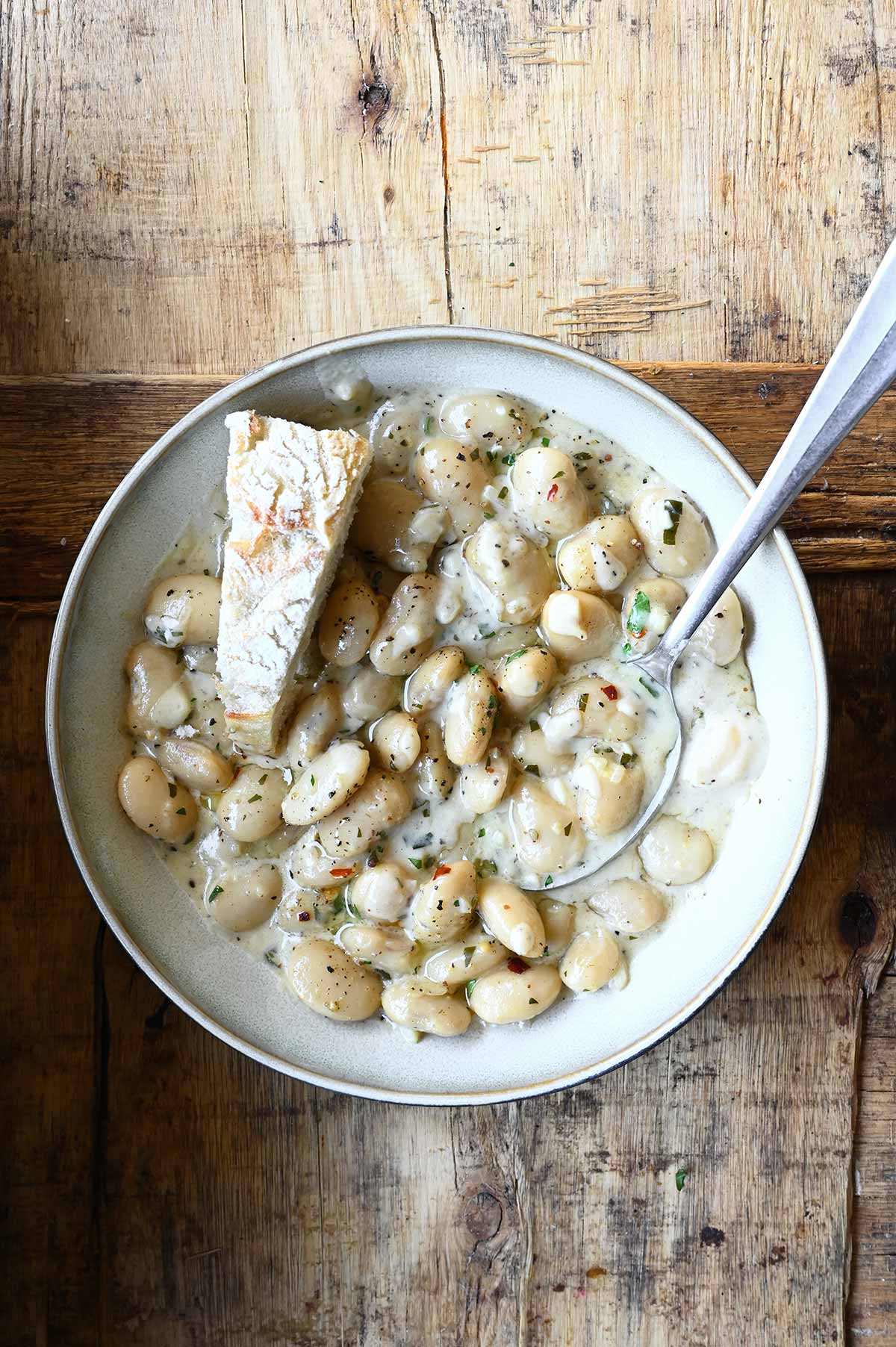 Storage
Fridge: After cooking, store in an airtight container in the refrigerator. It will stay fresh and delicious for up to 4 days.
Reheat: When you're ready to enjoy your leftovers, simply add the beans to a saucepan. Dilute with a splash of milk, and then gently simmer over low heat until they're heated through.
Freezer: You can freeze it for up to 2 months. Ensure they cool completely before packing them into an airtight container. This way, you can have a convenient and tasty meal at your fingertips whenever you need it.
Try These Next
Cooking Video
Yield: serves 4
Caesar White Beans
Experience mouthwatering white beans in a creamy, garlicky Parmesan sauce—a quick 15-minute recipe. Ideal as a hearty side or meatless dinner with crusty bread.
Ingredients
1 tbsp unsalted butter
1 shallot, finely chopped
3 garlic cloves, minced
½ tsp each: salt, black pepper
1 anchovy fillet
¼ cup/50 ml chicken broth
1 tsp mustard, Dijon or grain mustard
2 tsp Worcestershire sauce
3 cans (14 oz/400 g) butter beans, drained and rinsed
1 cup/240 ml half-and-half
¼ cup/60 g grated Parmesan
1 tbsp lemon juice, more to taste
1 tbsp chopped parsley, more for serving
freshly ground black pepper, for serving
Instructions
Get your prep done before you start cooking. Grate the Parmesan cheese, finely chop the shallot, mince the garlic cloves and chop the parsley.
Melt the butter over low in a nonstick skillet. Add shallot, garlic and anchovy. Cook for 3 minutes, until soft and fragrant. Add Worcestershire sauce, mustard, salt and pepper. Deglaze with chicken broth, simmer for 2 minutes.
Add white beans, pour in half-and-half and bring to a simmer. Next, stir in Parmesan and allow the sauce to simmer for about 3 minutes, or until it starts to thicken. Add lemon juice and parsley. Taste and add more lemon juice for a punchy touch. Finish off with freshly ground black pepper. Enjoy!
Nutrition Information:
Yield:
4
Serving Size:
1
Amount Per Serving:
Calories:

421
Total Fat:

18g
Saturated Fat:

10g
Trans Fat:

0g
Unsaturated Fat:

7g
Cholesterol:

64mg
Sodium:

1428mg
Carbohydrates:

50g
Fiber:

9g
Sugar:

19g
Protein:

22g
Nutritional information is only an estimate. The accuracy of the nutritional information for any recipe on this site is not guaranteed.