A truly delicious tender buttery tarragon chicken legs roasted on top of baby potatoes and zucchini. Lemon kissed, one pan deliciousness. This one pan dish is especially nifty because it involves minimal prep and no fancy tricks.
I figured you might be pretty excited for another one pan, easy meal. Because let's be honest, even me, who loves cooking, sometimes get totally tired of all the dishes. I somehow seem to make the most giant mess when I cook. I'm a total disaster, everything around me looks like a bomb went off. So one pan dishes like this, I absolutely love them now and then.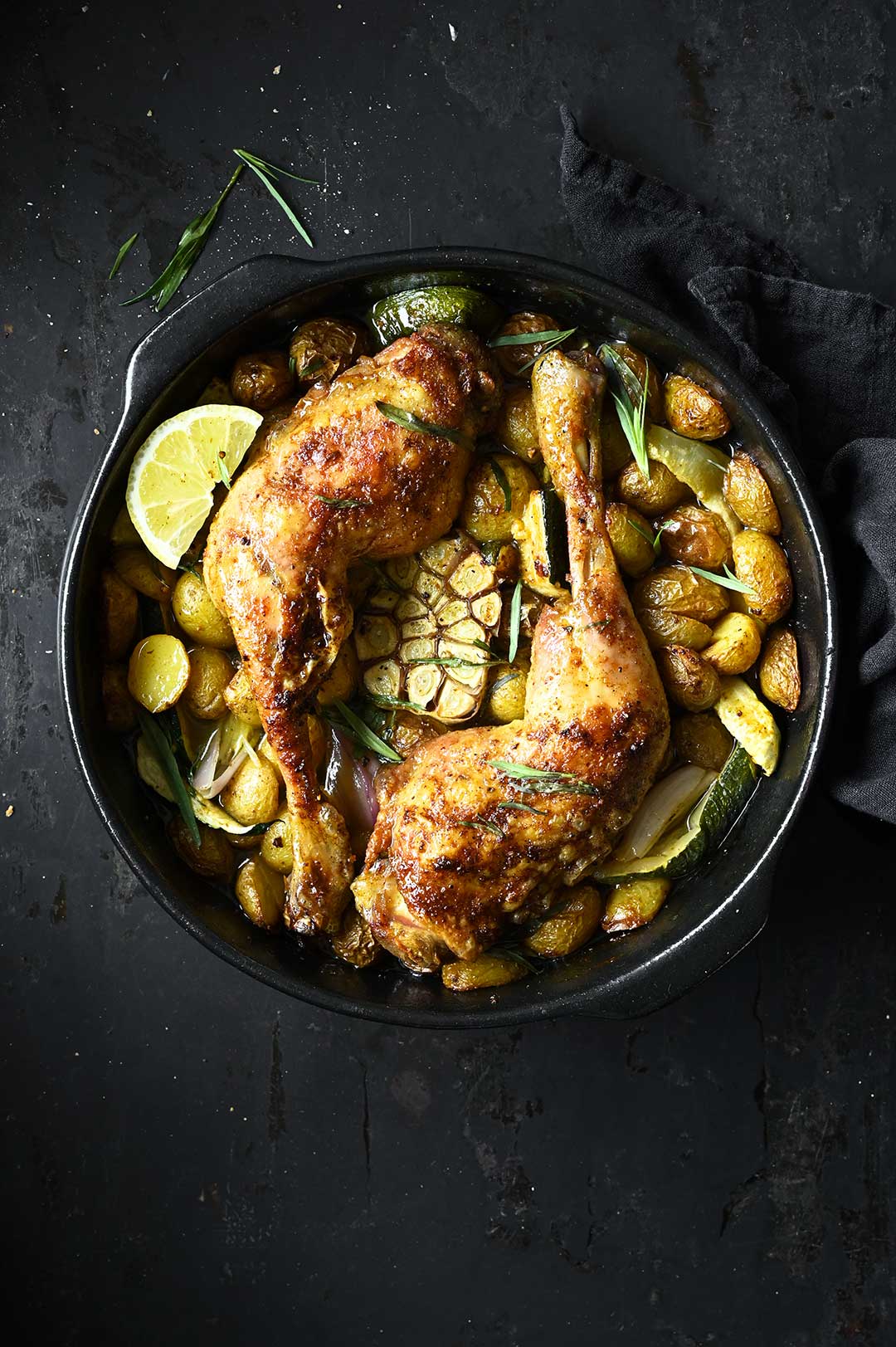 Nothing is as delicious as golden brown roasted chicken legs surrounded by buttery, garlicky pan juices. When I dream about roasted chicken, it looks exactly like this one, simply seasoned and roasted until golden brown, ensuring that incredibly addictive crispy skin and tender meat. Underneath it, tender potatoes and zucchini, which have been cooked in its buttery drippings. Hmmmm. That's all you need to reach chicken nirvana, c'est tout. 
Consider this chicken as your Sunday afternoon plan from now on.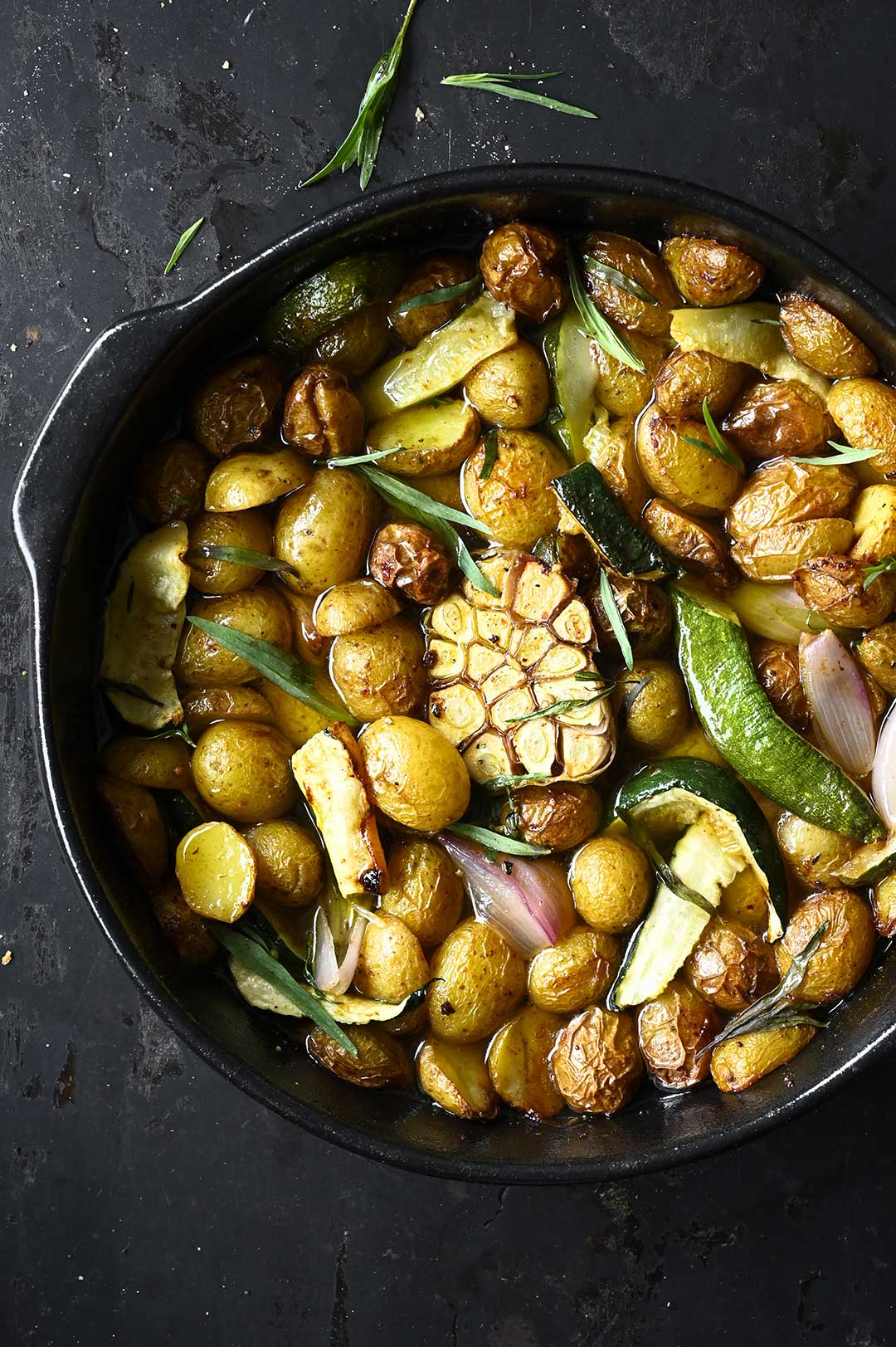 You need
2 chicken legs
300 g baby potatoes
1 zucchini
60 g butter
3 tbsp olive oil
1/2 garlic head
2 shallots, cut in half
juice from 1/2 lemon
1 tbsp chopped tarragon leaves
sea salt + black pepper
smoked paprika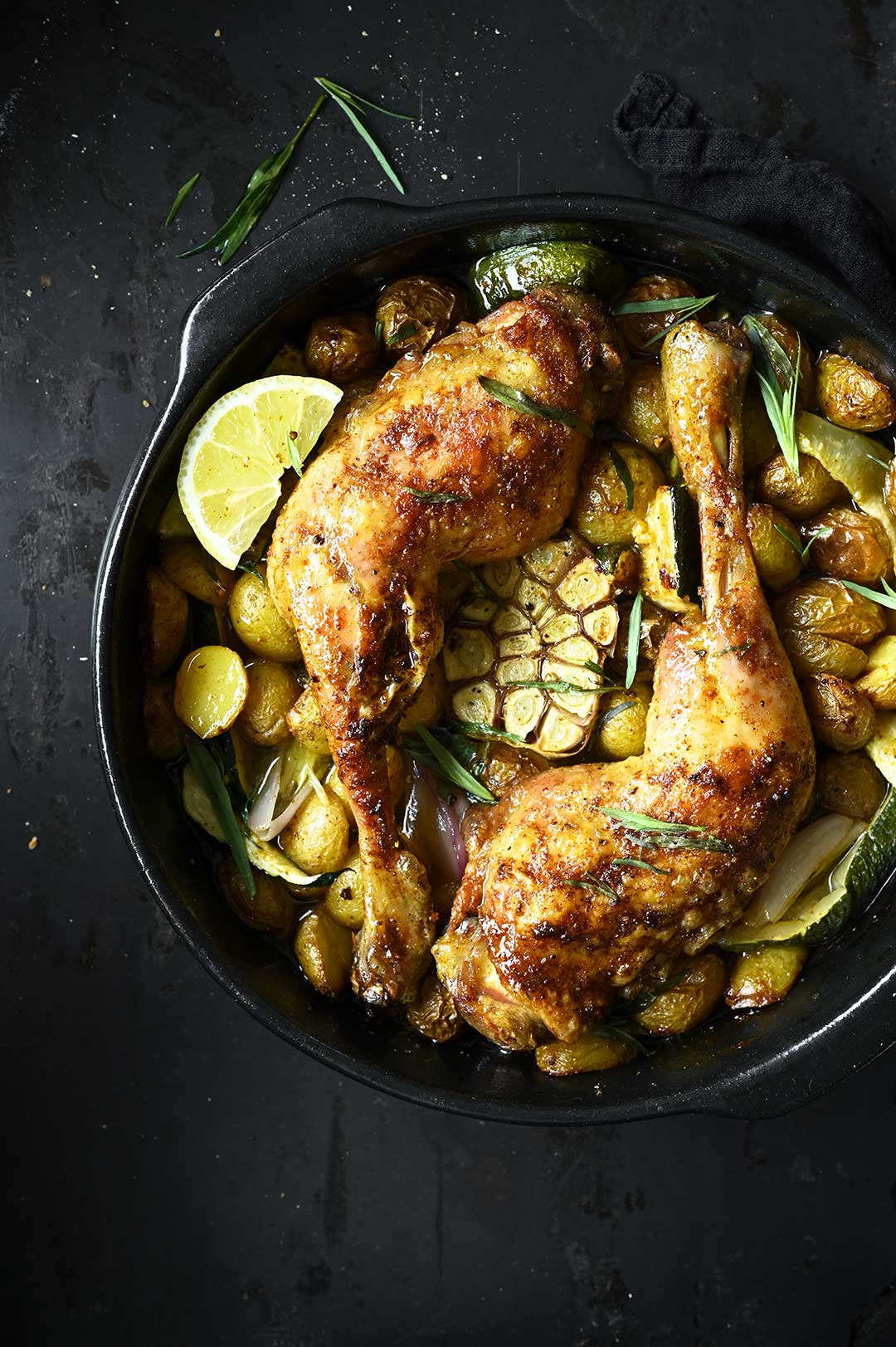 How to
Preheat the oven to 200°C.
Melt the butter and combine with olive oil.
Prepare a high-sided, oven safe pan. Arrange the potatoes and stir in 3 tbsp of butter mixture. Nestle the garlic in the middle, season with salt, pepper and paprika. Sprinkle lemon juice over the chicken and season generously with salt, pepper and smoked paprika. Place the chicken, skin side down over the potatoes, drizzle with half of the melted butter and transfer to the oven. Roast for 30 minutes.
Then turn the chicken over with the skin up, drizzle all over with the remaining melted butter and roast for 20 minutes. Drizzle the chicken from time to time with the pan juices, add some water if needed.
In the meantime, cut the zucchini lengthwise in 4, then in 5 cm long pieces. Remove the pan from the oven, arrange the zucchini between the potatoes. Add shallot and tarragon. Transfer the pan back into the oven and roast for another 20 minutes or until nicely browned and cooked through, and the potatoes are fork tender.
Remove from the oven, turn the garlic cut side down and use the back of a spoon to gently squeeze the garlic, pressing the juices into the pan. Garnish with fresh tarragon. Delicious!