This pasta with mushrooms and chickpeas practically makes itself. This is the kind of dinner you make when you get home late and want to assemble something that's ready in no-time and immensely satisfying. Not to mention that it's packed with tender buttery mushrooms, crispy chickpeas and hints of garlic, and made cheesy with plenty of Parmesan.
Couldn't recommend it more for a quick dinner. You can switch it up by using veggies of your choice, like zucchini. Or use your favorite store bought pesto for an easy fix.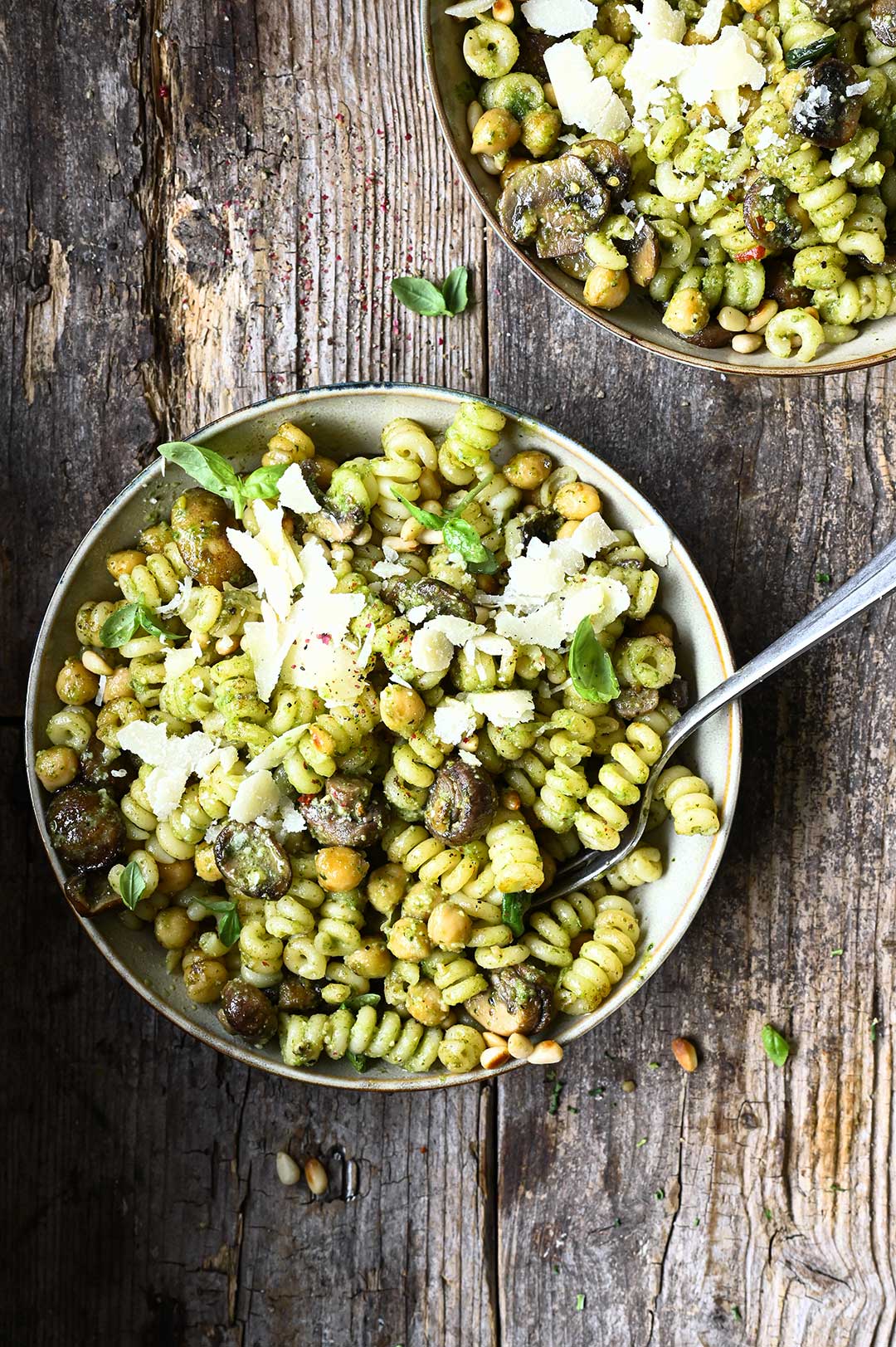 Mushrooms and chickpeas are cooked together, then tossed with pasta and basil pesto. The only thing left to do is to top the bowls off with fresh basil and plenty of grated Parmesan, and dig in.
It's an easy, comforting meal, and it's exactly what we all deserve. Chickpeas and mushrooms add substance to this dish, and much flavor, since they're earthy and nutty. Everything is ready in a flash and you only need one pan and one pot, so it's fuzz-free and comforting.
It's pretty much a sure thing this could become your favorite dinner on repeat.
Let me guide you through the recipe with this step-by-step VIDEO. 
3 more easy pasta dishes:
Pasta with smoked salmon and chorizo
Creamy roasted red pepper and sun dried tomato pasta
15 minute broccoli pasta with basil oil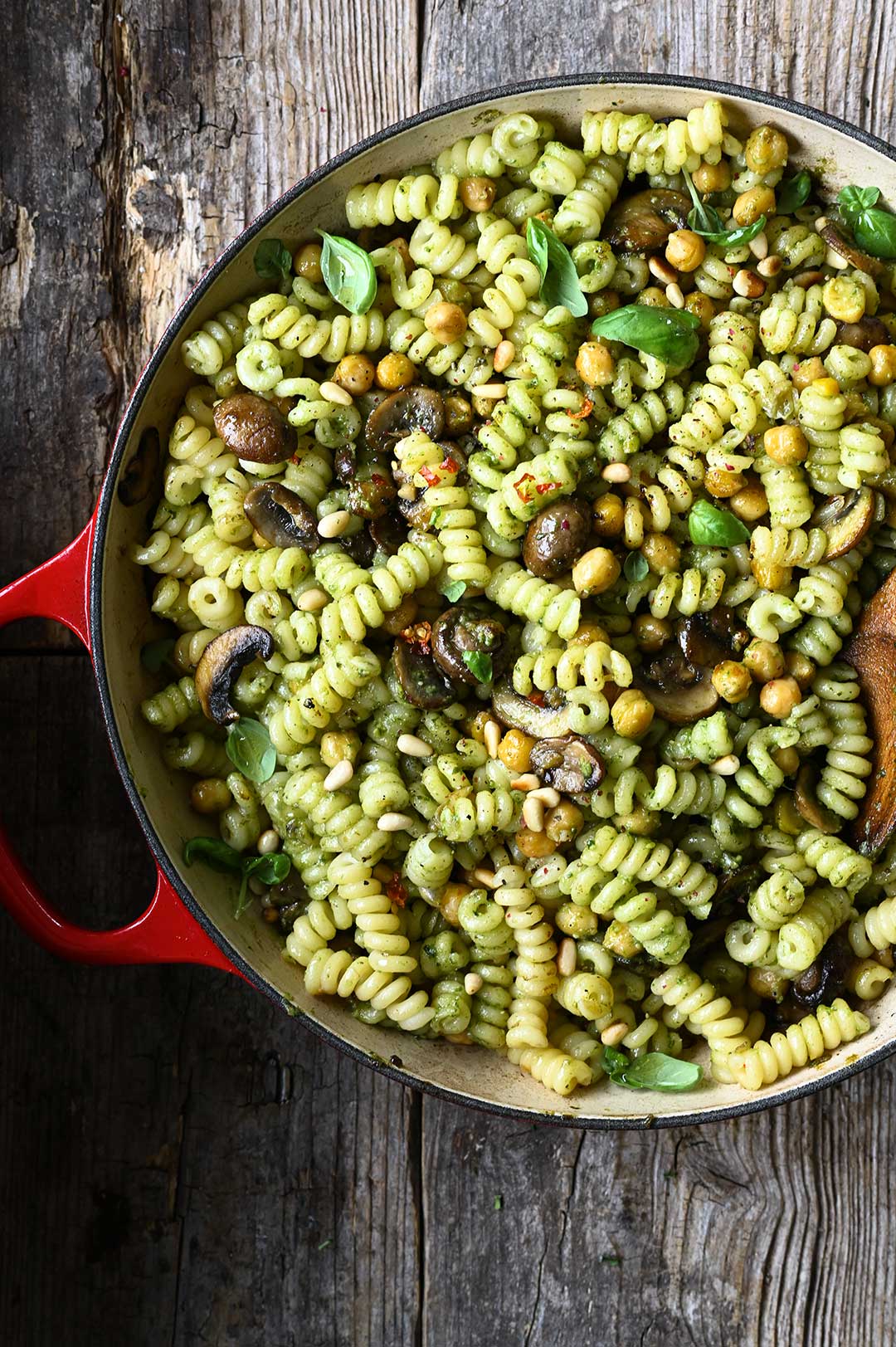 You need
250 g (0.5 lb) pasta
250 (0.5 lb) chestnut mushrooms, wiped, trimmed and roughly chopped
1 can chickpeas, drained
3 tbsp olive oil
2 tbsp unsalted butter
4 garlic cloves, finely chopped
1 tsp smoked paprika
sea salt + black pepper
basil pesto
you can use store bought pesto but homemade is always better!
30 g (1 1/2 cup) basil leaves
2 tbsp toasted pine nuts
100 g (1/3 cup) grated parmesan
1/4 cup olive oil
1 tbsp lemon juice
1 tbsp balsamic vinegar
sea salt + black pepper
+ for serving
parmesan
toasted pine nuts
red chili flakes
fresh basil
How to
Let me guide you through the recipe with this step-by-step VIDEO. 
Boil the pasta in salted water until al dente. Drain, reserving 1/4 cup of the cooking water.

In a food processor, combine the ingredients for the pesto and blend. Season with salt, pepper, and additional lemon juice to taste. Set aside.

Heat the butter in a large frying pan over medium heat. When the butter is melted and bubbling, add the mushrooms to the pan. Cook, stirring occasionally, until softened and lightly browned, 4 to 5 minutes. Add olive oil and stir in the chickpeas and garlic. Cook until fragrant, about 3 minutes. Season with smoked paprika, salt and pepper.

Add pasta, pesto and a big splash of the reserved cooking water. Stir well so everything is well-coated, and cook until heated through and the flavors melt, 1 to 2 minutes. Serve immediately, topped with grated Parmesan cheese, basil, pine nuts and chili flakes. Enjoy!