Buttery mashed potatoes, deliciously flavored with butter and cream. A classic side dish, simple, comforting and super creamy.
Easy to make, buttery and impossible to resist. Serve with everything, any time of the year.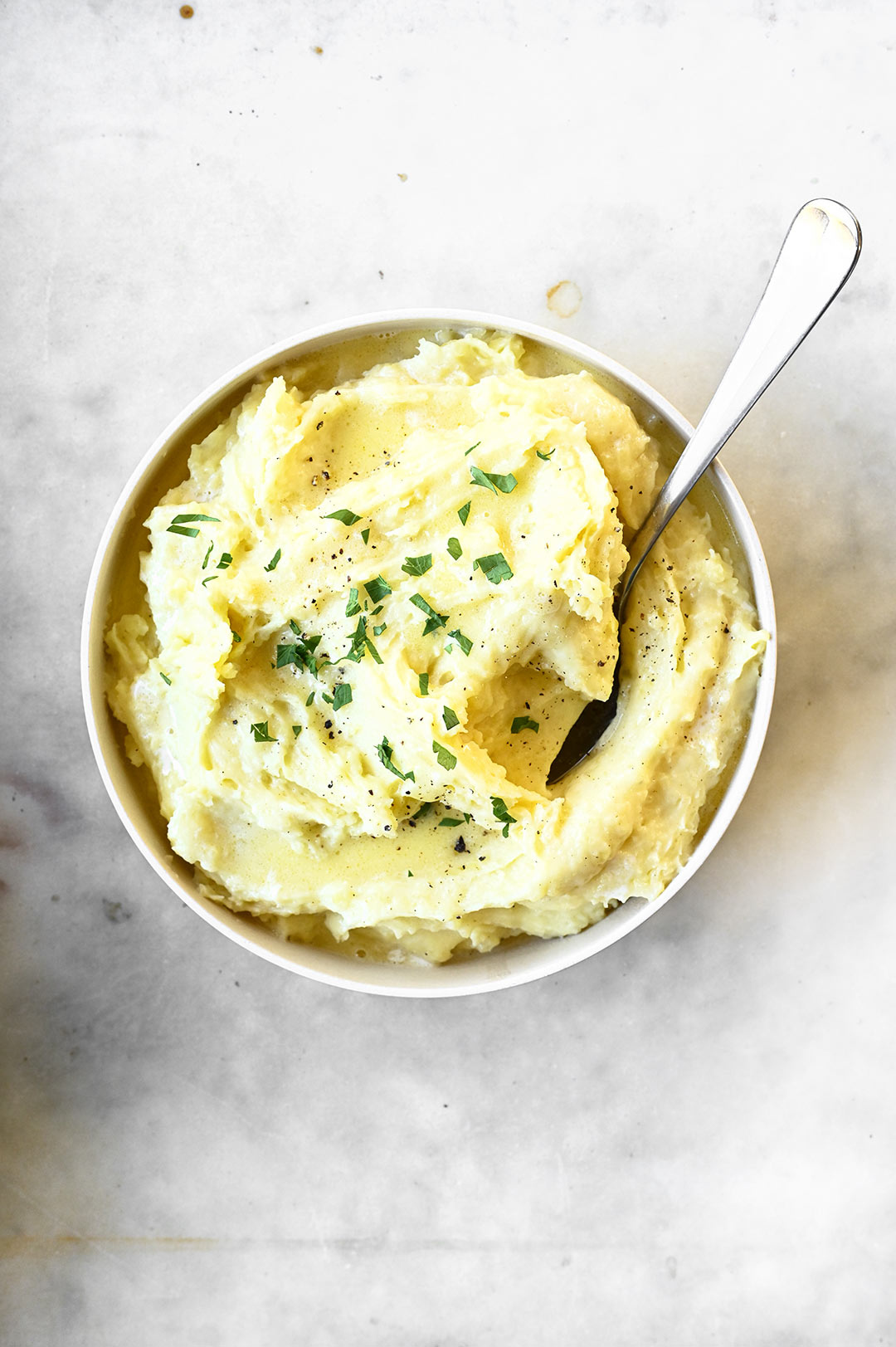 RECIPE NOTES
what kind of potatoes should you use for mashed potatoes? any starchy potatoes like Yukon Gold or Idaho Russet
pimp up your mashed potatoes! add garlic, chives, parmesan, cream cheese or crispy cooked bacon bits, or even sun-dried tomatoes paired with rucola
instead of 20% fat cream, use half-and-half
don't peel your potatoes, this way they will absorb less water while being boiled, preserving the starch within the potato
use a cheap, easy to store, old-fashioned potato masher, provided that you don't mind a few lumps. Never use a blender or food processor to quickly mash your potatoes, you will end up with a gluey-mixture
mashed potatoes are delicious when served with all kinds of sauces, or alongside your favorite meat like steak, chicken, ribs or pork tenderloin. But it's also delicious when served with meatballs, or a creamy mushroom gravy.
Let me guide you through the recipe with this step-by-step VIDEO.
Recipes you want to try with mashed potatoes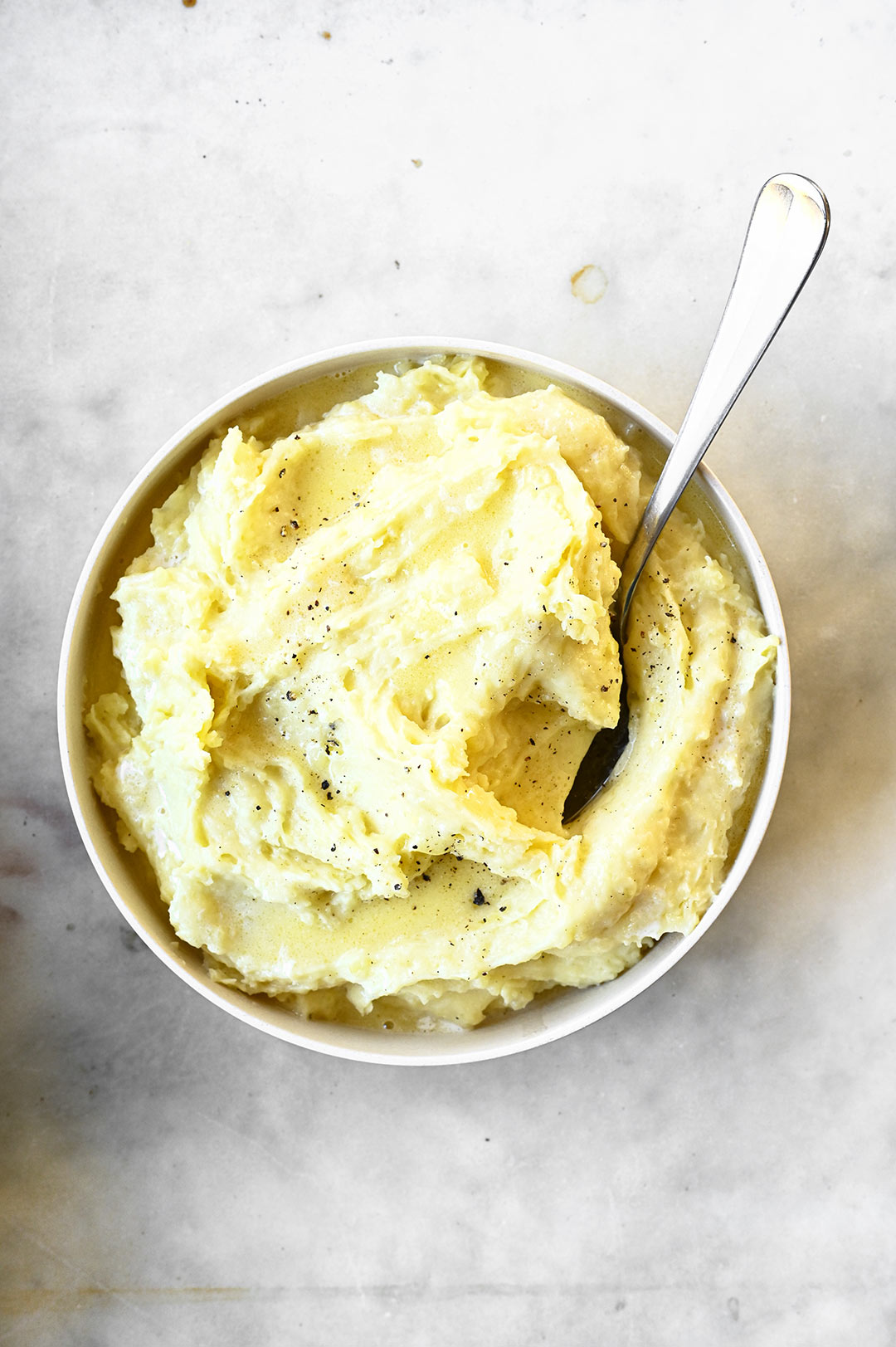 Recipe Video
Yield: serves 4-6
Buttery Mashed Potatoes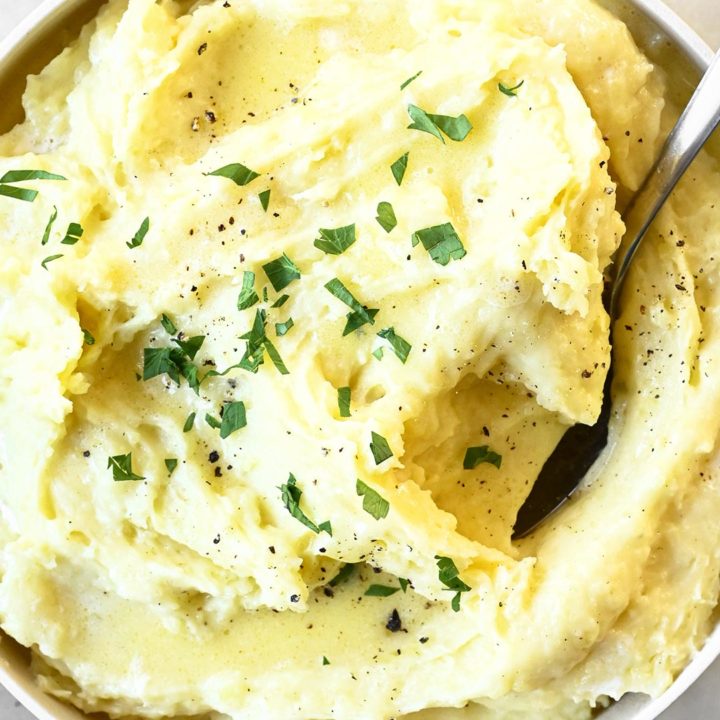 Prep Time 5 minutes

Cook Time 30 minutes

Additional Time 10 minutes

Total Time 45 minutes
Ingredients
1 kg/2.2 pounds potatoes, scrubbed and unpeeled
80 g/3 oz salted butter
3/4 cup/200 ml cream 20% fat, or half-and-half
salt
1/4 tsp grated nutmeg
1/2 freshly ground black pepper
freshly chopped parsley, for serving, optional
Instructions
Place the unpeeled potatoes in a large pot and add hot water, about 5 cm/2 inch above the potatoes. Add 2 tablespoons salt. Cover and bring to a boil over medium-high heat, then reduce heat to a simmer. Cook about 30 minutes, until potatoes are very soft or until knife-tender when testing for doneness.
In the meantime, (just before the potatoes are ready) add cream to a sauce pan, heat without bringing the cream to a boil. Add butter, stir until butter is melted, remove from heat.
When the potatoes are ready, drain them well. Remove from pot. Peel the potatoes by picking each one up with a fork and peel with a paring knife. Return the potatoes to the pot, and start mashing.
Add cream with butter, black pepper, nutmeg and 1 teaspoon salt. Mash until combined and the cream is absorbed. The potatoes will turn into a creamy mixture. Taste and adjust salt, if needed.
Transfer to a serving bowl and serve garnished with chopped parsley. Eat!
Notes
Calories Per Serving: 342 kcal
Nutritional information is only an estimate. The accuracy of the nutritional information for any recipe on this site is not guaranteed.


DOWNLOAD PRINTABLE RECIPE PDF