Butternut squash orzo with roasted broccoli. Deliciously tender orzo made with squash purée, and topped with crispy-tender miso roasted broccoli. This is a super flavorful, easy to make risotto-style recipe that will not disappoint you when it comes to comfort food. Ready in about 30 minutes.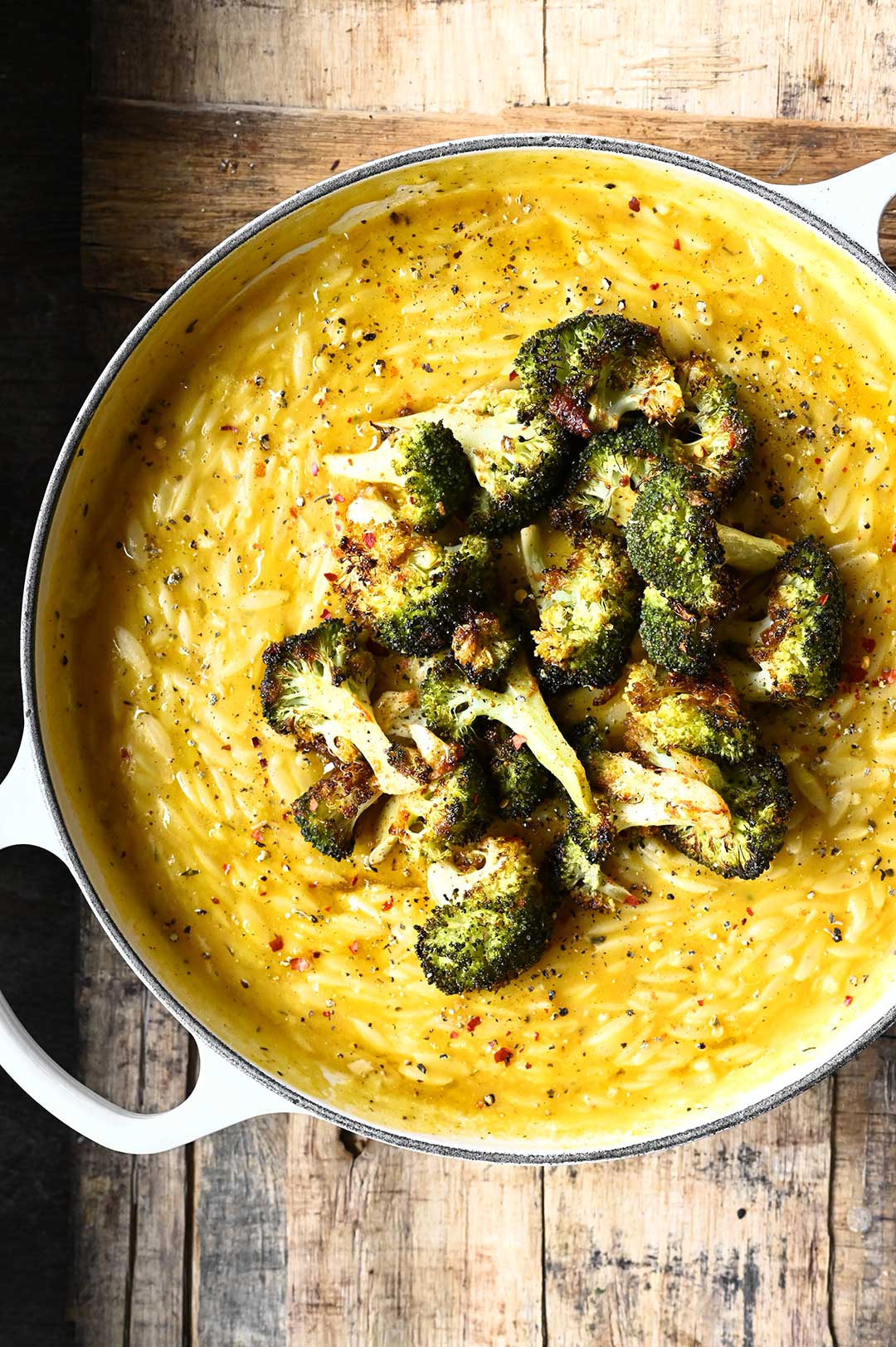 We start by tossing the broccoli florets in a mix of white miso paste, maple syrup and some spices. Once that's done, we slide it into the oven and and let it roast.
In the meantime, we prepare the orzo. We start off by sautéing garlic and onion, and then the orzo goes in. We toast it for a minute or so before adding white wine and chicken broth. To make this dish special, we're adding in some puréed butternut squash.
Let me guide you through the recipe with this step-by-step VIDEO.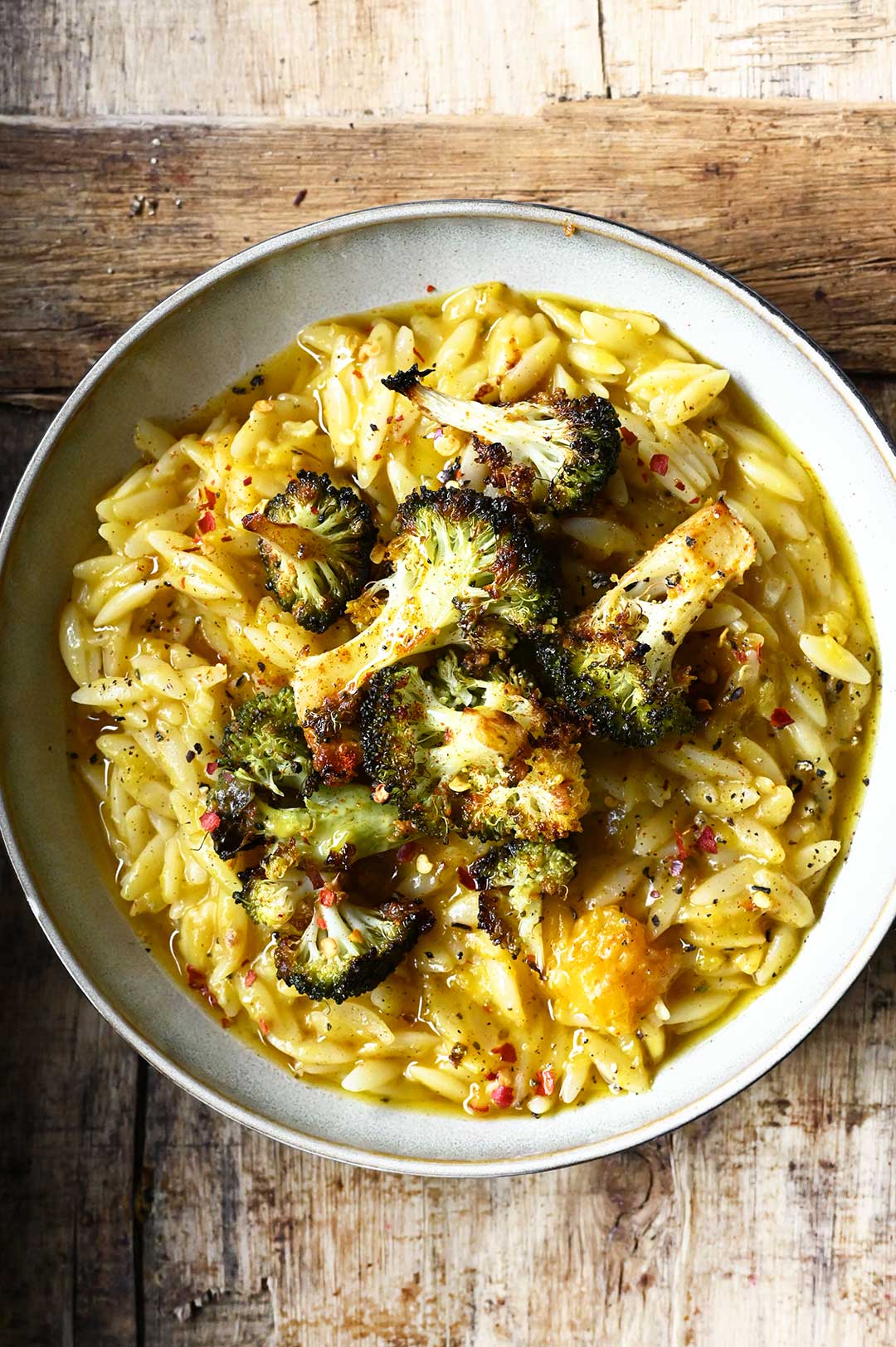 I made this recipe with homemade butternut squash purée, but you can easily make this meal with store-bought purée and honestly it will be just as good.
To finishing this dish off, we add lots of spice, garlic to contrast the mellow squash, and lots of grated parmesan for a salty bite. All of these ingredients, plus the miso roasted broccoli on top, makes for truly the most comforting dinner.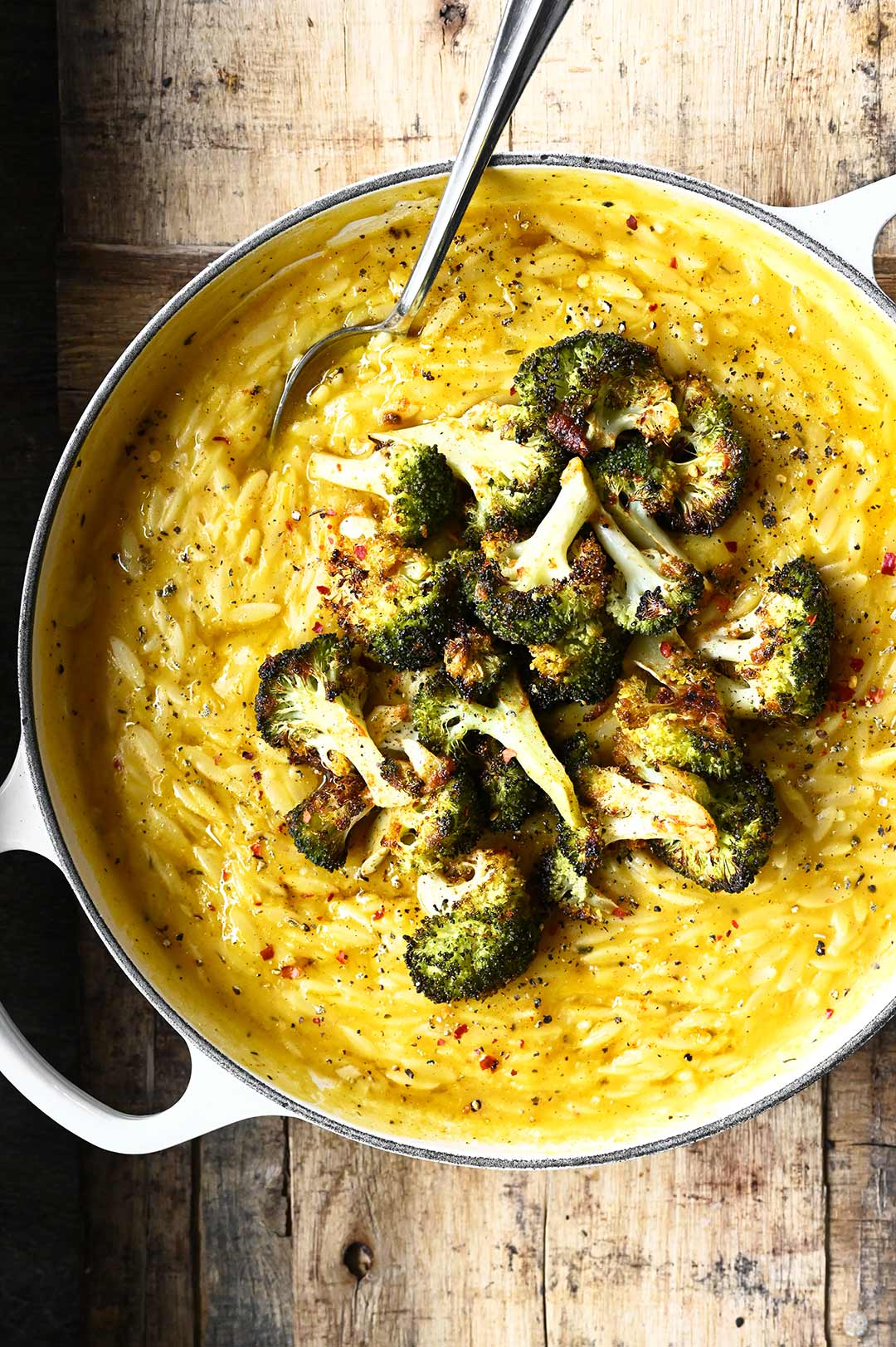 RECIPE NOTES
Orzo cooked risotto-style is the most delicious comfort food, and you can easily make it your own, you are the chef.
serve as a main dish with a fresh salad, or as a side dish
top with crispy bacon
stir in spinach or kale
use store-bought puréed butternut squash or pumpkin purée
or make your own butternut purée. Here's how to do it: cut butternut in half lengthwise and remove the seeds. Place on a rimmed baking sheet, season with salt, pepper and sweet paprika. Top with 3 tbsp butter and cover with foil. Roast for 40-45 minutes at 200 °C/400 °F, or until butter-soft. Allow to cool, scoop out the flesh and blend in a food processor. You can use the leftovers for soup or other recipes
Try These Next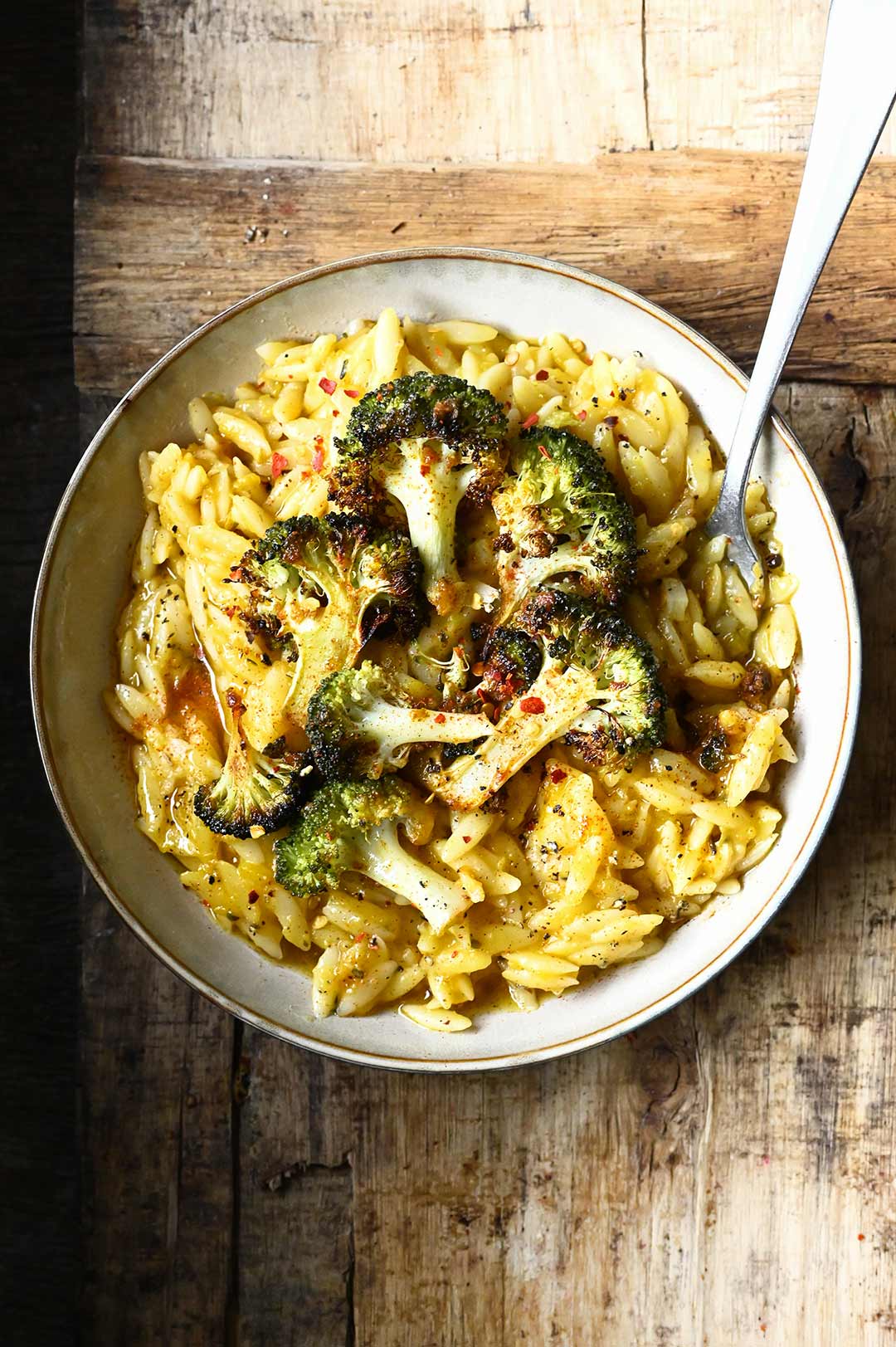 Cooking Video
Yield: serves 4
Butternut Orzo with Roasted Broccoli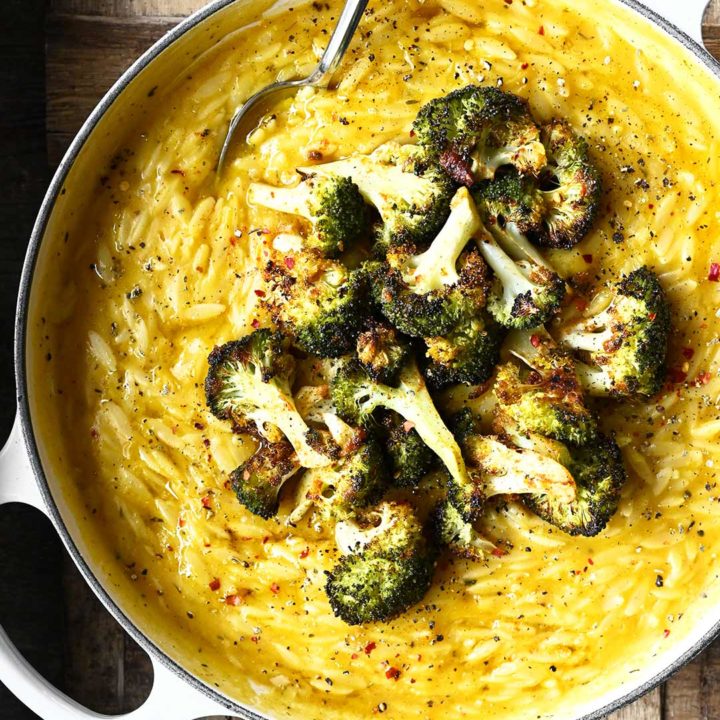 Prep Time 10 minutes

Cook Time 20 minutes

Total Time 30 minutes
Ingredients
miso roasted broccoli
1 large broccoli
3 tbsp olive oil
1 tbsp white miso paste
1 tbsp maple syrup
1/2 tsp salt
1 tsp each: black pepper, sweet paprika, garlic powder
butternut orzo
250 g/9 oz orzo pasta
1 shallot
2 garlic cloves
1 tsp each: salt, black pepper, dried thyme, dried sage
1/2 cup/100 ml white wine
3 cups/700 ml chicken broth
200 g/7 oz pureed butternut squash
40 g/1.5 oz grated parmesan
1/2 tsp crushed red pepper flakes, for serving
Instructions
Preheat the oven to 180 °C/350 °F.
Get all the prep done before you start cooking: mince the garlic and finely chop the onion.
Cut broccoli into florets, then the larger florets into bite-sized pieces.
Combine oil, miso paste, maple syrup, salt, black pepper, paprika and garlic powder in a bowl. Add broccoli and toss until coated. Place on a rimmed baking sheet layered with parchment paper, roast for 20 minutes or until crisp-tender.
In the meantime, heat oil in a large skillet over medium low. Add garlic and shallot, cook until soft and fragrant, about 3 minutes. Add orzo and stir in the spices, toast for 1 minute. Add white wine, simmer for 2 minutes.
Pour in chicken broth, bring to a boil, cover and simmer for 10 minutes. Stir from time to time to prevent orzo from sticking to the bottom of the skillet.
When ready, add pureed butternut squash, stir until combined. Simmer for 5 minutes more, or until orzo is ready and al dente.
Stir in grated Parmesan. Taste and adjust salt. Cover and allow to rest for 2-3 minutes.
Serve immediately with miso roasted broccoli, Finish off with crushed red pepper flakes and some extra black pepper. Enjoy!
Notes
Calories Per Serving: 393 kcal
Nutritional information is only an estimate. The accuracy of the nutritional information for any recipe on this site is not guaranteed.

DOWNLOAD PRINTABLE RECIPE PDF

//= __('Print recipe (no photos)', 'servingdumplings' );?> //= __('Print recipe (with photos)', 'servingdumplings' );?>