An end-of-summer brown sugar plum cobbler. This cobbler is nothing short of amazing. Every bite is layered with juicy plums, vanilla, cinnamon, and plenty of brown sugar to sweeten things up. The plums are soft, while the topping is crisp on the edges and soft in the center.
This cobbler is delicious, super simple to make, and a great end of summer dessert to serve at family gatherings or for friends. Top with vanilla ice cream for a knock-out dessert.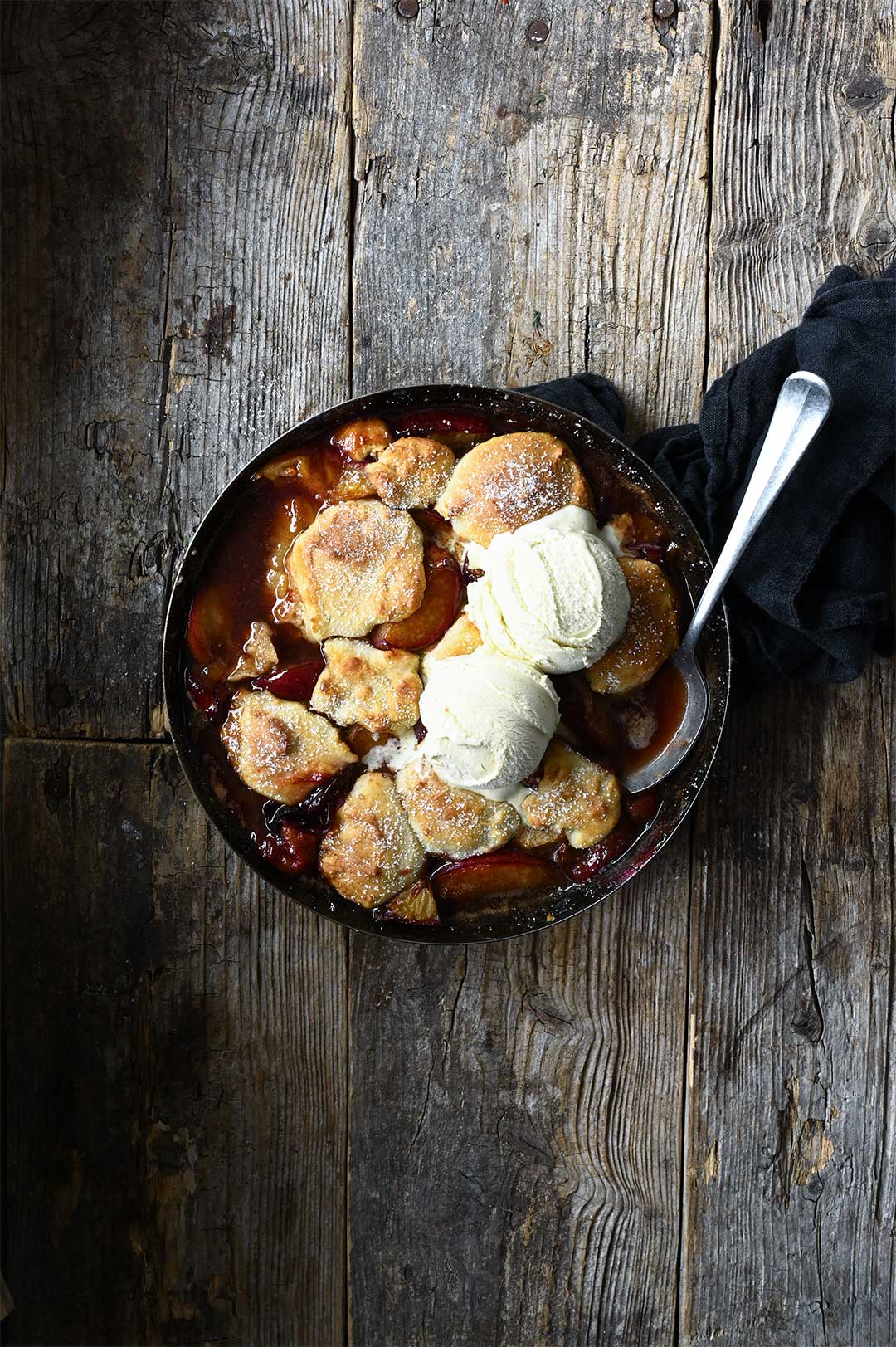 This is an outrageously good cobbler and we use of my favorite fruits, plums. The filling is fast and flavorful, the topping is buttery and easy to make, together they create the ultimate sweet-tart dessert and the cobbler's unfussy nature lets the juicy plums shine.
If you're looking to whip up an irresistible delicious, can't-stop-eating-it fruity dessert, I promise you, this is it. Let me explain why. The simmered fruit is topped with mounds of soft cake dough and when baked, it becomes like pillowy, lightly sweet dumplings.
As the fruit bubbles away, the dumplings bake and sink into the fruit. A tender, cake-like biscuit that greedily soaks up the rich fruit juices. It complements the filling without overwhelming it.
The batter is super easy to make, you only need to combine the dry ingredients with a fork, then stir in milk and butter.
The dough then gets placed on top of the filling, sprinkled with coarse sugar, giving the dough a sparkling finish that provides an extra layer of crunch.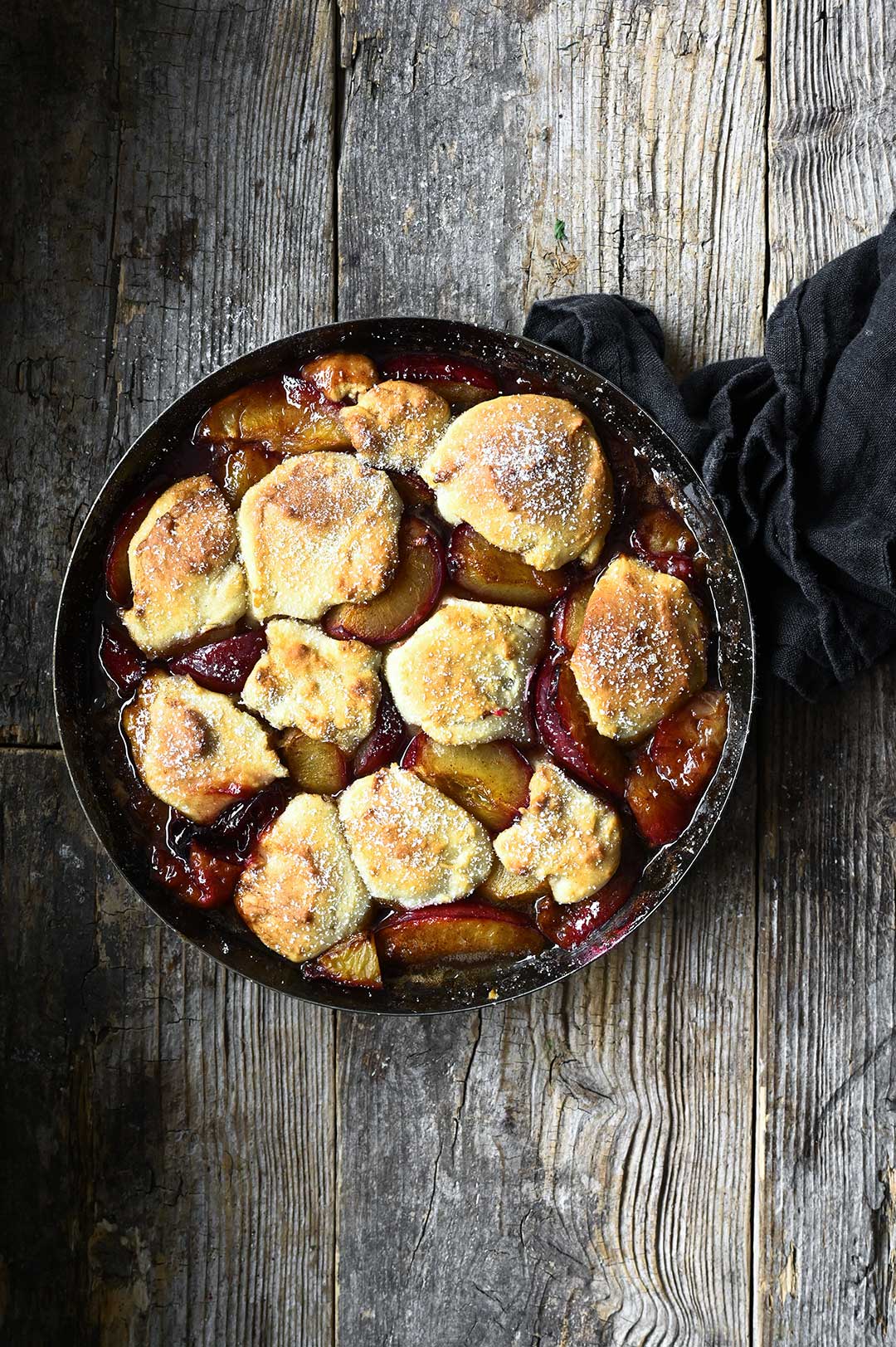 It's super easy, there's no messing around with cold butter and pie dough on the bottom, no blind baking either. It just doesn't have a bottom crust that becomes soggy, so when the plums create delicious juices that run a little thin, it actually makes the whole dessert even better.
This cobbler delivers a crisp and tender top crust with a jammy fruit filling underneath, and it begs for a scoop of ice cream! You can whip it up in 5 minutes, then 30 in the oven et voila! Ready!
Let me guide you through the recipe with this step-by-step video.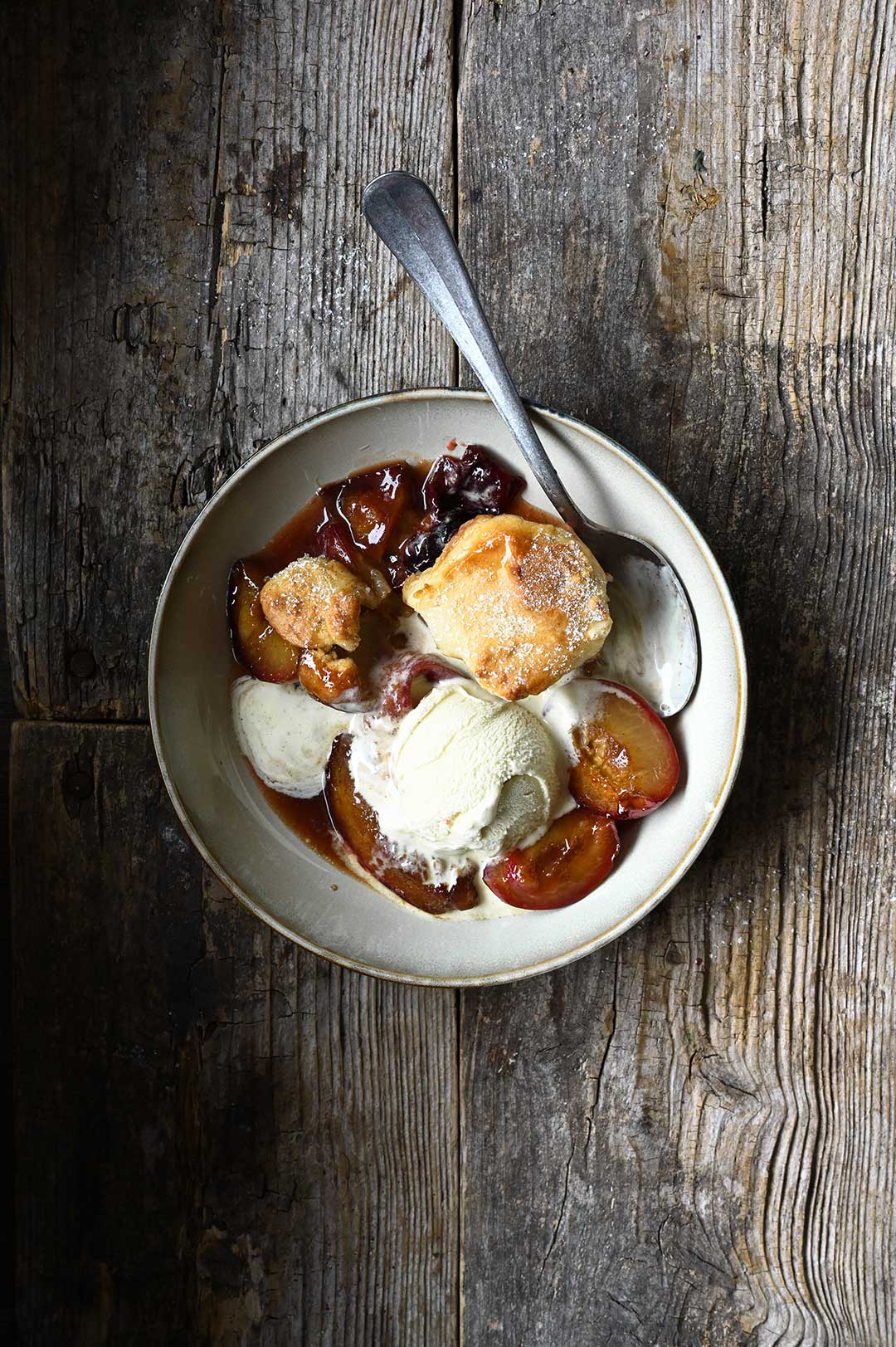 3 more delicious end-of-summer fruit desserts:

Cooking Video
Yield: serves 4
Brown Sugar Plum Cobbler
Ingredients
900 g/2 pounds plums, pitted and quartered
3/4 cup/100 g brown sugar
2 tbsp rum (optional)
1 tsp vanilla
1 tsp cinnamon
1 tbsp lemon juice
1 tbsp corn starch
butter for greasing
coarse sugar for sprinkling
vanilla ice cream, for serving
powdered sugar, for serving
dough
160 g/1 cup all-purpose flour
3 tbsp sugar
1 1/2 tsp baking powder
1/4 tsp salt
1/2 cup/120 ml milk, at room temperature
45 g/3 tbsp unsalted butter, melted
Instructions
Preheat the oven to 190°C/375°F.
Grease a baking dish with butter.
Combine the flour, baking powder, salt and sugar in a mixing bowl. Use a fork to whisk. Then add milk and melted butter. Use a wooden spoon to stir and combine. Set aside.
Toss the plums with sugar, rum, vanilla, cinnamon, corn starch and lemon juice. Transfer into the prepared baking dish.
Drop rounded spoonfuls of dough evenly over the plum mixture.
Sprinkle with coarse sugar. Bake for 30 minutes, or until the top is nicely browned.
Let cool for 5 minutes. Dust with powdered sugar. Spoon onto plates and serve with a scoop of vanilla ice cream alongside. Enjoy!
Notes
Calories Per Serving: 497 kcal
Nutritional information is only an estimate. The accuracy of the nutritional information for any recipe on this site is not guaranteed.