Deliciously toasted brown butter with little bits of chopped walnuts and fried sage. Served with orecchiette, one of my favorite pasta shapes because of the tiny little indentations that are capable to catch so much sauce. There is something eternally satisfying and soothing about buttered pasta. We toss the warm orecchiette with nutty brown butter and golden toasted walnuts for an ultra-comforting meal that comes together in just minutes. We jazz it up with sage, garlic and chili flakes for a comforting dish that's fancy enough for when friends pop over.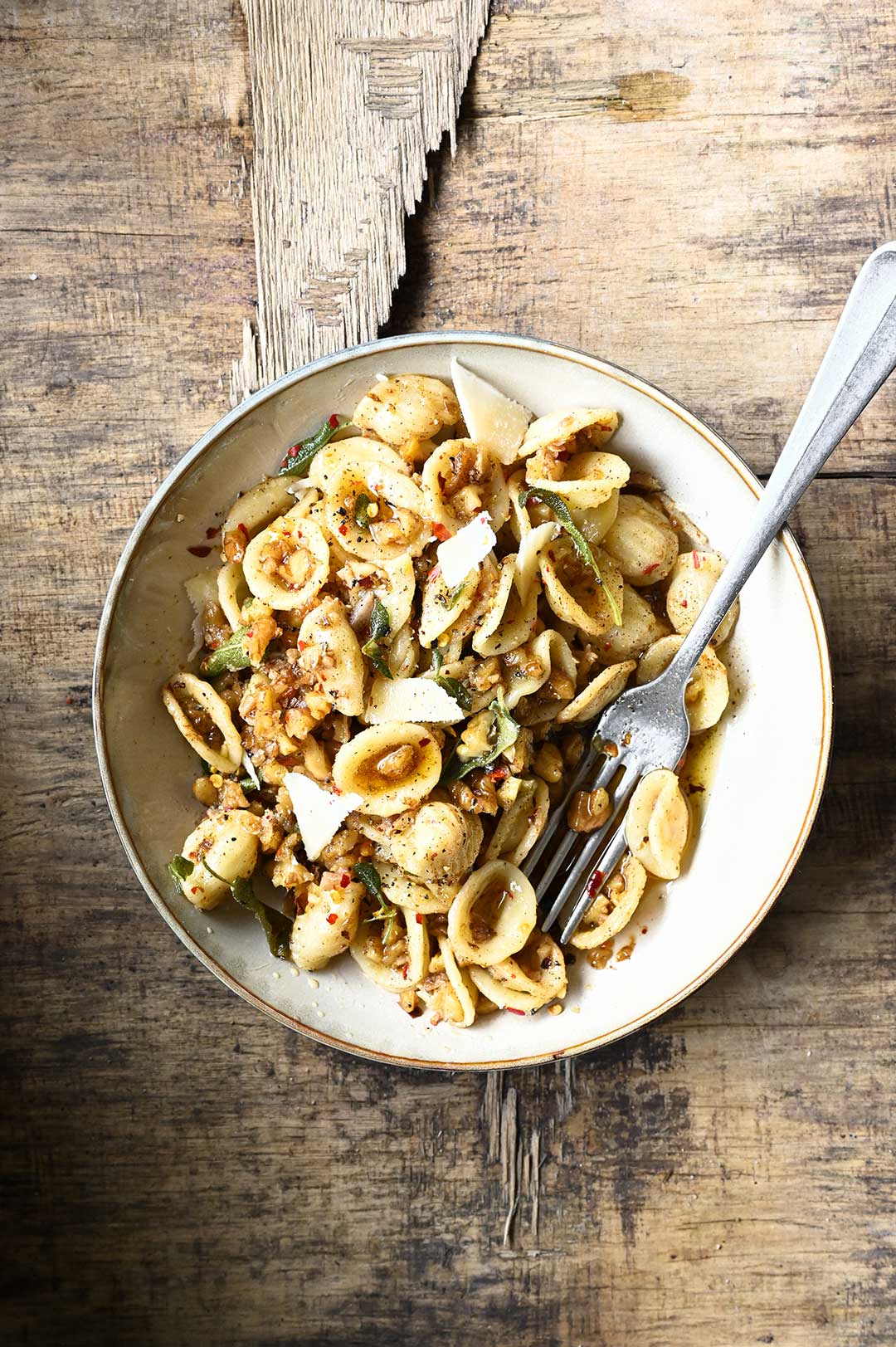 And if you think that brown butter sauce is hard to make, it's not, it's absolutely fuzz-free. We cook it down over low heat until the milk solids in the butter caramelize into a nutty sweetness and create a sediment at the bottom of the pan, which in turn coats the pasta as tiny, nutty brown freckles that are seriously delicious. We add some olive oil and a splash of pasta cooking water, this way we use less butter.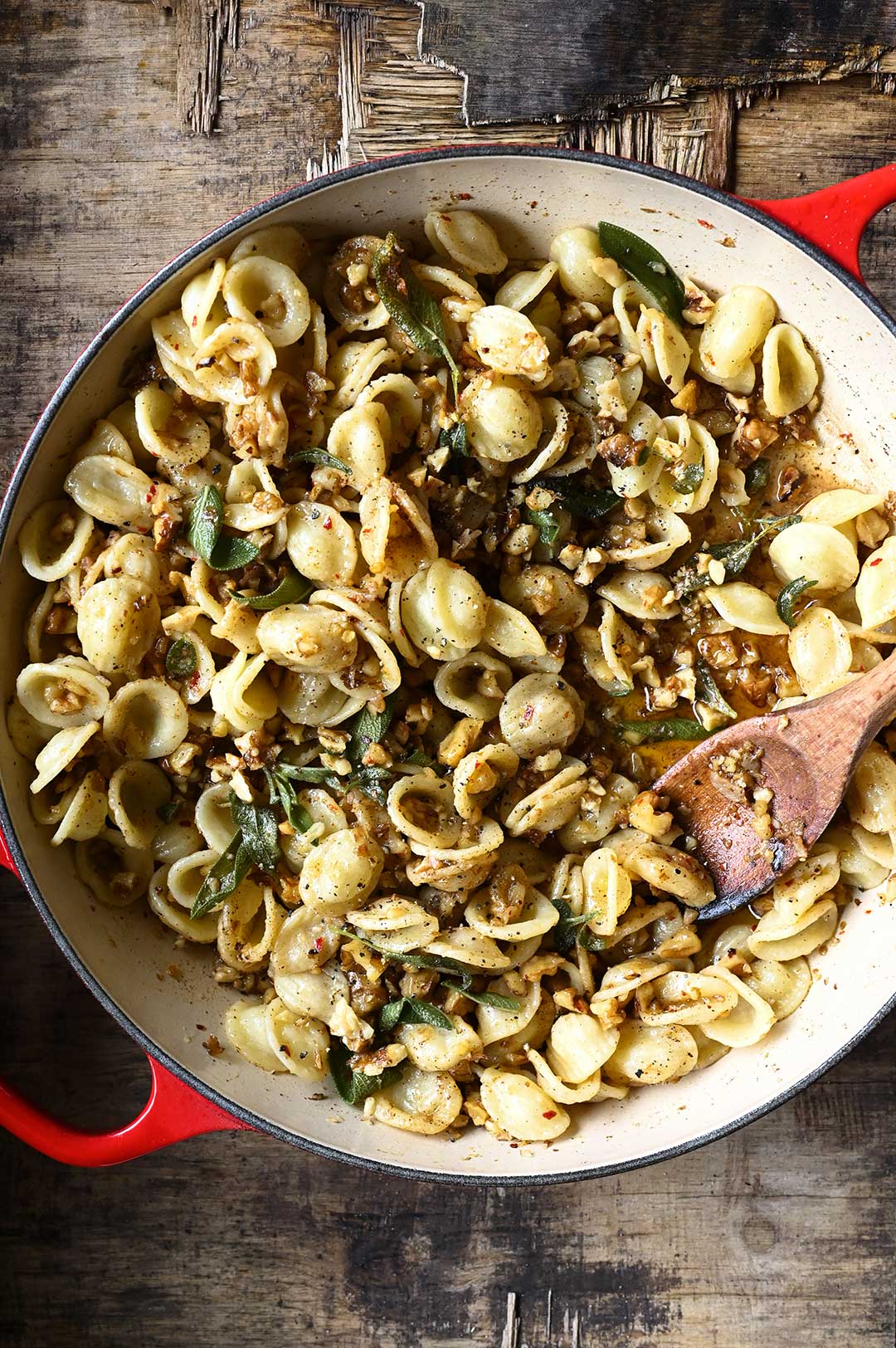 Brown butter instantly makes pasta feel fancy and turns a weeknight meal into a dish that tastes totally luxurious. And if that wasn't enough to win you over, it comes together with a short list of pantry staples in about 15 minutes. Add some mushrooms and a big side salad and you know you're in for a real treat!
Let me guide you through the recipe with this step-by-step VIDEO.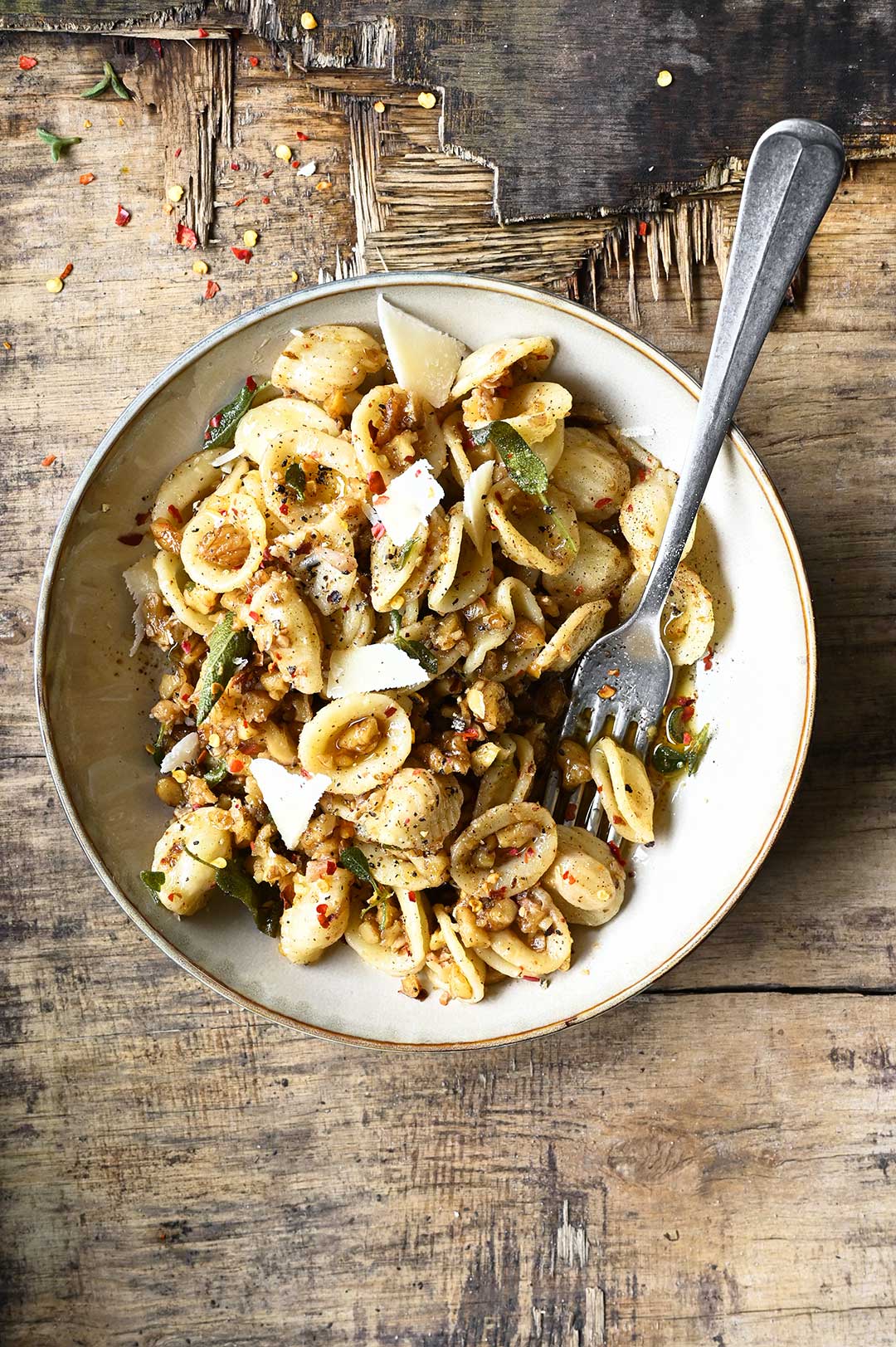 More pasta recipes to make:

Recipe Video
Yield: serves 2
Brown Butter Orecchiette with Walnuts and Sage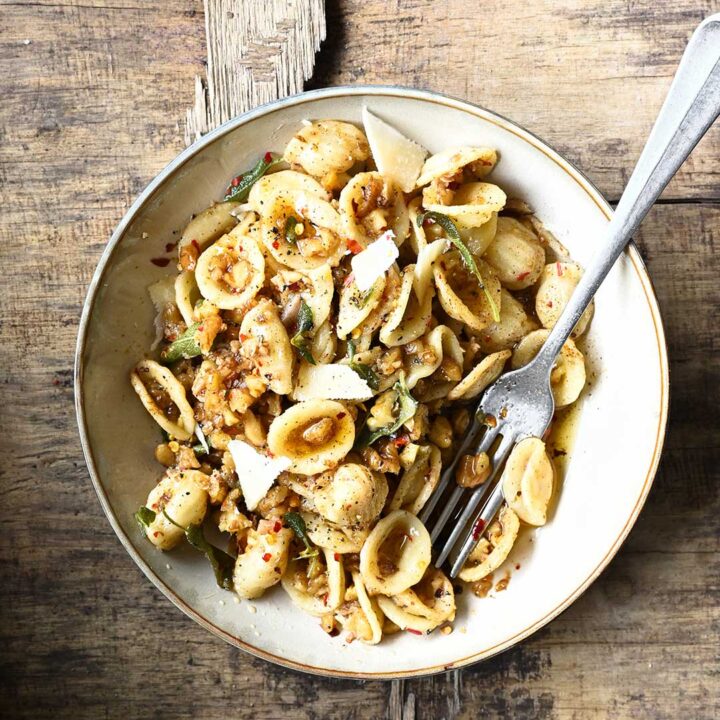 Prep Time 5 minutes

Cook Time 10 minutes

Total Time 15 minutes
Ingredients
200 g/7 oz orecchiette
3/4 cup/100 g chopped walnuts
80 g/3 oz unsalted butter
3 tbsp olive oil
4 garlic cloves, minced 
1 tbsp lemon juice
20 fresh sage leaves
1 tsp chili flakes
1 tsp smoked paprika
sea salt + black pepper
grated parmesan, for serving
Instructions
Boil the orecchiette in salted water until al dente. Drain, reserving 1/4 cup of the cooking water.
While the pasta is cooking, chop the walnuts and mince the garlic.Heat a large frying pan over high heat. Add the butter, lower the heat and cook for 2-3 minutes or until butter foams, then starts to brown. Add olive oil, chopped walnuts and garlic, fry for 2 minutes.
Then add chili flakes, smoked paprika, salt, pepper and lemon juice. Stir in the sage leaves and cook for another minute. Finally add orecchiette together with a splash of cooking water and toss with the butter sauce.
Divide pasta among bowls. Serve with grated Parmesan, extra chili flakes and a big side salad. Enjoy!
Notes
Calories Per Serving: 621 kcal
Nutritional information is only an estimate. The accuracy of the nutritional information for any recipe on this site is not guaranteed.


DOWNLOAD PRINTABLE RECIPE PDF