Pasta with garlic sautéed broccoli, walnuts and a brown butter sauce. It's easy to make, broccoli-loaded and ideal for busy weeknights or on a date night. A hearty dinner with simple pantry ingredients in a luxurious jacket. Straightforward and immensely flavorful. You'll love this great combination of broccoli and crunchy walnuts. Bonus? It comes together in about 20 minutes.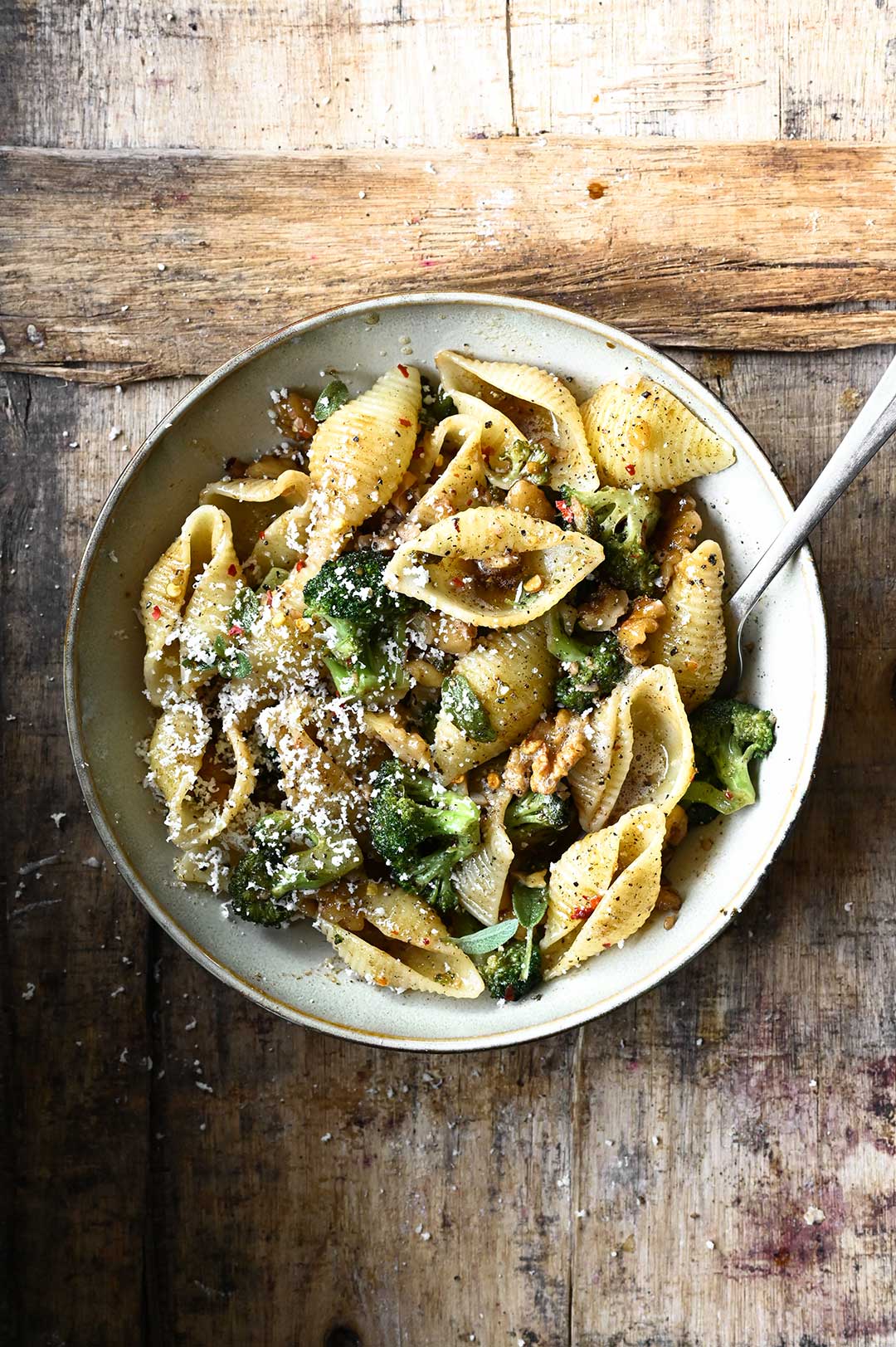 First, we make a brown butter sauce that's studded with walnuts. To that we add broccoli and sauté it for a couple of minutes, this way we'll preserve its delicious taste and crisp-tender texture. We add garlic, balsamic vinegar, sage and red pepper flakes. Then we stir in the pasta and toss until each bite is slicked with a rich and buttery sauce. The result is amazing, forcing your taste buds to try to keep up.
Let me guide you through the recipe with this step-by-step VIDEO.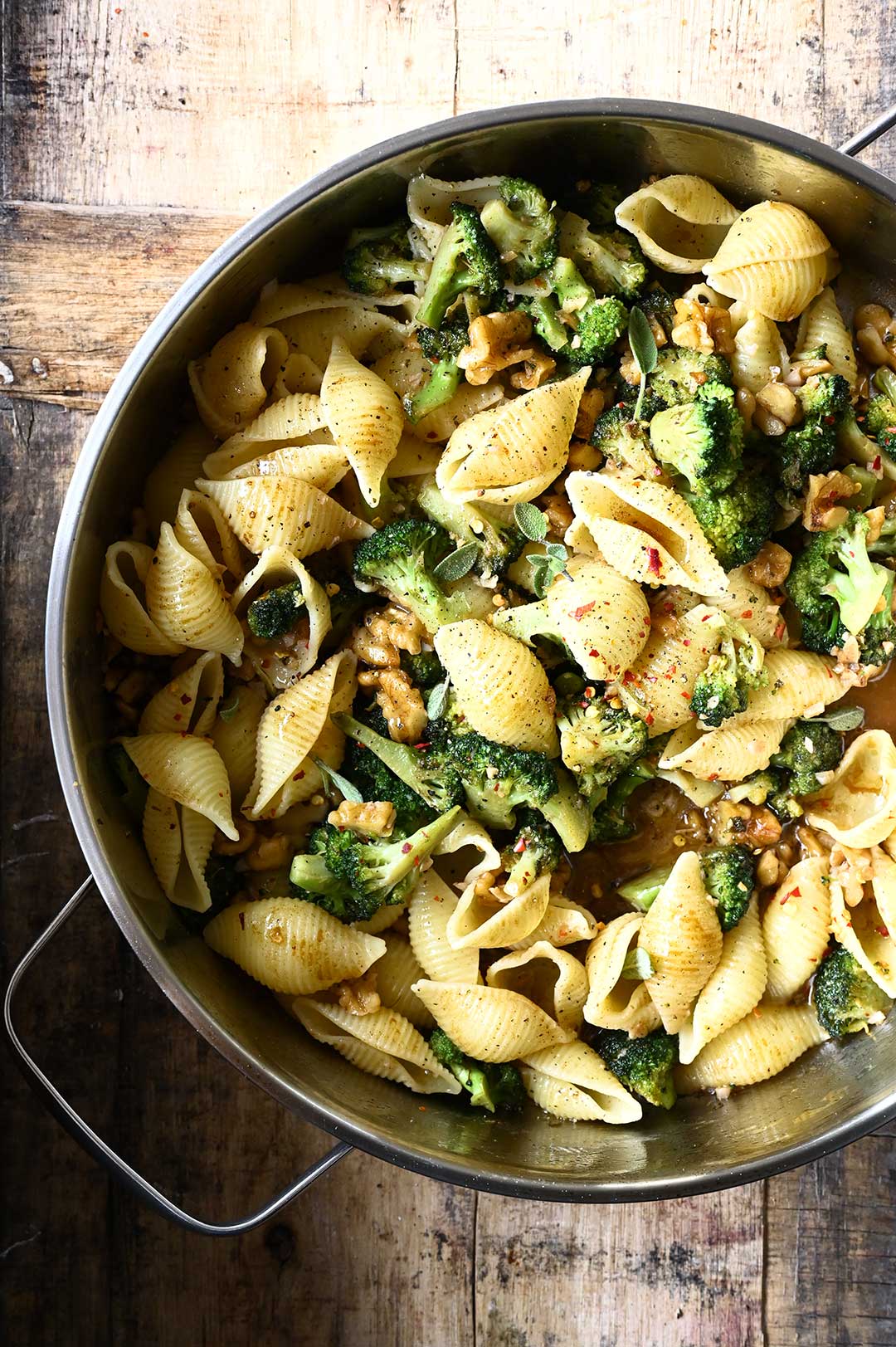 RECIPE NOTES
You can use broccoli rabe instead of the small broccoli florets. Swap walnuts for pine nuts, hazelnuts or sunflower seeds. As for the pasta, if you can't find shells, substitute for orecchiette or any of your favorite shaped pasta that can trap and hold the sauce when it travels from plate to mouth.
Other Delicious Recipes to Try:
Black Pepper Chicken Alfredo Pasta
Pasta with sun-dried tomato ricotta pesto
Eggplant Miso Pesto Pasta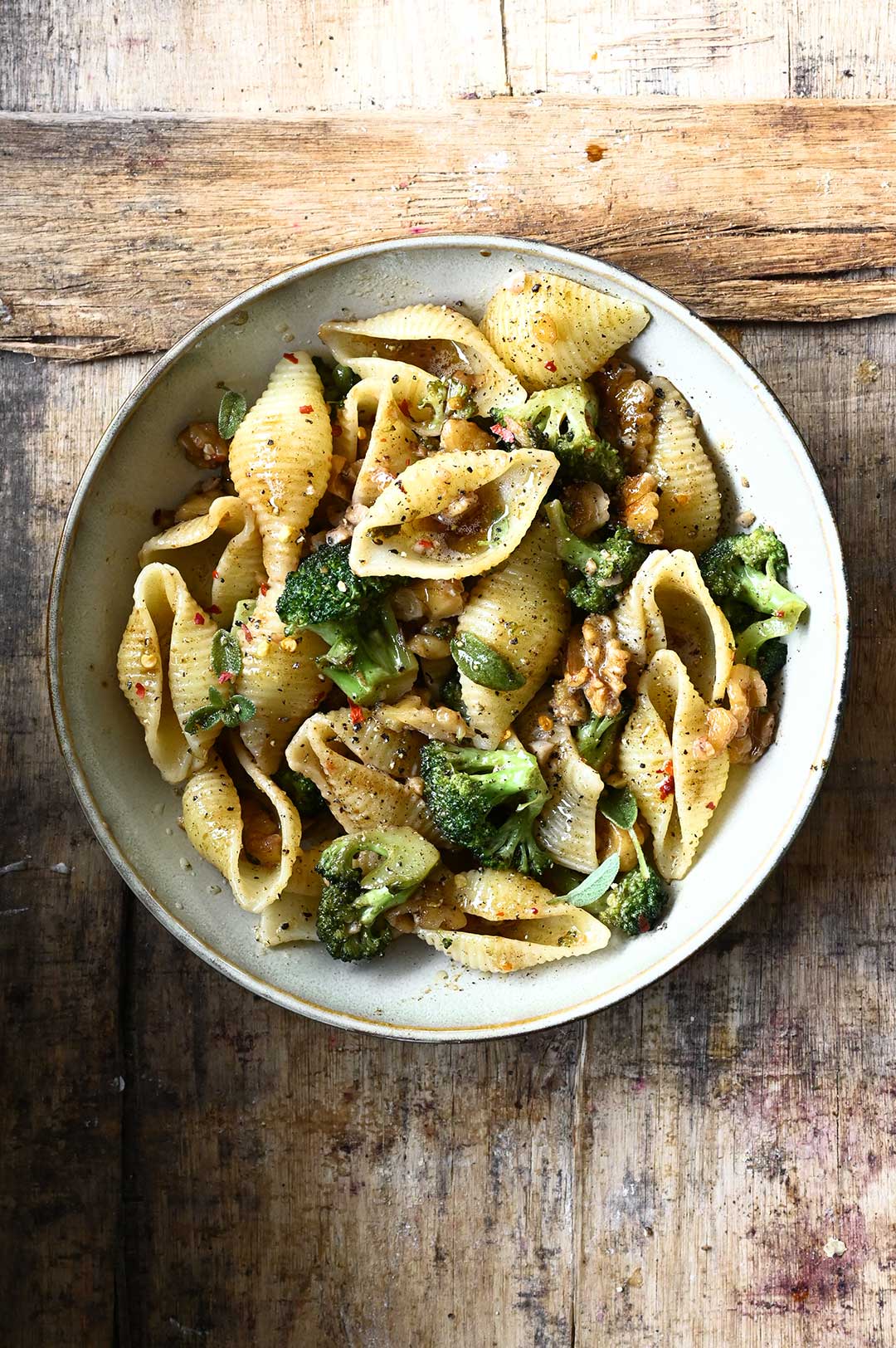 You need
200 g (7.1 oz) shaped pasta, like shells or orecchiette
60 g (1/2 cup) walnuts, roughly chopped
1 broccoli
3 garlic cloves, minced
60 g (4 tbsp) salted butter, at room temperature
50 ml (1/4 cup) olive oil
spices: 1 tsp each: smoked paprika, dried sage, crushed chili flakes, salt, black pepper
2 tbsp balsamic vinegar
grated parmesan, for serving
crushed chili flakes and black pepper, for serving
How to
Let me guide you through the recipe with this step-by-step VIDEO.
Cook the pasta in a large pot of boiling generously salted water, until al dente.
Meanwhile, cut the broccoli in florets, the cut the florets into small bite-sized pieces. Cut the stems into pieces roughly the same size as the florets. Peel the main stem from the broccoli, and finely dice.
Heat half of the butter in a large pan or skillet over medium heat. Stir the butter constantly to keep it moving. Once melted, the butter will begin to foam and sizzle. Keep stirring, about 3-5 minutes, until the butter starts to turn golden brown. It will smell intensely buttery and nutty.
Add walnuts and olive oil, cook, stirring often, until nuts are golden brown and the bottom of the pan is browned in spots, about 3 minutes.
Add broccoli and spices. Sauté, tossing frequently until crispy-tender, for about 6 minutes. Add garlic, cook until fragrant, about 2 minutes.
Just before pasta is al dente, scoop out 1/2 cup pasta cooking liquid. Add 1/4 cup cooking water to butter sauce. Stir in the remaining butter and add balsamic vinegar.
Drain pasta and add to the sauce, stir to combine and remove from heat. Add more pasta water if needed.
Serve sprinkled with extra chili flakes, black pepper and Parmesan. Enjoy!