This brothy chickpea stew is incredibly hearty, easy to make and delicious. It's one of those magical recipes with chickpeas and lentils that turns into a deep, rich stew. A small amount of bacon also goes a long way here, it's mainly to add some saltiness and a smoky, richer flavor. Just toast some cheese on bread and drop it into the bowls, the bread will soak up all those delicious brothy flavors. A super satisfying meal in a bowl.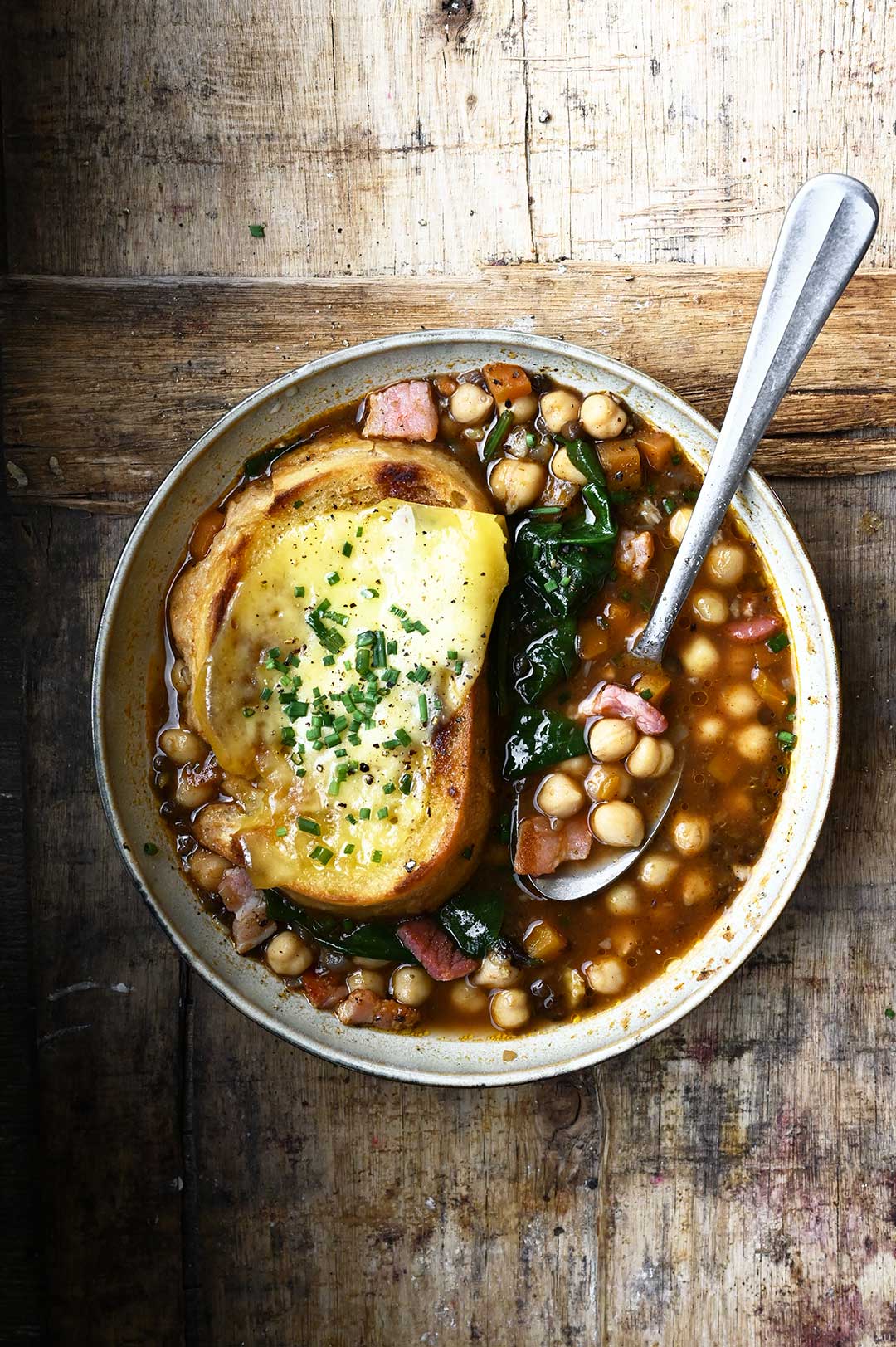 We start by cooking the bacon for a nice smoky flavor, then we let the onion, garlic and carrot sweat in olive oil. There are also a few spices for a particularly savory undertone. Then we pour vegetable stock, add lentils, close the lid closed and simmer the stew for 20 minutes, until the lentils are soft. Then add the chickpeas to the stew, spinach, a splash of lemon juice and done.
You can stir in a few leaves of savoy cabbage, kale, or other seasonal vegetables about 5-10 minutes before the end of the cooking time, and I don't need to tell you that this stew tastes even better the next day. We serve it with some cheesy toasted bread, and some drops of Tabasco. Highly recommended.
Let me guide you through the recipe with this step-by-step VIDEO.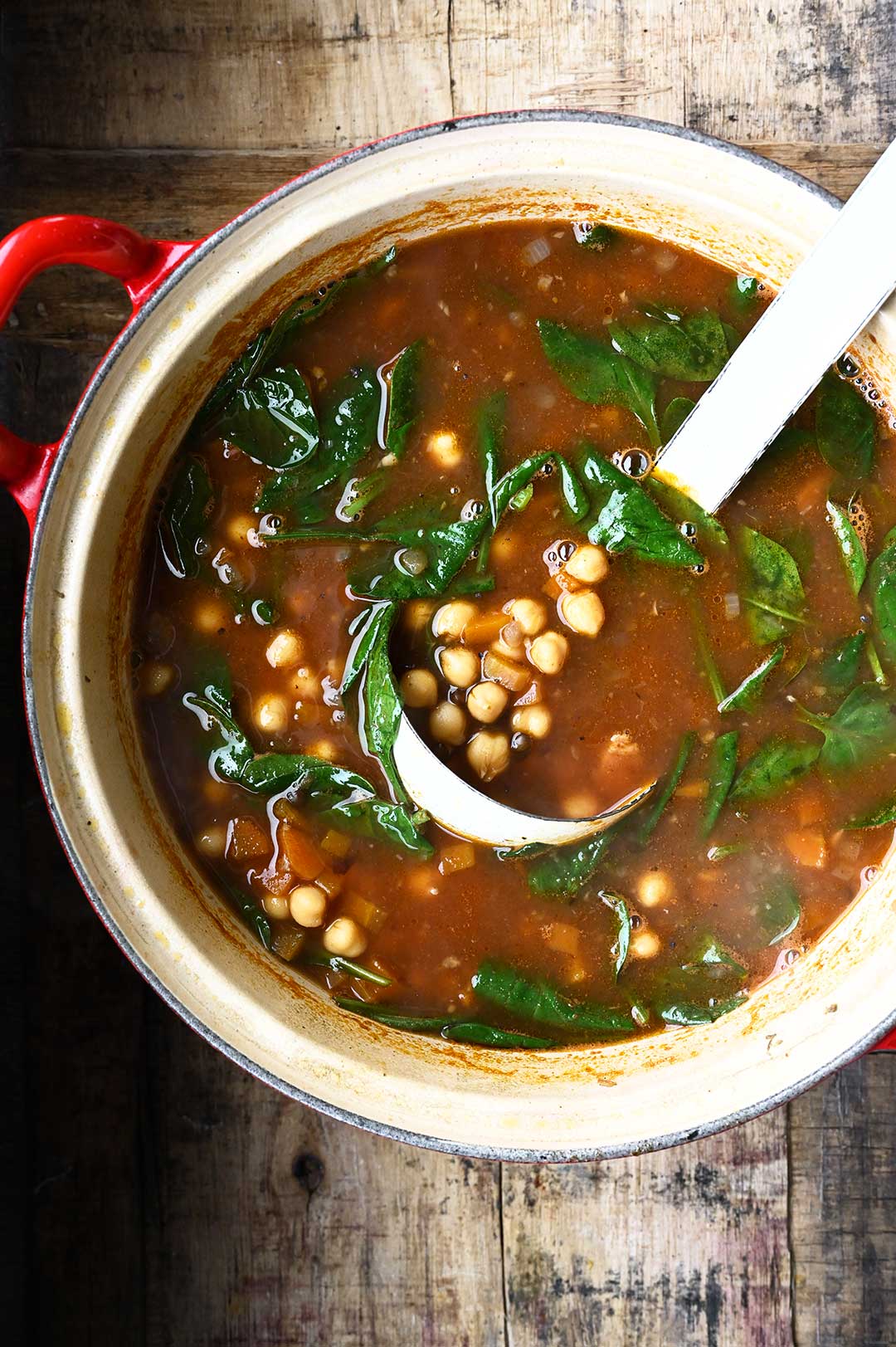 And also this: It's a hearty, chunky stew that makes enough to feed a couple people. But if you want to stretch it out even further and make a soup, add another 4 cups of broth. Simmer and the rich flavor will spread through the extra liquid.
One last note: We're using canned chickpeas, but if you want, you can use dry, soaked overnight chickpeas and boil them in the stew for 40 minutes.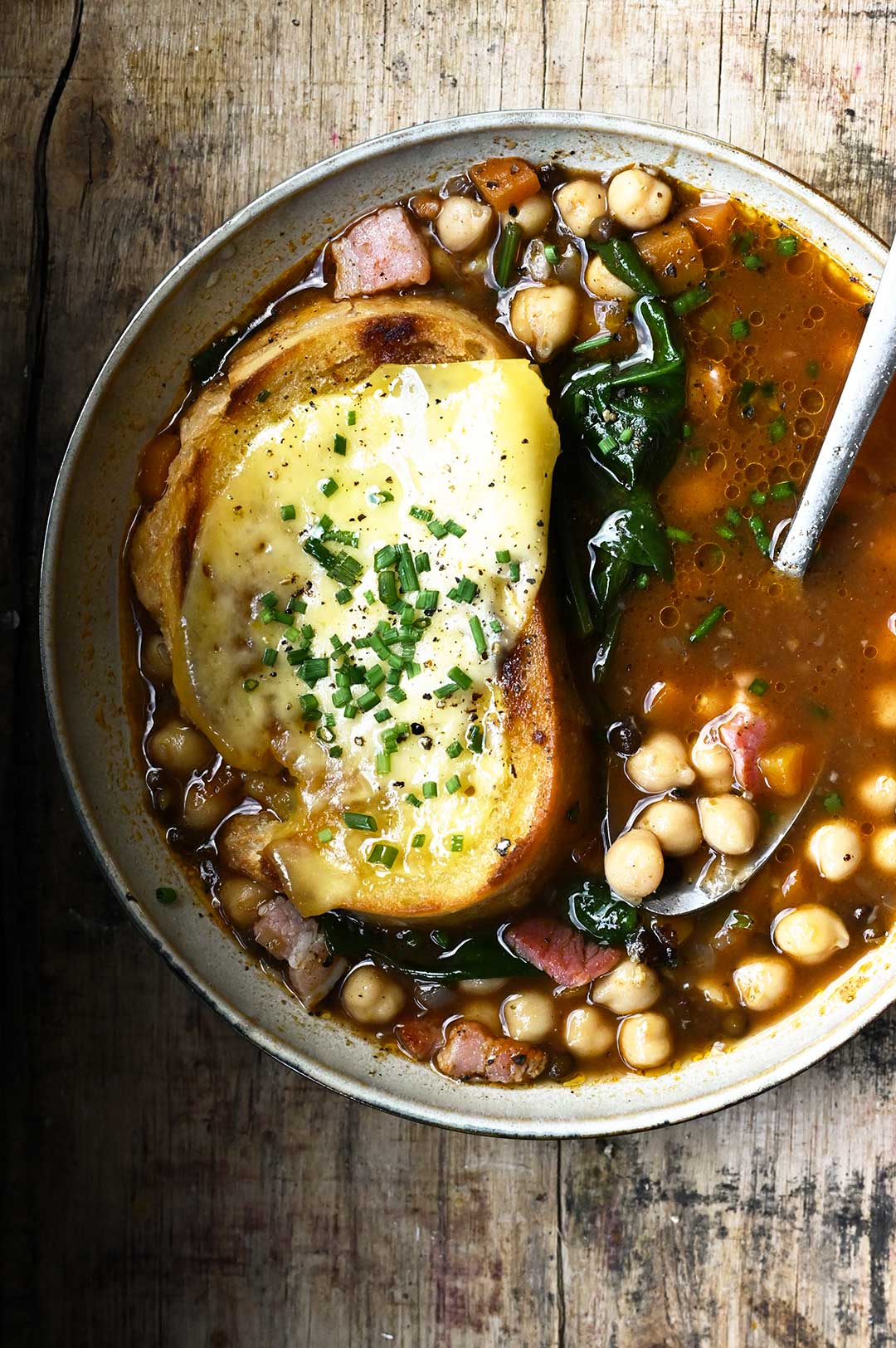 Other Delicious Recipes to Try

RECIPE VIDEO
Let me guide you through the recipe with this step-by-step VIDEO.
Yield: serves 4
Brothy Chickpea Stew
Prep Time 10 minutes

Cook Time 30 minutes

Total Time 40 minutes
Ingredients
100 g/3.5 oz smoked bacon, cut into strips
2 cans (400g/14 oz) chickpeas, drained
50 g/2 oz lentils, black or green
50 g/2 oz spinach leaves
2 carrots, peeled and cut into cubes
4 garlic cloves, minced
1 small onion, finely chopped
3 tbsp olive oil
2 tbsp tomato paste
1 tsp each: ground cumin, smoked paprika, black pepper
1 bay leaf
1 tbsp lemon juice
1,5 L/6 cups vegetable or chicken broth
also
4 thick slices bread
4 thin slices cheese, cheddar or gouda
2 tbsp unsalted butter
2 tbsp olive oil
chopped chives and black pepper, for serving
Tabasco, for serving (optional)
Instructions
Heat olive oil in a large stockpot over medium heat. Add bacon, cook until golden brown and crispy. Stir occasionally. Remove from pot.
If the stockpot looks dry, add 2 tbsp oil. Add garlic and onion, sauté over low heat until fragrant, about 2 minutes. Stir in cumin, smoked paprika and black pepper. Add carrots, cook for 2 minutes.
Pour the broth and bring to a boil. Add lentils and bay leaf, cover and simmer for 20 minutes over low heat.
When the lentils are soft, but sill al dente, add chickpeas and tomato paste, simmer for 5 minutes more. Add spinach and lemon juice, stir and turn off the heat. Taste, and add salt to your own liking.
While the stew is simmering, make the toasts. Heat a skillet over medium-low heat, add butter and olive oil. Place bread and toast until golden brown and crispy, about 5 minutes. Flip, top with cheese and continue to toast until cheese is melted, about 5 minutes more.
Divide soup among bowls. Place cheesy toast on top. Sprinkle with bacon, chives and season with black pepper and a few drops of Tabasco. Enjoy!
Notes
Calories Per Serving: 438 kcal
Nutritional information is only an estimate. The accuracy of the nutritional information for any recipe on this site is not guaranteed.

DOWNLOAD PRINTABLE RECIPE PDF