Brothy beans with garlic and Parmesan. A 30-minute flavor bomb. Butter beans and fava beans in a light garlic broth flavored with lemon and white wine for a delicate level of balanced acidity. Finished off with sage breadcrumbs and lots of buttery, nutty Parmesan.
Use whichever beans you like and mop up every last garlicky drop with a hunk of crusty bread. Who doesn't love a fast recipe with a fancy touch?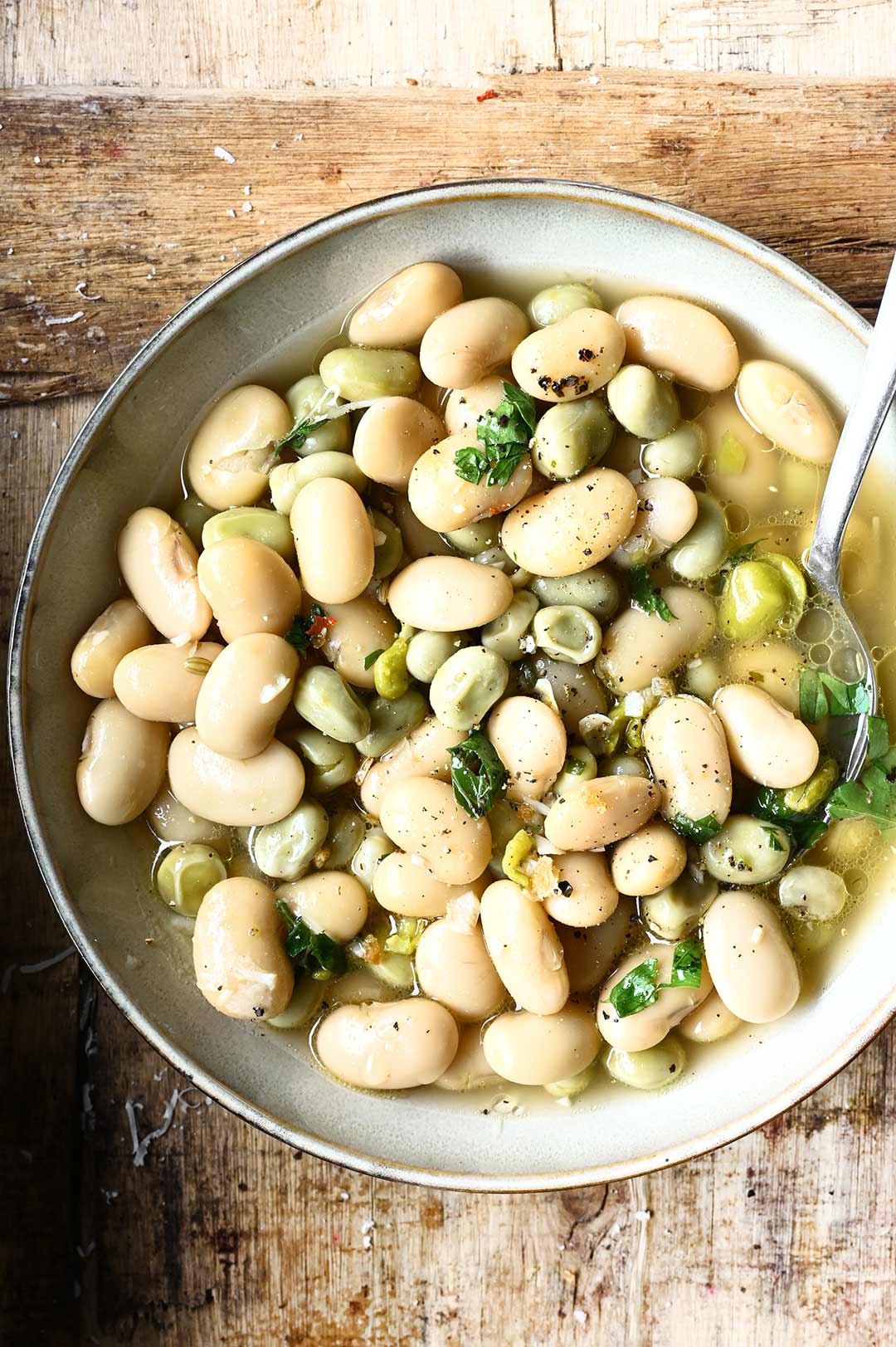 This flexible stew can use up much of what you've got on hand. It's vegetarian, but feel free to add some leftover meat, bacon or pancetta. Traditional bean stews rely on the starch from the beans to thicken the sauce.
In this fast-cooking version, we use canned beans together with their liquid. This flavorful bean liquid will thicken our final broth.
Serve with lots of grated Parmesan, which will melt into the broth and add an incredible creaminess.
Let me guide you through the recipe with this step-by-step VIDEO.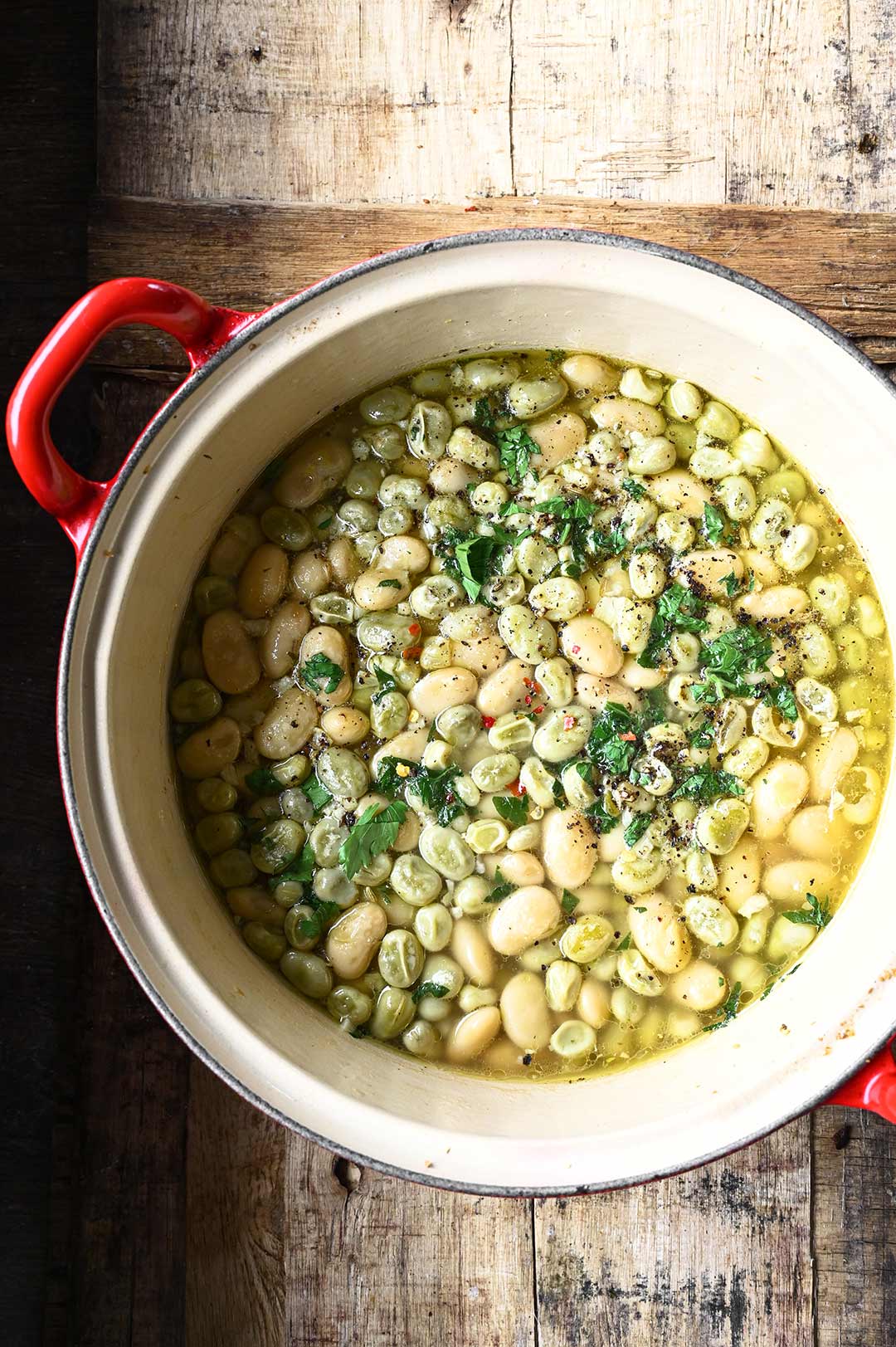 RECIPE NOTES
while butter beans and fava beans are my beans of choice, cannellini beans work also wonderfully well
this dish is lovely on it's own, but you can add in some extra greens like spinach, baby kale or sautéed fennel
if you feel like it, you can add a small amount of smoked bacon, for a smoky flavor, but salted bacon, some leftover meat or pancetta will also work great
serve as main dish with some crusty bread or as a side
for this recipe, you can use dry, overnight soaked beans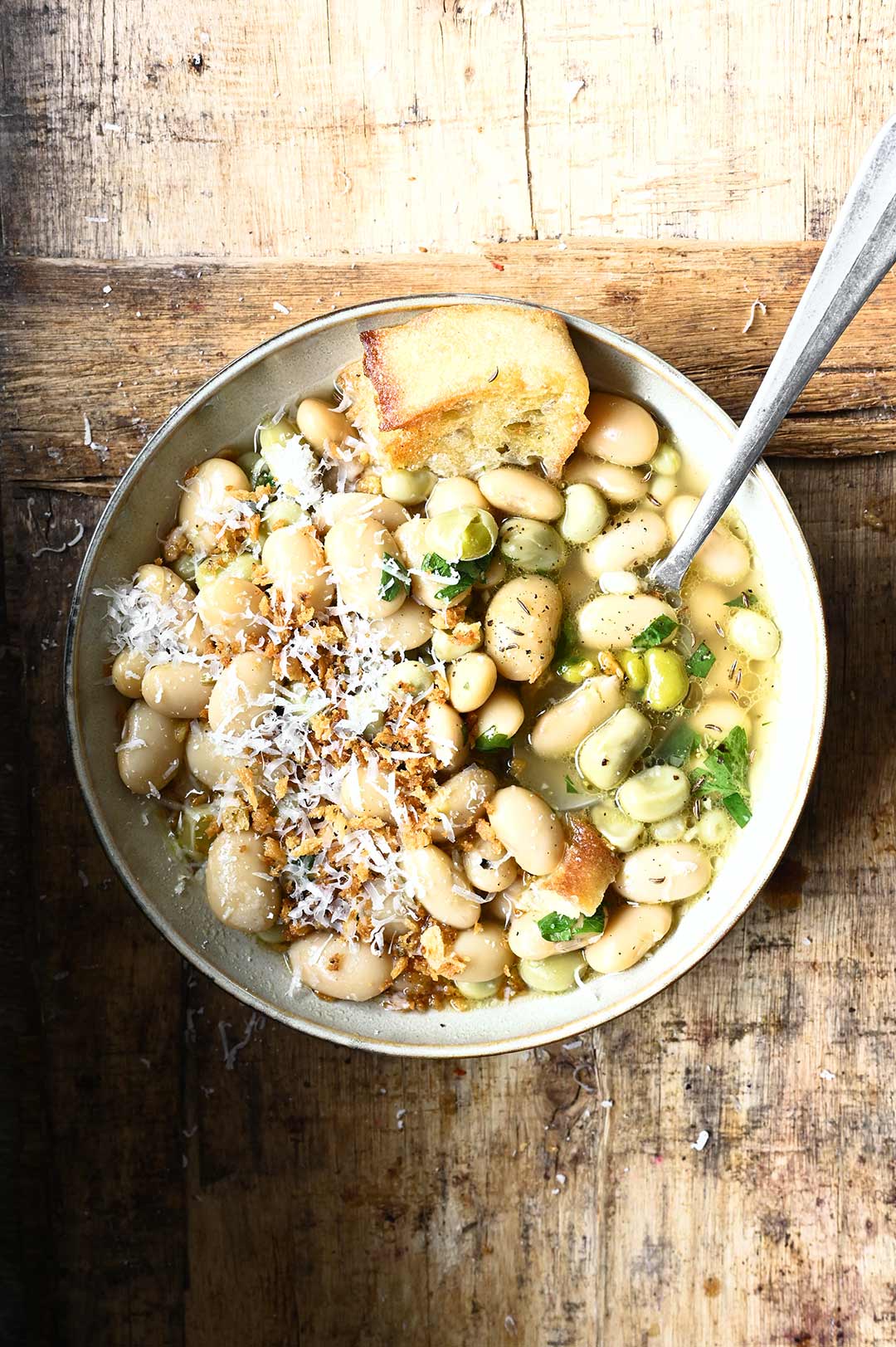 More beans, please!
Recipe Video
Yield: serves 4
Brothy Beans with Garlic and Parmesan
Prep Time 5 minutes

Cook Time 25 minutes

Total Time 30 minutes
Ingredients
2 cans (400 g/14 oz) butter beans, not drained
1 can (400 g/14 oz) fava beans, not drained
6 garlic cloves, minced
3 tbsp olive oil
1 tbsp butter
60 ml (1/4 cup) dry white wine
400 ml (1 1/2 cups) chicken or vegetarian broth
40 g (1.4 oz) grated Parmesan
2 tbsp lemon juice
2 tbsp chopped parsley
1 tsp red pepper flakes, more for serving
1/2 tsp each: cumin seeds, fennel seeds
salt + black pepper
chili oil, for serving (optional)
sage breadcrumbs
1/2 cup breadcrumbs
1 tsp dried sage
1/4 tsp salt
1/2 tsp black pepper
Instructions
Heat 2 tbsp oil in a stew pot. Add breadcrumbs. Cook over medium-high heat, while tossing frequently, until crunchy and golden brown, about 5 minutes. Season with sage, salt and black pepper. Transfer the breadcrumbs onto a plate.
In the same pot, lower the heat. Add 1 tbsp olive oil and butter. Cook garlic until soft, about 2 minutes. Stir in fennel seeds, cumin and red pepper flakes.
Pour in white wine, simmer for 1-2 minutes. Add beans, broth and lemon juice, simmer for 10-15 minutes. Finish off with parsley and a generous amount of black pepper. Taste and adjust salt.
Top with sage breadcrumbs and lots of grated Parmesan. Sprinkle with chili oil, if desired. Serve with some crusty bread. Enjoy!
Notes
Calories Per Serving: 455 kcal
Nutritional information is only an estimate. The accuracy of the nutritional information for any recipe on this site is not guaranteed.

PRINT RECIPE