Well, it turns out that my blog got nominated for the Saveur's Blog Awards 2019!! I discovered this by accident, in a comment on Instagram. At first I thought it was a mistake, but then I realized it was for real. I'm flattered, this blog is a labour of so much passion and it's an honor to be listed amongst the talented finalists. Thank you all who nominated me!
If you only have a minute, you can go to the the Saveur's voting page, scroll down to 'Most Inspired Weeknight Meals' vote for Serving Dumplings and discover some new blogs on your way. You're allowed to vote as many times as you'd like till October 18th. I will be forever grateful.
I made these boozy caramelized plums to celebrate this great news. They're simmered with butter, cinnamon, ginger and rum. But you can use your favorite liqueur, it can be brandy, slivovitz, orange liqueur,… just let your imagination run free. Top with a scoop of vanilla ice cream and serve straight from the skillet. It will hit you! I promise!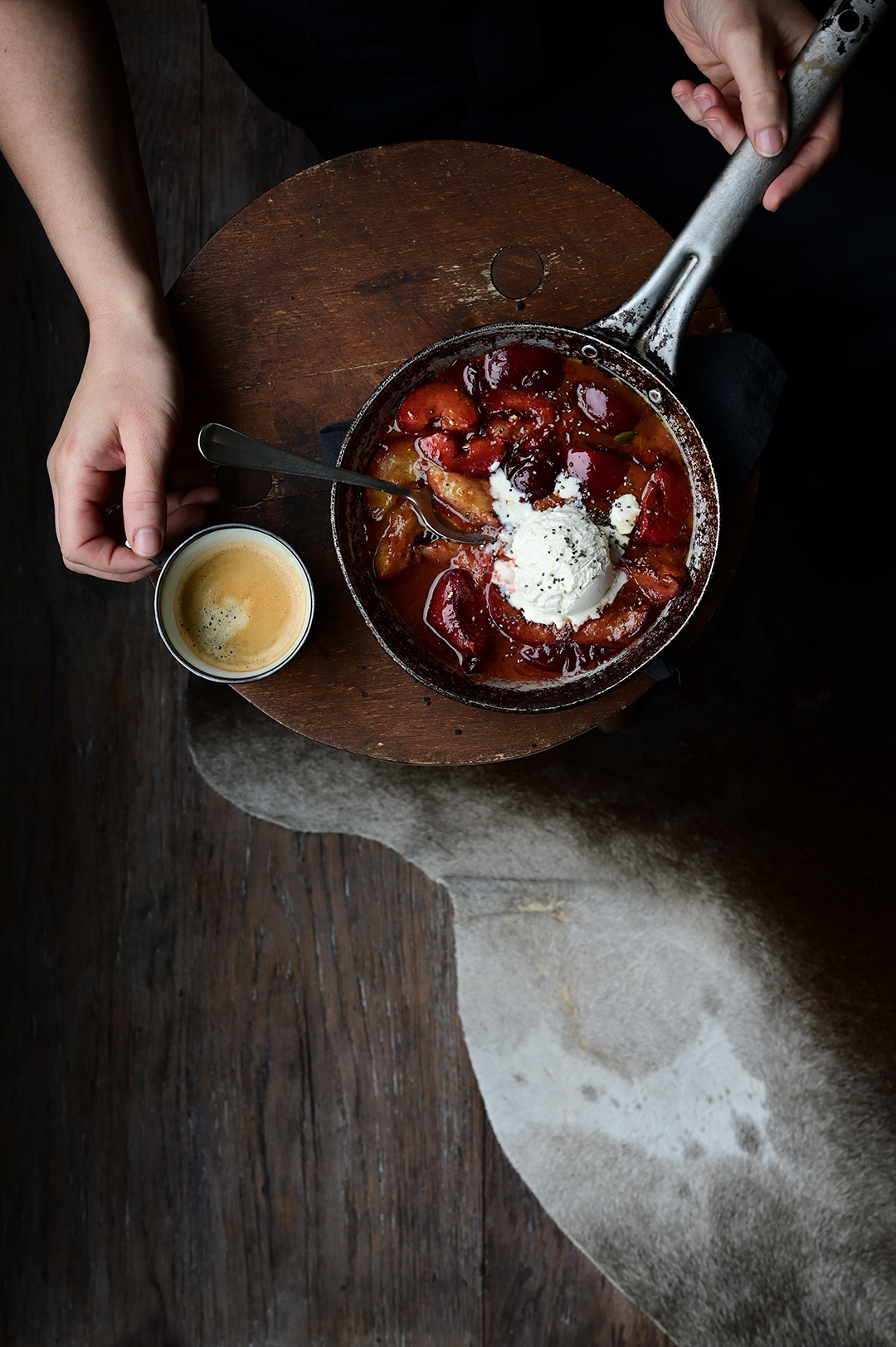 Ingredients
5 ripe plums, quartered and pits removed
1 tbsp butter
1 tbsp brown sugar
1/2 tsp cinnamon
1/2 tsp grated ginger
1 tsp lemon juice
2 tbsp rum or brandy, slivovitz, orange liqueur…
1 scoop of vanilla ice cream
Instructions
Heat the butter in a skillet on medium heat. Add plums, brown sugar, cinnamon and ginger. Sprinkle with lemon juice and your favorite liqueur. Simmer for 6-8 minutes, or until the plums start to soften. Do not overcook. Serve immediately with a scoop of vanilla ice cream, eat straight from the skillet. Enjoy!

//= __('Print recipe (no photos)', 'servingdumplings' );?> //= __('Print recipe (with photos)', 'servingdumplings' );?>