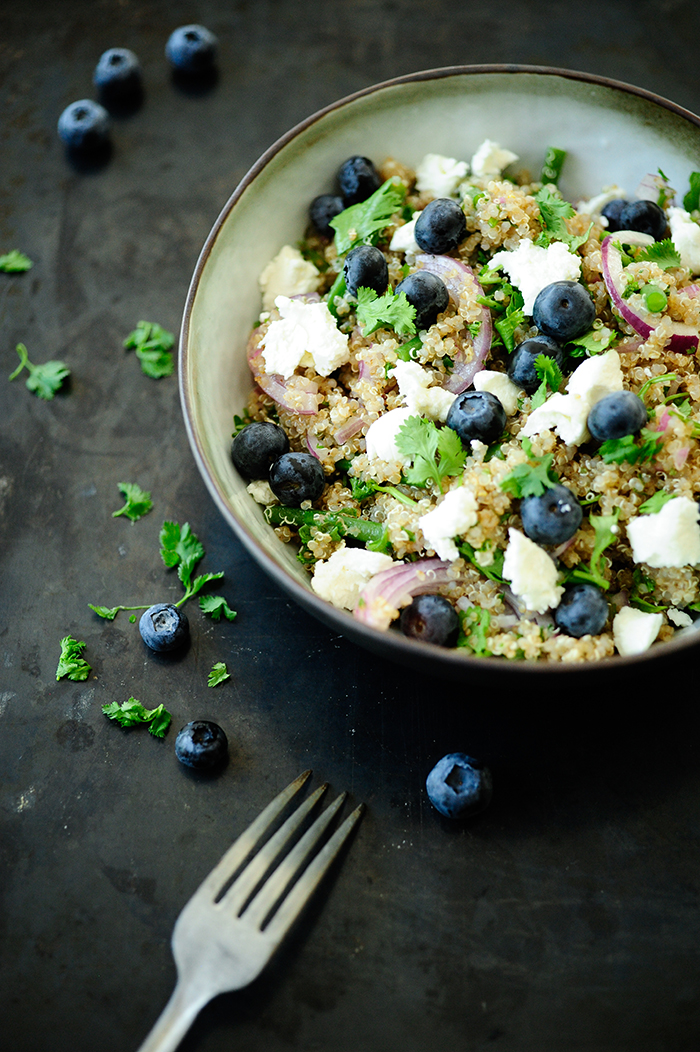 Extremely tasty quinoa salad with green beans, sheep cheese and blueberries, seasoned with coriander and honey vinaigrette. The salad is really simple but the combination of sheep cheese and juicy blueberries will blow your  mind! I t's great for lunch with chicken or as a side dish at your barbecue party, your guests will be thrilled;)
 TIP: If you love quinoa and would like to know all the health benefits of this unique grain. Check out a great article from Helen Nichols on why we should eat this superfood. 
Ingredients
preparation with chicken 1 hour 25 minutes
250 g quinoa
200 g sheep cheese
200 g green beans
200 g blueberries
1/2 bunch parsley
1 bunch coriander
1 red onion
1 bouillon cube
vinaigrette
3 cloves garlic
2 tablespoons honey
5 tablespoons of apple cider vinegar
50 ml extra virgin oil
1 shallot
salt and freshly ground pepper
chicken
1 double breast of chicken
olive oil
2 cloves garlic
oregano
salt and freshly ground pepper
Instructions
Cut the chicken breast into thin strips, thread chicken strips onto skewers. Marinate in olive oil, chopped garlic, oregano, salt and pepper. Let stand for an hour in the fridge. Then bake them in a hot grill pan with olive oil.
In a saucepan, boil water with the bouillon cube and cook the quinoa until tender. Rinse beans, remove the stalks and cut into small pieces. Add to the boiling quinoa and cook for 5 minutes more. Drain and rinse under cold water. Then pour into a large bowl.
Peel the onion and cut into thin slices. Chop the parsley and coriander and add to the quinoa together with the blueberries and onions. Decorate with the sheep cheese.
In a separate bowl, mix the oil with honey and vinegar. Peel the garlic and squeeze out. Peel and chop the shallots and add to the quinoa bowl. Season with salt and plenty of black pepper. Pour over the salad and mix.
Serve vegetarian or with the grilled chicken. Enjoy!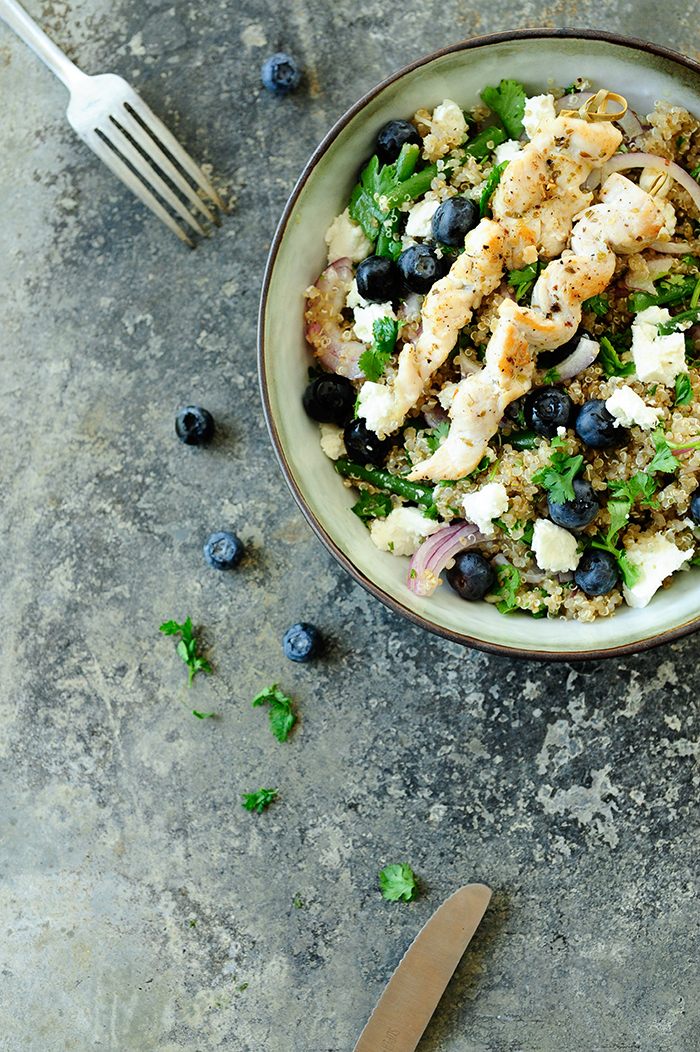 //= __('Print recipe (no photos)', 'servingdumplings' );?> //= __('Print recipe (with photos)', 'servingdumplings' );?>