Raise your hand if you love waffles!!  These waffles are extra special, made with oatmeal and fresh blueberries, topped with Greek yogurt and a homemade blueberry sauce. Bring on plenty of fresh blueberries and waffles!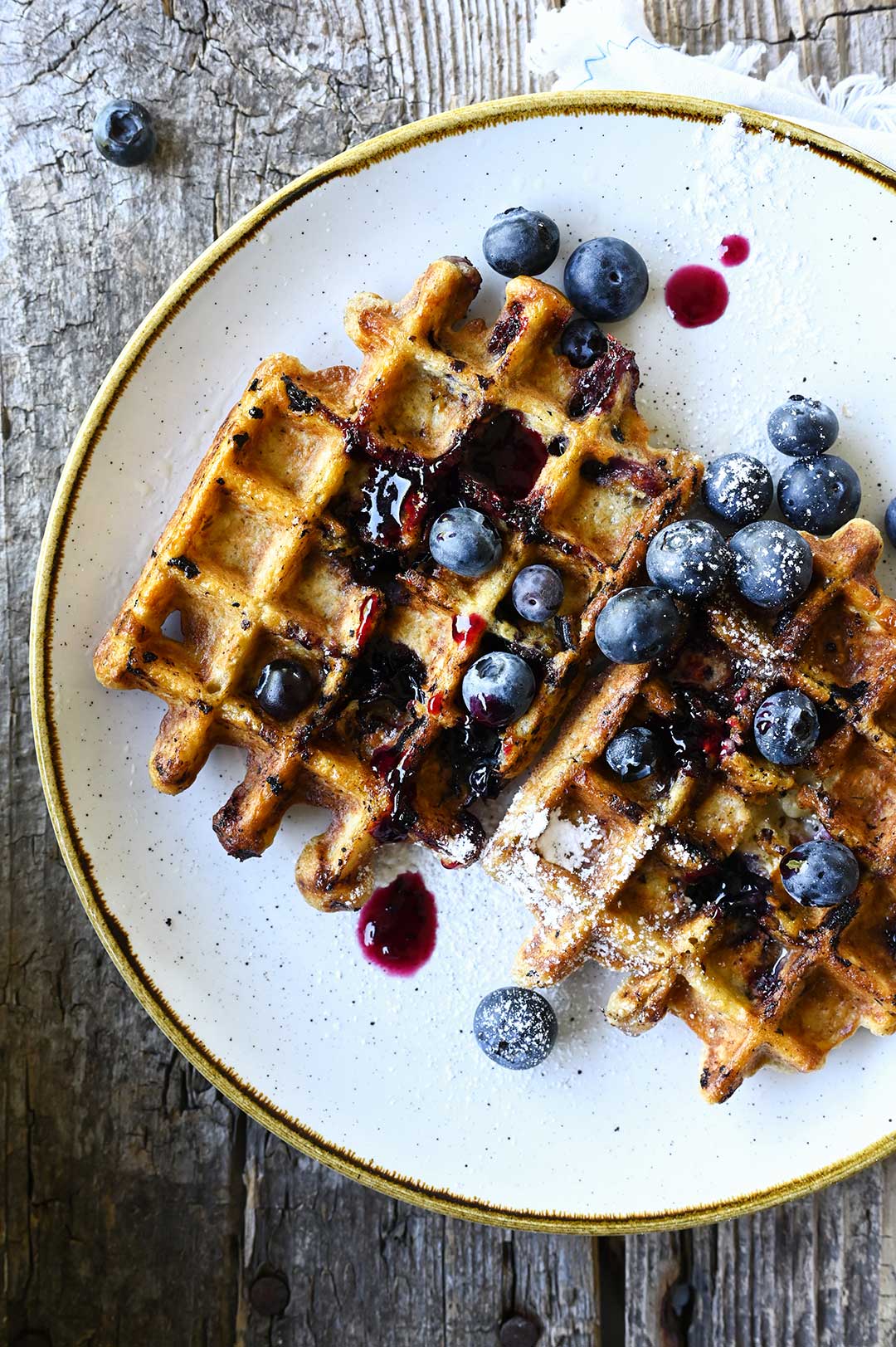 Pancakes are marvellous and French toast is great, but waffles are a different kind of breakfast treat, and all you need is a waffle iron.
This is a great waffle recipe that's easy, made in one bowl, hand-mixed without any planning beforehand, crispy and loaded with blueberries. And if you love oatmeal pancakes, then you will adore these waffles.
Oatmeal adds a nice heartiness and texture to the waffles while blueberries add that extra juicy fruitiness.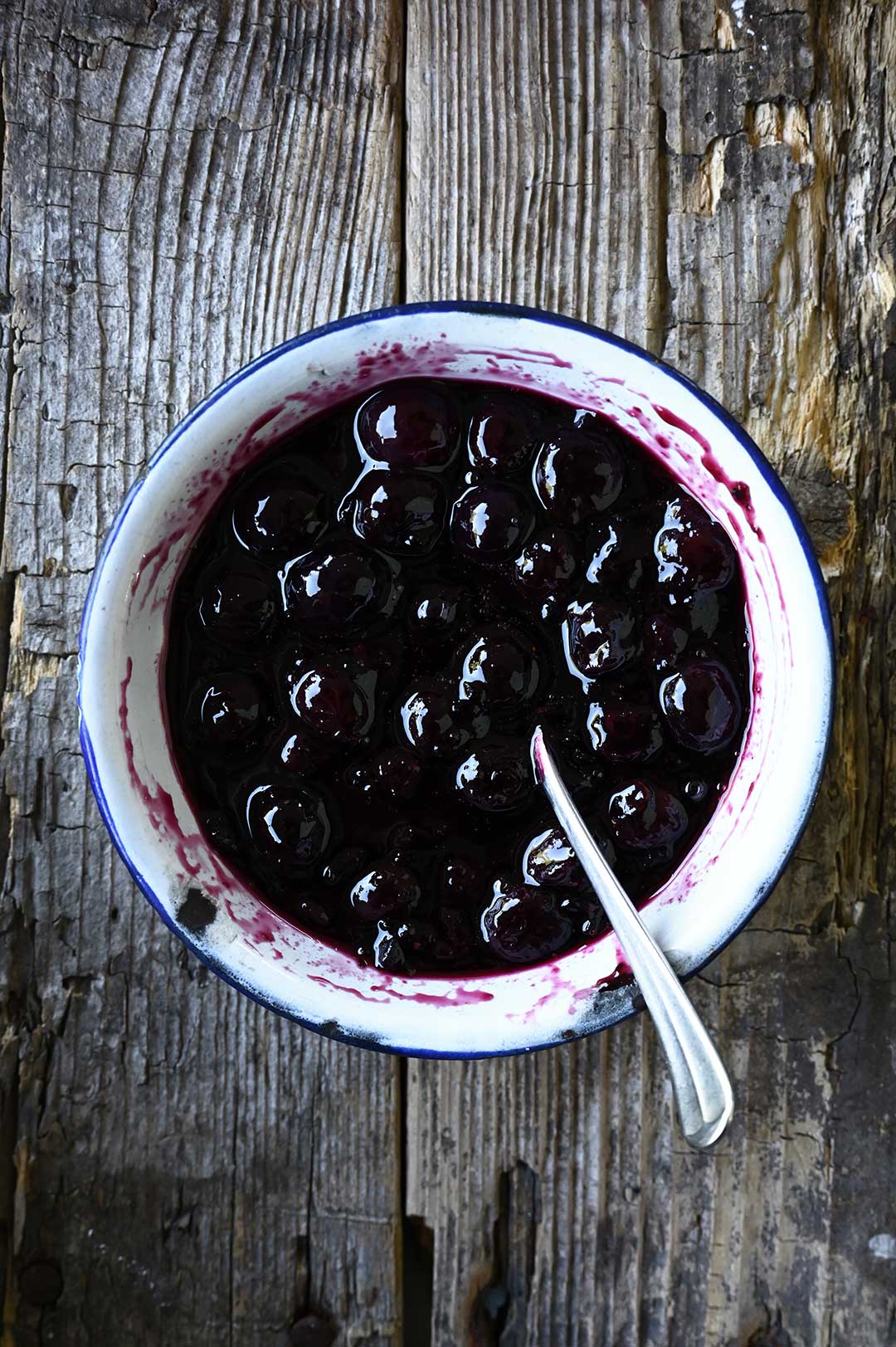 And then there is the Greek yogurt that perfectly balances the sweetness of the blueberry sauce. I love to drizzle my waffles with this sauce to get some extra touch of blueberries, it has so much flavor and a pretty color. It's delicious, and I love the different texture each ingredient provides.
Hop on over to my IGTV channel to see me make these waffles!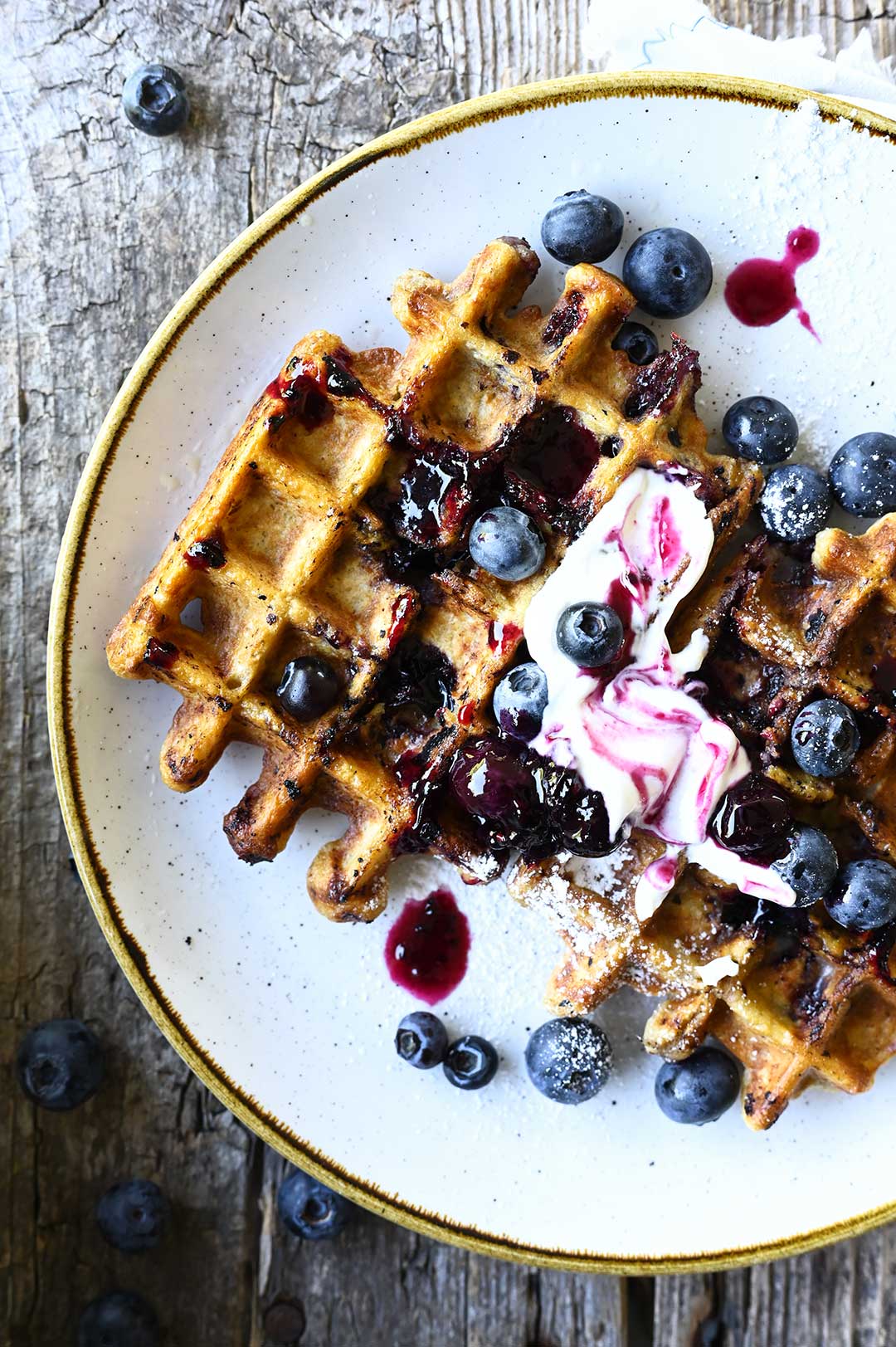 You need
oatmeal waffels
150 g instant oats
200 ml milk
150 g blueberries
50 ml coconut oil, melted
2 eggs
2 tbsp vanilla sugar
2 tsp baking powder
1/4 tsp salt
1/2 tsp cinnamon
blueberry sauce
100 g blueberries
20 g sugar
1 tsp lemon juice
+
Greek yogurt
butter or oil for baking
How to
Put the oats in a dry blender and pulse until finely ground. Dump them out into a bowl. Pour milk over the oats. Let stand for 15 minutes.

In the meantime, make the sauce. Combine the blueberries, sugar and lemon juice in a saucepan over medium heat. Bring to a simmer and cook until the blueberries just start to boil, about 5 minutes. Remove from the heat and set aside.

When oatmeal is ready. Add eggs and beat, then add and stir in coconut oil, baking powder, vanilla sugar, cinnamon and salt. Fold in the blueberries.

Heat your waffle iron on medium-low. Lightly coat with oil or butter and add 2 tablespoons of batter per waffle onto the iron. Bake until waffles are golden brown. Repeat with remaining batter, coating your iron with more butter. Serve topped with Greek yogurt and blueberry sauce. Or if you have any leftover whipped cream, use it to top up your waffles. Enjoy!

//= __('Print recipe (no photos)', 'servingdumplings' );?> //= __('Print recipe (with photos)', 'servingdumplings' );?>