Last week we went for a few days to the Black Forest to spend some time in the mountains and discover local restaurants and dishes. Our son is at an age now that we can travel more often, it's much easier, he enjoys it and wants to discover the world and we don't have to take care of him the whole time (: 
On our last day we found a nice restaurant with a view on the Swiss Alps, it was just breathtaking. I had this soup and  since then couldn't wait to make it at home. It's a deep dark beef broth with an impossibly tasty flavor and herbed crepes swimming underneath. 
I just added the asparagus, boiled them quickly in the broth for flavor, then served the soup with shredded pancakes.
A homemade version of this pancake soup seemed fitting for this post, it's born out of a good memory and, most importantly, it is absolutely delicious and i'm over excited to share it with you.
Ingredients
beef broth
1 l beef broth, can be made ahead and frozen (beef with bone, carrot, garlic, leek, parsley, celery, onion, allspice, salt + pepper – boiled for 2-3 hours)
100 g  young green asparagus, cut into small pieces
1 tablespoon soy sauce
salt + black pepper
chives and parsley for sprinkling
herbed crepes
1 organic egg
110 g flour
250 ml milk
1 teaspoon chopped parsley
1 teaspoon chopped chives
pinch of salt
vegetable oil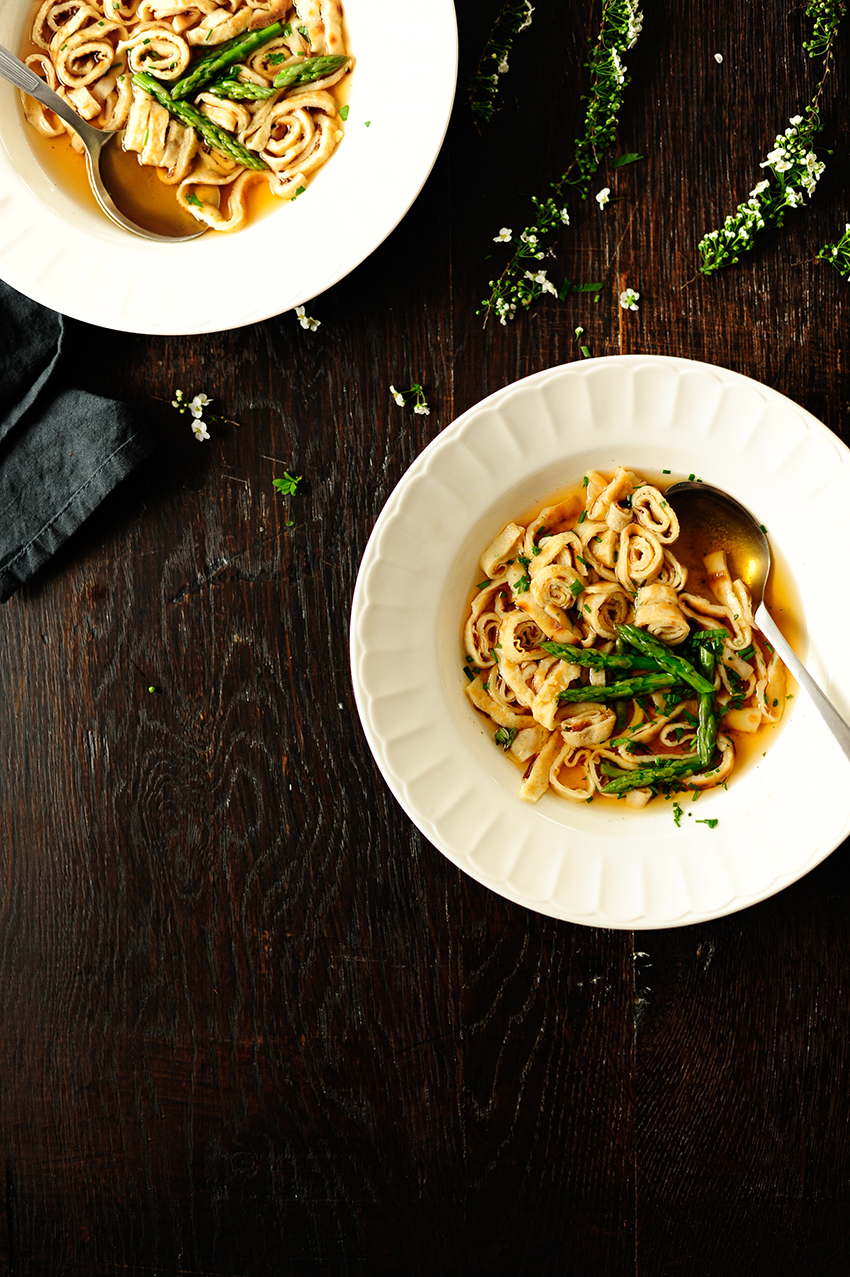 Instructions
Combine egg, milk and flour. Stir until a smooth batter,  add chives, parsley and salt.
Heat a large skillet over medium heat and lightly grease it with oil, cook thin pancakes in portions.
Bring the beef broth to a boil, season with soy sauce, salt and pepper. Add the asparagus and boil for 2 minutes.
Cut the pancakes into thin strips,  serve with broth and asparagus, sprinkle with chopped chives, enjoy!