Better than takeout, 20-minute beef and shiitake stir-fry with rice noodles.
This is an easy weeknight meal with plenty of flavor. It has tender, thinly sliced beef coated in a savory marinade. It's full of ginger and garlic, shiitake mushrooms, scallions and dark soy sauce. When thinly sliced and charred in a wok, shiitakes stand up to the savoriness of beef.
The most time-consuming part about making a stir-fry is preparation. So we set up all of our ingredients, sliced and measured out, before we start cooking. This is the key to go from raw ingredients to a glossy stir-fry in no-time. Also cooking things in the hot wok in batches ensures a more seared, deeper flavor than sautéing alone.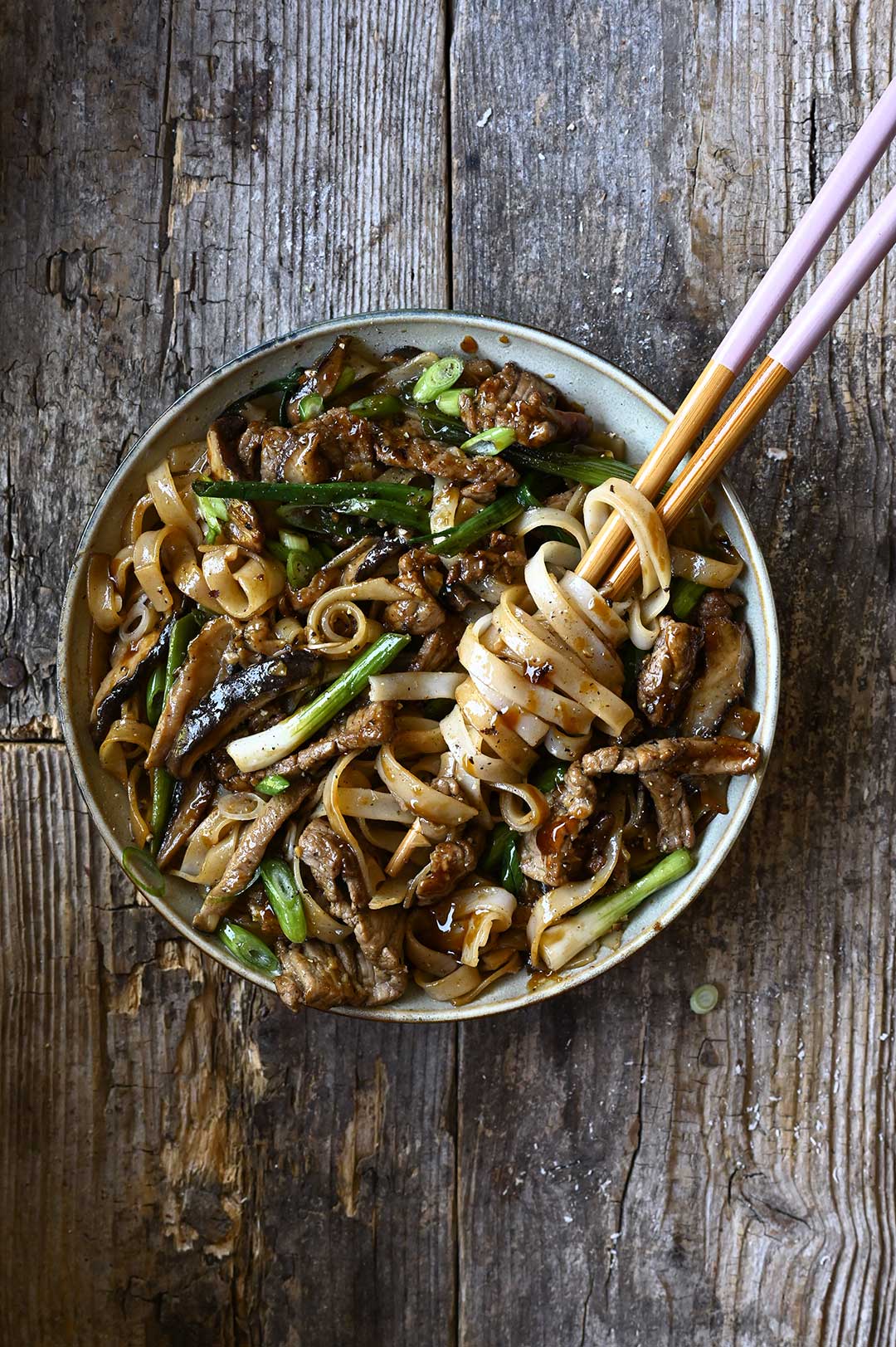 The key for tender beef is to not overcook it and we need to cut it thinly across the grain. We also marinate it for at least 15 minutes. Meanwhile, we prep all the rest and cook the noodles.
When everything is done, we heat the wok until steaming hot and give the meat a really good sear, remove, then add the mushrooms, which only need a few minutes to go from raw to brown and tender. Add the meat back to the wok, along with garlic, ginger and plenty of sauce at the end to coat everything. We give it a good toss to let the aromas hit everything, as it get stirred around.
This speedy stir fry is very versatile. Swap the shiitakes for any other mushrooms you have on hand. You can also add spinach or some Asian greens, broccoli or carrot. Thinly sliced chicken or shrimps would also work just fine.
Make sure to check out MY WEB STORY for HOW TO MAKE this stir-fry. It's easy, just follow along and tap through the steps.

3 more weeknight stir-fries:
Sichuan shrimp stir fry with onions
Eggplant and halloumi stir-fry
20 minute cashew shrimp with sticky garlic soy sauce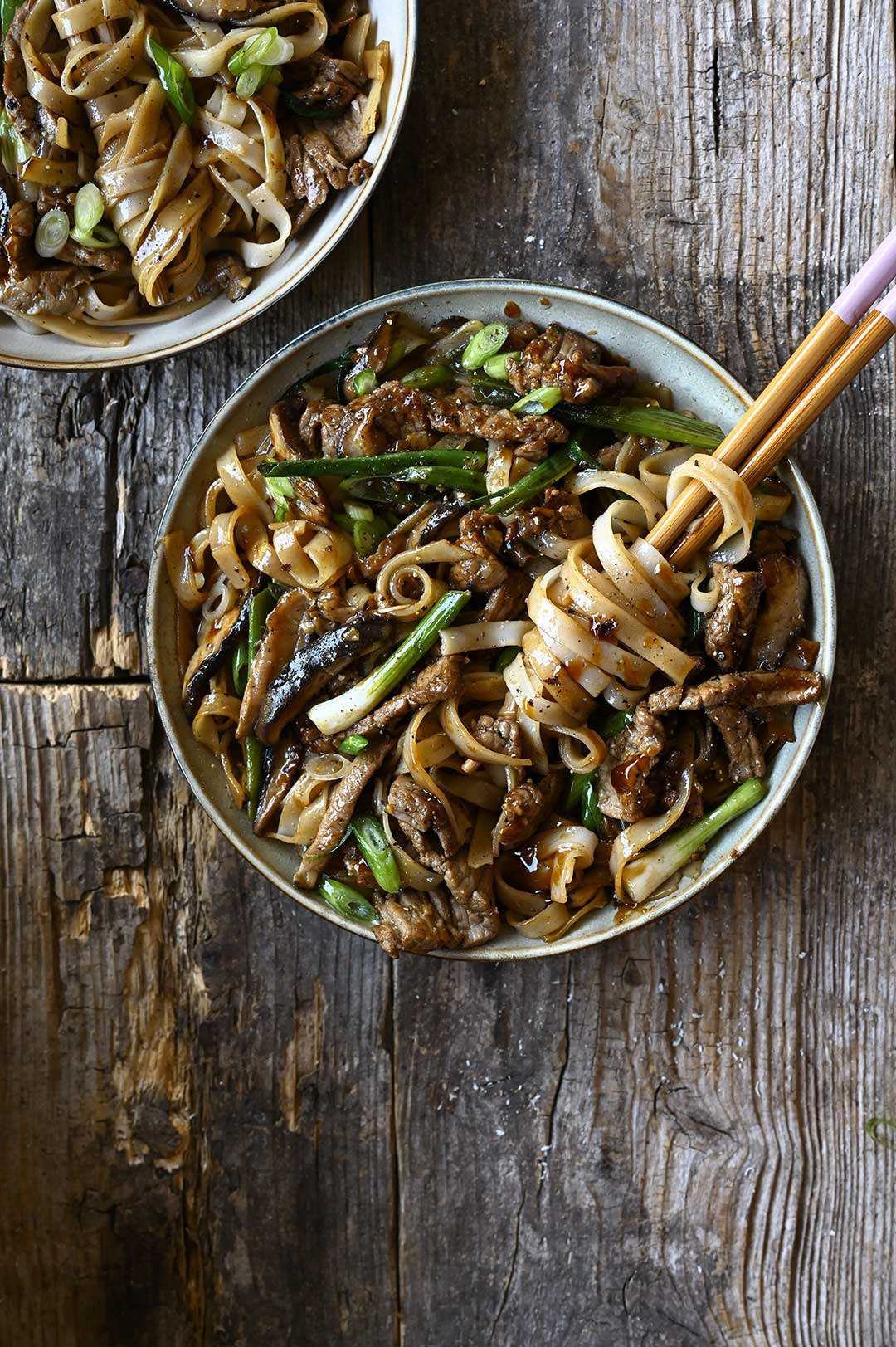 Let's stay connected! Sign up for my NEWSLETTER to receive the latest recipes.
You need
200 g (7 oz) dried rice noodles
6 scallions
100 g (3.5 oz) shiitakes, thinly sliced
2 tsp grated ginger
4 garlic cloves, minced
peanut oil
beef marinate
250 g (8.8 oz) beef (flank steak, skirt steak, sirloin or rump steak)
1 tbsp peanut oil
1 tsp cornstarch
1 tbsp dark soy sauce
sauce
5 tbsp dark soy sauce
2 tbsp oyster sauce
3 tbsp mirin
2 tbsp toasted sesame oil
1 tsp brown sugar
1/4 tsp salt
1/2 tsp white pepper
…IF YOU LOVE THESE RECIPES … please consider supporting my work for just the cost of a cup of coffee.

How to
Cut the steak in really thin slices across the grain. Combine with peanut oil, cornstarch and soy sauce. Set aside and let marinate for at least 15 minutes.
In the meantime, prepare the rice noodles according the package directions. Thinly slice the shiitakes, grate the ginger and mince the garlic. Cut the scallions into 5 cm (2-inch) pieces.
Combine the ingredients for the sauce in a small bowl.
Heat 3 tbsp peanut oil in a wok over high heat until smoking-hot and oil is shimmering. Add the beef, cook undisturbed until the beef begins to sear, about 30 seconds. Then stir-fry for 1-2 minutes until the beef is lightly browned but not cooked through. Transfer the beef and any juices in the wok to a plate.
Again, heat 3 tbsp peanut oil over high heat, add shiitakes. Stir-fry for about 1-2 minutes or until golden. Add garlic and ginger, stir for 1 minute. Return the beef to the wok, add the sauce and the scallions, stir-fry for 1 minute more. Add the rice noddles and stir to coat evenly. Serve!
Make sure to check out MY WEB STORY for HOW TO MAKE this stir-fry. It's easy, just follow along and tap through the steps.
If you give this recipe a try, leave a comment or mention me on Instagram @anna_s_table and tag me in your picture. I'd love to see what you're making. Happy cooking!