Better than takeout, 20-minute beef and shiitake noodle stir-fry. This is an easy weeknight meal with plenty of flavor. It has tender, thinly sliced beef coated in a savory marinade. It's full of ginger and garlic, shiitake mushrooms, scallions and dark soy sauce. When thinly sliced and charred in a wok, shiitakes stand up to the savoriness of beef.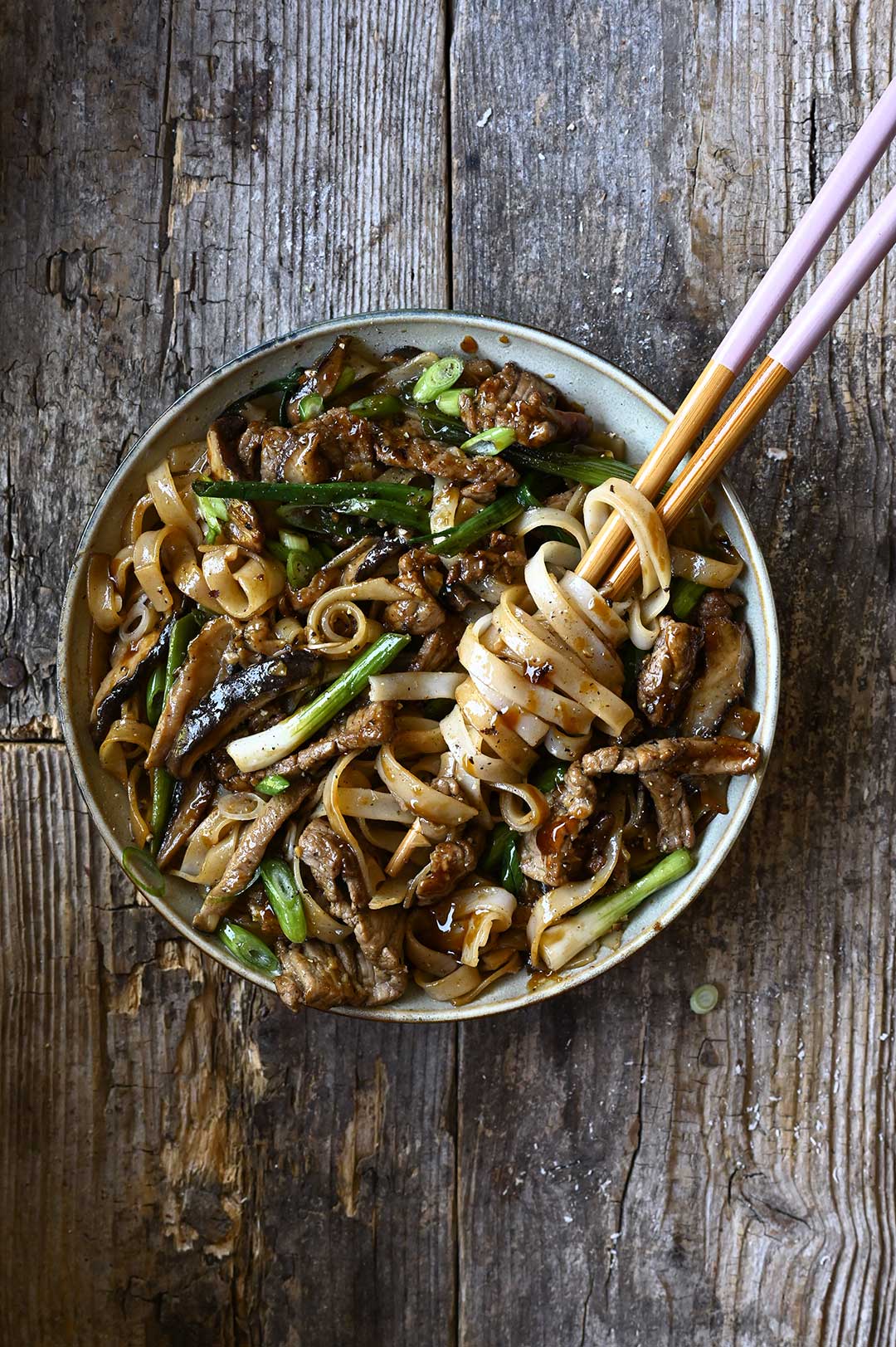 Why You'll Love this Fast Beef and Noodle Stir-Fry Recipe
The most time-consuming part about making a stir-fry is getting everything ready to cook. We prepare and measure out all the ingredients before we start cooking. This helps us make the stir-fry quickly and easily. Cooking ingredients in batches in a hot wok gives the dish a better flavor compared to just sautéing them all together.
The Key For Tender Beef
To make the beef tender, it's important not to cook it for too long and to slice it thinly against the grain. We marinate it for at least 15 minutes. While the beef marinates, we prepare everything else and cook the noodles.
Once everything is ready, we heat the wok until it's really hot. Then, we quickly cook the beef to give it a nice sear, remove it from the wok, and add the mushrooms. They only take a few minutes to become brown and tender. After that, we put the beef back in the wok along with garlic, ginger, and plenty of sauce to cover everything. We mix it all together so the flavors blend as it's stirred.
Let me guide you through the recipe with this step-by-step VIDEO.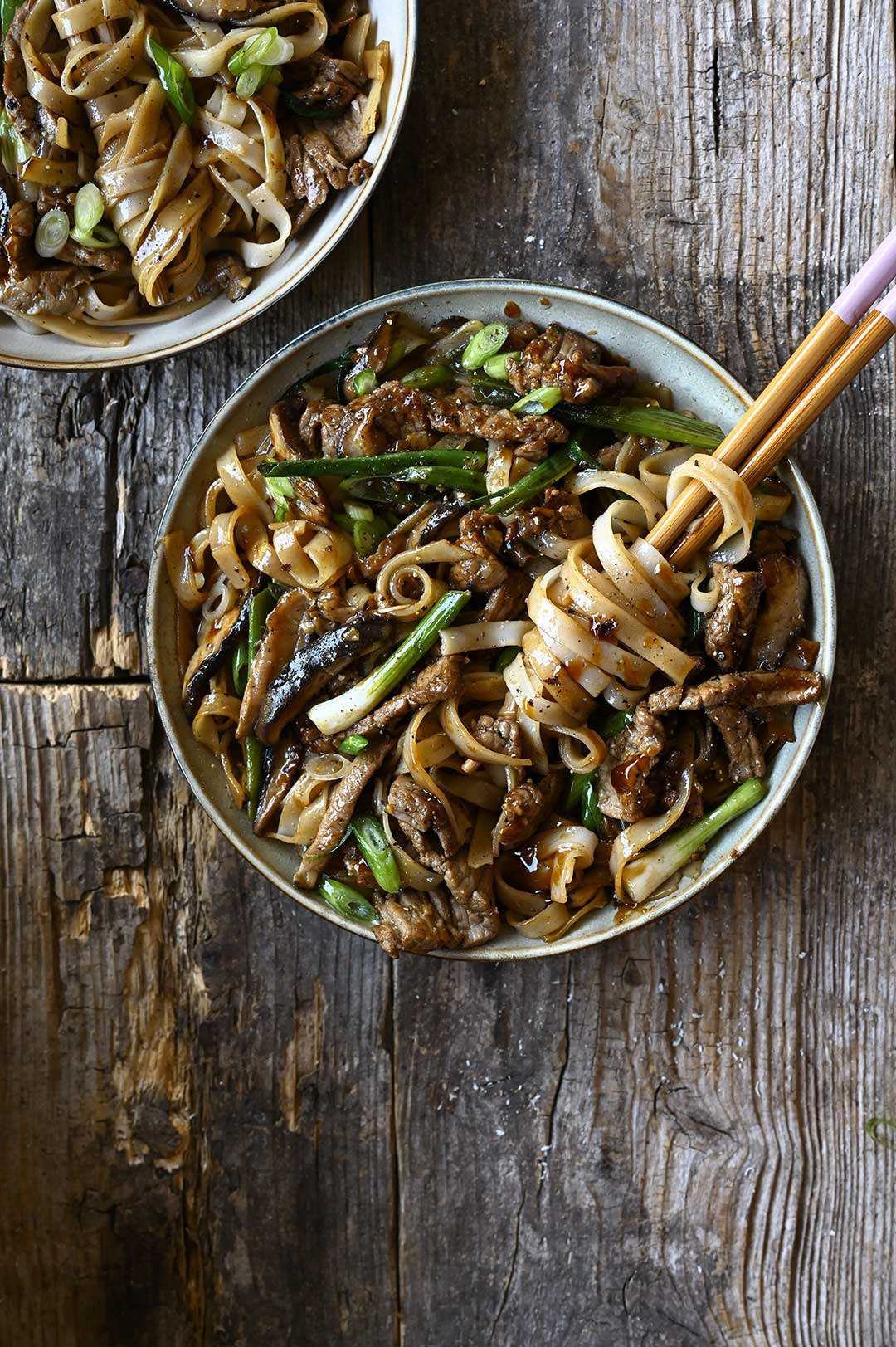 Helpful Tips
This speedy stir fry is super versatile.
You can change the mushrooms to whatever kind you have on hand.
Try adding different vegetables like spinach, Asian greens, broccoli, green beans, or carrots.
Shrimp or thinly sliced chicken can be used instead of beef.
For beef, try using flank steak, skirt steak, sirloin or rump steak.
Storage: Leftovers can be stored in a sealed container in the fridge for up to 3 days.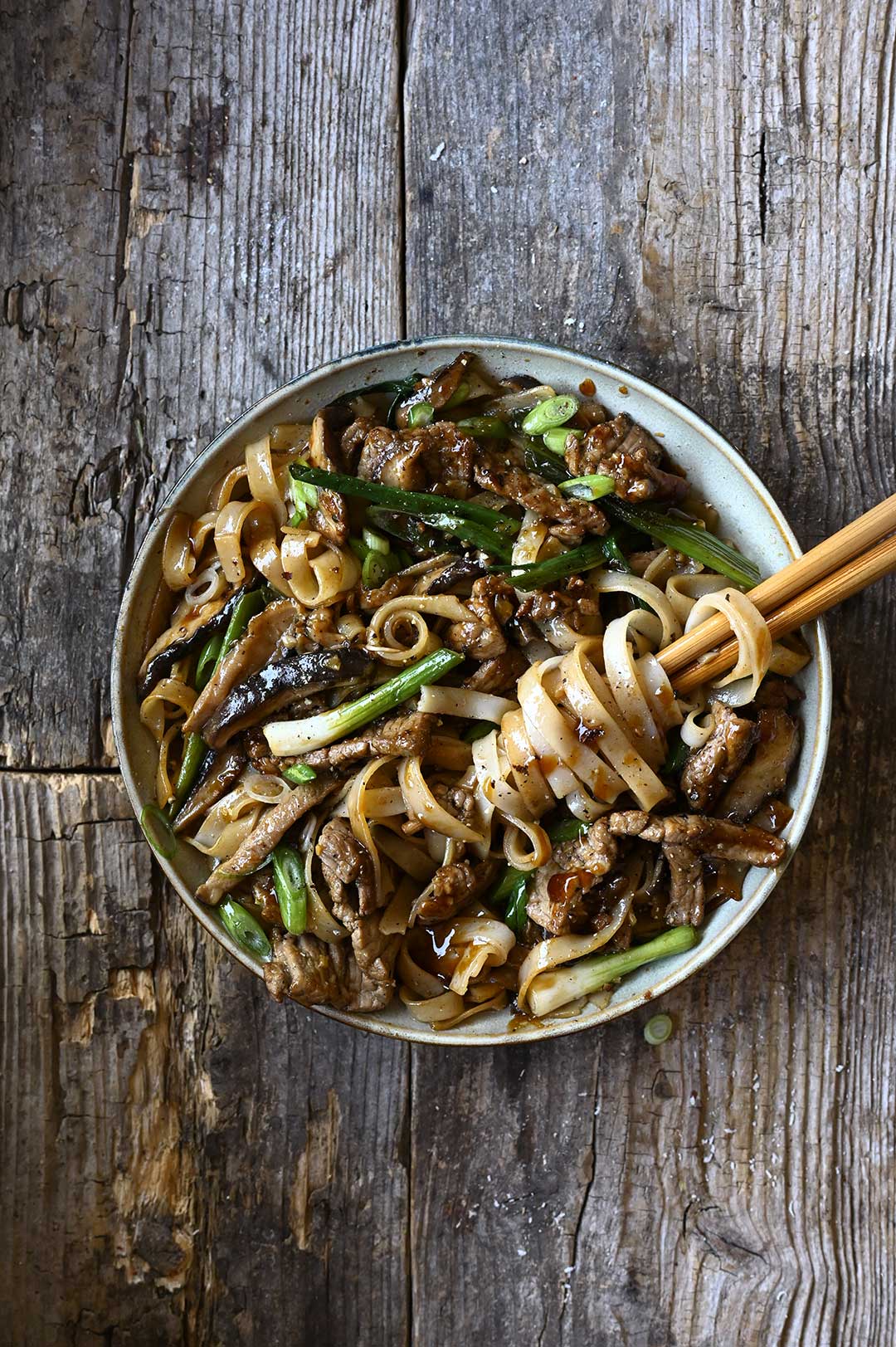 More Fast Stir-Fries, Please!

Cooking Video: How to Make Beef Shiitake Noodle Stir-Fry
Yield: serves 2
20 minute Beef and Shiitake Noodle Stir-Fry
This 20-minute beef and shiitake noodle stir-fry is an effortless, flavor-packed weeknight delight. Tender beef slices marinated in savory flavors like ginger, garlic, shiitake mushrooms, scallions and dark soy sauce. Shiitakes, thinly sliced and charred, balance the beef's savoriness wonderfully.
Ingredients
200 g/7 oz dry rice noodles
6 scallions
100 g/3.5 oz shiitakes, thinly sliced
2 tsp grated ginger
4 garlic cloves, minced
peanut oil
Beef Marinade
250 g/9 oz beef (flank steak, skirt steak, sirloin or rump steak)
1 tbsp peanut oil
1 tbsp low sodium soy sauce
1 tsp cornstarch
Wok Sauce
5 tbsp low sodium soy sauce
2 tbsp oyster sauce
3 tbsp mirin
2 tbsp toasted sesame oil
1 tsp brown sugar
¼ tsp salt
½ tsp white pepper
Instructions
Cut the steak in really thin slices across the grain. Combine with peanut oil, cornstarch and soy sauce. Set aside and let marinate for at least 15 minutes.
In the meantime, prepare the rice noodles according the package directions.
Thinly slice the shiitakes, grate the ginger and mince the garlic. Cut the scallions into 5 cm/2-inch pieces.
Combine the ingredients for the sauce in a small bowl.
Heat 3 tbsp peanut oil in a wok over high heat until smoking-hot and oil is shimmering. Add the beef, cook undisturbed until the beef begins to sear, about 30 seconds. Then stir-fry for 1-2 minutes until the beef is lightly browned but not cooked through. Transfer the beef and any juices in the wok to a plate.
Again, heat 3 tbsp peanut oil over high heat, add shiitakes. Stir-fry for about 1-2 minutes or until golden. Add garlic and ginger, stir for 1 minute.
Return the beef to the wok, add the sauce and the scallions, stir-fry for 1 minute more. Add the rice noddles and stir to coat evenly. Serve!
Nutrition Information:
Yield:
4
Serving Size:
1
Amount Per Serving:
Calories:

529
Total Fat:

25g
Saturated Fat:

7g
Trans Fat:

0g
Unsaturated Fat:

16g
Cholesterol:

55mg
Sodium:

1285mg
Carbohydrates:

52g
Fiber:

2g
Sugar:

6g
Protein:

22g
Nutritional information is only an estimate. The accuracy of the nutritional information for any recipe on this site is not guaranteed.