Beef and mushroom goulash. A rich and flavorful beef stew seasoned with a generous amount of sweet paprika. This easy recipe features tender beef and plenty of mushrooms for a delicious and heartwarming meal. It pairs perfectly with buttered egg noodles, mashed potatoes, bread or homemade dumplings.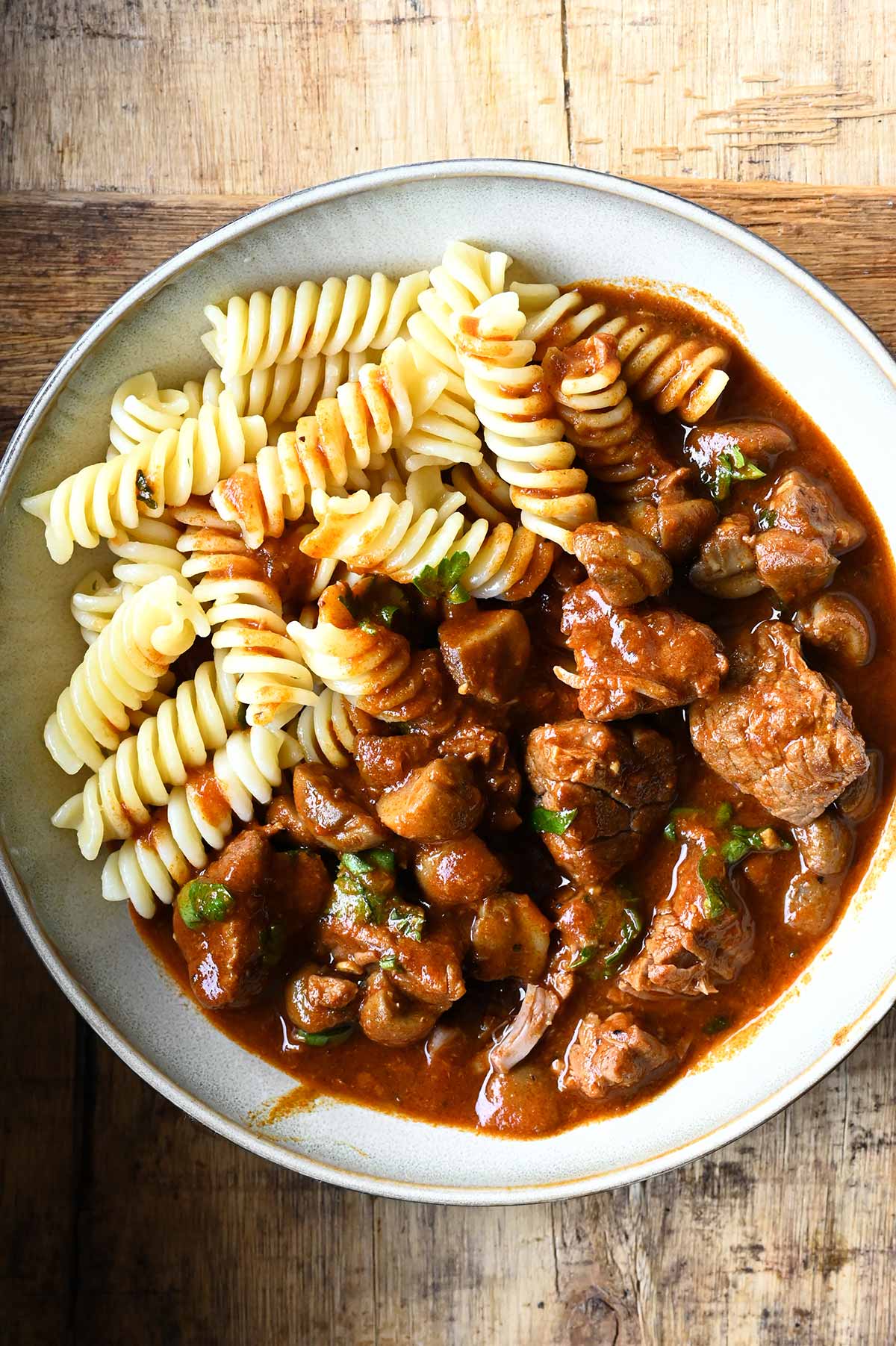 Why You'll Love this Mushroom and Beef Goulash Recipe
This dish is simply amazing. It takes minimal effort to make but ends up incredibly delicious.
The meat is super tender, the sauce is rich and the aroma is to die for.
You can make it in one pot using easy-to-find ingredients.
It's the ultimate comfort food that will satisfy everyone at the dinner table!
To save time, you can make it a day ahead and reheat it when you're ready to eat.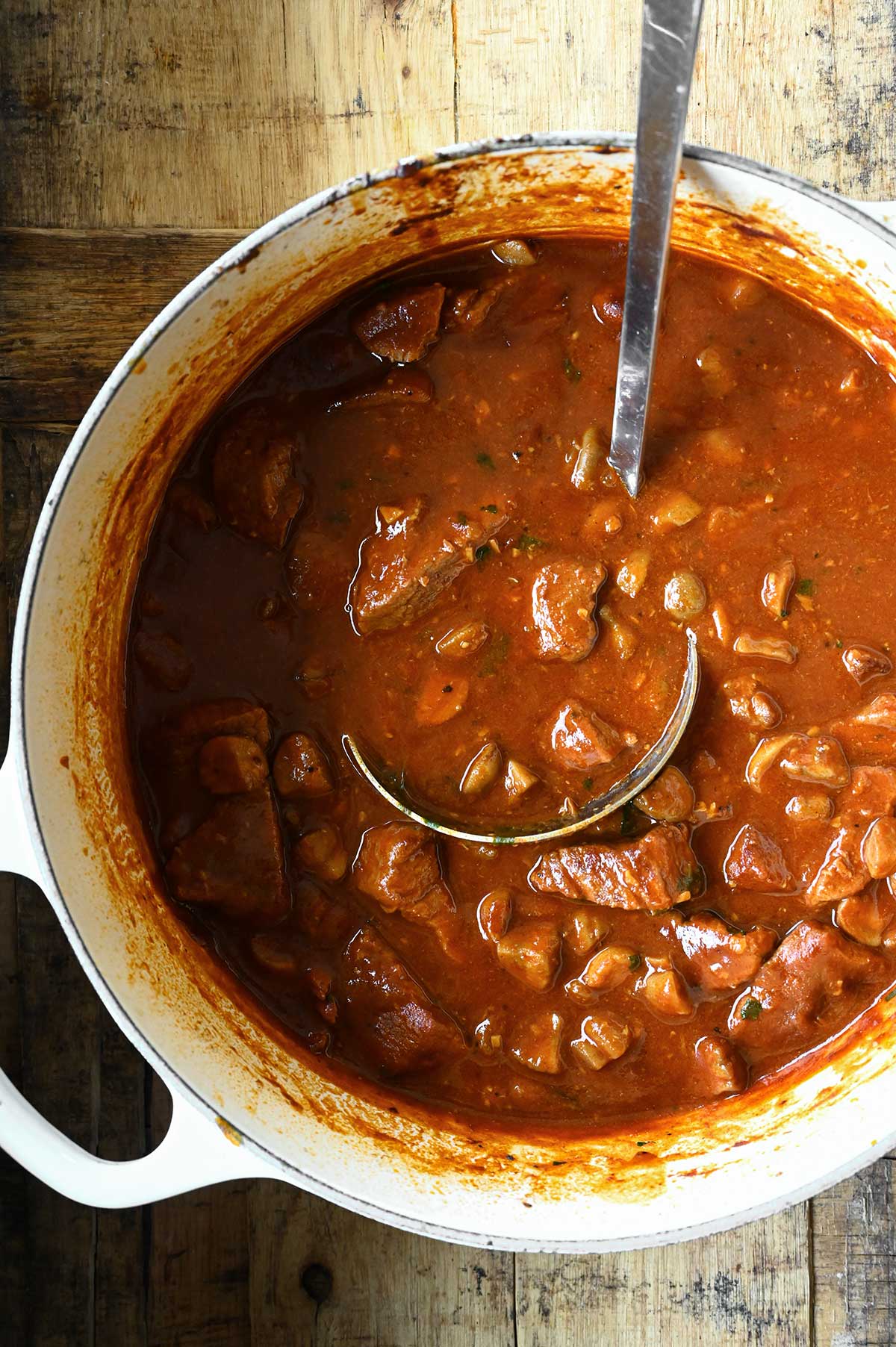 How to Make Beef and Mushroom Goulash at Home
This style of cooking is perfect for relaxed, easy meals, especially when the days get colder. It's all about keeping it simple and building layers of flavor through slow cooking! Let's dive in!
We start by letting the beef reach room temperature for a super tender meat.
First, we cook the mushrooms until they turn brown. This helps them release moisture and become tender instead of chewy. After taking them out, we sear the beef in a mix of oil and butter until it browns all over, locking in those delicious natural juices. Then, add seasoning, garlic, onions, tomato paste, paprika and brown sugar.
Once the broth's in, it's mostly hands-off, just let the stew simmer for an hour.
Finally, add the mushrooms and let it simmer together until the meat is tender. It's not complicated, just the way a stew should be.
It's a great dinner for busy families because it's so easy to put together. This dish is sure to please everyone at the table and will definitely leave you wanting more.
Let me guide you through the recipe with this step-by-step VIDEO or follow along on YouTube.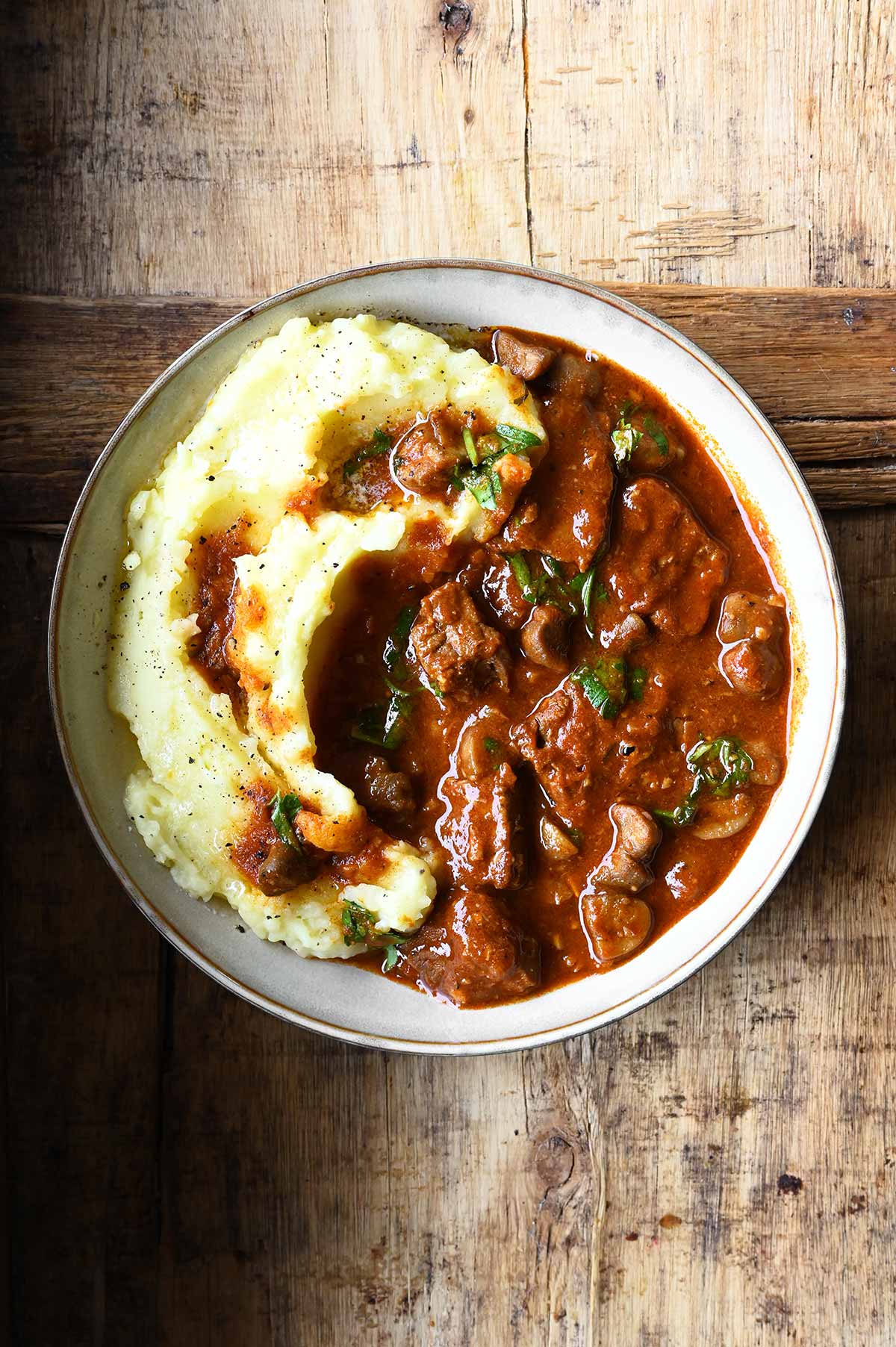 What is The Difference between Beef Stew and Beef Goulash?
The main difference between beef stew and beef goulash lies in their flavor profiles and often the spices that are used.
Beef Stew: This is a broad term for a dish where beef is simmered in liquid along with vegetables. It's often hearty and thick, made with various vegetables and sometimes potatoes. The seasoning can vary, but it generally uses a blend of herbs and spices like bay leaves, thyme or rosemary. The liquid used can be beef broth or a combination of broth and wine.
Beef Goulash: Goulash is a specific type of stew that typically contains beef, onions, garlic, tomatoes and a generous amount of paprika as the main ingredients. The paprika and (in this recipe) tomato paste gives it a distinctive red color and a rich, slightly sweet unique flavor. Goulash might also include other seasonings like cumin seeds and can be served with noodles or potatoes.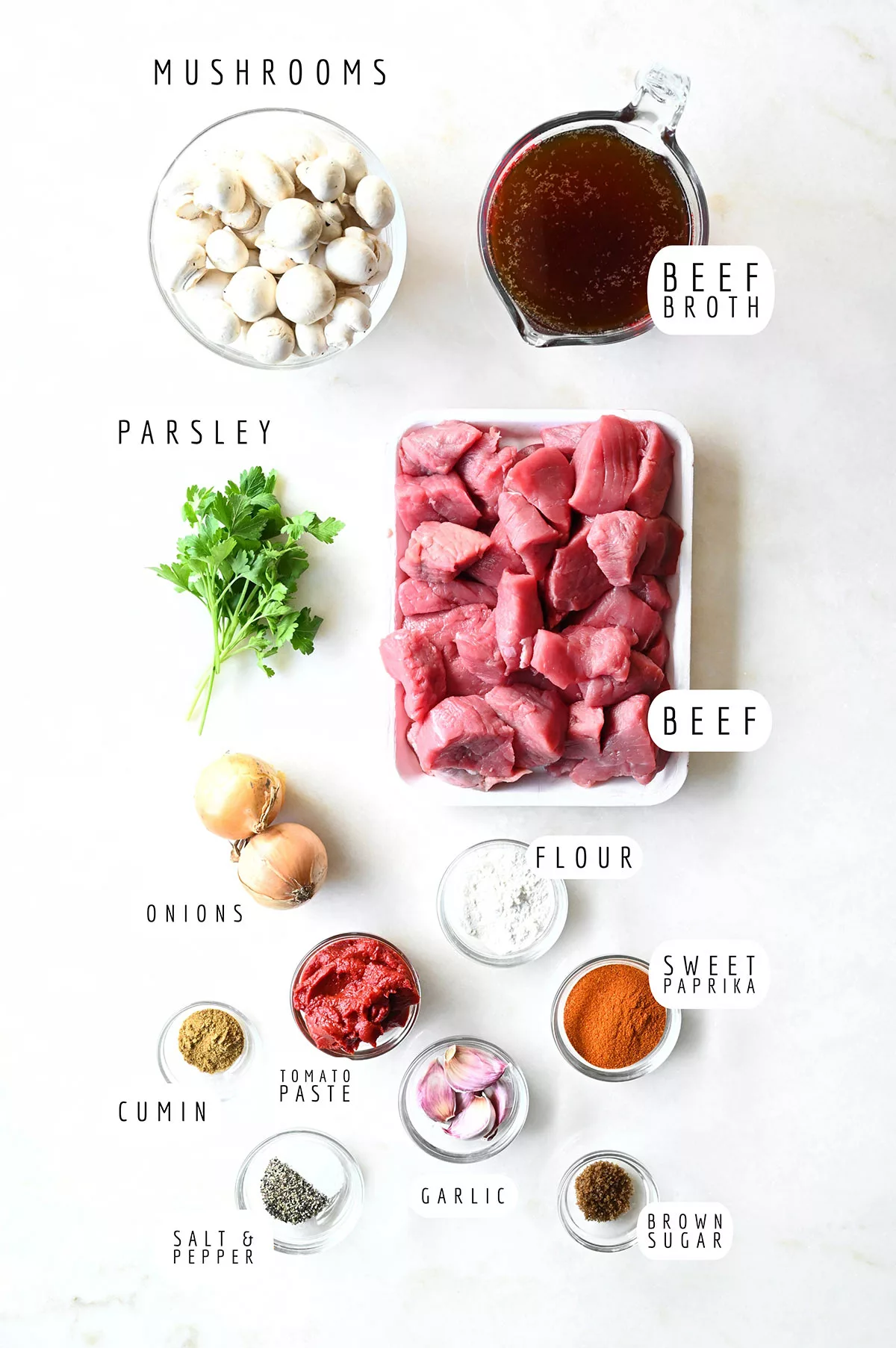 Ingredients You'll Need for this Beef Goulash with Mushrooms
Beef: This recipe will work fine with any slow cooking cut of meat, but for this stew, beef chuck has the ideal amount of fat and fibre texture. You can also choose cuts like shoulder, oxtail, brisket, or cross-cut shanks for ideal texture. Leaner options include beef round or veal. Cut into similar-sized pieces for even cooking.
Mushrooms: Any variety works like cremini, brown button mushrooms or others you have on hand.
Onions and Garlic: Essential for flavor.
Paprika: Sweet paprika lends a fruity, non-spicy flavor essential for the pan sauce. Also, it might seem like a lot, but don't skimp on the amount, it melts into an indescribably delicious gravy during the slow cooking process.
Seasoning: A mix of salt, black pepper, brown sugar and ground cumin seeds.
Tomato Paste: Provides a flavorful base.
Beef Broth: Offers richness, you can swap it for chicken or vegetable broth for a different (not-so-rich) taste.
Flour: Used to thicken the sauce.
Parsley: Adds a fresh touch.
Oil and Butter: For cooking the mushrooms and searing the beef. You can substitute for lard to achieve an old-fashioned flavor.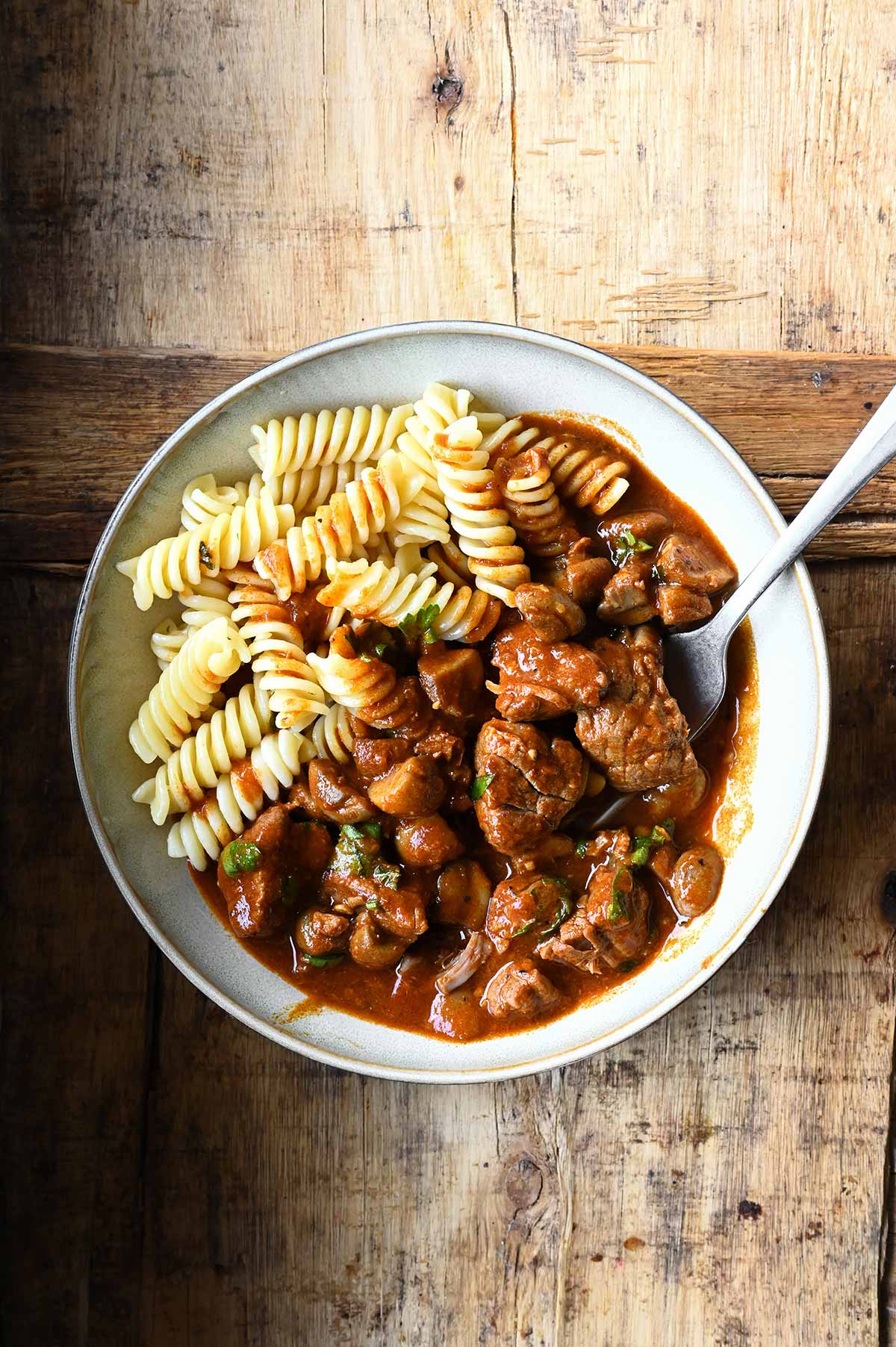 Helpful Tips
Enhance the Flavor: Consider adding bell peppers, use a mix of red and green, for a richer taste. Sauté them after removing the mushrooms and before searing the beef.
Serving Options: Enjoy your goulash with a variety of sides like buttered egg noodles, mashed potatoes, bread, dumplings, knödels, rice, crispy potato rösti or polenta.
Complete the Meal: Pair your goulash with roasted or steamed vegetables or a leafy side salad.
Storage
Make Ahead: You can make this beef and mushroom goulash recipe 1 day ahead of time. It gets even better the next day! Just reheat over medium when you're ready to eat.
Fridge: Leftovers will keep refrigerated for up to 3 days in airtight containers.
Freezer: Cool completely, then freeze in airtight containers for up to 3 months.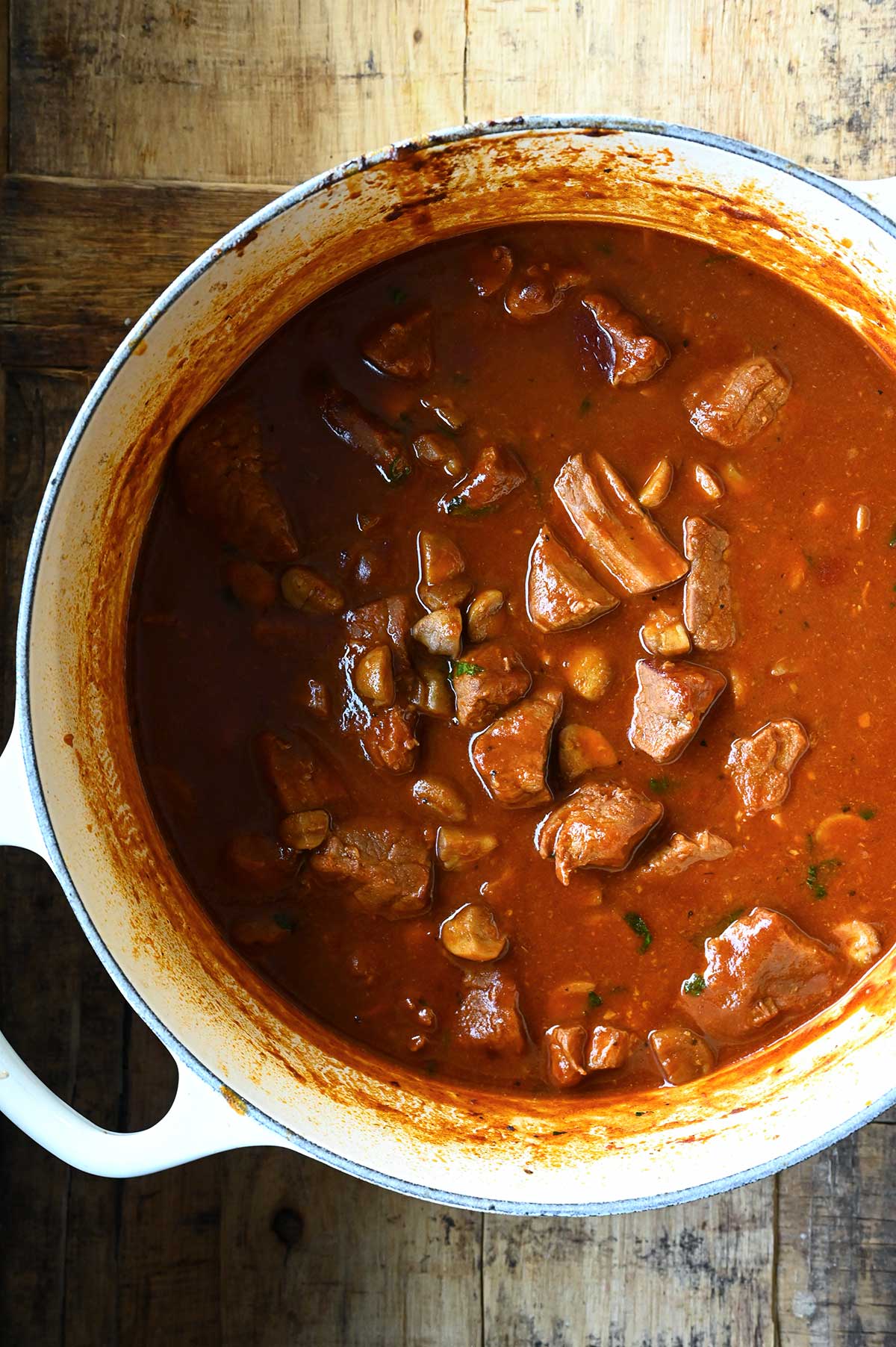 Try These Next
Cooking Video: How to Make Beef and Mushroom Goulash
Yield: serves 4
Beef and Mushroom Goulash
A rich and flavorful beef stew seasoned with paprika. This easy recipe features tender beef and plenty of mushrooms for a delicious and heartwarming meal. It pairs perfectly with buttered egg noodles, mashed potatoes, bread or homemade dumplings.
Cook Time
1 hour
40 minutes
Total Time
1 hour
50 minutes
Ingredients
12 ounces /350 g mushrooms, cremini or brown, quartered
2 tbsp olive oil, divided
1 tbsp unsalted butter
2.2 pounds /1 kg beef chuck, trimmed, brought to room temperature
2 yellow onions, thinly sliced
6 garlic cloves, minced
½ tsp salt
1 tsp each: black pepper, ground cumin seeds
2 tbsp all-purpose flour, or cornstarch
4 tbsp tomato paste
3 tbsp sweet paprika
4 cups/1 l low sodium beef broth
2 tbsp chopped parsley
Instructions
Get your prep done before you start cooking. Clean and quarter the mushrooms. Thinly slice the onions and mince the garlic.
Heat a large heavy-bottomed pot or Dutch oven over medium high. Add mushrooms and cook until they release moisture. Add 1 tablespoon olive oil and cook until the mushrooms start to brown, about 1-2 minutes. Remove from pot with a slotted spoon.
Add butter and the remaining oil. Place half of the beef in a single layer and sear, undisturbed for 2 minutes. Next start stirring and cook until it browns all over, about 2 minutes. Remove from pot into a clean bowl. Add the remaining beef and repeat the process by first searing undisturbed and cooking until browned. There's no need to remove the meat from the pot.
Add onions and garlic, cook for 3 minutes until fragrant. Return the rest of the beef to the pot. Add salt, pepper and cumin. If using regular beef broth instead of low sodium beef broth, don't add any salt as your stew might become too salty. You can always add salt to taste at the end.
Add flour, stir until incorporated. Next, stir in tomato paste. Then add paprika, sugar and broth. Bring to a boil, cover and reduce heat to medium low. Simmer for 1 hour.
When done, add mushrooms and simmer for 40 minutes more or until the meat is tender. Taste and adjust salt. Stir in parsley.
Serve with your favorite sides. Enjoy!
Nutrition Information:
Yield:
4
Serving Size:
1
Amount Per Serving:
Calories:

680
Total Fat:

28g
Saturated Fat:

10g
Trans Fat:

1g
Unsaturated Fat:

17g
Cholesterol:

255mg
Sodium:

970mg
Carbohydrates:

23g
Fiber:

5g
Sugar:

7g
Protein:

88g
Nutritional information is only an estimate. The accuracy of the nutritional information for any recipe on this site is not guaranteed.