Tagliatelle with balsamic wild mushrooms in a garlic butter sauce. This one is simple but seriously delicious, feels a little luxurious and is ready in about 15 minutes! 
The mushrooms are dry-sautéed in a skillet, this way they will be perfectly browned and ultra flavorful. Then swirled with butter and garlic, made funky with chili flakes and herbs. Just serve with creamy burrata and toasted pine nuts. So addictively tasty.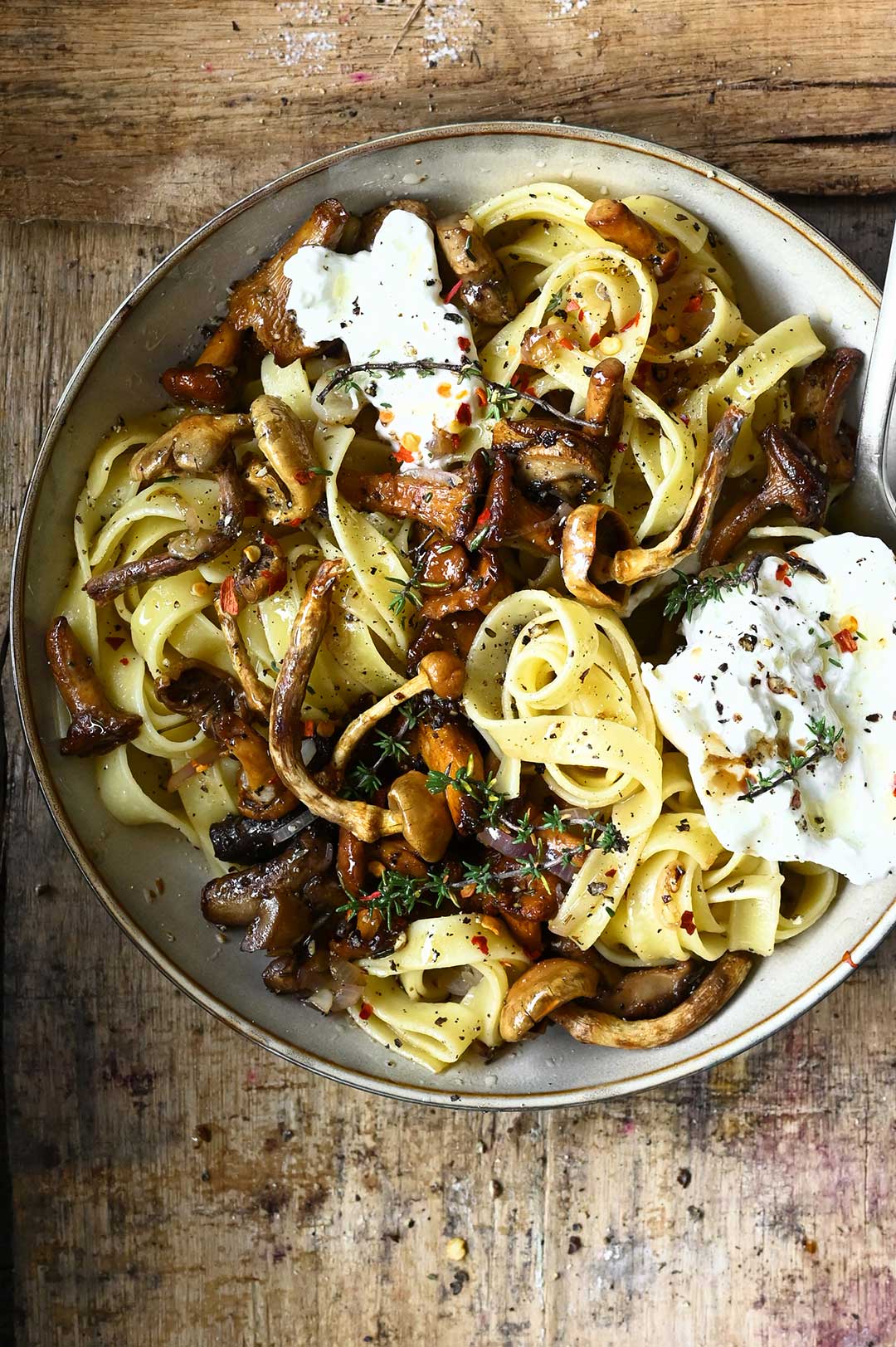 Every ingredient is special, and because there are so few of them, they all play an important role. The dish is chock-full of tasty mushrooms. A mix of wild mushrooms can enrich this easy dish, but simple brown mushrooms work well too. The garlic and tangy balsamic vinegar elevate the flavors without any extra effort. And the burrata adds a touch of creaminess. It's the kind of dish that'll make you feel like a clever cook.
CHECK OUT MY WEB STORY FOR HOW TO MAKE THIS PASTA, FOLLOW ALONG AND TAP TRHOUGH THE STEPS.
If you can't get enough of mushrooms:
Red Pesto Pasta with Mushrooms and Sun-dried Tomatoes
Creamy Parmesan polenta with beer sautéed mushrooms
Asian mushroom noodle soup
Let's stay connected! Sign up for my NEWSLETTER to receive the latest recipes.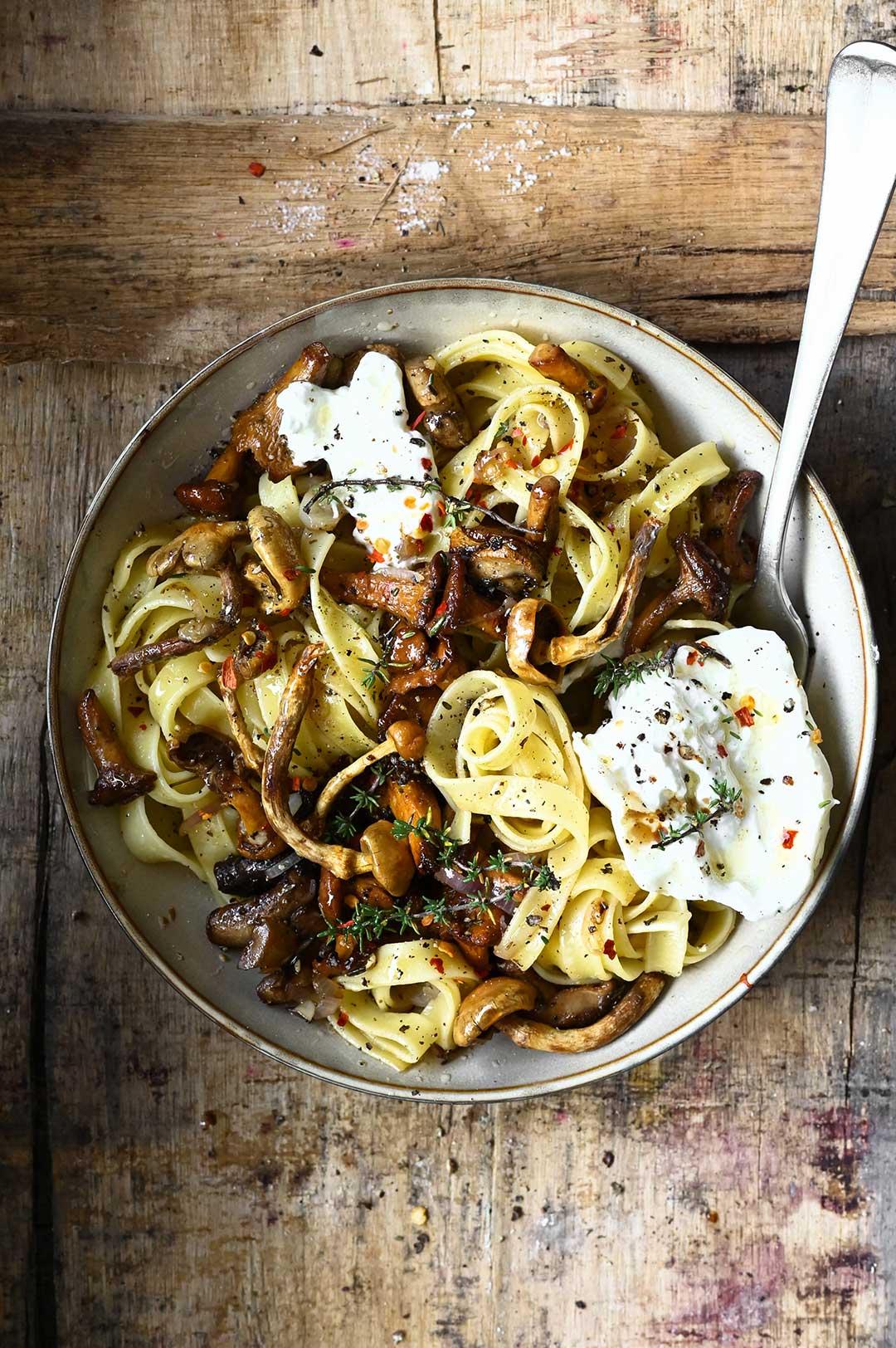 You need
250 g (0.5 lb) tagliatelle
300 g (0.7 lb) wild mushrooms, roughly torn
3 garlic cloves, minced
1 shallot, thinly sliced
2 tbsp olive oil
30 g (2 tbsp) unsalted butter
3 tbsp balsamic vinegar
1 tsp each: dried thyme, sage, smoked paprika, chili flakes
salt and black pepper
burrata, for serving
toasted pine nuts, for serving
fresh thyme, for serving
How to
Boil tagliatelle in salted water.
Heat a large skillet over high heat. Add the mushrooms. Fry for 6-8 minutes. The mushrooms will start to release moisture, after this, add olive oil and all spices. The mushrooms will start to brown, now add the balsamic vinegar and butter. Cook until the butter is melted. Add the garlic and shallot, sauté until fragrant, for 2 minutes.
Toss with pasta and serve with burrata, pine nuts and fresh thyme. Enjoy!
Check out MY WEB STORY for how to make balsamic mushroom pasta, you can follow along and tap through the steps.
If you give this recipe a try, leave a comment or mention me on Instagram #servingdumplings or tag me in your picture with @anna_s_table. I'd love to see what you're making. Happy cooking!

AND… IF YOU LOVE THESE RECIPES … please consider supporting my work for just the cost of a cup of coffee.