Baked Meatballs with Orzo in Roasted Pepper Sauce. These could probably be the best meatballs & pasta you'll ever make. There're so many hidden layers of flavors in this dish. The meatballs are tender but firm, made with ground beef and ricotta. Then drenched in a rich eggplant & roasted bell pepper tomato sauce together with the orzo. Good news! You only need one pan to cook the entire dish.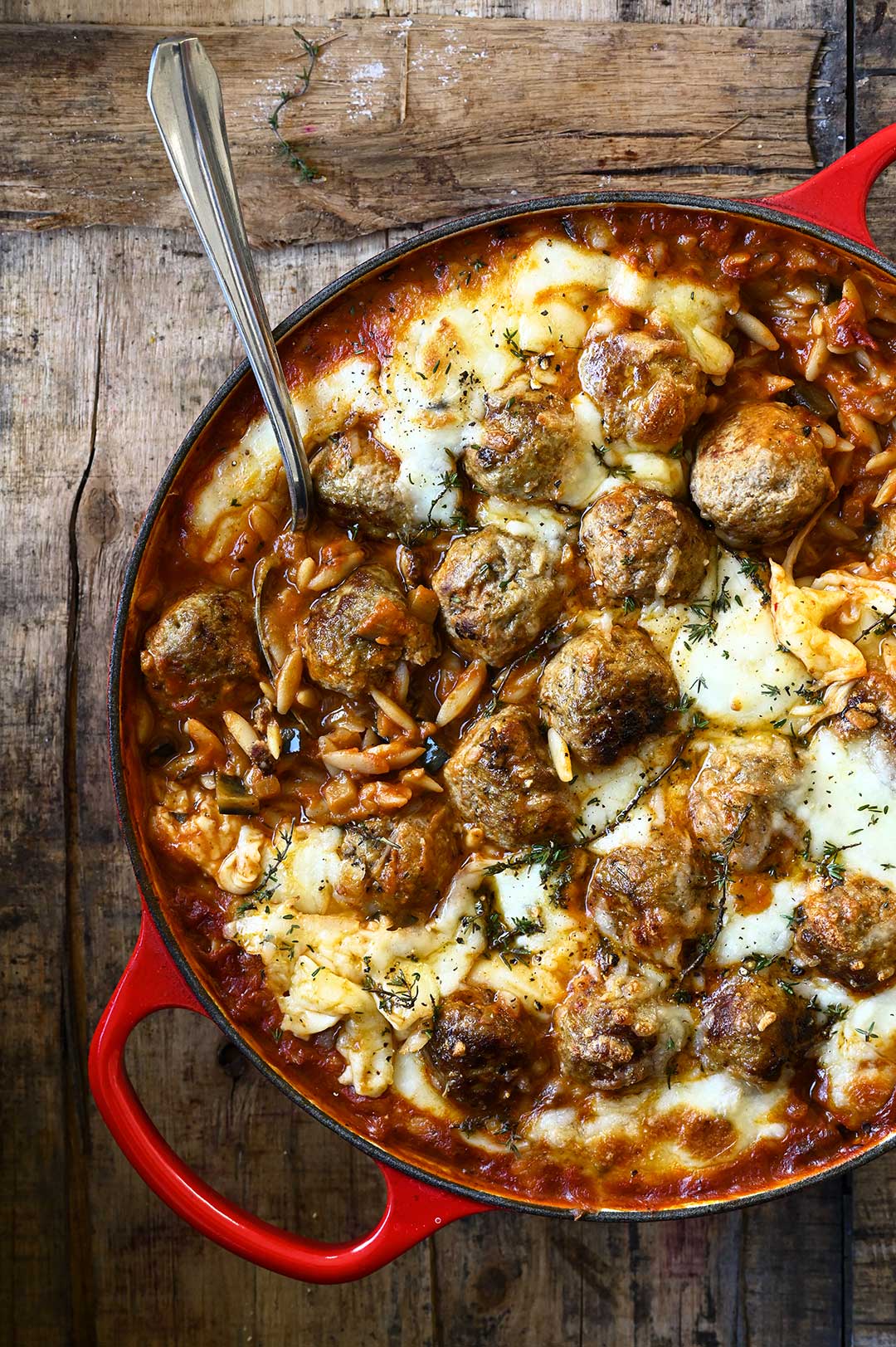 Why You'll Love It
To nail this dish, we add ricotta and softened bread crumbs to the meat. This way the meatballs will never come out dry and you'll get a softer, but still toothsome meatball. We mix them with our hands, but be sure you don't over mix. The shorter you mix and form the balls, the lighter they will be. If you overwork the meatballs, they'll get tough.
When all the meatballs are formed, we brown them in olive oil, then transfer to a plate and throw the chopped shallot and garlic into the pan. Let them sweat a bit, then add the eggplant. It will add a nice texture and flavor to the sauce without dominating it too much.
Now we also add orzo, and pour in the tomato sauce mixed with roasted bell peppers, some tomato paste and chicken broth. The roasted bell peppers are a must. I used a jar, so no effort, but this is what makes the sauce taste so delicious. It adds a subtle sweetness you can't get with any other ingredient. The tomato paste gives the sauce a perfect concentrated flavor together with the crushed tomatoes so you'll have a rich and a pretty smooth sauce. The depth of flavor it adds is almost like you've been letting it cook for hours.
We cook the orzo in that flavorful sauce, then transfer the meatballs back into the pan. As finishing touch, we add mozzarella and bake everything a couple of minutes in the oven. And there you have it…the best meatballs ever. Yep, and only one pan.
Let me guide you through the recipe with this step-by-step VIDEO or follow along on YouTube.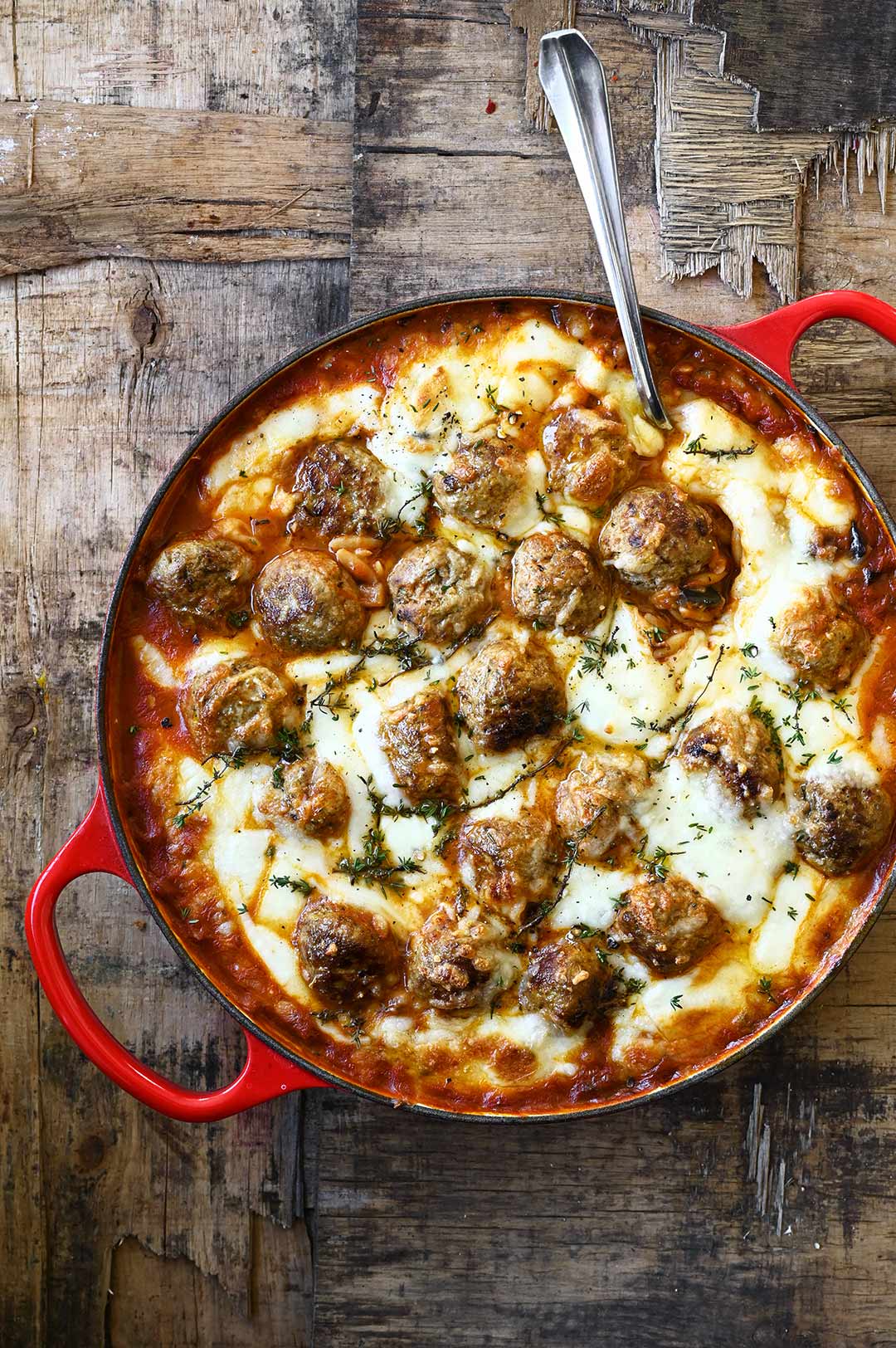 Helpful Tips

Can't find orzo? Use any other tiny shaped pasta, or leave it out and serve this dish with spaghetti or some bread.
You can also swap the eggplant for grated zucchini.
Or make it without mozzarella. It's all up to you.
Storage: Leftovers can be stored in the fridge for up to 3 days.
Similar Recipes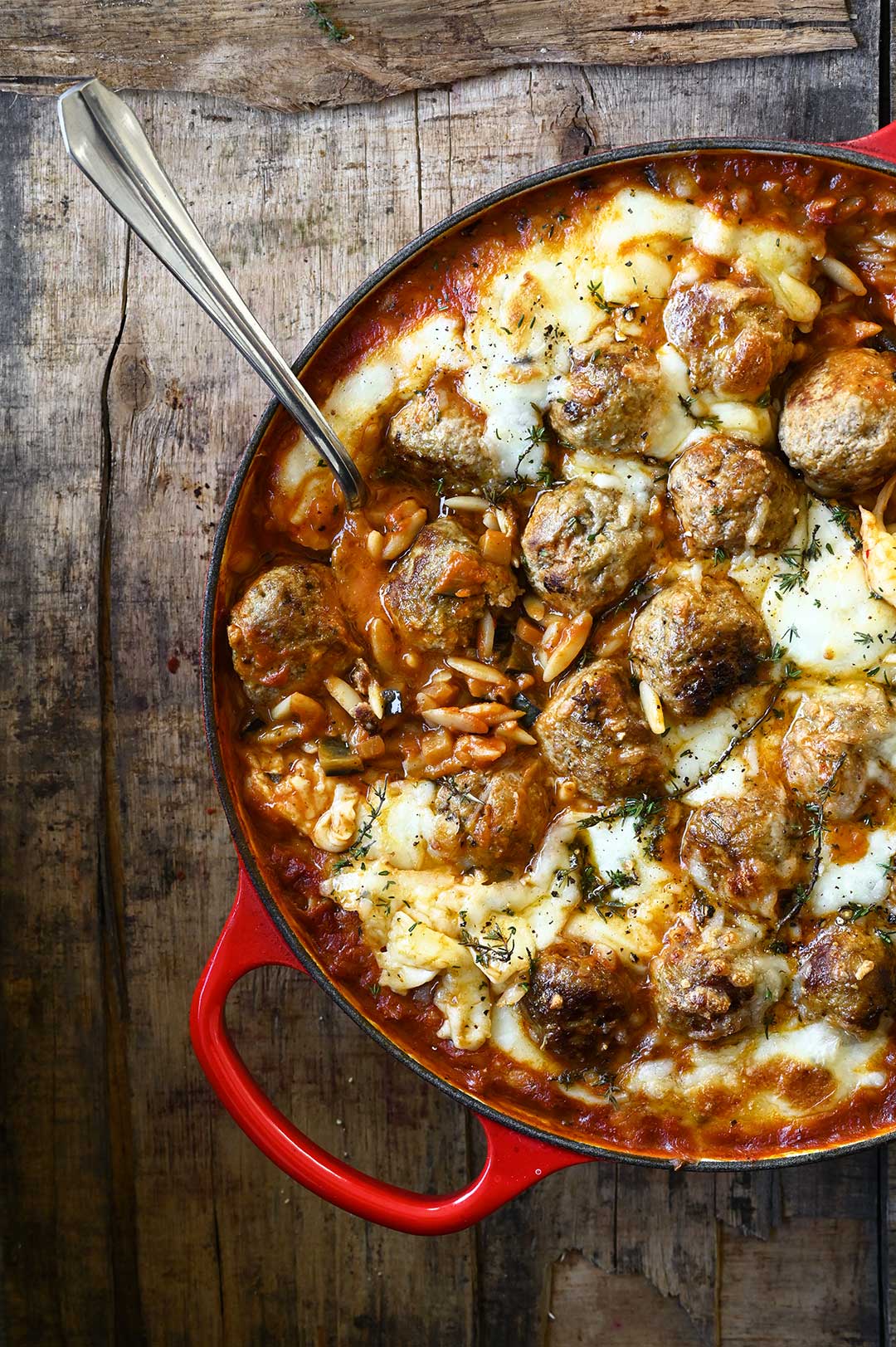 Cooking Video
Yield: serves 4
Baked Meatballs with Orzo in Roasted Pepper Sauce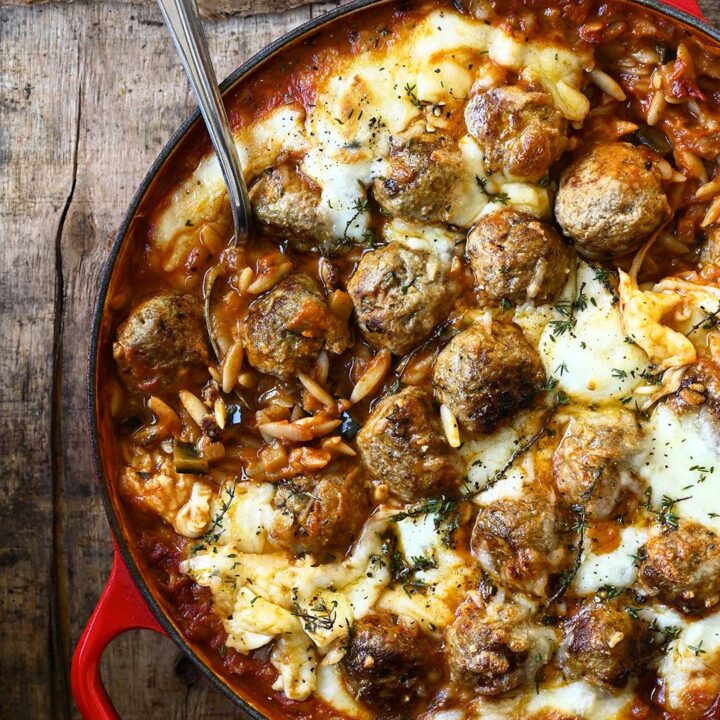 Ingredients
1 can (400 g/15 oz) crushed tomatoes
1 small jar (280 g/10 oz) roasted bell peppers, liquid drained
250 ml/1 cup chicken broth
2 tbsp tomato paste 
6 tbsp olive oil, divided
1 shallot, finely chopped
3 garlic cloves, minced
1 eggplant, sliced into small cubes
200 g/7 oz orzo
salt + black pepper, to taste
1 tsp each: smoked paprika, dried oregano, dried thyme, dried basil, chili flakes
150 g/5 oz grated mozzarella
fresh thyme, for sprinkling
Meatballs
3 tbsp breadcrumbs
2 tbsp milk
500 g/1.1 pounds ground beef
1 garlic clove, minced or grated
1 egg
3 tbsp ricotta or heavy cream
1 tsp each: smoked paprika, dried oregano, cumin
Instructions
In a high speed blender add crushed tomatoes, broth, roasted peppers and tomato paste. Blend until smooth.
For the meatballs, place the breadcrumbs and milk in a large bowl and mix well to combine. Set aside for 5 minutes.
In the meantime, cut the eggplant, slice the shallot and mince the garlic.
Add the beef, egg, garlic, ricotta, seasoning, salt and pepper to the breadcrumbs. Mix just until combined, using your hands. Roll the meat into 2-tablespoon sized balls.
In a large oven-proof skillet, heat 3 tbsp olive oil over medium heat. Brown meatballs on all sides, remove from skillet.
In the same skillet, add shallot and garlic, cook for 2-3 minutes until soft. Add 3 tbsp olive oil, then the eggplant cubes. Cook for 5 minutes, and add in orzo. Stir and cook for 1 minute.
Stir in prepared tomato sauce, salt, pepper, paprika, oregano, thyme, basil and chili flakes. Bring to a boil, cover and simmer on very low heat for 8 minutes until the sauce has thickened slightly. Stir from time to time with a wooden spoon. If needed, add a little bit of water.
In the meantime, preheat the oven to 200°C/400°F.
Add meatballs to the sauce, simmer for 5 minutes or until the orzo is al dente. Sprinkle with mozzarella and fresh thyme. Place in the oven until the mozzarella is melted and golden, about 10 minutes. Serve!
Notes
Calories Per Serving: 684 kcal
Nutritional information is only an estimate. The accuracy of the nutritional information for any recipe on this site is not guaranteed.