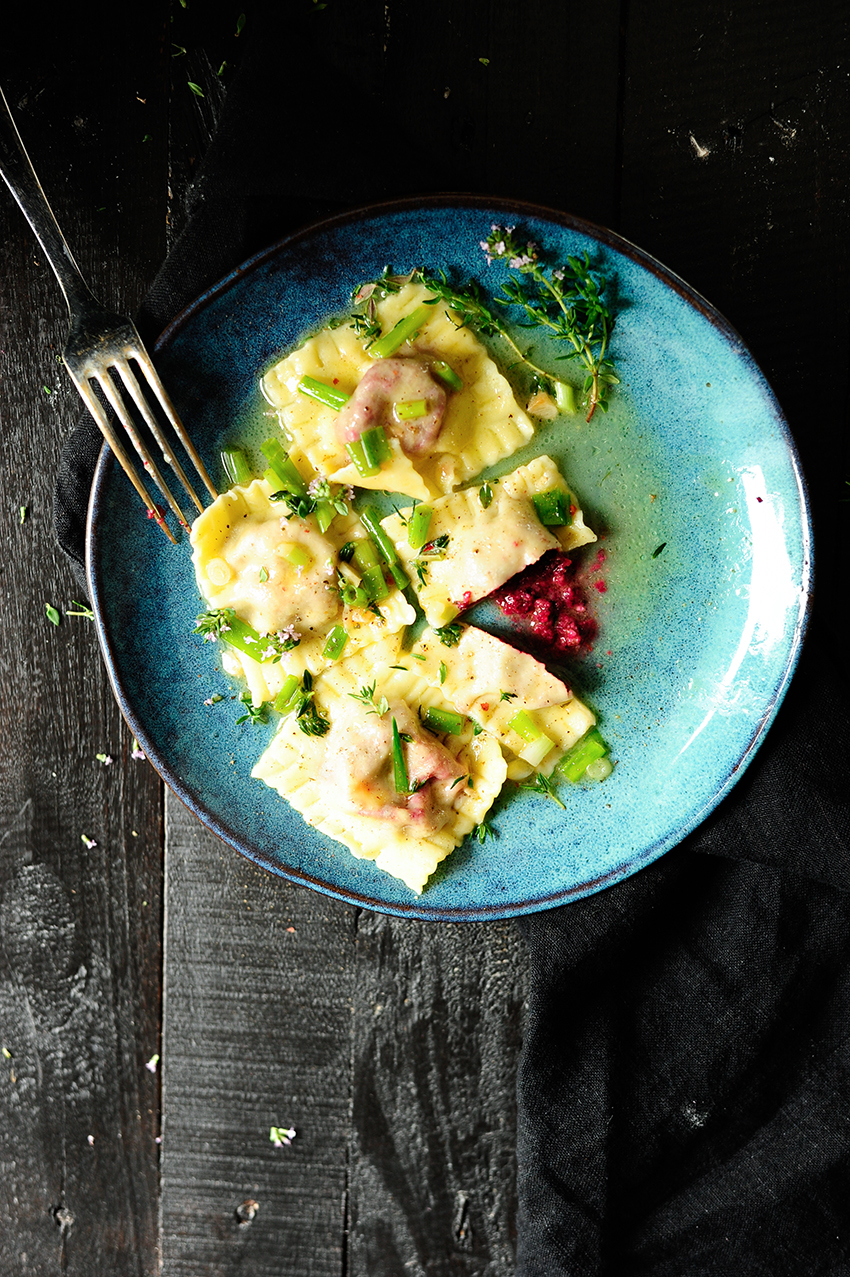 These are probably my favorite ravioli, I fell in love with them within the first bite. Since I have baby beets in the garden, I'm trying to make almost everything I haven't eat yet with beets. Young beet leaves mixed with goat cheese, walnuts and parmesan, than all stuffed into a pocket of homemade pasta is pure heaven. I really can't describe how much we loved these ravioli, they are simply delicious. Because the filling has such pure, wonderful flavors, I wanted to keep the sauce simple, just a butter sauce with a touch of thyme and spring onions. Perfect!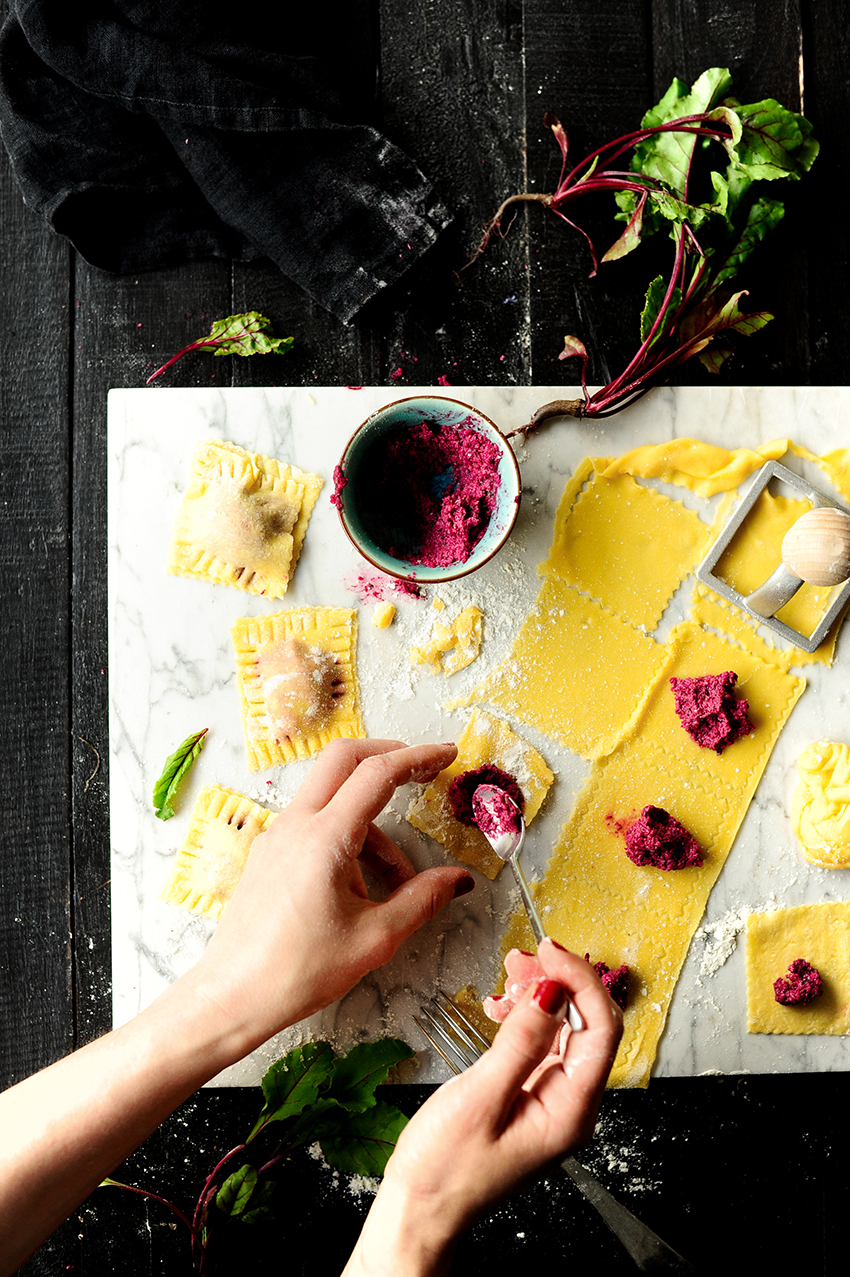 Ingredients
the dough
400 g flour type 500 or semola rimacinata
4 organic eggs
4 tablespoons extra virgin oil
4 tablespoons water
pinch of salt
the filling
2 tablespoons butter
1 clove garlic, minced
8 baby beets with young leaves
leaves from 2 sprigs of thyme
zest from 1/2 lemon
pinch of grated nutmeg
100 g grated Parmesan cheese
150 g fresh goat cheese
50 g walnuts
salt and black pepper
the butter sauce
3 tablespoons butter
1 clove garlic, minced
100 ml vegetable broth
zest from 1/2 lemon
leaves from 3 sprigs of thyme
6 spring onions, finely chopped
salt and black pepper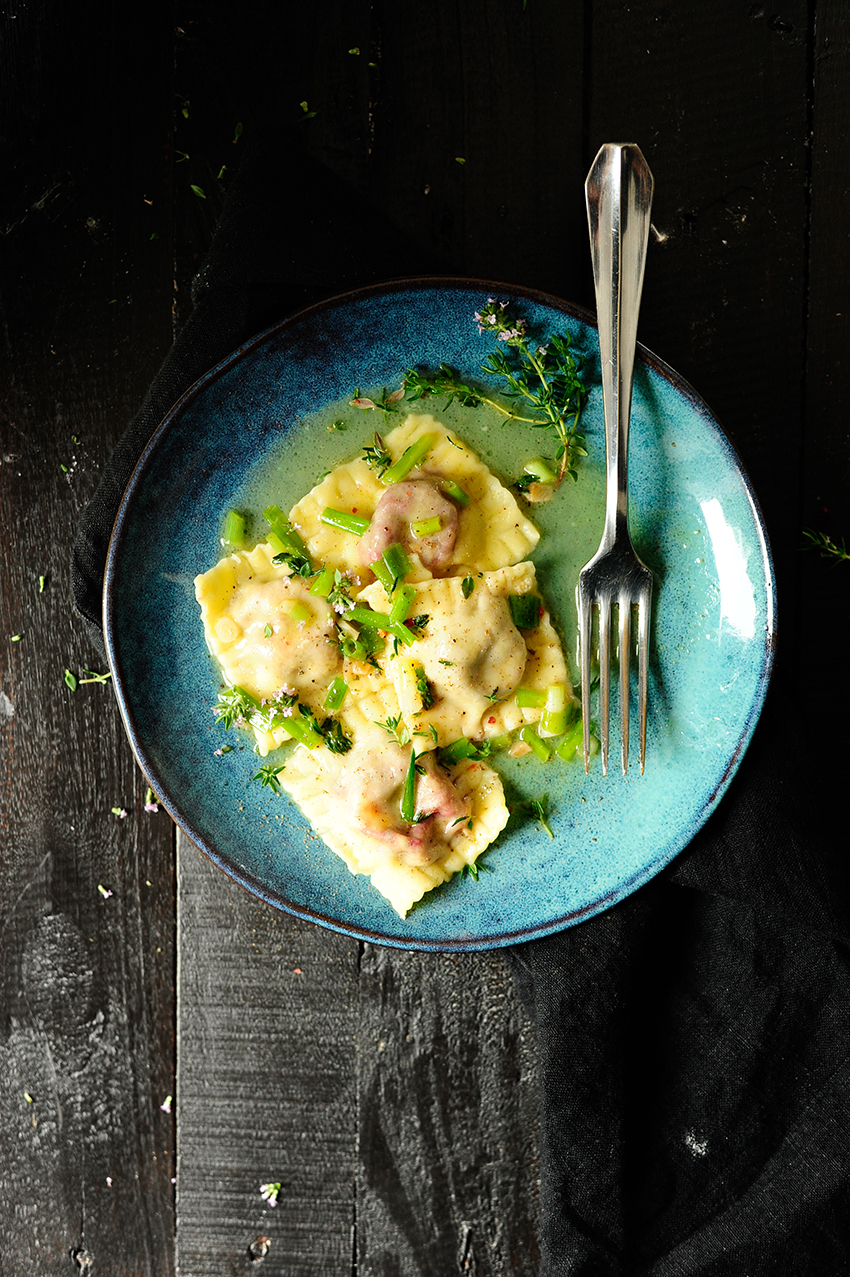 Instructions
Put the flour, eggs, oil, water and salt in the bowl of your food processor and turn 5 minutes at medium speed. Remove the dough and knead by hand for 2 minutes. Cover and set aside.
Rinse the beets under running water, cut off the roots. Cut the beetroot off the leaves and cut into small cubes, cut the stalks, chop the leaves into small pieces. Heat the butter in a pan, sauté shallot and garlic over a low heat. Add the beetroots and stalks, simmer for 10 minutes. Season with thyme, nutmeg, salt and pepper. Then add the leaves and simmer for 5 minutes more.
Transfer the beets to the foodprocessor, add parmesan cheese, goat cheese, lemon zest and walnuts. Blend and season with salt and pepper.
Divide the dough into 4 pieces. Take one of the pieces and flatten it out, brushing some flour on both sides. Roll out into a thin sheet or feed it through the pasta roller. Repeat with the remaining dough.
Place scoops of filling onto a pasta dough sheet. Brush the dough with water around the scoops of filling. Place a second sheet on top, making sure that there is no air in the pockets. Use a  cutter to cut the ravioli out. Stick the edges together using a fork.
Cook in salted water for about 3-5 minutes.Remove from the water with a slotted spoon.
In the saucepan, melt the butter, sauté the garlic over a small heat. Pour the broth and bring to a boil. Add thyme, spring onions and season with salt and pepper.
Serve immediately. Eat!