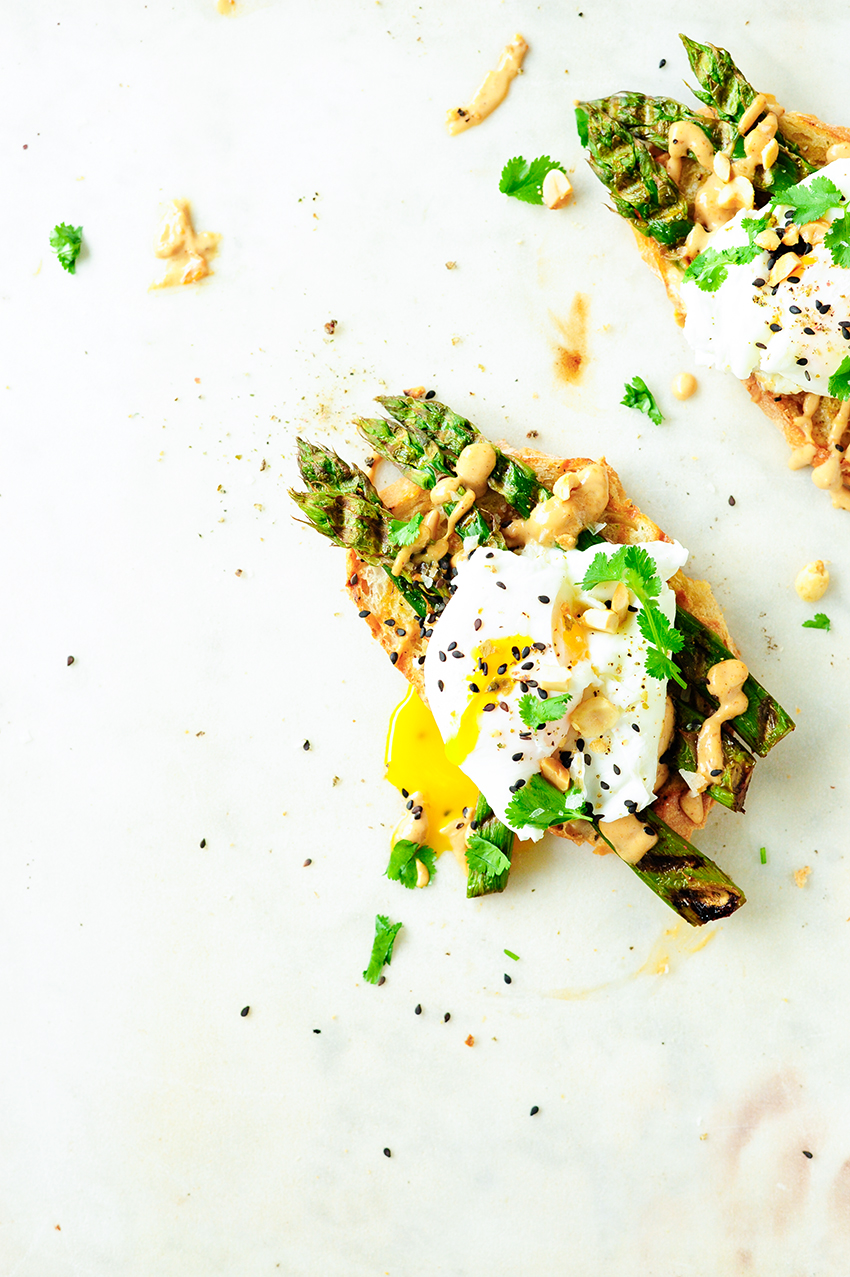 Thick slices toasted bread topped with grilled asparagus and poached eggs, then generously drizzled with peanut sauce. Fast, healthy, full of flavor and beyond delicious. But all dishes with peanut butter are delicious, it makes everything better, don't you think?
Ingredients
2 large slices of good quality bread
2 tablespoons olive oil
100 g green asparagus
2 organic eggs
2 tablespoons chopped cilantro
2 tablespoons sesame seeds
2 tablespoons chopped roasted peanuts
black pepper and salt
peanut sauce
1 clove garlic, minced
1/2 teaspoon chopped chilli pepper
1 tablespoon grated ginger
1 tablespoon coconut oil
juice and zest of 1/2 lime
200 ml coconut milk
100 g peanut butter
2 tablespoons Thai red curry paste
black pepper and salt
Instructions
Heat the coconut oil in a small saucepan, sauté the garlic and the ginger over low heat. Add the chili pepper and stir, pour coconut milk and bring to a boil. Combine with the rest of the ingredients and cook over low heat until the peanut butter has melted and the sauce is smooth. Season with pepper and salt.
Preheat your grill pan to high heat. Rinse the asparagus under cool water and remove the woody stems. Grill for 10 minutes until soft.
Sprinkle the bread with oil and grill until light grill marks appear.
Crack the eggs individually into a cup. Boil 1L water with vinegar in a tall pot, create a gentle whirlpool in the simmering water. Pour the (first) egg from a low height into the water and cook for 3 minutes. Remove the egg with a slotted spoon and dry on a paper towel.
Divide the asparagus between the two pieces of bread, season with salt and pepper. Drizzle with the peanut sauce and cover with the poached eggs. Add the chopped peanuts, sesame and cilantro. Enjoy!