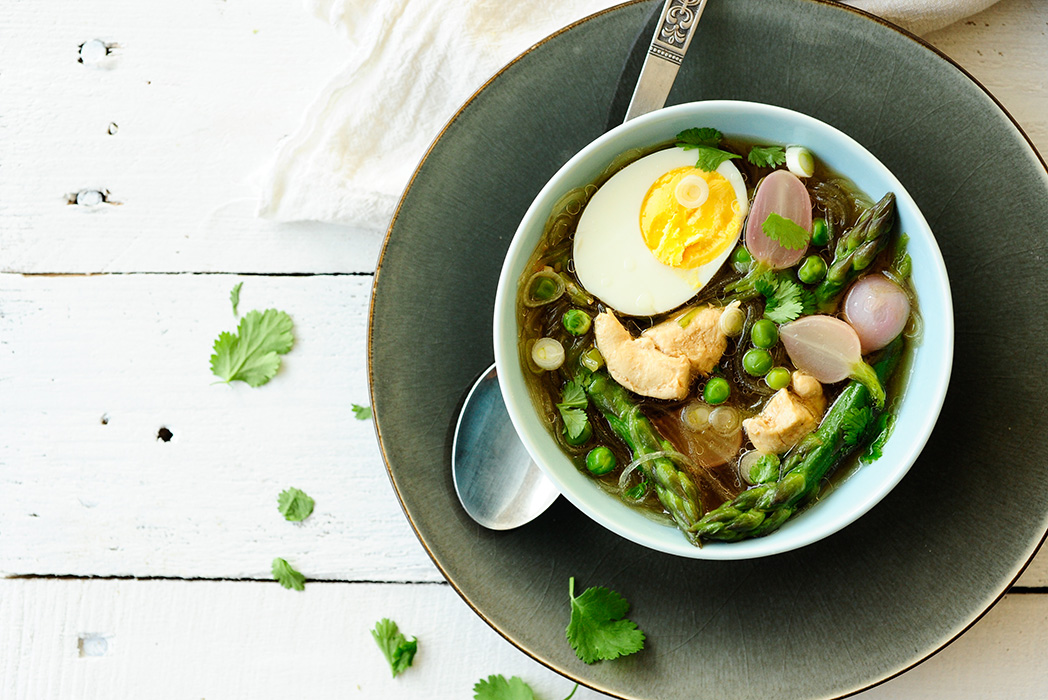 Chicken soup with asparagus, radishes and soy noodles. Ii's a heathy, delicious dish, rich in flavor and light. You can add some spicy chili or serve the soup with tofu instead of chicken.
Ingredients
100 g soy noodles
2 double chicken fillets
250 g green asparagus
1 bunch radishes
1 cup frozen peas
1,5 L broth
1 teaspoon grated ginger
1 garlic clove, finely chopped
6 spring onions, cut in rings
1 bunch coriander
2 tablespoons vegetable oil
2 tablespoons soy sauce
salt and pepper
2 hard-boiled eggs
Instructions
Rinse the asparagus under cool water, snap off the tough ends and cut into smaller pieces. Remove the leaves from the radishes, rinse radishes and cut them in half. Cut the chicken fillets into small pieces.
Heat the oil in a pan, add the chicken and brown it lightly. Add the garlic and ginger and cook for another 5 minutes. Add radishes, spring onions, peas and asparagus and simmer for 5 minutes. Pour the broth and cook for 10 minutes. Season with soy sauce, salt and pepper.
Turn off the heat, break the noodles in half and add to the soup, leave for 5 minutes, covered.
Serve with a boiled egg and chopped fresh coriander.
Enjoy!