This Asian cucumber salad is perfect to serve along all kind Asian-inspired dishes. It's crunchy, refreshing, lightly sweetened with delicate vinegary flavors. It's a delicious addition to meals and bowls you are already making.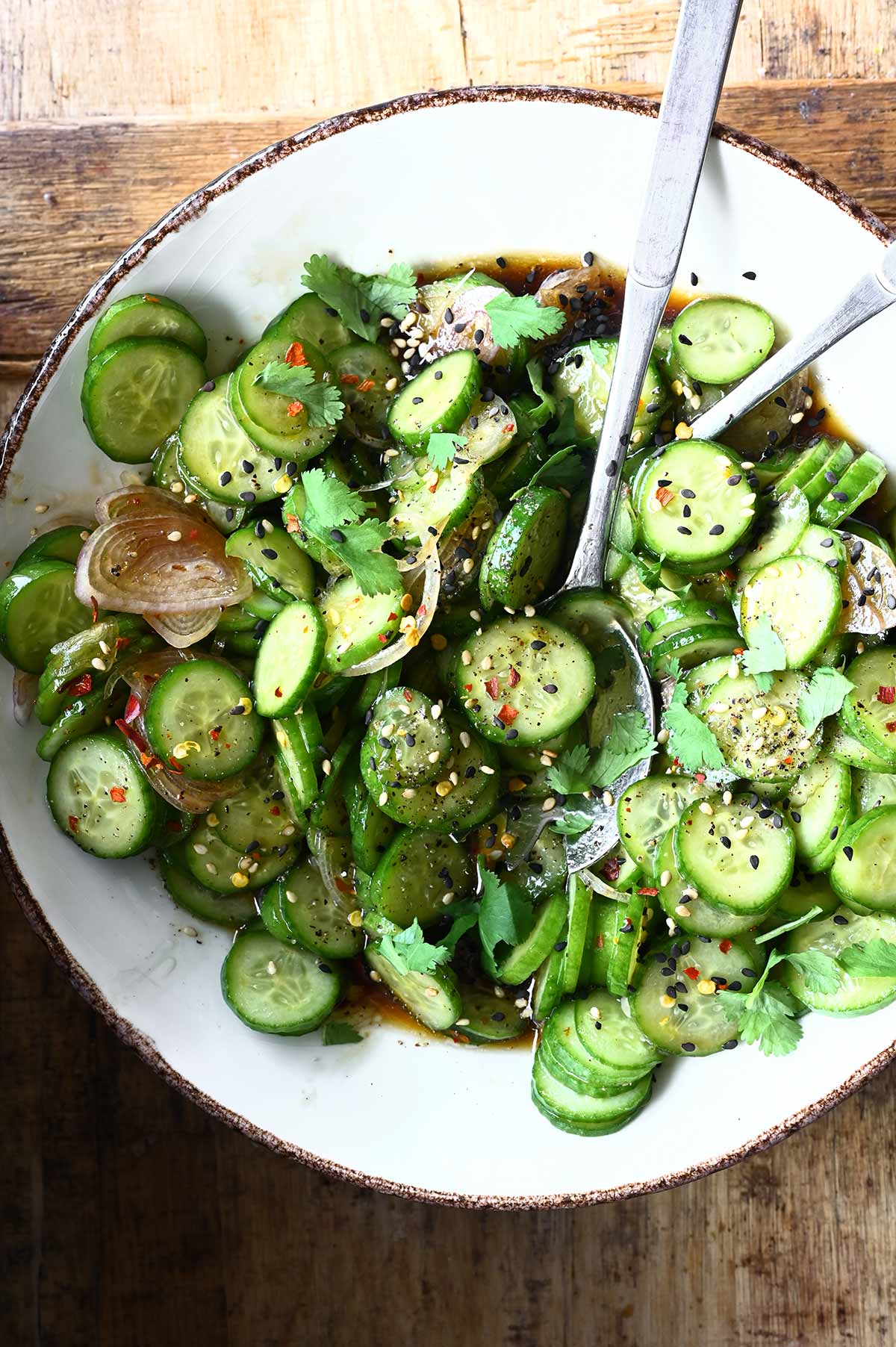 Savory, crunchy and a bit sweet, this salad is meant to pair with other dishes or to eat as-is on a hot summer day. The fresh crispness of the cucumber paired with acidic and sweet notes makes for a refreshing side dish that's hard to stop eating.
The Persian cucumbers are tossed in an Asian-style marinade. It's a mix of rice vinegar, mirin, sugar, sesame oil and vegetable oil. I also like to use both soy and oyster sauce to enhance umami flavor.
Let me guide you through the recipe with this step-by-step VIDEO.
I love to use it as a side with rice bowls, or any Asian inspired dishes like this Citrus Ginger Chicken, Thai Coconut Shrimp Curry or Firecracker Chicken Meatballs.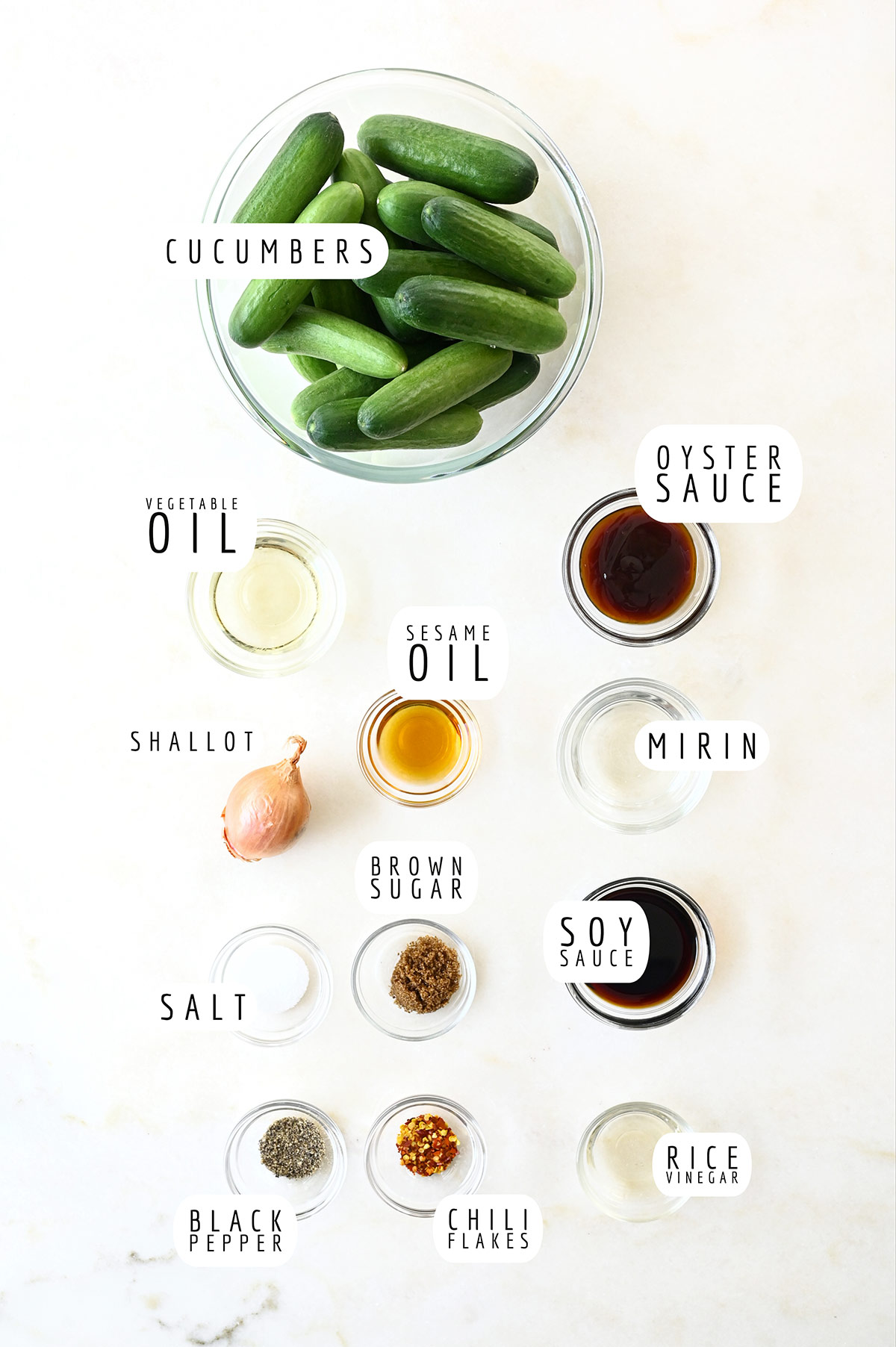 Ingredients, Tips & Substitutions
Cucumbers: You can go for Persian or English cucumbers.
Shallot: I like the delicate sweet flavor of a shallot, but you can swap it for red onion or scallions.
Mirin: To balance out the flavors. It's a slightly sweet rice wine for cooking and has a thick consistency.
Rice Vinegar: It adds a tart flavor and a very subtle sweetness, which makes it stand out from other vinegars that you might be used to.
Soy Sauce: For a salty touch. Low sodium adds a perfect amount of saltiness.
Oyster Sauce: Full-bodied sauce made from a reduction of boiled oysters. Adds thick glaze-like texture and a sweet-salty flavor.
Brown Sugar: To sweeten the sauce and balance out the acidity. You can also use honey or maple syrup.
Oil: Use peanut or vegetable oil.
Sesame Oil: Toasted sesame oil is the go-to in this recipe.
Chili Flakes: For a subtle heat, you can leave them out or add more to your own taste.
Black Pepper: To spice things up.
Customizing This Asian Cucumber Salad
One of my favorite things about this cucumber salad is how versatile it is. The fresh nature of this salad goes also perfectly with hot dishes. It's super easy to prepare, you can make it ahead of time and it is super versatile too. The add-ins can vary, everything from thinly sliced scallions to radish, cilantro and carrots.
You can add some crunch, more flavor or a variety of fresh herbs. While spice-lovers can pump up the heat without fundamentally altering the flavor of the dish. After all, much of this salad's character is driven by mirin, soy sauce, sugar and sesame oil.
Add-Ins
Serve this salad simple as-is, or jazz it up to your own liking. The add-ins depend on your mood of the type of dish that you want to serve it with.
You can opt for a mix of fresh herbs: chives, scallions, mint or cilantro.
For a crunchy touch: sesame seeds, toasted peanuts or cashews.
Extra veggies: carrots or radishes.
More flavor: grated garlic or ginger. You can also go for Sichuan peppercorns.
More acidity: lemon juice.
Add more heat: chili oil or extra red pepper flakes.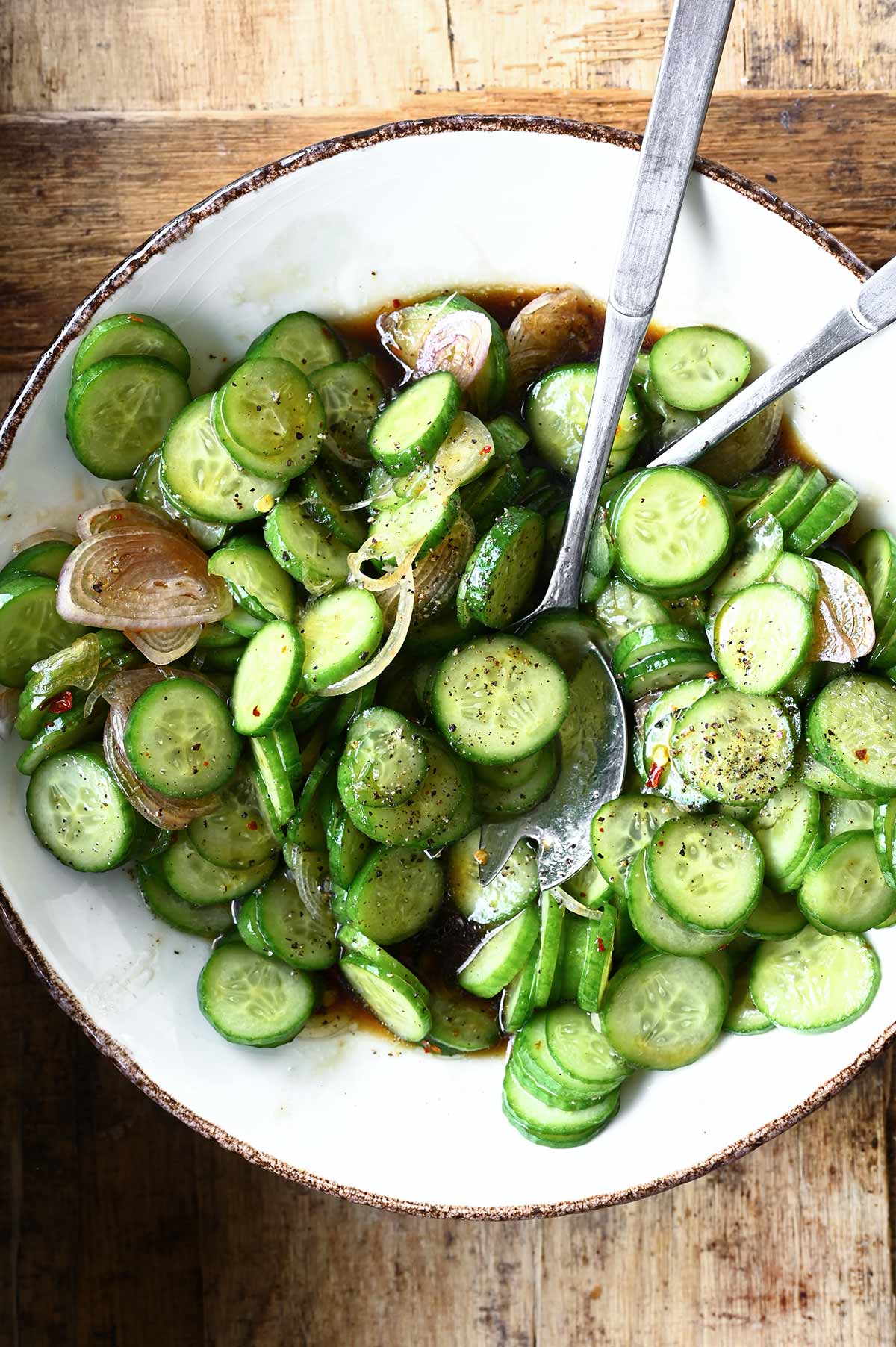 Recipe Notes
The key for a crunchy cucumber salad is to thinly slice the cucumbers and salting them before adding the dressing. This will draw out the extra moisture in the cucumbers, so the salad doesn't get watered down by the cucumber juices.
Pair with Asian-inspired dishes: rice, noodles, chicken, fish or shrimp.
Make Ahead: You can slice your cucumbers and prepare the dressing one day ahead. Combine and toss 30 minutes before you start to eat.
Storage: Refrigerate in an airtight container for up to 2 days. The dressing will become more watery.
Recipes You'll Want to Try with This Asian Cucumber Salad
Cooking Video
Yield: serves 4
Asian Cucumber Salad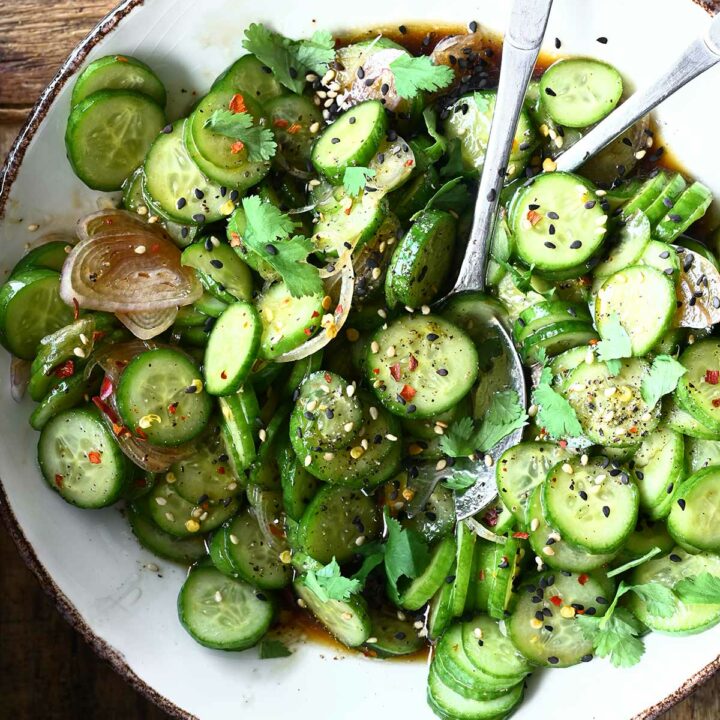 Additional Time
20 minutes
Ingredients
1 ½ pounds/690 g cucumbers, Persian or English, thinly sliced
1 tsp salt
1 shallot, thinly sliced
2 tbsp mirin
1 tbsp rice vinegar
2 tbsp low sodium soy sauce
3 tbsp oyster sauce
1 tbsp brown sugar
¼ tsp chili flakes, optional
2 tbsp vegetable oil
1 tsp toasted sesame oil
1 tsp freshly ground black pepper
Instructions
Cut the cucumbers in thin slices. Place them in a strainer, sprinkle with salt and toss to combine. Set aside and let sit for at least 20 minutes (or up to 1 hour), the salt will pull the water out of the cucumbers. If you're in a hurry, just omit this step.
Meanwhile, thinly slice the shallot.
Prepare the Asian dressing by adding mirin, rice vinegar, soy sauce, oyster sauce, brown sugar, chili flakes, vegetable oil and sesame oil to a jar. Whisk to combine.
Add the salted cucumbers and shallot to a large bowl. Pour in the prepared dressing and season with freshly ground black pepper. Toss to combine. Enjoy!
Notes
Calories Per Serving: 145 kcal
Nutritional information is only an estimate. The accuracy of the nutritional information for any recipe on this site is not guaranteed.

//= __('Print recipe (no photos)', 'servingdumplings' );?> //= __('Print recipe (with photos)', 'servingdumplings' );?>