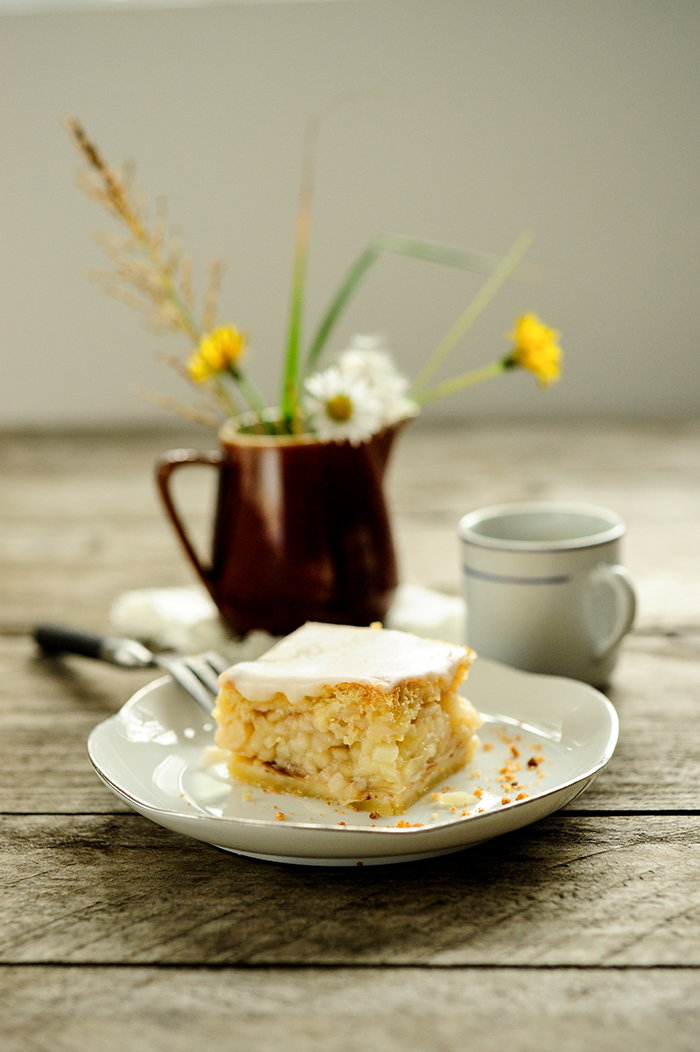 It's my kind of apple pie, with shortcrust pastry, roasted almonds and plenty of juicy apples stewed in cider. This is homemade goodness at its very best.
Ingredients
crust
500 g flour
150 g icing sugar
1 teaspoon vanilla extract
250 g cold butter, cubed
2 farmers eggs
1 teaspoon vinegar
pinch of salt
filling
1.6 kg apples
600 ml dry cider
120 g sugar
1 teaspoon cinnamon
3 tablespoons cornstarch
80 g flaked almonds, toasted in a dry frying pan
Instructions
Sift the flour into a bowl. First add the butter, then the eggs, sugar, vanilla extract, vinegar and salt. Quickly knead the dough by hand. If you decide to mix it in a food processor, make sure the butter is at room temperature. Wrap it in cling film and let it rest in the fridge for 30 minutes. The dough can be made several hours or a day before.
In the mean time, peel the apples, cut into quarters, remove the seeds and cut into matchstick pieces.
In a large saucepan, bring the cider and sugar to a boil, add the apples and boil for 3 minutes. Drain over a bowl and let them cool. Then pour 400 ml cider back into the saucepan, add cinnamon and cornstarch. Constantly stirring, bring the cider to a boil and cook for 1 minute. Cool down.
Remove the pastry from the fridge and cut in half. Put one part back in the refrigerator. Roll out the second part between two sheets of parchment paper. Place in a 20×30 cm tin and peel the upper paper off. Prick the dough with a fork, sprinkle with almonds and add apples. Pour the apple cider with cinnamon over the apples.
Remove the other half of the pastry from the refrigerator, roll out between two sheets of parchment paper. Peel off the top layer of the paper, invert and cover the cake. Then gently peel off the remaining layer of the paper. It is important that the apples are completely cooled down otherwise the dough will stick to the paper. Prick holes with a knife and place in the oven. Bake for 35 minutes at 200°C.
Cool the pie on a rack. Whisk the icing sugar with 3-4 tablespoons of the remaining cider. Spread the frosting on top of the apple pie. Enjoy!