Have you ever tried scorzonera? It is a plant, also known as  black salsify, harvested in November and stored throughout the winter. The edible part of the plant is a dark brown root with creamy flesh. Because of its taste, shape and the period in which it is eaten it is also called winter or poor men's asparagus.
The following recipe for the mac and cheese is a winter comfort food, this means it's full with all things a really good macaroni and cheese should be loaded with, in this case there are all the creamy French cheeses.
Inspired by the French cuisine, I used the cheeses I know and love to eat, so I used a massive amount of Abondance and Beaufort for the sauce, I also added some bacon, scorzonera and finished with Reblochon on top. You may be thinking twice about that scorzonera, but just stop all those thoughts right now. If you don't like it or you can't find it, that's fine, leave it out and prepare this dish with cauliflower, it will be also super delicious.
Serve with side salad and white wine. Can there be anything more pleasurable and comforting than a bowl of pasta with melted cheese? I don't tink so (: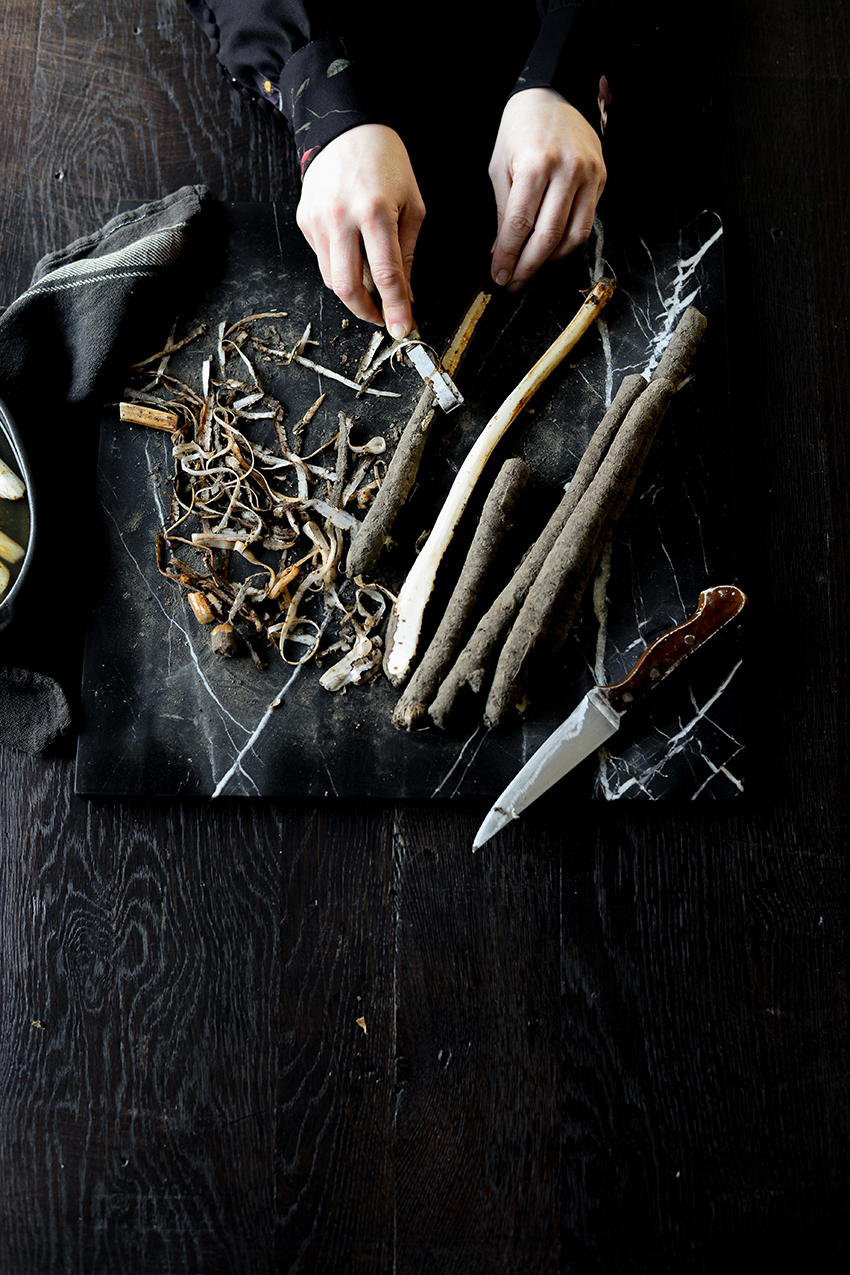 Ingredients
500 g short cut pasta
500 g scorzonera or 1 cauliflower
300 g salted bacon, cut into small pieces
1 clove garlic, finely chopped
1 shallot, finely chopped
60 g butter + 1 tbsp
30 g flour
800 ml milk
200 g grated Beaufort cheese
200 g grated Abondance cheese
200 g Reblochon
2 teaspoons Dijon mustard
1/4 teaspoon cayenne pepper
1/4 teaspoon nutmeg
lemon juice
salt + black pepper
1 teaspoon dried sage
leaves from 2 springs of thyme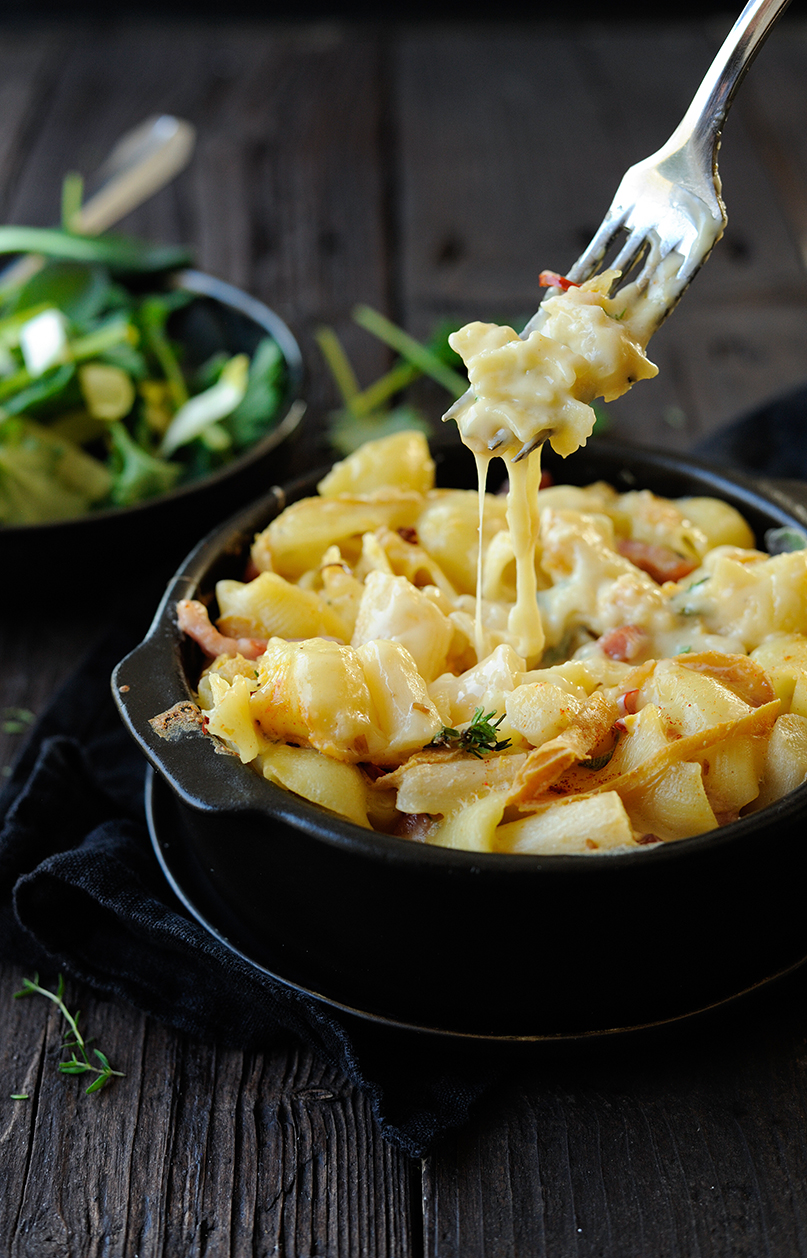 Instructions
Prepare a bowl with cold water and lemon juice. Peel the scorzonera, using a newspaper and gloves, because the root emits a sticky juice that is hard to wash off. Put the peeled roots right into the prepared bowl with water. Then wash and cut into small pieces. Bring a large pot of salted water to a boil, add the scorzonera and lemon juice, boil until tender for maximum 10 minutes.
Bring a large pot of salted water to a boil. Boil the pasta until al-dente.
Melt a tablespoon of butter in a skillet, add the bacon and bake until golden brown. Reduce the heat, add garlic and shallots, cook for 5 minutes. Turn off the heat and set aside.
In a saucepan, melt the butter over small heat, whisk in the flour and allow to combine butter and flour. Pour the milk and bring to a boil, whisking until combined. Turn off the heat, add Beaufort and Abondance,  stir and season with all spices, 1 teaspoon lemon juice and mustard, taste and add salt and pepper.
Add the bacon and scorzonera to the pasta and stir in the cheese sauce. Transfer to a baking dish and top with pieces of Reblochon cheese. Bake for 10 – 15 minutes at 200°C.
Serve with a fresh side salad drizzled  with honey vinaigrette. Enjoy!