Easy 30 minute halloumi curry. Golden seared halloumi cheese is surprisingly tasty when simmered in a hearty coconut curry. If you want to try new flavor combinations, or just love halloumi, you'll definitely need to try this one!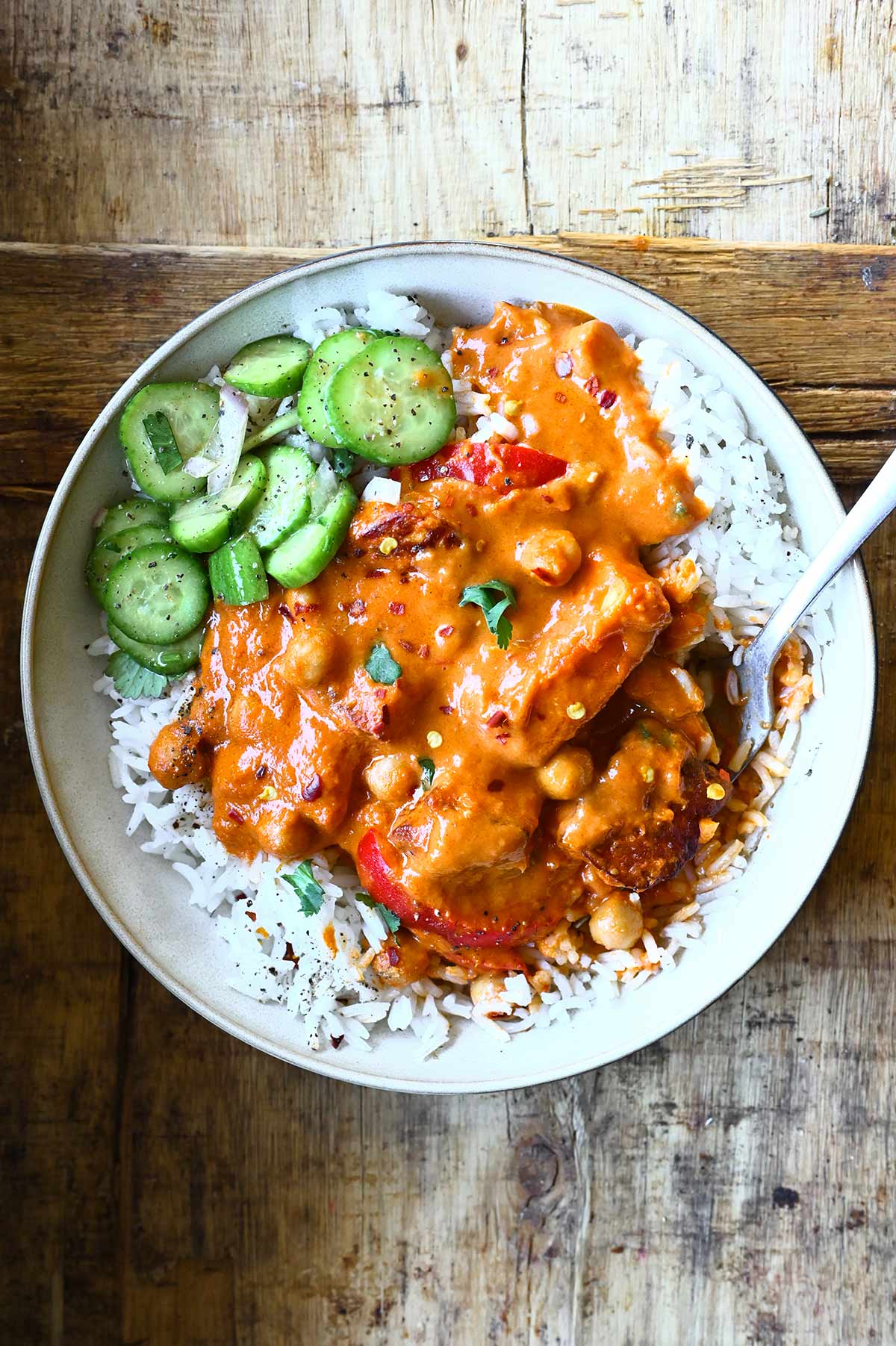 Halloumi has never tasted better than when simmered in a coconut curry. Bell pepper and chickpeas complete this dish that's rich with Thai red curry paste. We pair it with some aromatics commonly found in coconut curries, like ginger and garlic, plus some chili flakes for spice. It's quick, tasty and endlessly adaptable. Serve with basmati rice for a complete meal.
This recipe can be adapted using garam masala, yellow curry powder or another curry spice mix. When adapting the recipe, start with small amounts and taste as you go. You can always spice it up at the end.
Extra bonus? It's super easy to scale up to feed a crowd and different vegetables can be added to the base recipe. Use green peas, zucchini or cauliflower.
This is a great way to enjoy halloumi! If you haven't tried halloumi before, or you are looking for new ways to experiment with it, then this halloumi curry is a great start.
Let me guide you through the recipe with this step-by-step video.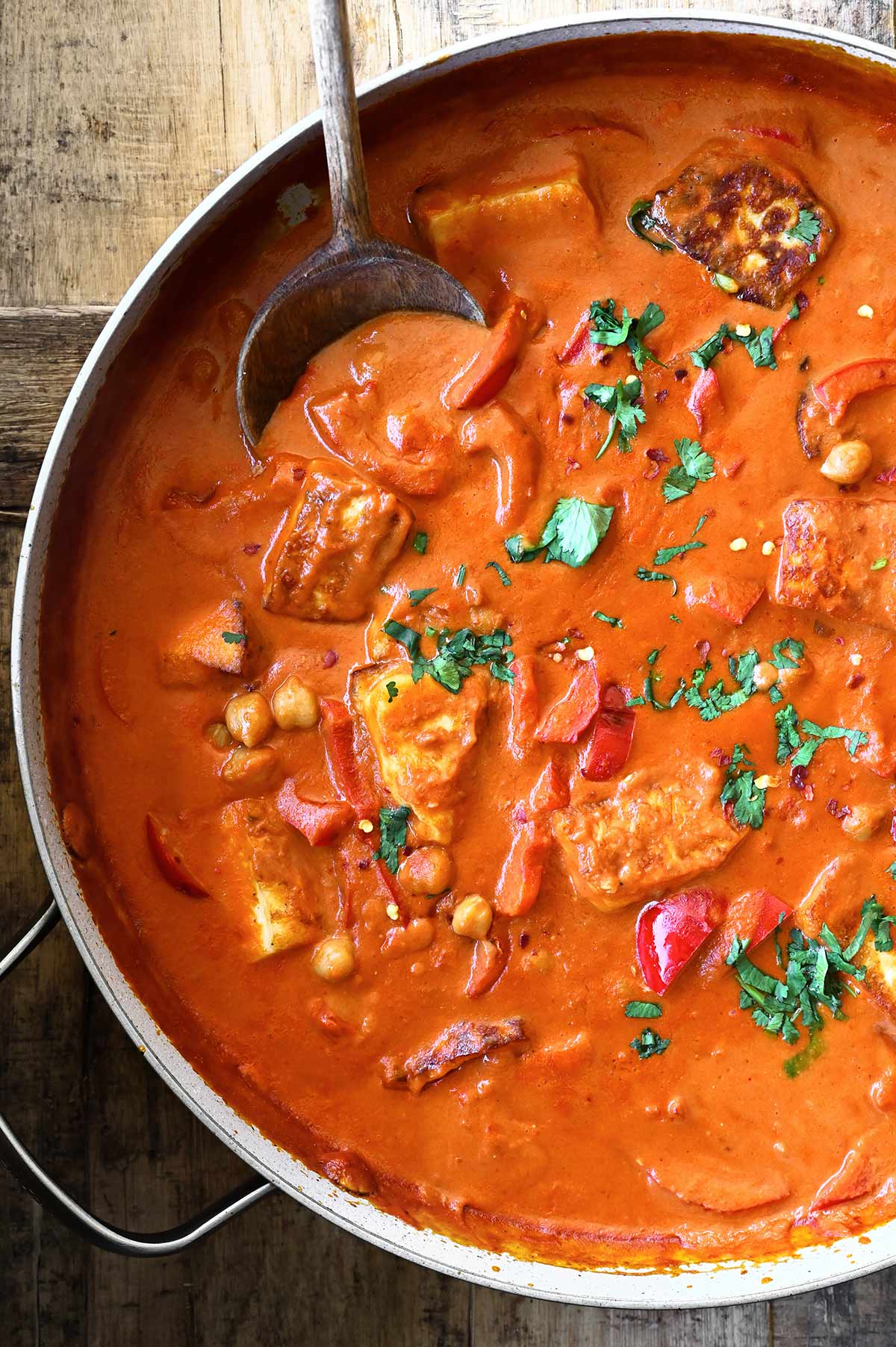 How to Serve Halloumi Curry
Serve this curry on its own with some flatbread or naan.
In a bowl, over basmati rice, quinoa, farro or rice noodles.
Top it with fresh leafy green herbs like cilantro, crunchy nuts, sliced chilis or chili oil.
Pair with a fresh cucumber salad.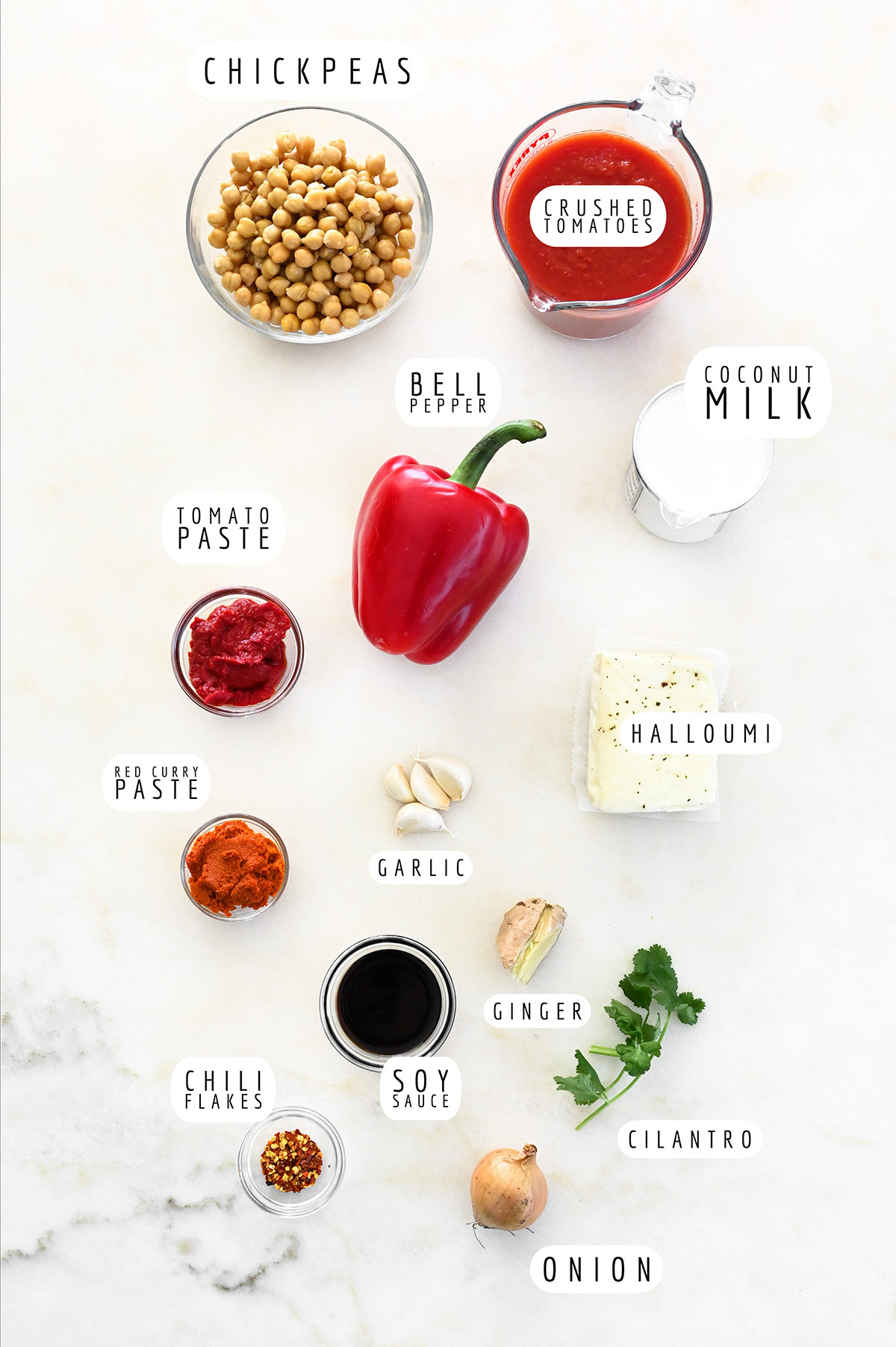 INGREDIENTS, TIPS & SUBSTITUTIONS
Oil: For frying.
Halloumi: A fabulous semi-firm cheese, with a salty taste and a great depth of flavor. This is an excellent cheese for searing or grilling because it doesn't melt.
Onion: You can swap it for shallot.
Garlic: Essential flavor base.
Ginger: For extra flavor.
Chili flakes: For some extra heat, but you can always leave them out.
Vegetables: Bell pepper and chickpeas. You can use any vegetable you have on hand, see recipe notes.
Thai Curry Paste: Use your favorite curry paste to adjust how spicy or mild you want it. You can also use garam masala, yellow curry powder or another curry spice mix. I'm a big fan of using up whatever you already have on hand.
Tomato Paste: It will help to thicken the curry.
Crushed Tomatoes: Swap for pureed tomatoes.
Coconut Milk: Use full fat coconut milk for a creamy result.
Soy Sauce: The salt in soy sauce enhances the overall flavor.
Topping: Fresh cilantro.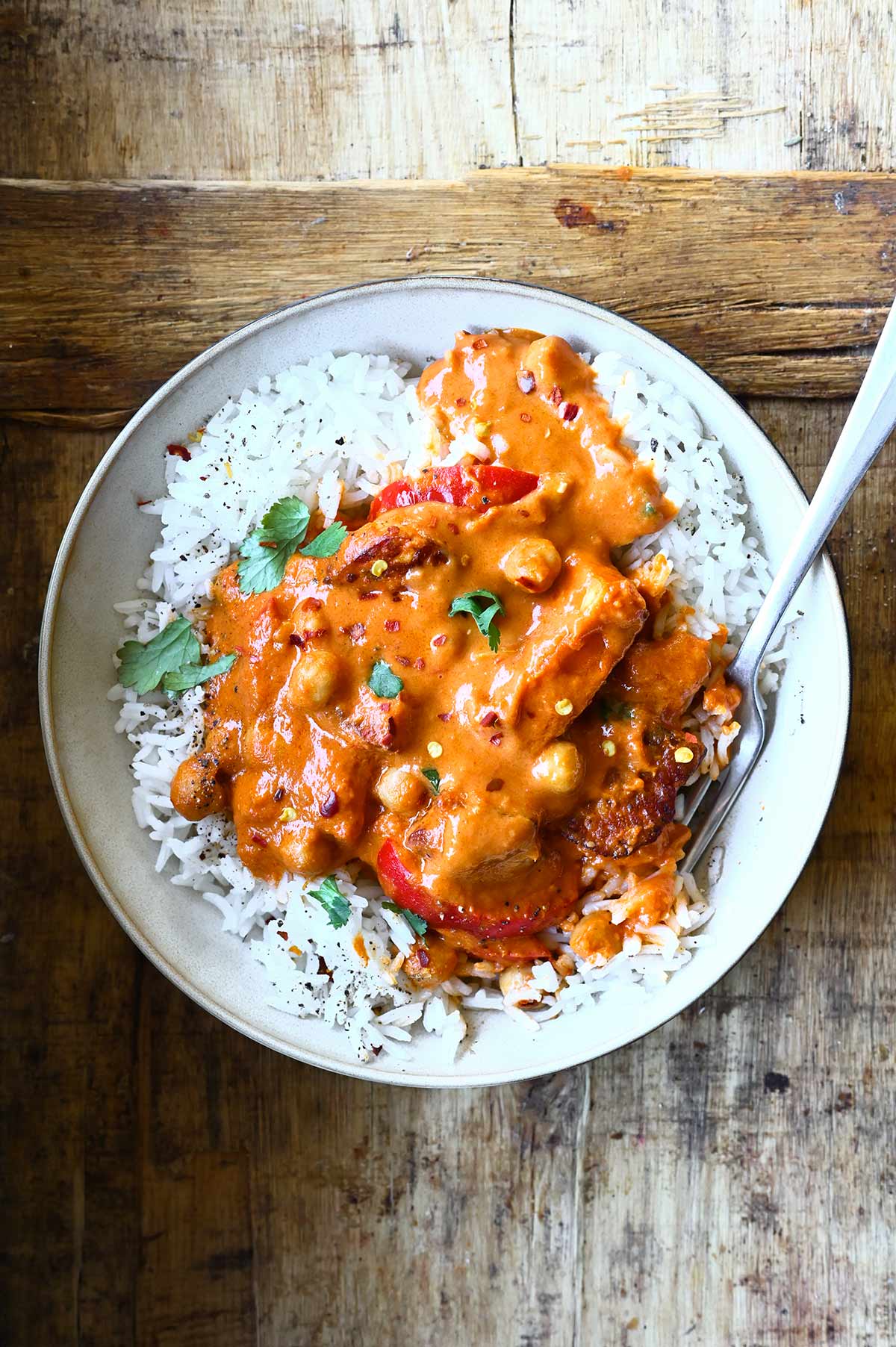 RECIPE NOTES
You can add any kind of vegetable! This is a super adaptable recipe and you can use up whatever vegetables you have in the fridge: cauliflower, broccoli, carrots, spinach, green beans, peas, zucchini, sweet potato, lentils,…
If you decide to use, for example spinach or green peas instead of bell pepper, it will take less then 30 minutes!
You can make this curry as spicy or mild as you like, it's adaptable in terms of spice levels.
Make sure to save some leftovers for lunch, and if you freeze it in single-portion sizes, you'll have an instant meal on hand whenever you want it.
Storage: Leftovers can be stored in the fridge for up to 3 days.
This curry will freeze for up to 2 months.
TRY THESE NEXT
COOKING VIDEO
Yield: serves 4
30 Minute Halloumi Curry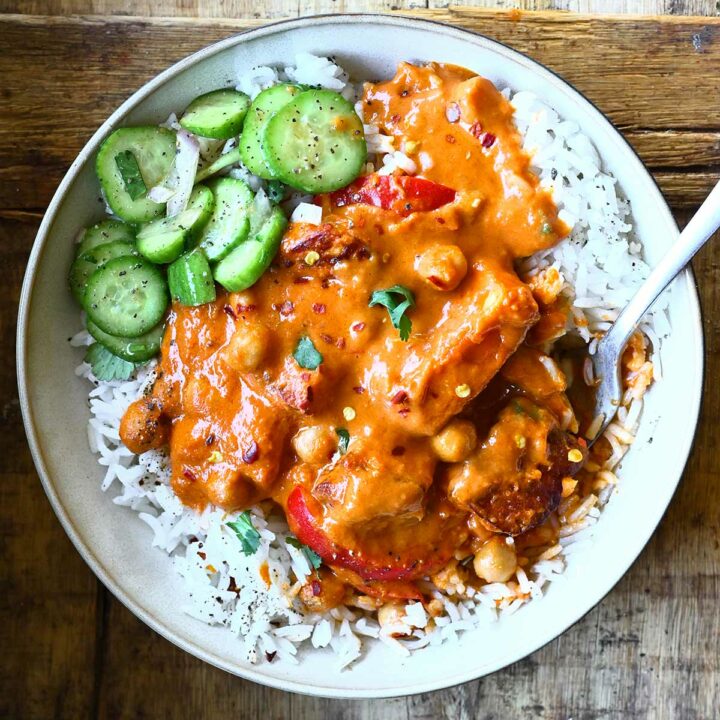 Ingredients
1 tbsp vegetable oil
1 block (8.8 oz/250 g) halloumi cheese
1 red bell pepper, sliced into strips
1 small yellow onion, finely chopped
4 garlic cloves, grated
1 tsp grated ginger
½ tsp chili flakes, less or more to taste
2 tbsp Thai curry paste
2 tbsp double concentrated tomato paste
1 can (14 oz/400 g) crushed tomatoes
1 can (14 oz/400 g) chickpeas, drained
3 tbsp low sodium soy sauce
1 can (14 oz/400 g) full fat coconut milk
chopped cilantro, for serving
Instructions
Get your prep done before you start cooking. Deseed and slice the bell pepper into thin strips. Cut halloumi into bite-sized pieces. Finely chop the onion, grate the ginger and garlic cloves. Chop the cilantro.
In a skillet or pan, heat oil over medium. Add halloumi and sear until golden all over, about 3-4 minutes. Remove from skillet.
Add bell pepper and cook for about 5 minutes, or until it starts to soften. Add onion, garlic and ginger. Cook for 2 minutes. Stir in chili flakes, tomato paste and red curry paste. Add crushed tomatoes, chickpeas and soy sauce. Pour in coconut milk and bring to a boil. Simmer for 10 minutes.
You can now cook your rice according the package instructions, if using.
Stir in the halloumi and simmer for 1 minute to warm through. Serve over rice, garnished with cilantro. Pair with a cucumber salad. Enjoy!
Notes
Calories Per Serving: 219 kcal
Nutritional information is only an estimate. The accuracy of the nutritional information for any recipe on this site is not guaranteed.

//= __('Print recipe (no photos)', 'servingdumplings' );?> //= __('Print recipe (with photos)', 'servingdumplings' );?>