30 minute chicken with braised cherry tomatoes and burrata… all made in one skillet. It's simple but mouthwatering. The chicken fillets are seared until golden, topped with burrata and spoonfuls of garlicky, balsamic-braised cherry tomatoes.
Serve this simple skillet chicken with some crusty bread for soaking up all that delicious pan-sauce. A tasty dinner that celebrates the ease of a classic combination.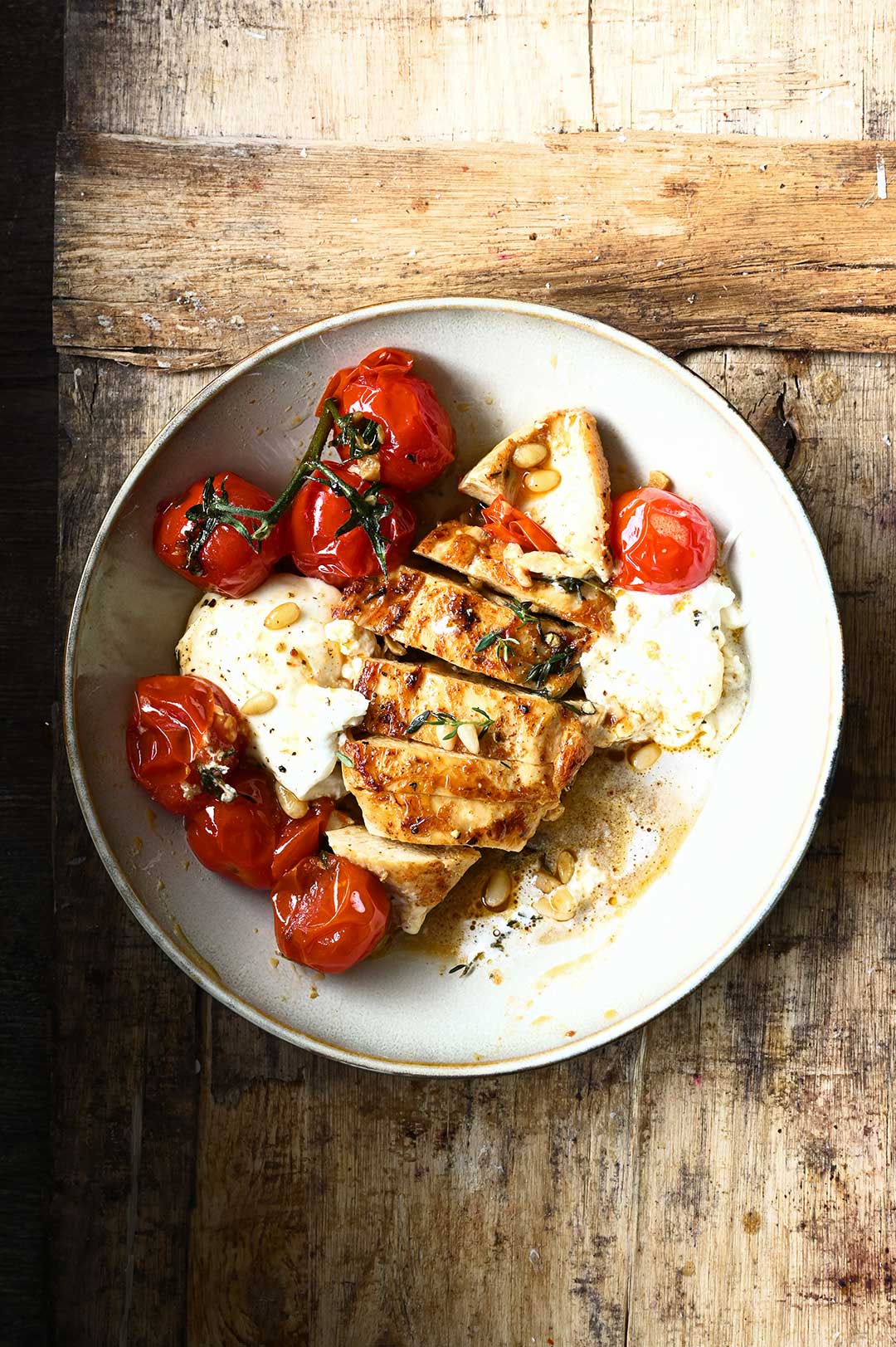 A simple but impressive dish that's creamy, full of umami richness and juicy sweetness. We take some cherry tomatoes and braise them in butter perfumed with garlic, balsamic vinegar and honey. Then serve them with seared chicken and a milky white mound of burrata for a weeknight dinner that's truly show-stopping.
Make sure to serve it with plenty of bread and a big salad for a delicious weeknight dinner. Or serve at a dinner party with some chilled white wine and bask in the afterglow of a culinary triumph.
Let me guide you through the recipe with this step-by-step VIDEO.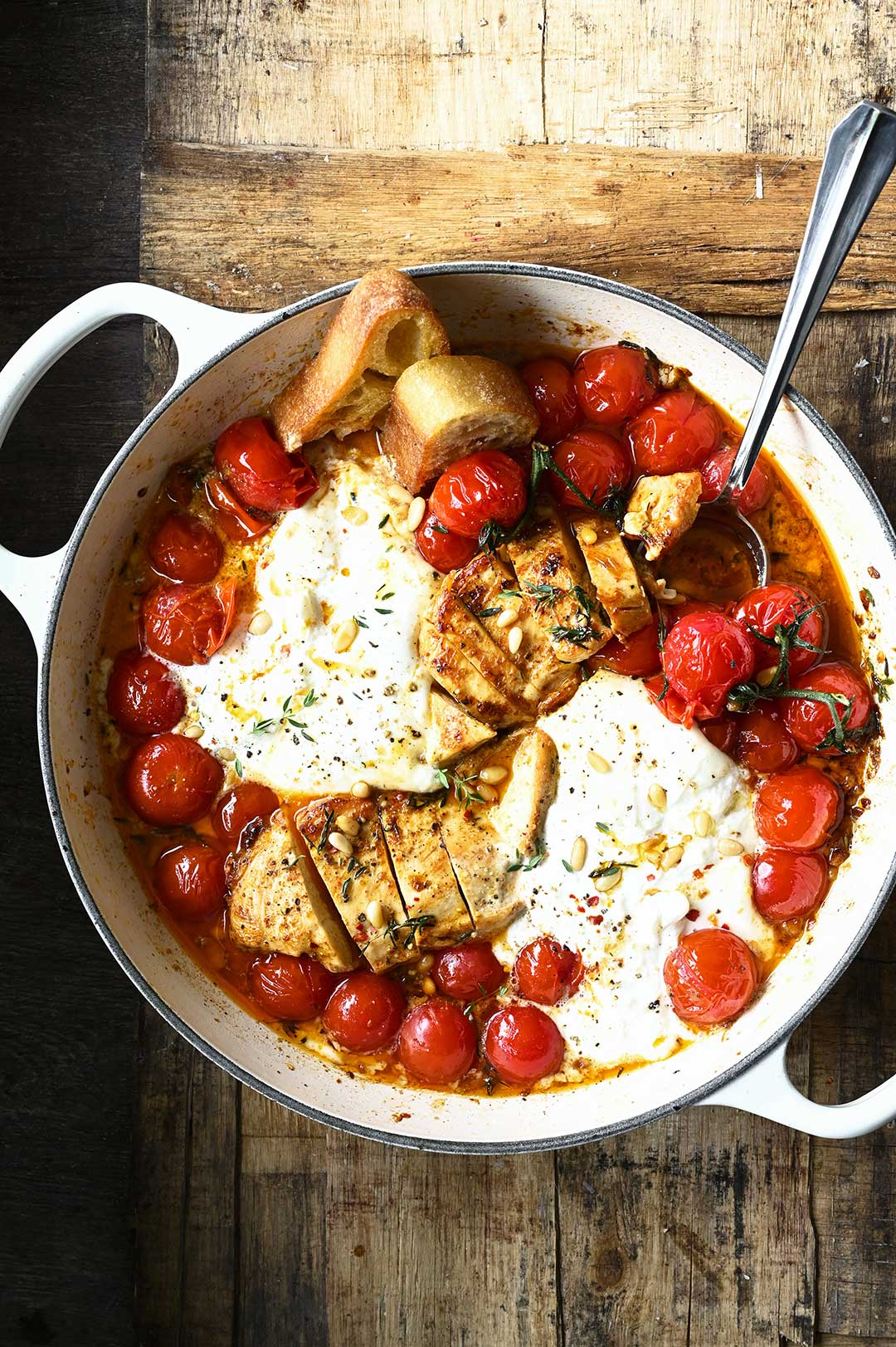 RECIPE NOTES
burrata is a soft Italian cheese usually made from cow's milk and is basically heaven on earth. It's milky and creamy and you're going to be head-over-heels for it. If you can't find it, just swap for mozzarella
for this recipe, you can use chicken breast fillets or boneless/skinless chicken thighs
add a big salad with arugula drizzled with olive oil and balsamic vinegar
for a vegetarian version, just omit chicken and serve the cherry tomatoes with burrata and some crusty bread. This version is delicious as an appetizer, but if you add a salad, you'll have a light lunch
add fresh basil, oregano or parsley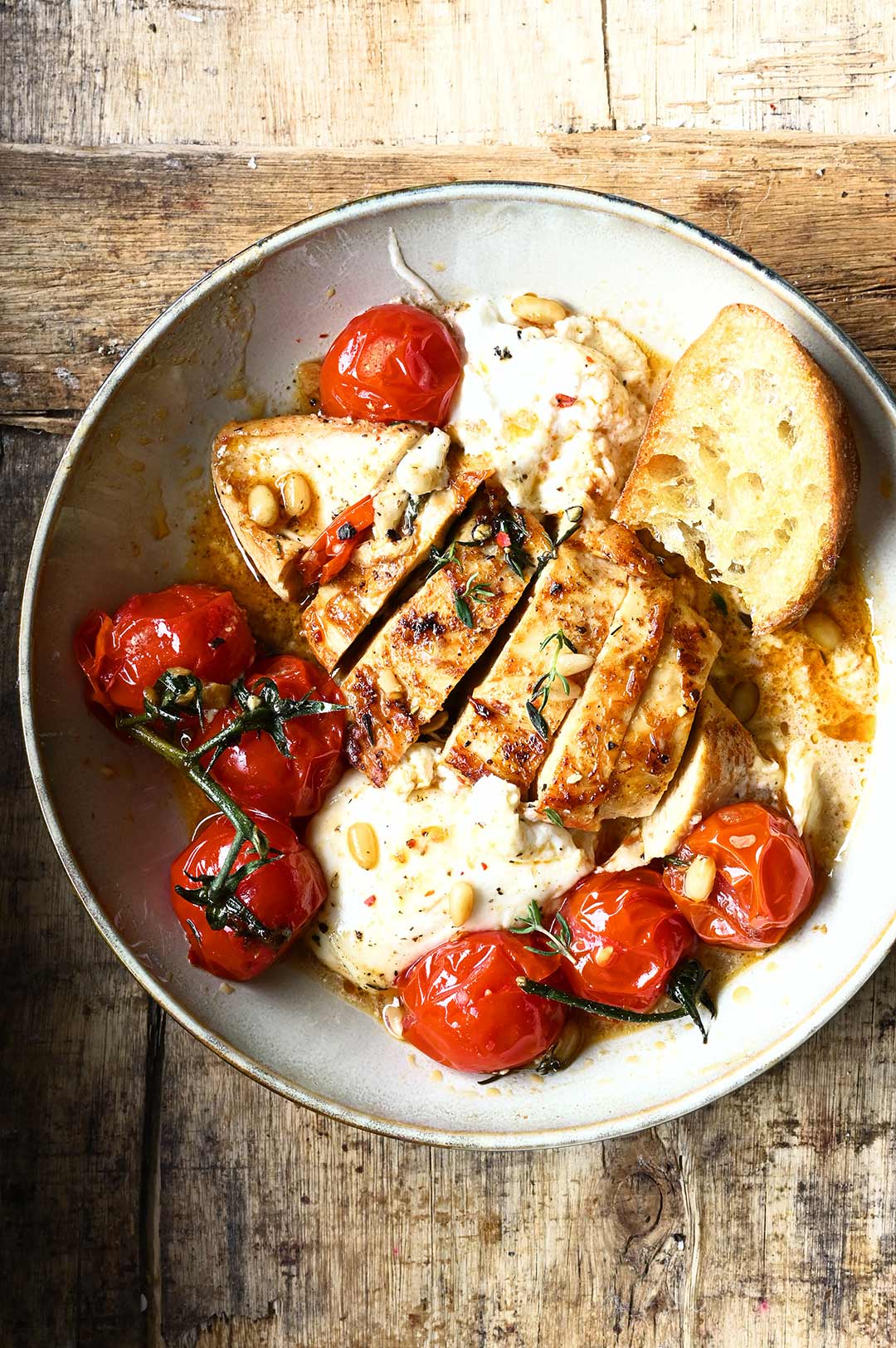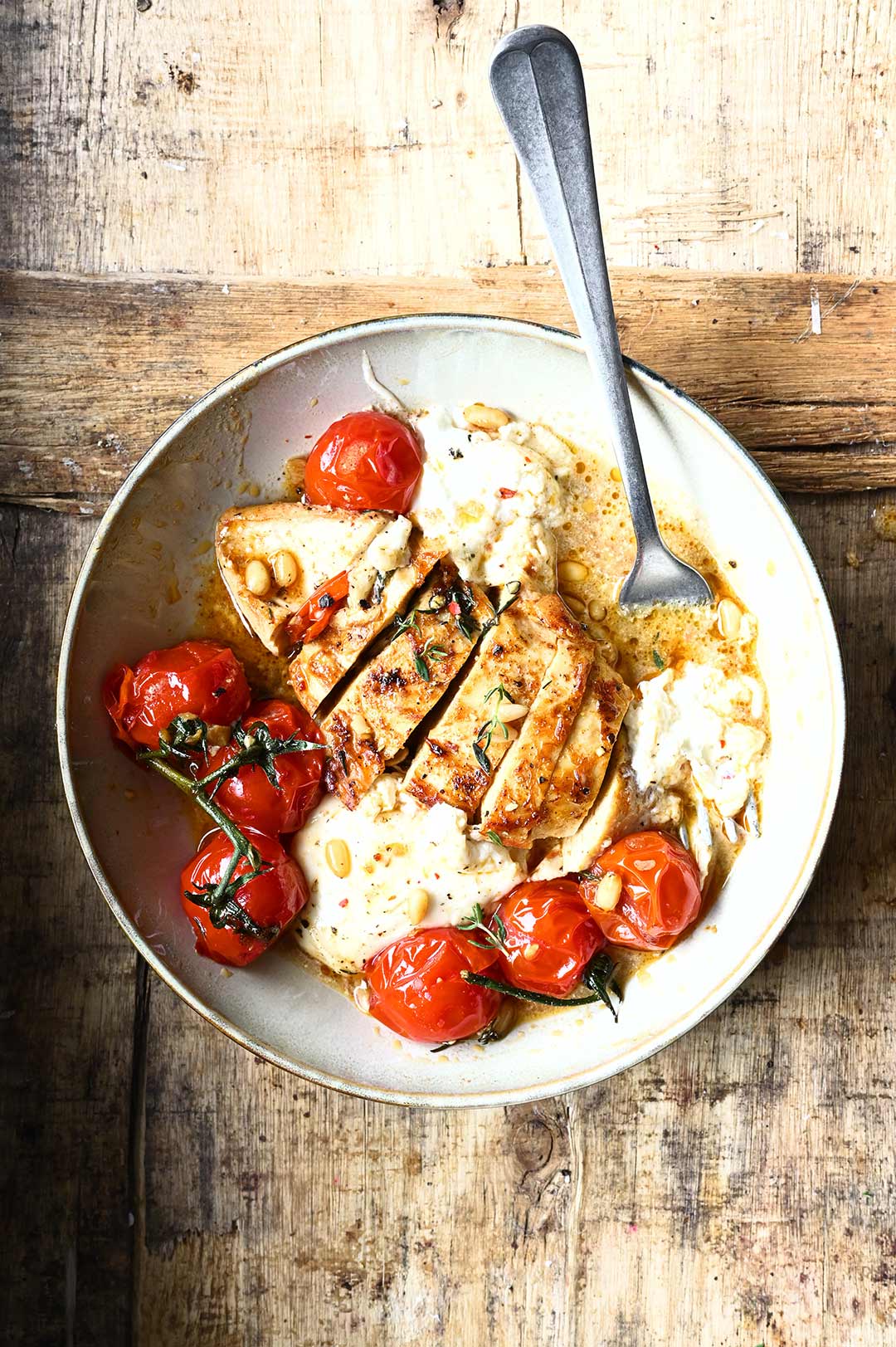 More burrata, please!
Recipe Video
Yield: serves 4
30 Minute Chicken with Braised Tomatoes and Burrata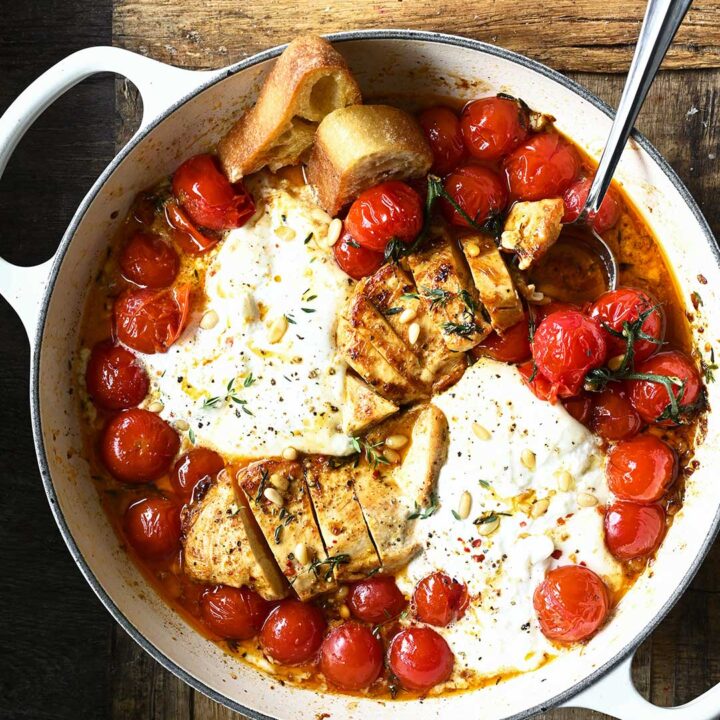 Ingredients
2 large chicken breast fillets
2 burrata balls (150 g/5.5 oz each)
400 g/14 oz cherry tomatoes
3 tbsp olive oil
1 tbsp unsalted butter
4 garlic cloves, minced
1 tbsp honey
2 tbsp balsamic vinegar
4 sprigs fresh thyme
crusty bread, for serving
toasted pine nuts, for serving
Seasoning
2 tsp salt
2 tsp black pepper, more for serving
1 tsp sweet paprika
1 tsp red pepper flakes, more for serving
Instructions
Season chicken with 1 tsp salt, 1 tsp black pepper and sweet paprika.
Heat oil and butter in a non-stick frying skillet over medium high heat. Add chicken and cook, about 5-7 minutes per side or until fully cooked and browned on both sides. This can vary with the size of your chicken. Remove from skillet and place on a clean plate.
Lower the heat, add garlic and cook for 1 minute. Deglaze the skillet with 1/4 cup water. Stir with a wooden spoon to dissolve the browned bits from the bottom of the skillet. Simmer for 1 minute. Add cherry tomatoes, 1 tsp salt, 1 tsp black pepper and red pepper flakes. Stir in balsamic vinegar, honey and thyme sprigs. Cover and allow to braise for 10 minutes.
In the meantime, thinly slice the chicken. When ready, remove the lid and slide chicken back into the skillet. Simmer, uncovered, for 1-2 minutes or until heated through.
Break the burrata over the chicken and turn off the heat. Let the chicken rest for 3 minutes, then finish off with black pepper, red pepper flakes and toasted pine nuts.
Serve with a big salad and some crusty bread. Enjoy!
Notes
Calories Per Serving: 358 kcal
Nutritional information is only an estimate. The accuracy of the nutritional information for any recipe on this site is not guaranteed.