Creamy garlic sautéed mushrooms with gnocchi and breadcrumbs. A rich and delicious weeknight dinner, but also a perfect treat for your next date night. To make this dish as fast and easy as possible, we cook everything in one single pot. In fact, you'll be digging into this supremely satisfying dinner in about 15 minutes.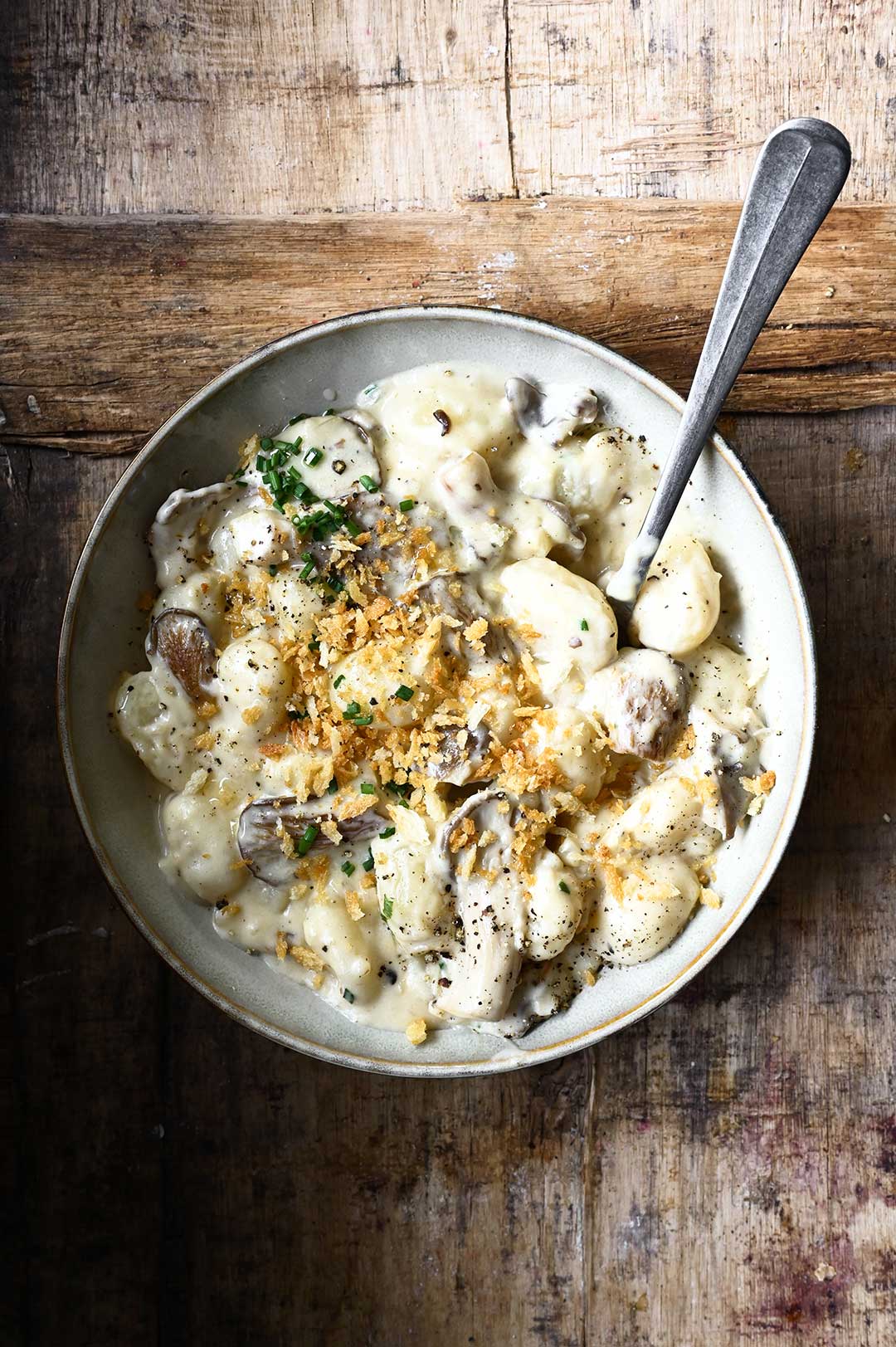 A few smart ingredient choices take this dinner from good to sensational. Using potato gnocchi is the first, they offer a nice chew. When combined with tender mushrooms, Parmesan and cream, you'll get a pretty brilliant meal. To add depth, we use a mix of miso paste and garlic. For even more built-in flavor, we cook the gnocchi in broth instead of water. After everything is ready, we add cream, turn off the heat and then stir in grated Parmesan. This way the cheese can slowly melt and you'll have delicious gnocchi and mushrooms in a creamy, slightly tangy sauce that's super decadent without being clumpy or sticky. Serve with chives and toasted breadcrumbs, enjoy!
Let me guide you through the recipe with this step-by-step VIDEO.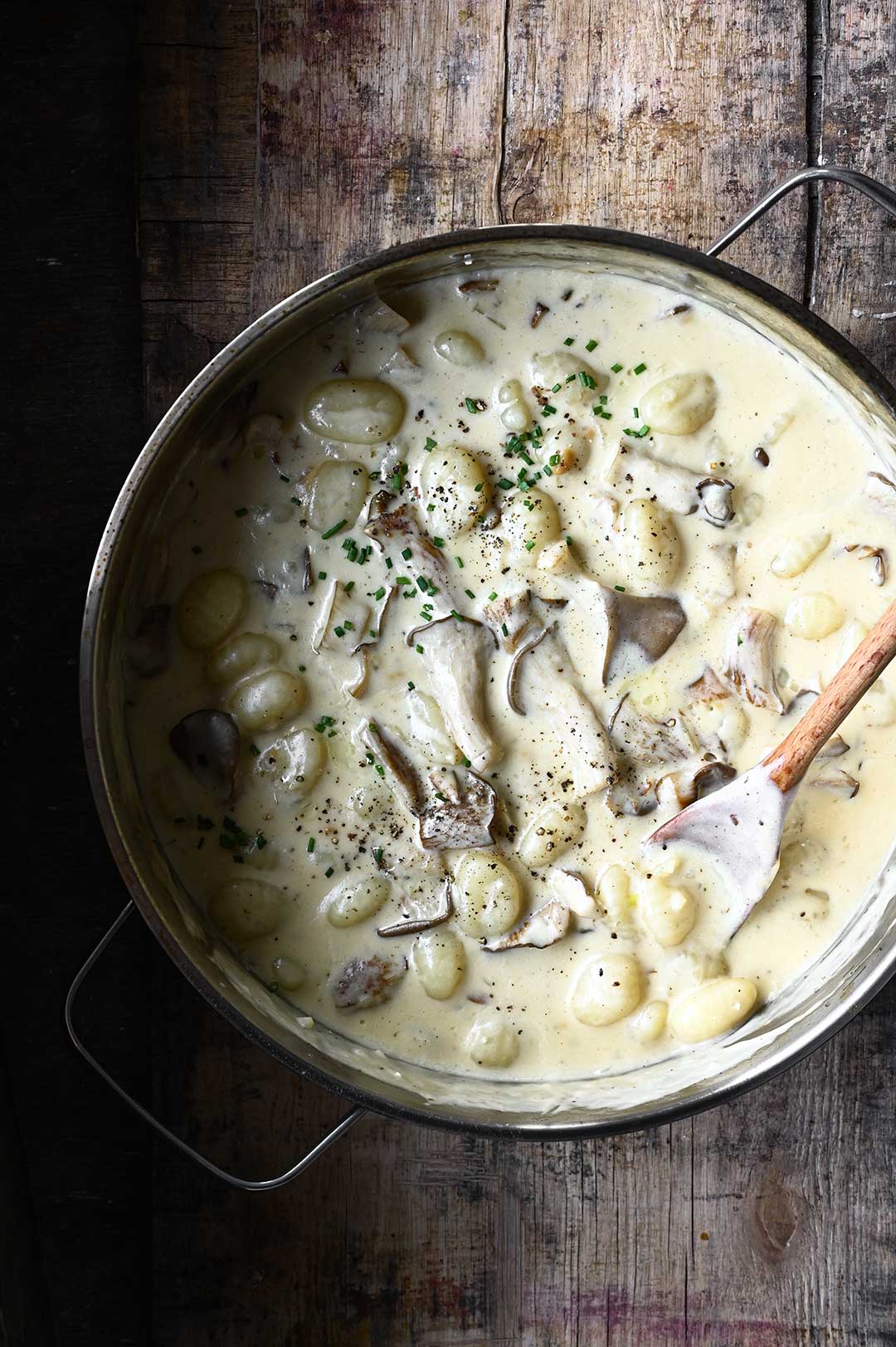 RECIPE NOTES
Storage: Leftovers can be stored in an airtight container in the refrigerator for up to 3 days. When reheating, add a few tablespoons of water or milk to adjust consistency.
Some tips: you can swap the oyster mushrooms for cremini mushrooms or white button mushrooms. Add bacon or leftover chicken. Serve definitely with a side salad drizzled with a balsamic dressing.
Other Delicious Recipes to Try:
Black Pepper Chicken Alfredo Pasta
Eggplant and sun dried tomato pasta with ricotta
Red Pesto Pasta with Mushrooms and Sun-dried Tomatoes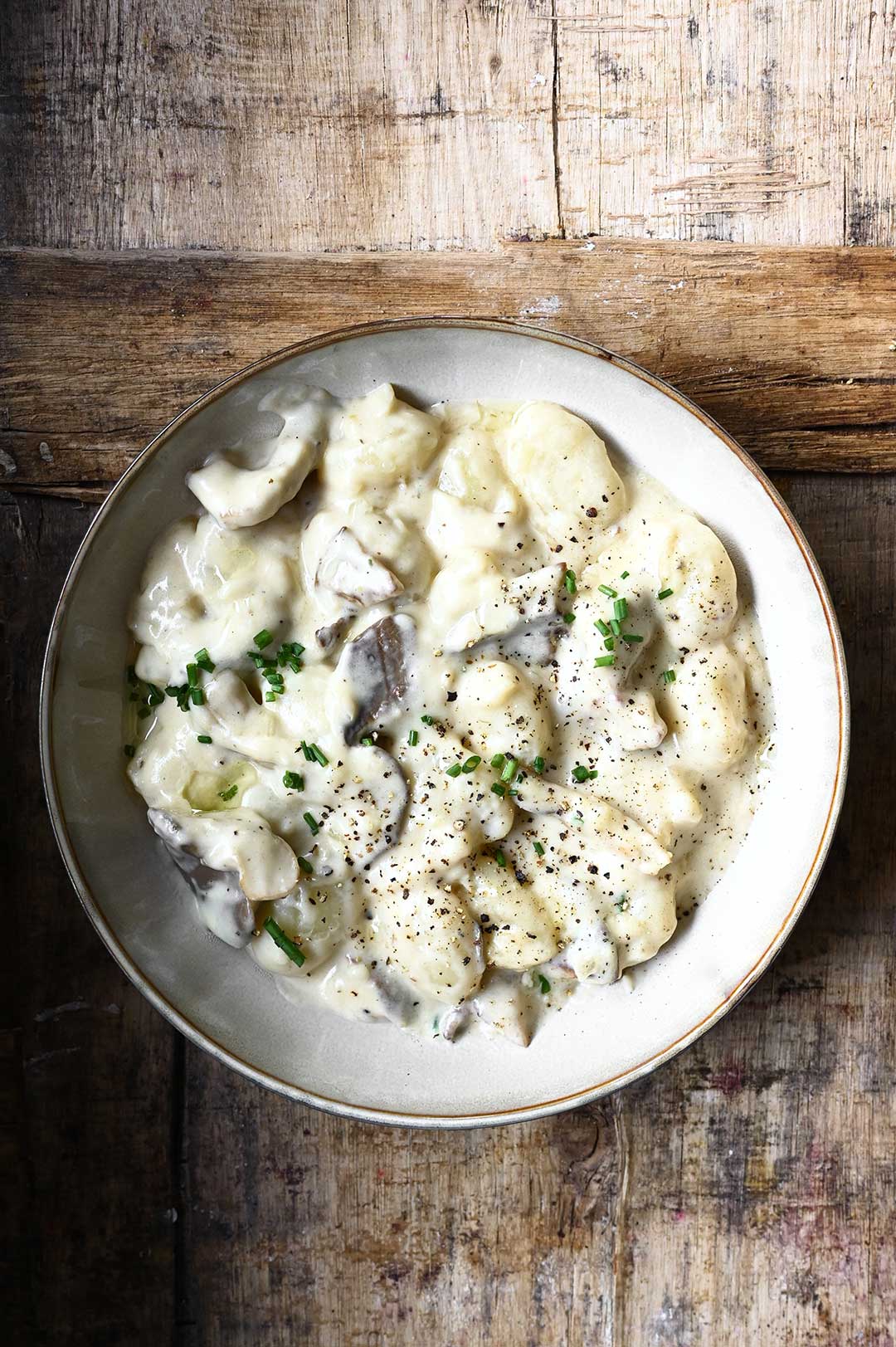 You need
500 g (1.1 pounds) store-bought potato gnocchi
200 g (7 oz) oyster mushrooms, or cremini mushrooms, torn or cut into bite-size pieces
200 ml (3/4 cup) cream, half and half
90 g (3.2 oz) grated parmesan
2 garlic cloves, minced
1 small onion, finely diced
30 g (2 tbsp) unsalted butter
2 tbsp olive oil
1 tbsp lemon juice
2 tsp white miso paste
300 ml ( 1 1/4 cup) vegetable broth
salt + black pepper
for serving
chopped chives
black pepper
breadcrumbs toasted in olive oil with salt and black pepper
How to
Let me guide you through the recipe with this step-by-step VIDEO.
First make the crunchy breadcrumbs by toasting 1/2 cup breadcrumbs in 2 tbsp olive oil until golden brown, season with salt and pepper. Transfer to a plate and set aside.
In the same skillet, heat olive oil over medium high heat. Add the mushrooms, and cook, stirring occasionally, until the mushrooms have given off their liquid and start to brown, 5 minutes. Add butter, stir until melted and lower the heat. Add garlic and onion, sauté for 2 minutes.
Add gnocchi, and pour broth, stir and bring to a boil. Cook over medium high heat, for 2 minutes.
Now add cream. Season with black pepper and stir in miso paste. Turn off the heat. Add grated parmesan and lemon juice, stir to combine. Let stand for 2 minutes.
Taste and season with salt and more black pepper to your own liking. Garnish with chopped chives and breadcrumbs. Serve with a side salad drizzled with olive oil and balsamic vinegar. Enjoy!