Szybki sos pomidorowy z mieloną wołowiną i zieloną papryką. Idealne danie dla całej rodziny. Pełne delikatnej duszonej papryki, soczystego mięsa i wyrazistego sosu pomidorowego z odrobiną płatków czerwonej papryki. Niezwykle proste i minimalistyczne, ale bardzo satysfakcjonujące.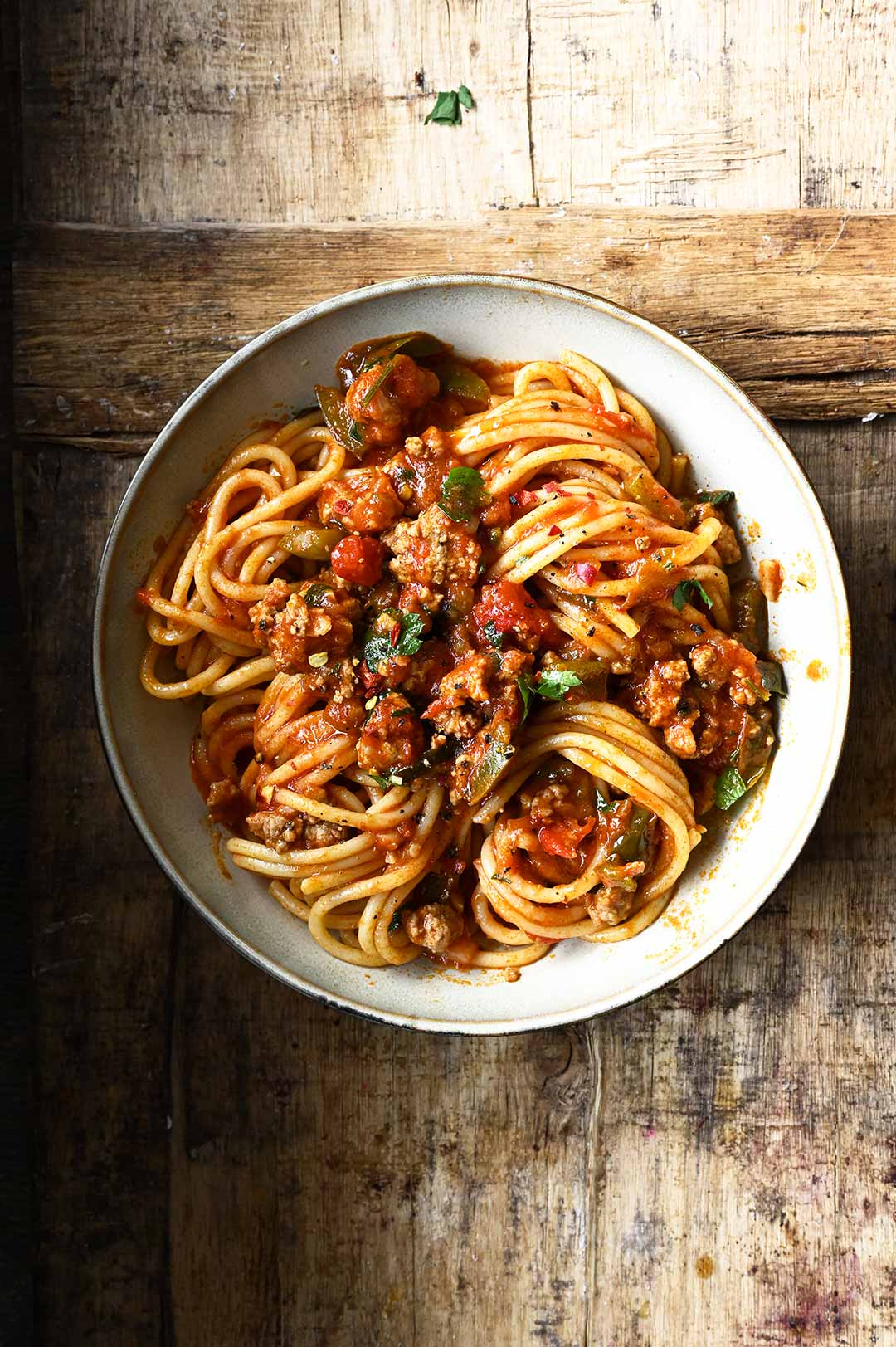 Gęsty sos z mieloną wołowiną, przyprawami i papryką. Aby zrobić sos używamy pomidorów z puszki wraz z koncentratem pomidorowym, razem nadają one wyjątkowo intensywnego smaku. Dodajemy również odrobinę mielonego kminu, wędzonej papryki, kolendry i proszek curry, może to brzmieć trochę dziwnie, ale nada to daniu przyjemny smak. Jeśli wolicie tradycyjne smaki, sięgnijcie po włoskie przyprawy, takie jak oregano i tymianek.
Zobaczcie moje VIDEO jak łatwo zrobicie ten przepis.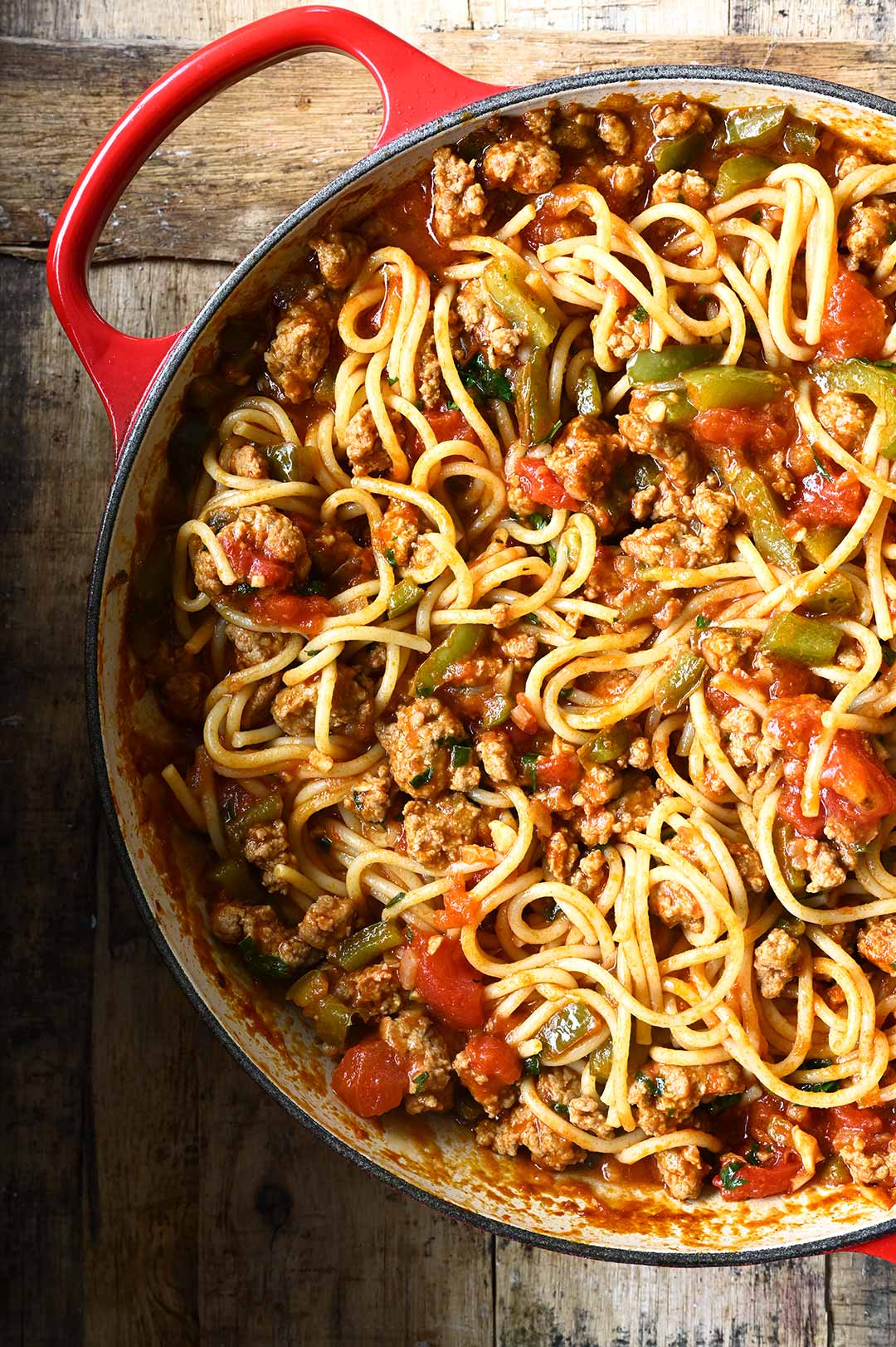 WSKAZÓWKI
– zamiast wołowiny można użyć wieprzowinę lub mielone mięso drobiowe
– użyć dowolnego ulubionego rodzaju makaronu jak linguine, capellini, bucatini,…
More easy pasta, please! 
Makaron z boczkiem wędzonym w sosie pomidorowym
Makaron z kremowym sosem bolońskim
Makaron z bakłażanem, suszonymi pomidorami i ricottą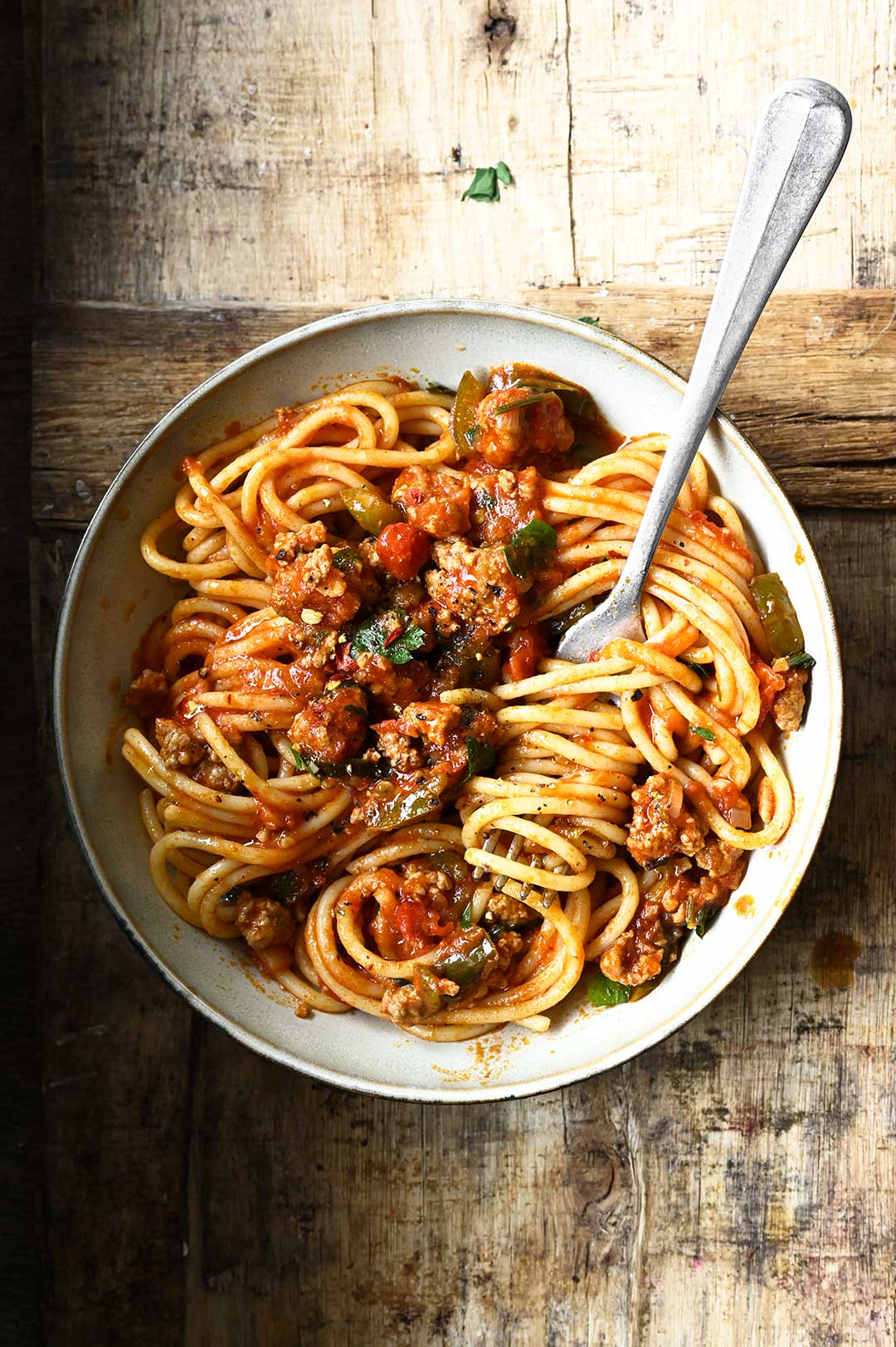 Potrzebujecie
250 g spaghetti
450 g mielonej wołowiny
2 małe zielone papryki, pokrojone w kostkę
3 łyżki oliwy z oliwek
1 mała cebula, drobno pokrojona
4 ząbki czosnku, zgniecione i posiekane
250 ml (1 szklanka) bulionu drobiowego lub warzywnego
3 łyżki koncentratu pomidorowego
1 puszka (400 ml) pomidorów krojonych w soku pomidorowym
2 łyżki posiekanej natki pietruszki
przyprawy
po 1/2 łyżeczki: mielony kminek, mielona kolendra, curry w proszku
po 1 łyżeczce: wędzonej papryki, płatków czerwonej papryki, soli, czarnego pieprzu
Tak zrobicie
Zobaczcie moje VIDEO jak łatwo zrobicie ten przepis.
Rozgrzać dużej patelnię z oliwą na średnim ogniu. Dodać paprykę, smażyć przez 5 minut, mieszając od czasu do czasu. Dodać cebulę i czosnek, zmniejszyć ogień i smażyć jeszcze przez 5 minut. Dodać mieloną wołowinę i smażyć, aż się zrumieni, około 6 minut. Wmieszać przyprawy, koncentrat pomidorowy i bulion. Doprowadzić do wrzenia i dusić na wolnym ogniu przez około 5 minut. Dodać pomidory z puszki i dusić, od czasu do czasu mieszając, przez 10-15 minut.
W międzyczasie, ugotować spaghetti w obficie osolonej wodzie, aż będzie al dente. Odcedzić, zachowując 1/4 szklanki wody z gotowania.
Jeśli sos za bardzo zgęstnieje, dodać trochę wody z gotowania makaronu. Doprawić solą i pieprzem do własnego smaku. Dodać posiekaną natkę pietruszki i spaghetti. Smacznego!