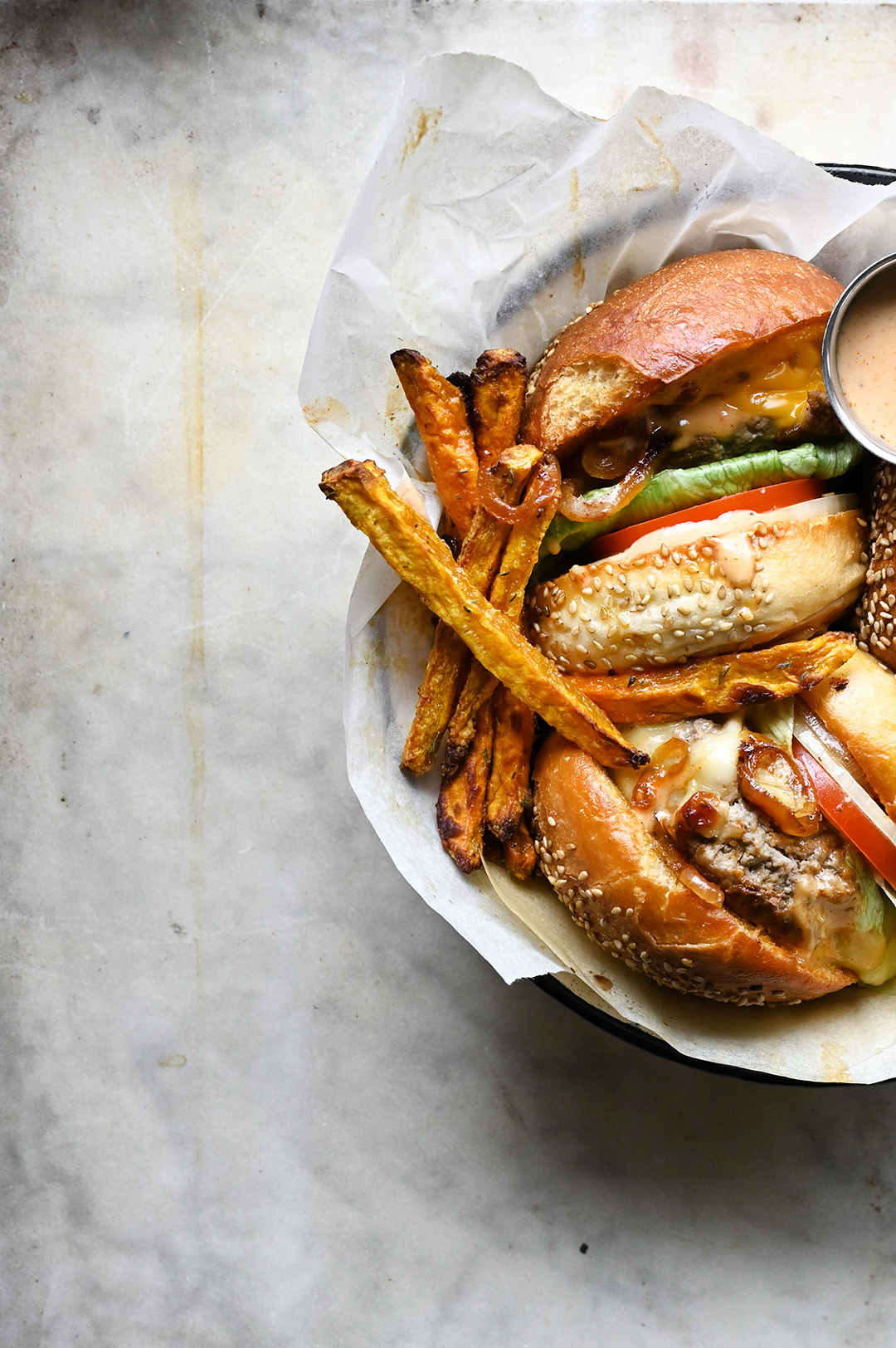 Burgery powalające na kolana. Soczyste 5′ hamburgery wołowe, z roztopionym serem, przełożone słodko-pikantnym sosem z jalapeño, pokryte karmelizowaną cebulą i umieszczone pomiędzy pieczonymi bułeczkami. Podawane z chrupiącymi frytkami z batatów.
Zwykle piekę je na solonym maśle oraz z dodatkiem cienko krojonej cebuli, wtedy burgery wychodzą bardziej aromatyczne i soczyste. Następnie piekę bułeczki na chrupiąco w tej samej patelni, na której smażyłam burgery. Tłuszcz i przyprawy wchłaniają w bułki. Mają one wtedy o wiele więcej smaku.
Ten sos! Jest niebiański i znakomicie słodki, z kwaskową nutą, pikantny, o kremowej konstystencji. Każdy smak równoważy inne. Jest pyszny w połączeniu z hamburgerami, sałatkami czy frytkami. Doskonale komponuje się również z pieczonymi warzywami. Zapiszcie przepis, na kiedy tylko potrzebny Wam będzie prawdziwy hit czosnkowy!
A te frytki z batatów! To najlepsza rzecz do podania z burgerem, są jednoczenie wytrawne jak i słodkie. Kroję je zwykle na cienkie patyczki, potem mieszam z pieprzem cayenne, czosnkiem i wędzoną papryką. Piekę w piekarniku do chwili kiedy są chrupkie na zewnątrz, a w środku jeszcze miękkie. Uzależniające. 
Polecam te hamburgery, zróbcie! Poczujecie takie instensywne uczucie szczęścia.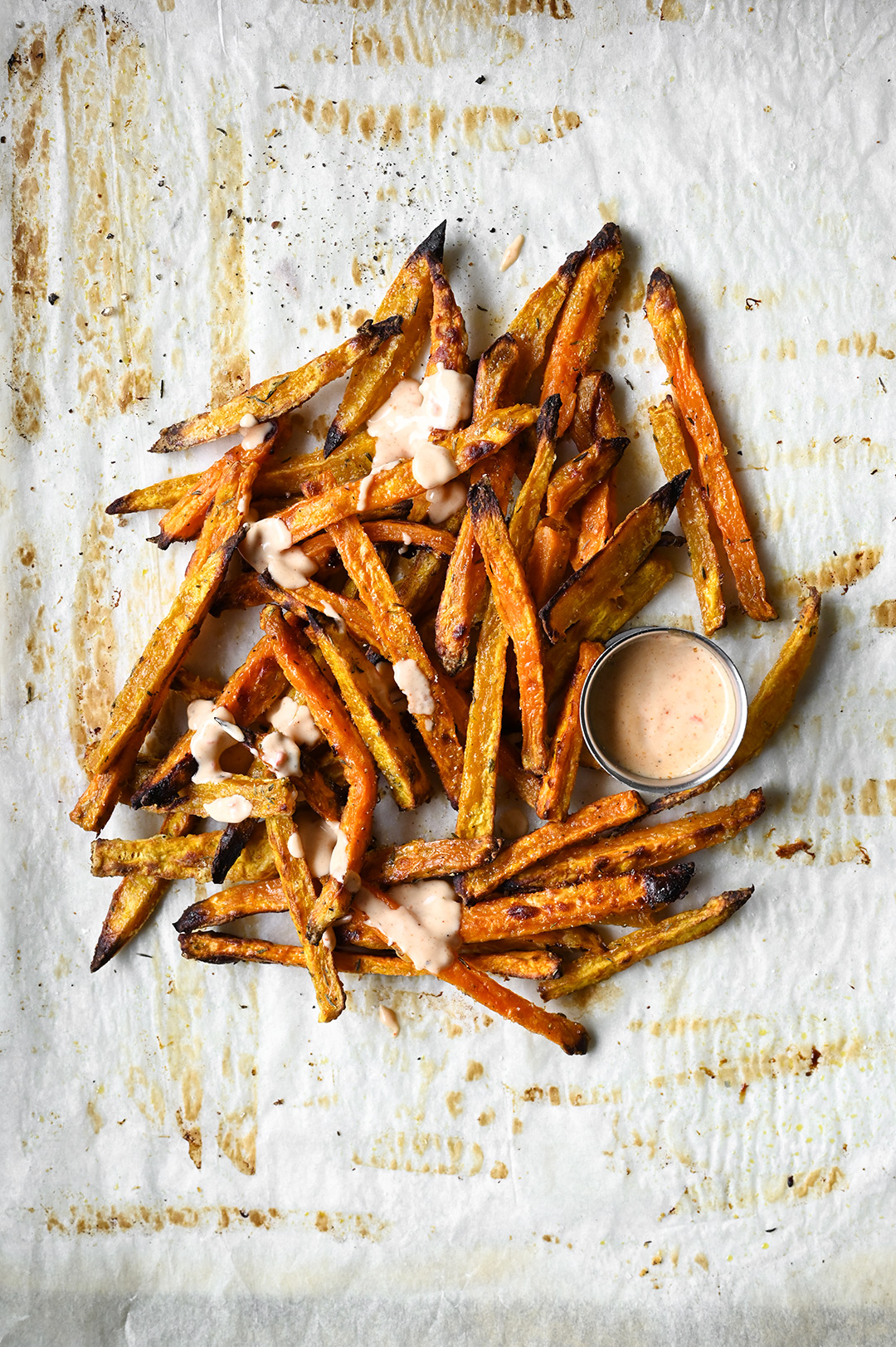 Potrzebujesz
burgery
500 g mielonej wołowiny
1 łyżka śmietany kremówki
1 łyżeczka cebuli w proszku
sól morska + świeżo zmielony pieprz czarny
1 duża cebula, pokrojona na cienkie plastry
2 łyżki solonego masła
4 plastry pomidorów
4 duże liście sałaty lodowej, podarte na kawałki
4 plastry sera cheddar
4 miękkie bułeczki
sos jalapeño
4 łyżki majonezu
1 łyżka keczupu
2 łyżki whisky
1 łyżeczka sosu worcestershire
1 łyżka drobno posiekanego jalapeño
1 łyżeczka musztardy
1/2 łyżeczki wędzonej papryki
1 łyżeczka miodu
2 ząbki czosnku, przeciśnięte przez praskę
1/2 łyżeczki cebuli w proszku
frytki z batatów
2 średnie bataty, obrane i pokrojone na 1 cm frytki
3 łyżki oliwy z oliwek
1 łyżeczka tymianku
1 łyżeczka pieprzu cayenne
1 łyżeczka czosnku w proszku
1 łyżeczka papryki wędzonej
2-3 łyżki skrobi ziemniaczanej
sól morska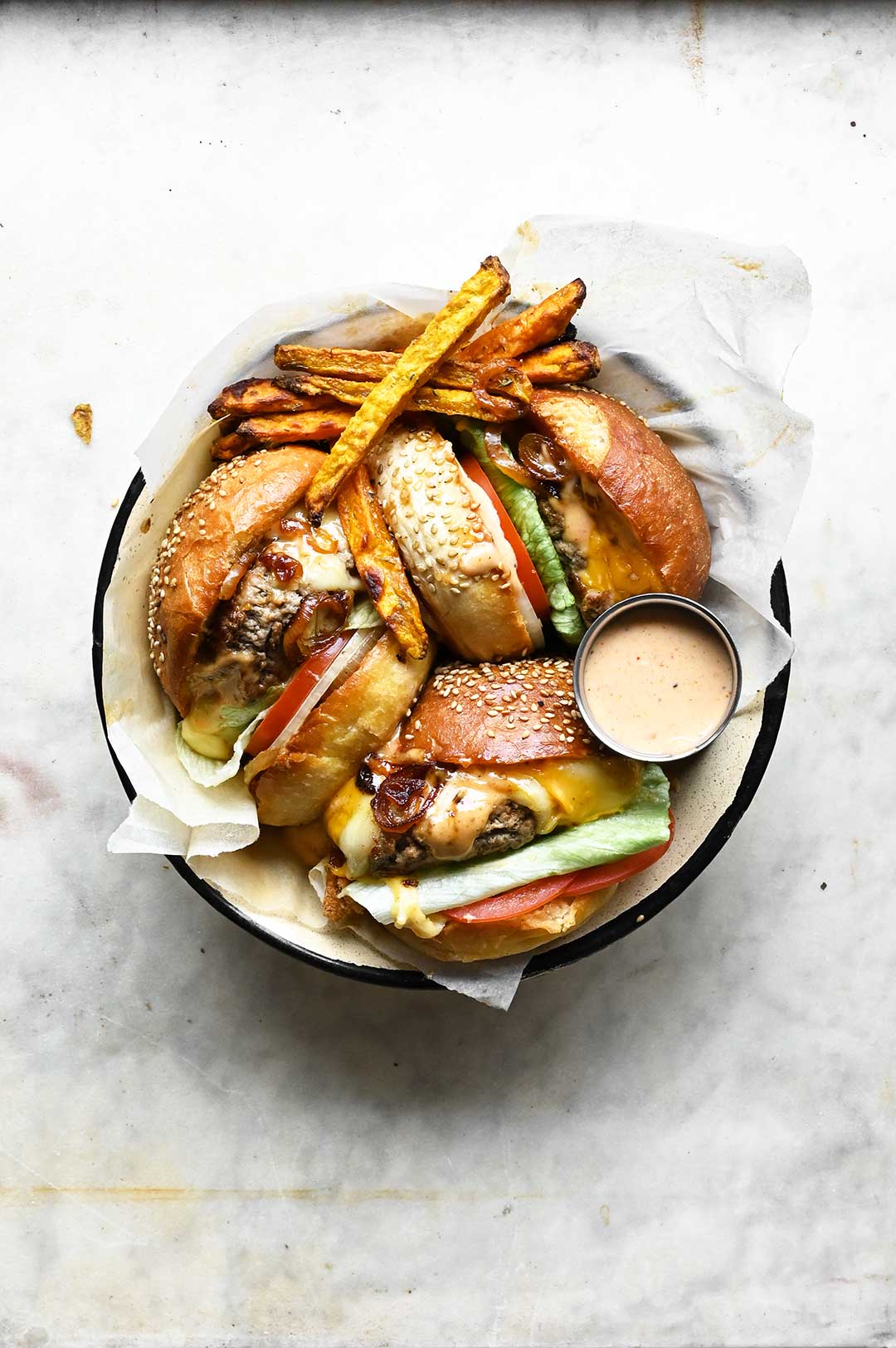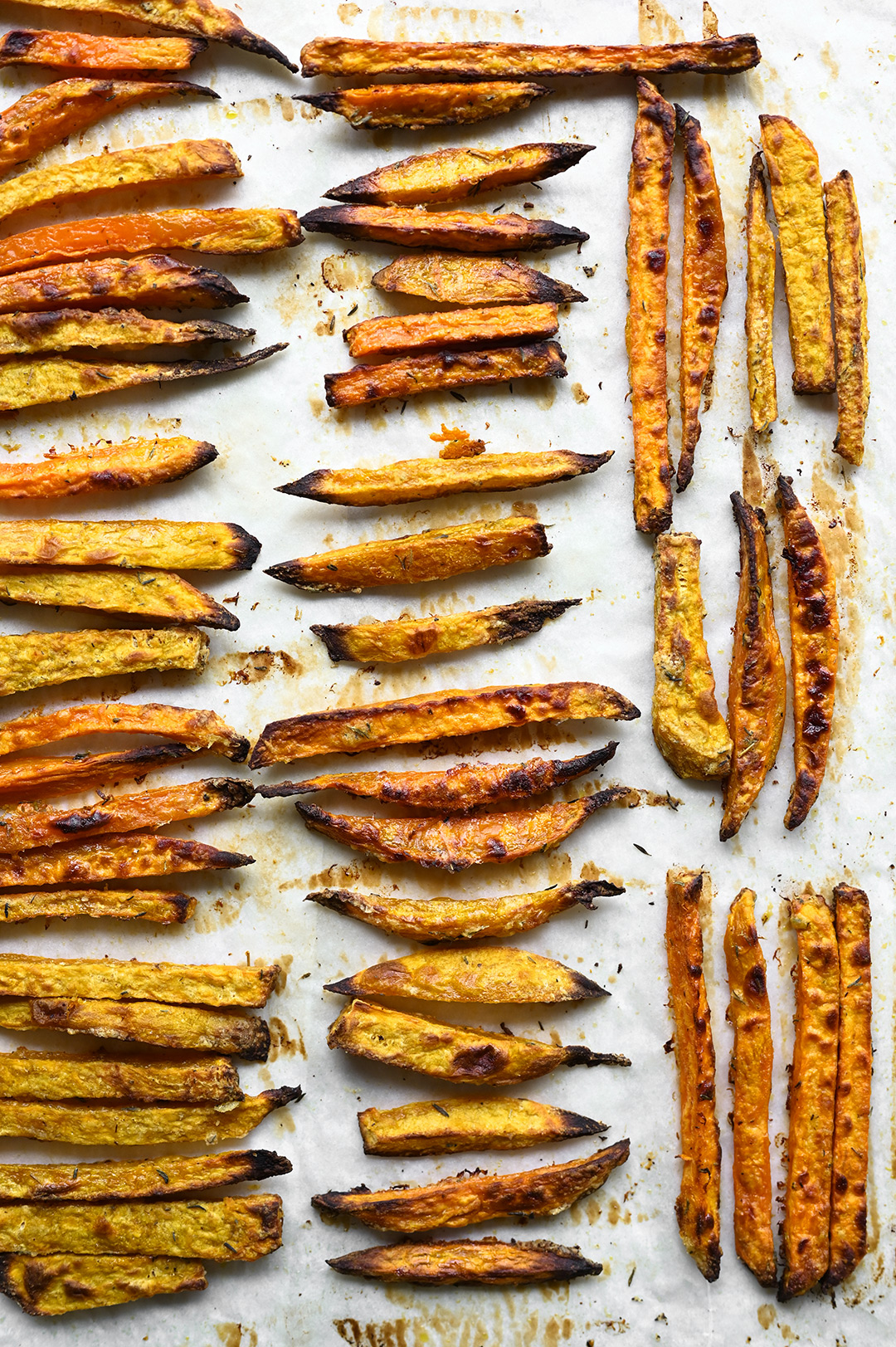 Przygotowanie
Najpierz najlepiej zrobić frytki. Rozgrzać piekarnik do 220°C. Umieścić pokrojone bataty w dużej misce wypełnionej wodą z lodem, pozostawić na 5 minut. Odsączyć i ułożyć je pomiędzy dwoma czystymi ręcznikami kuchennymi. Wytrzeć. Umieścić w suchej misce, wymieszać z tymiankiem, pieprzem cayenne, czosnkiem w proszku, wędzoną papryką i skrobiami ziemniaczanymi, doprawić solą. Frytki rozłożyć na blasze do pieczenia. Powinny być ułożone w jednej warstwie. Piec przez 15-20 minut, odwrócić i piec jeszcze przez 10-15 minut. Mają być miękkie, a jednocześnie chrupiące.
Wszystkie składniki do sosu połączyć w małej miseczce.
Wołowinę wymieszać ze śmietaną, cebulą w proszku, solą i pieprzem. Podzielić na 4 równe kawałki. Używając obu rąk, uformować gładkie kulki, nie trzeba ich za długo ugniatać. Nacisnąć, aby spłaszczyć każdą kulę na 2 cm kotlety. Polecam użyć szklanki lub wycinarki do ciastek, aby uformować hamburgery o takiej samej wielkości.
Podgrzać dużą, ciężką, patelnię na wysokim ogniu. Roztopić masło, dodać hamburgery i cienko pokrojoną cebulę. Smażyć, bez ruszania hamburgerów, aż brzegi się zrumienią, około 3 minut. Następnie odwrócić je oraz położyć plaster sera na każdym kawałku. Smażyć jeszcze przez 2 minuty na wysokim ogniu. Wtedy hamburgery będą jeszcze soczyste well-done z wyrazistym sznytem z wierzchu, i widać będzie sok wydobywający się z części środkowej. Aby to osiągnąć, patelnia powinna być bardzo gorąca.
Gotowe burgery przełożyć na talerz. Teraz włożyć bułki do tej samej patelni, przeciętą stroną w dół, piec, aż będą złote i chrupiące.
Zacząć składać burgera. Dolną część bułek posmarować łyżką sosu. Położyć plaster pomidora, sałatę, burgery i karmelizowaną cebulę. Zakończyć łyżką sosu, zamknąć górną częścią bułki, podać z frytkami i dodatkowym sosem. Smacznego!