Klopsy z orzo i greckim pesto z fety. Doskonały obiad lub szybka kolacja… łatwe i smaczne, z kuszącym aromatem czosnku. Podsmażone na patelni klopsiki wołowe, gotowane razem z makaronem orzo to kompletny obiad przyrządzony na jednej patelni. Podane z kremowym, słonym pesto z fetą i oliwkami.
Pesto w stylu greckim przenosi to danie na wyższy poziom. Przygotowanie pesto jest proste, ale smak jest wyrazisty i intensywny. Najpierw miksujemy fetę z bazylią, orzeszkami piniowymi i zielonymi oliwkami. Kiedy orzo jest gotowe, a klopsiki upieczone, mieszamy pesto i pozwalamy fecie roztopić się i połączyć z orzo, aby stworzyć niesamowicie aromatyczny sos. Podajemy z sałatką pokropioną winegretem. Zobaczcie moje VIDEO jak łatwo zrobicie ten przepis.
WSKAZÓWKI
– możecie zrobić to danie bez mięsa
– zamienić wołowinę na krewetki lub grillowaną rybę
– jeśli chodzi o mięso, możecie również użyć mielonego mięsa drobiowego lub wołowiny z wieprzowiną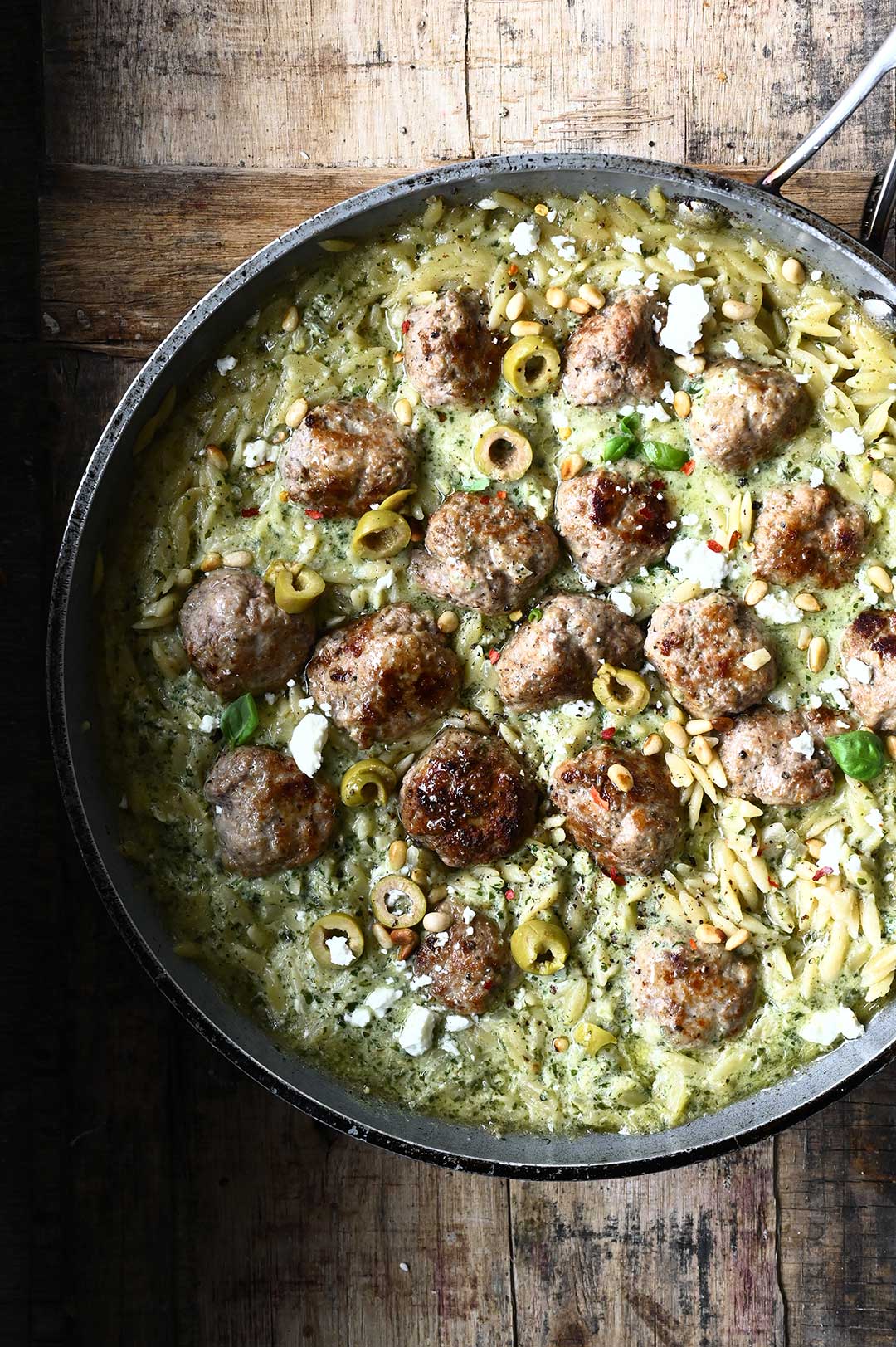 Zobaczcie także:
Pulpety zapiekane w sosie paprykowym z orzo
Kurczak z parmezanem, szpinakiem i orzo
Makaron z kremowym sosem bolońskim
Zostańmy w kontakcie! Zapisz się na mój bezpłatny  NEWSLETTER, by otrzymywać powiadomienia o najnowszych przepisach.
Potrzebujecie
200 g orzo
750 ml (3 szklanki) bulionu drobiowego
4 ząbki czosnku, drobno posiekane
1 mała cebula, drobno pokrojona
3 łyżki oliwy z oliwek
30 g (2 łyżki) masła
50 g pokruszonej fety, do podania
2 łyżki posiekanych zielonych oliwek, do podania
3 łyżki prażonych orzeszków piniowych, do podania
płatki czerwonej papryki, do podania
pulpety
500 g mielonej wołowiny
1 jajko
3 łyżki bułki tartej
2 łyżki mleka
po 1 łyżeczce: suszonej szałwii, suszonego oregano, czosnku w proszku, soli, czarnego pieprzu
pesto w stylu greckim
40 g świeżej bazylii
60 g zielonych oliwek
150 g pokruszonej fety
20 g prażonych orzeszków piniowych
1/2 szklanki oliwy z oliwek
1 łyżka soku z cytryny
1/4 łyżeczki soli
1/2 łyżeczki czarnego pieprzu
Tak zrobicie
Fetę, orzeszki piniowe, zielone oliwki, oliwę z oliwek, sok z cytryny, sól i pieprz włożyć do blendera lub malaksera z blenderem, zacząć miksować na małych obrotach. Dodać bazylię i miksować bardzo krótko, tylko do połączenia składników.
Bułkę tartą i mleko umieścić w dużej misce, dobrze wymieszać. Odstawić na 5 minut. Do bułki tartej dodać wołowinę, jajko i przyprawy. Wymieszać. Uformować pulpety.
Na dużej patelni z powłoką nieprzywierającą, rozgrzać masło i 1 łyżkę oliwy z oliwek na średnim ogniu. Dodać pulpety i zrumienić ze wszystkich stron, około 8-10 minut, obracając je 2-3 razy. Przełożyć na talerz.
Na tej samej patelni, rozgrzać 2 łyżki oliwy na małym ogniu. Dodać cebulę i czosnek, zeszklić. Dodać orzo i piec przez 1 minutę. Wlać bulion drobiowy. Doprowadzić do wrzenia i gotować, często mieszając, około 12 minut. Wymieszać z pesto i włożyć pulpety. Gotować, aż pulpety się zagrzeją.
Podać z  orzeszkami piniowymi, posiekanymi oliwkami i pokruszoną fetą. Posypać płatkami czerwonej papryki. Smacznego!
Zobaczcie moje VIDEO jak łatwo zrobicie ten przepis.
And …IF YOU LOVE THESE RECIPES … please consider supporting my work for just the cost of a cup of coffee.

Jeśli wypróbujesz ten przepis, zostaw proszę komentarz poniżej lub oznacz mnie w soim zdjęciu @anna_s_table na profilu Instagram'a, lub dodaj #servingdumplings, chętnie tam zajrzę.