Przepyszne klasyczne pulpety duszone w brązowym sosie z piwem z karmelizowaną cebulą, podawane na kremowej polencie z ricottą. To 30-minutowe danie jest powalające na kolana.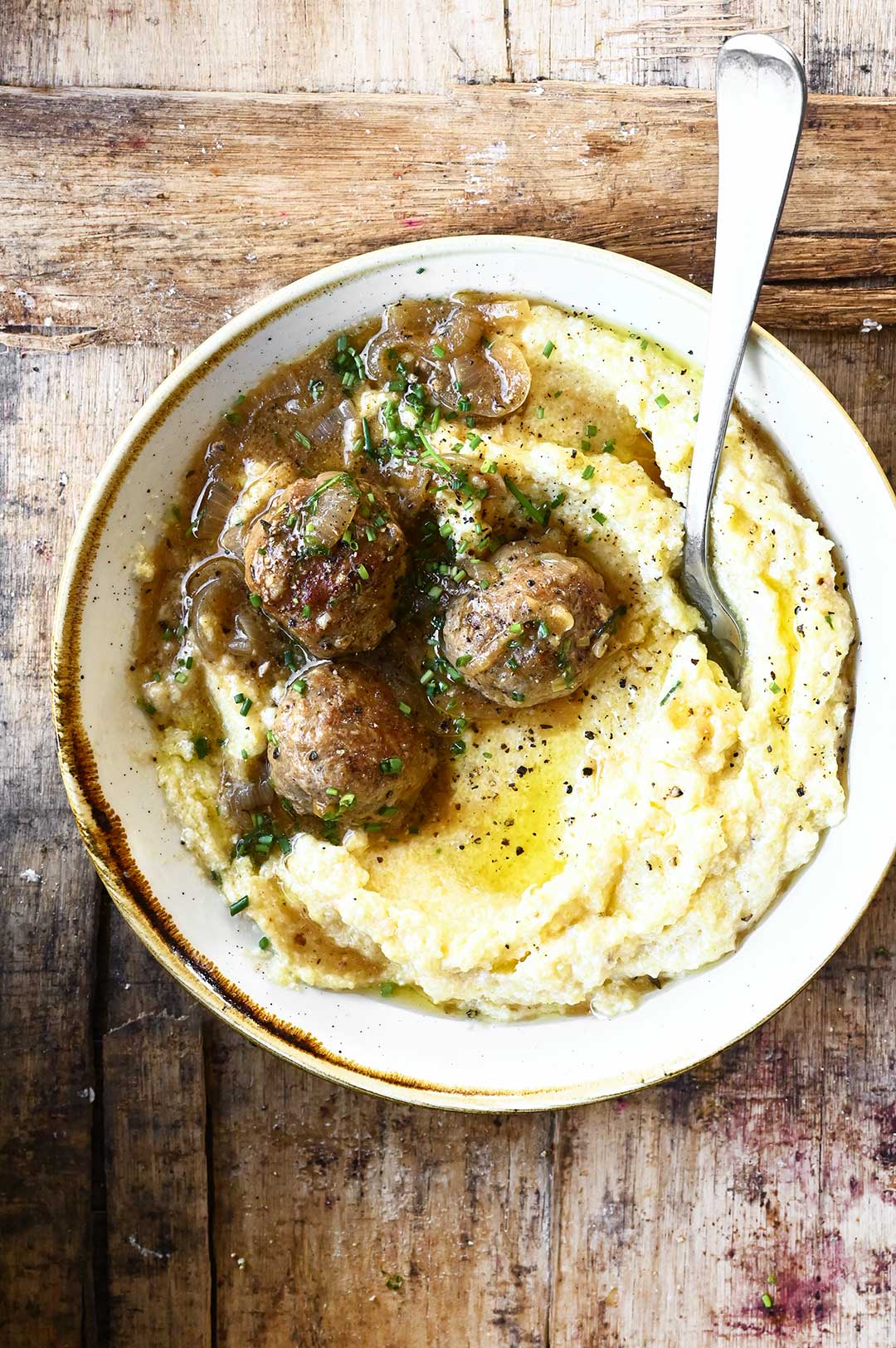 Mam nadzieję, że lubicie pulpety wzbogacone mocnymi smakami. Tutaj dodajemy karmelizowaną cebulę którą dusimy w ciemnym piwie, oraz podajemy z pyszną polentą wymieszaną z ricottą. Ricotta jest kremowa bez dużej ilości tłuszczu, a parmezan nadaje charakteru. Składniki są proste, ale smak potężny. Całe danie zrobicie w około 30 minut i będzie to posiłek, który na długo pozostanie Wam w pamięci.
Zobaczcie moje VIDEO jak łatwo zrobicie ten przepis.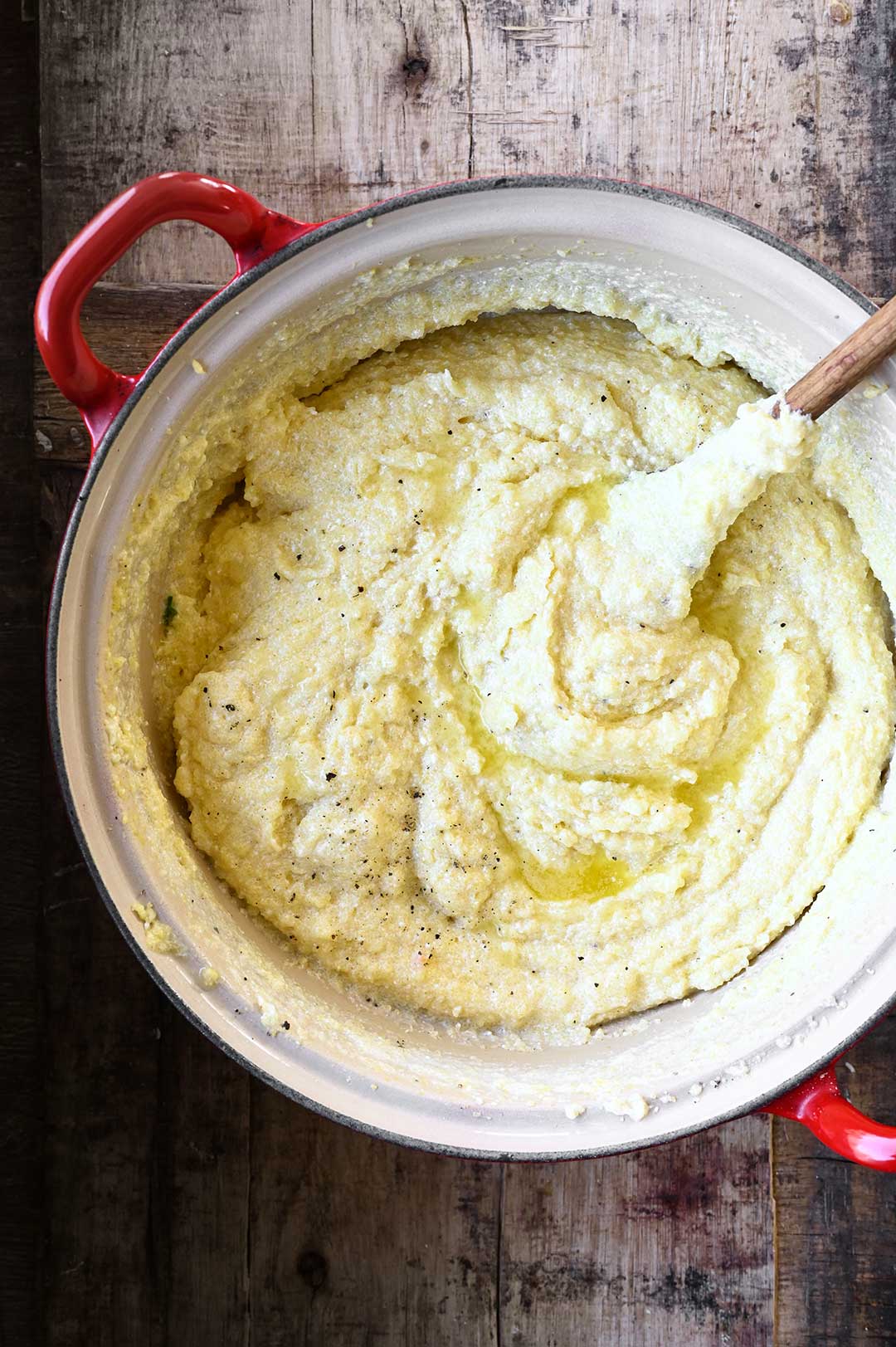 WSKAZÓWKI
– pulpety możecie zrobić z kurczaka, wołowiny lub wieprzowiny
– można dodać pieczarki do sosu
– zamienić brązowe piwo na bulion wołowy
– podawać z sałatką, pieczonymi brokułami lub zieloną fasolką
– nie macie polenty? podajcie z tłuczonymi ziemniakami
More polenta, please! 
Kremowa polenta z krewetkami i chorizo
Polenta z sosem grzybowym z miso i suszonymi pomidorami
Kremowa polenta z piwnymi pieczarkami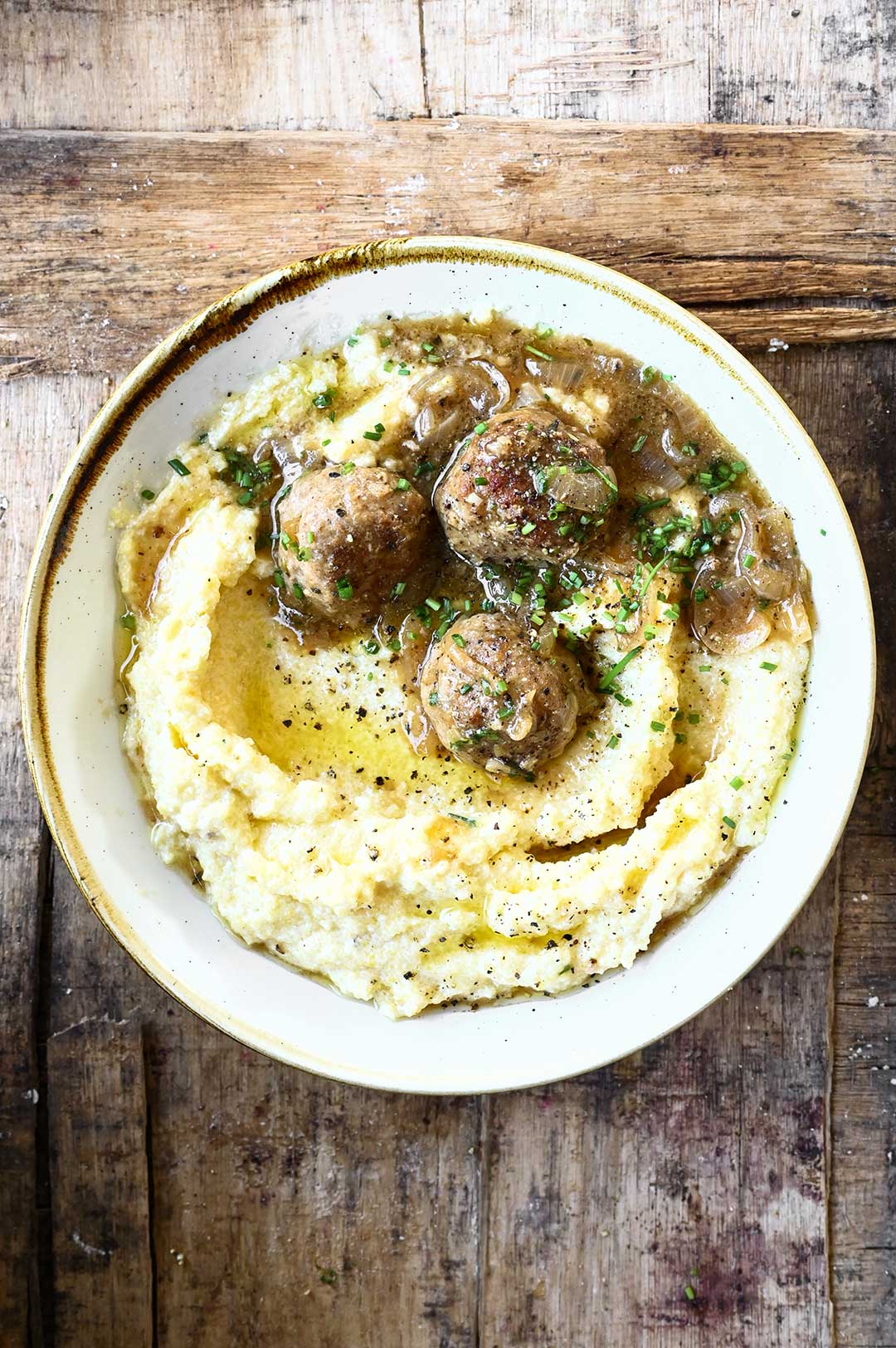 Potrzebujecie
polenta z ricottą
200 g polenty, ekspresowej
500 ml (2 szklanki) bulionu drobiowego
500 ml (2 szklanki) mleka
200 g ricotty
80 g tartego parmezanu
2 łyżki masła
sól i czarny pieprz, do smaku
pulpety
500 g mielonego mięsa, ja użyłam 70% wieprzowiny i 30% wołowiny
po 1/2 łyżeczki: soli, czarnego pieprzu, słodkiej papryki, pieprzu cayenne, czosnku w proszku, cebuli w proszku
1/4 łyżeczki gałki muszkatołowej
1 jajko
2 łyżki bułki tartej
sos
2 średnie cebule, cienko pokrojone
3 ząbki czosnku, drobno posiekane
250 ml (1 szklanka) ciemnego piwa
250 ml (1 szklanka) bulionu drobiowego
3 łyżki oliwy z oliwek
3 łyżki masła
1 łyżeczka łagodnej musztardy
po 1 łyżeczce: czarnego pieprzu, suszonego oregano, suszonego tymianku
2 łyżki mąki
posiekany szczypiorek, do podania
sałata, pieczone brokuły lub zielona fasolka, do podania
Tak zrobicie
Zobaczcie moje VIDEO jak łatwo zrobicie ten przepis.
Wszystkie składniki na pulpety włożyć do dużej miski. Wymieszać. Uformować pulpety.
Na dużej patelni z powłoką nieprzywierającą, rozgrzać 1 łyżkę masła i 2 łyżki oliwy z oliwek na średnim ogniu. Dodać pulpety i zrumienić ze wszystkich stron, około 10-12 minut, obracając je 2-3 razy. Przełożyć na talerz.
Na tej samej patelni, dodać 1 łyżkę oleju i 2 łyżki masła. Zeszklić cebulę, 5 minut na małym ogniu. Dodać czosnek, smażyć przez 2 minuty. Wymieszać z czarnym pieprzem, oregano, tymiankiem i mąką. Smażyć przez 1 minutę, cały czas mieszając. Wlać brązowe piwo i bulion drobiowy, a następnie wymieszać z musztardą. Zagotować.
Włożyć pulpety do sosu wraz z uwolnionymi sokami. Doprawić solą i pieprzem według własnego smaku. Dusić na wolnym ogniu, w międzyczasie przygotować polentę.
W rondlu doprowadzić bulion i mleko do wrzenia. Dodać polentę, cały czas mieszając, gotować przez około 3 minuty na małym ogniu. Wyłączyć ogień. Wmieszać ricottę, parmezan, sól i czarny pieprz. Dodać masło i wymieszać. Przykryć i odstawić na 2 minuty. Jeśli polenta za bardzo zgęstnieje, dodać odrobinę mleka lub bulionu. Doprawić solą i pieprzem według własnego smaku.
Podać od razu z pulpetami. Posypać szczypiorkiem. Dodać sałatkę lub pieczone brokuły. Smacznego!