W tym przepisie, kalafior jest gwiazdą programu. I jest jest przepyszny.
Sos w stylu bolognese z kalafiorem i pancettą, podany z pikantną bułką tartą z parmezanem. Jest bogaty i zaskakująco pyszny. Kalafior jest posiekany na drobne kawałki i nadaje daniu przyjemną, mięsistą konsystencję. Aby wykończyć sos, dodajemy trochę tartego parmezanu i mnóstwo chrupiącej pancetty. A bułka tarta? To prawdziwa wisienka na torcie! Pikantna i chrupiąca.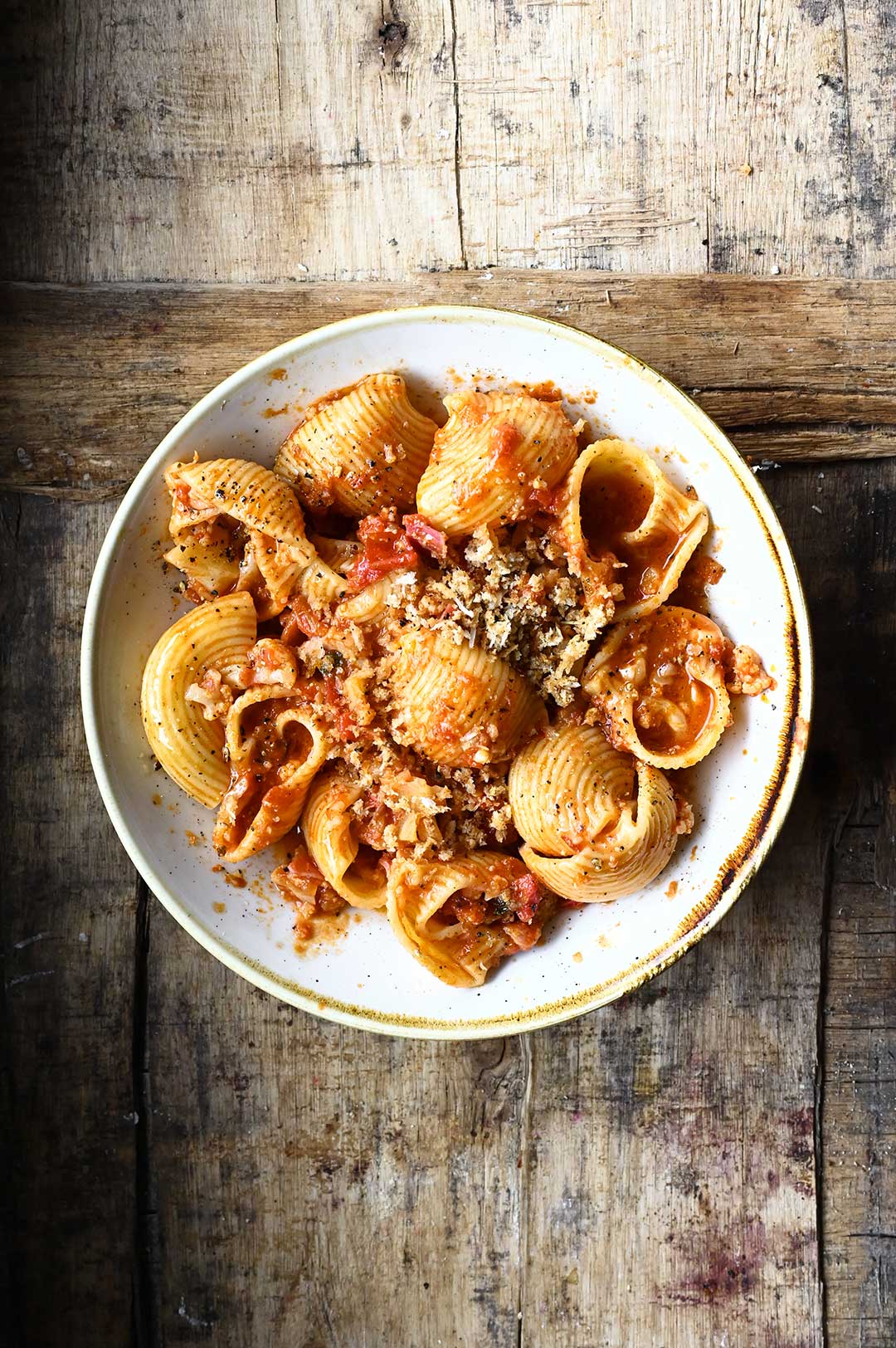 Część uroku tego przepisu wynika z tego, że kalafior jest dusimy do momentu, aż będzie miękki. Następnie dodajemy bulion drobiowy i pomidory. Na koniec jeszcze trochę pancetty i parmezanu, aby nadać daniu więcej smaku i wyrazistości. Rezultatem jest bogaty, satysfakcjonujący makaron. Zobaczcie moje VIDEO jak łatwo zrobicie ten przepis.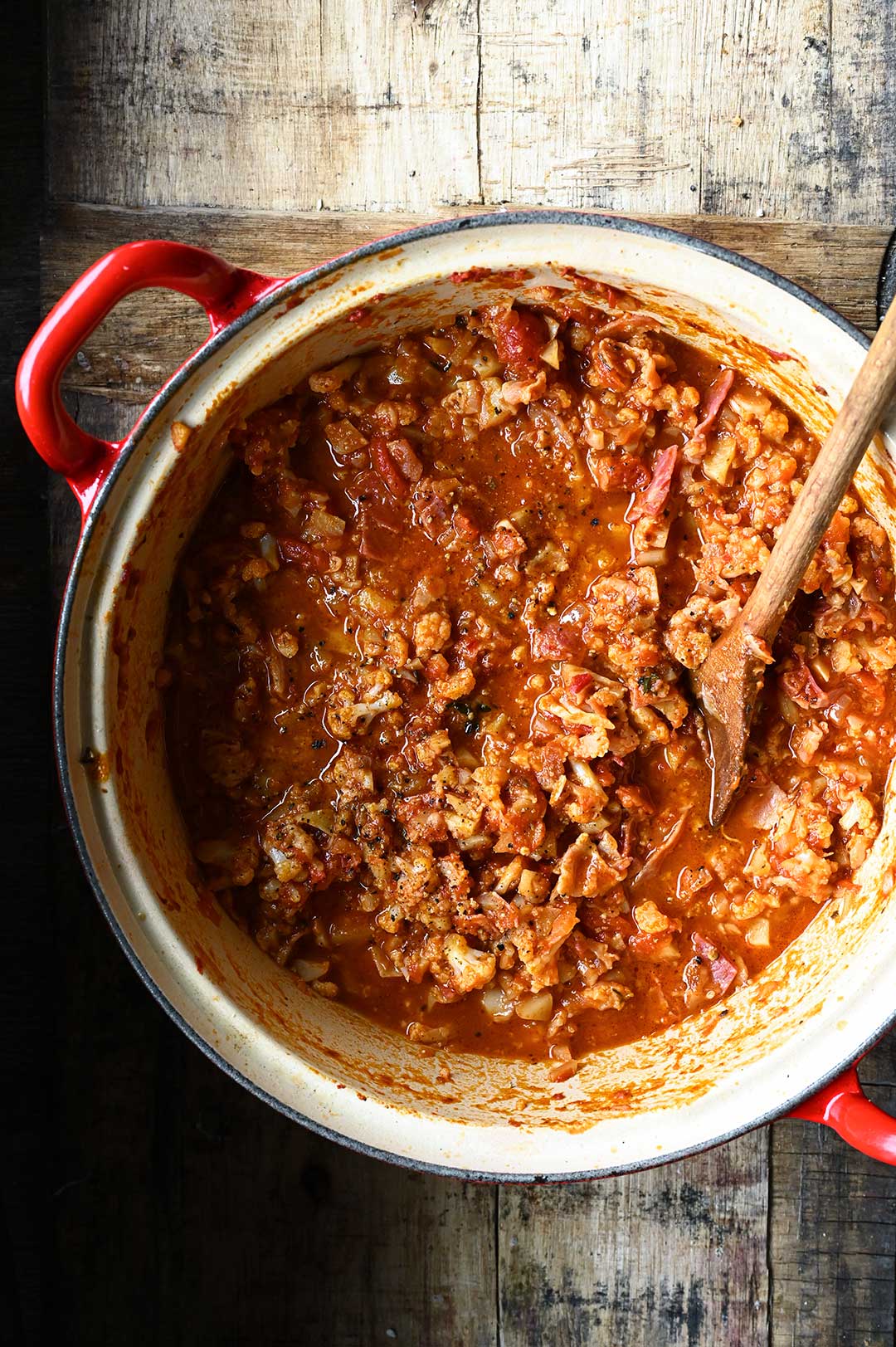 WSKAZÓWKI
– możecie zamienić pancettę na solony boczek lub mieloną wieprzowinę
– jeśli chcecie zrobić sos wegetariański, zamiast pancetty najlepiej użyć pieczarki
– ten sos możecie również podać z makaronem z cukinii
Zobaczcie także:
Makaron z kremowym sosem bolońskim
Kalafior w sosie Kung Pao
Makaron z pesto z suszonych pomidorów i ricotty
Zostańmy w kontakcie! Zapisz się na mój bezpłatny  NEWSLETTER, by otrzymywać powiadomienia o najnowszych przepisach.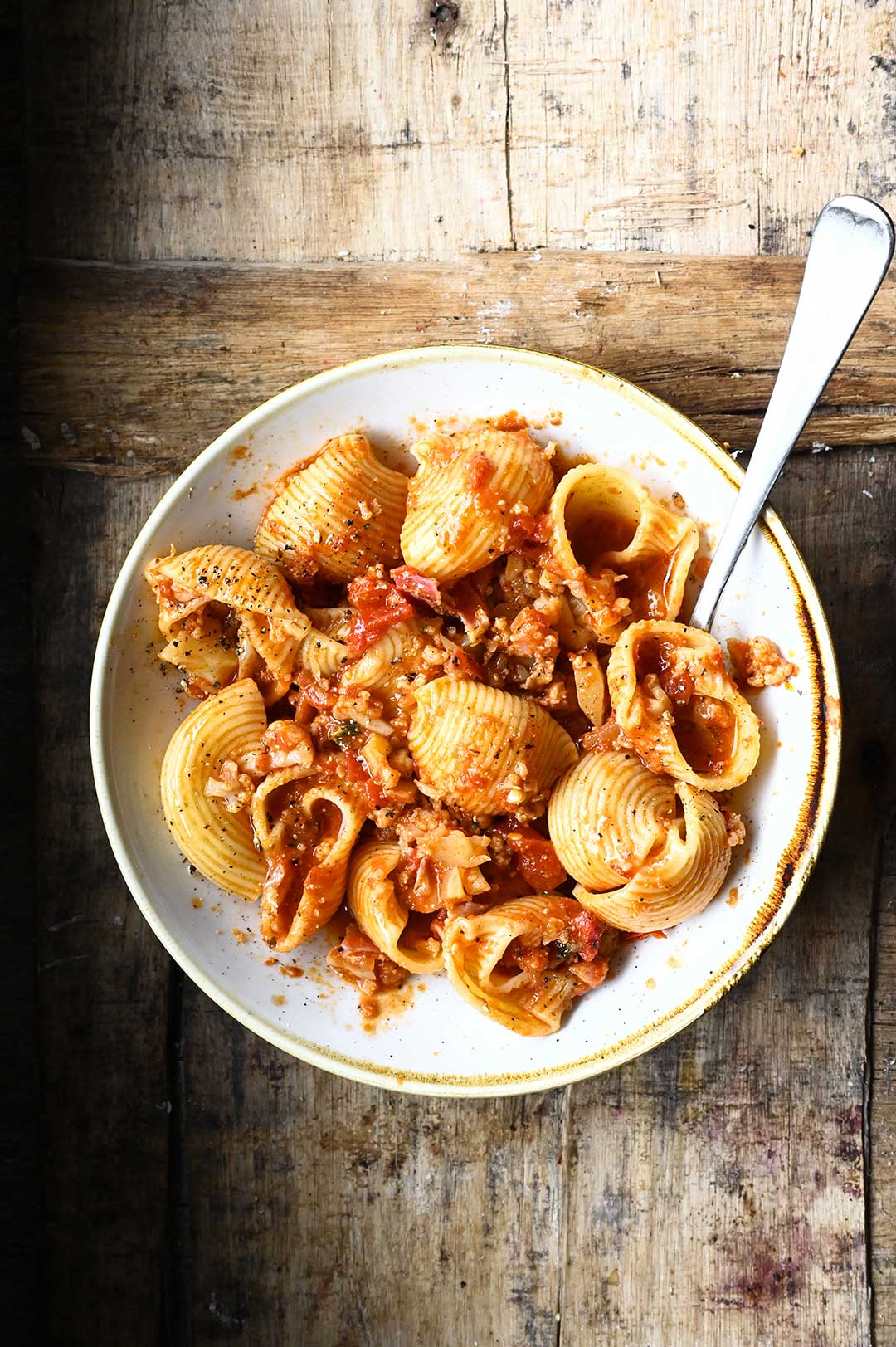 Potrzebujecie
300 g makaronu
1 mały kalafior
200 g pancetty
1 szklanka bulionu drobiowego
1 puszka (400 ml) rozgniecionych pomidorów w sosie
2 łyżki koncentratu pomidorowego
oliwa z oliwek
30 g (2 łyżki) masła
4 ząbki czosnku, drobno posiekane
1 mała cebula, drobno pokrojona
przyprawy: po 1 łyżeczce: płatki czerwonej papryki chili , suszony tymianek, suszona szałwia, wędzona papryka, czarny pieprz, sól
80 g tartego parmezanu
pikantna bułka tarta z parmezanem
1/2 szklanki panko
2 łyżki oliwy z oliwek
po 1 łyżeczce: suszonej szałwii, płatki czerwonej papryki chili
30 g tartego parmezanu
sól
Tak zrobicie
Kalafior pokroić na cienkie plastry, a następnie posiekać na malutkie, równe kawałki. Możecie również użyć robota kuchennego lub zetrzeć kalafiora na tarce o grubych oczkach.
Przygotować bułkę tartą z parmezanem. Podgrzać duży garnek na średnim ogniu, dodać 2 łyżki oliwy. Następnie dodać panko. Smażyć, mieszając od czasu do czasu, aż bułka tarta się zrumieni, około 3 minut. Dodać szałwię i płatki czerwonej papryki. Smażyć przez 1 minutę. Wmieszać parmezan, zmniejszyć ogień i gotować jeszcze przez 1 minutę. Doprawić solą. Przełożyć bułkę tartą na talerz.
W tym samym garnku, podgrzać 2 łyżki oliwy na wysokim ogniu. Dodać pancettę, smażyć mieszając od czasu do czasu, aż będzie chrupiąca i przyrumieniona, około 5 minut. Wyjąć z garnka.
Teraz podgrzać masło. Dodać połowę kalafiora, smażyć przez 3 minuty na dużym ogniu. Dodać pozostałą część kalafiora i smażyć, aż lekko zbrązowieje i troszeczkę zmięknie, 5 minut. Dodać czosnek i cebulę, smażyć przez 5 minut. Wymieszać z przyprawami. Dodać bulion drobiowy, pomidory i koncentrat pomidorowy. Doprowadzić do wrzenia, zmniejszyć ogień i dusić na wolnym ogniu przez około 15 minut.
W międzyczasie ugotować makaron w dużym garnku z wrzącą, obficie osoloną wodą, aż będzie al dente. Odcedzić, zachowując 1/2 szklanki wody z gotowania.
Kiedy sos będzie gotowy, wymieszać z tartym parmezanem, dodać pancettę i 1/4 szklanki wody z gotowania makaronu. Doprawić dodatko czarnym pieprzem, oraz solą do smaku. Wymieszać z makaronem.
Rozdzielić do misek, posypać tartą bułką z parmezanem. Smacznego!
Zobaczcie moje VIDEO jak łatwo zrobicie ten przepis.
And …IF YOU LOVE THESE RECIPES … please consider supporting my work for just the cost of a cup of coffee.

Jeśli wypróbujesz ten przepis, zostaw proszę komentarz poniżej lub oznacz mnie w soim zdjęciu @anna_s_table na profilu Instagram'a, lub dodaj #servingdumplings, chętnie tam zajrzę.