Jak zrobić doskonałe pesto? Dodać miso! Klasyczne pesto z bazylią i orzeszkami piniowymi z dodatkiem pasty miso, to wspaniały dodatek do każdego dania. Dodaje wyraziste i intensywne smaki. 
To danie z makaronem podajemy z bakłażanem, pokrojonym w kostkę i szybko podsmażonym do miękkości. Słoną pastę miso dodajemy aby podnieść smaki, a bazylię aby utrzymać świeżość. Plus tarty parmezan, dobra oliwa z oliwek i czarny pieprz wystarczą, aby podnieść wszystkie walory smakowe.
Pesto z makaronem to najlepsze, minimalistyczne połączenie. Po dodaniu miso, w mgnieniu oka otrzymacie danie bogate w umami.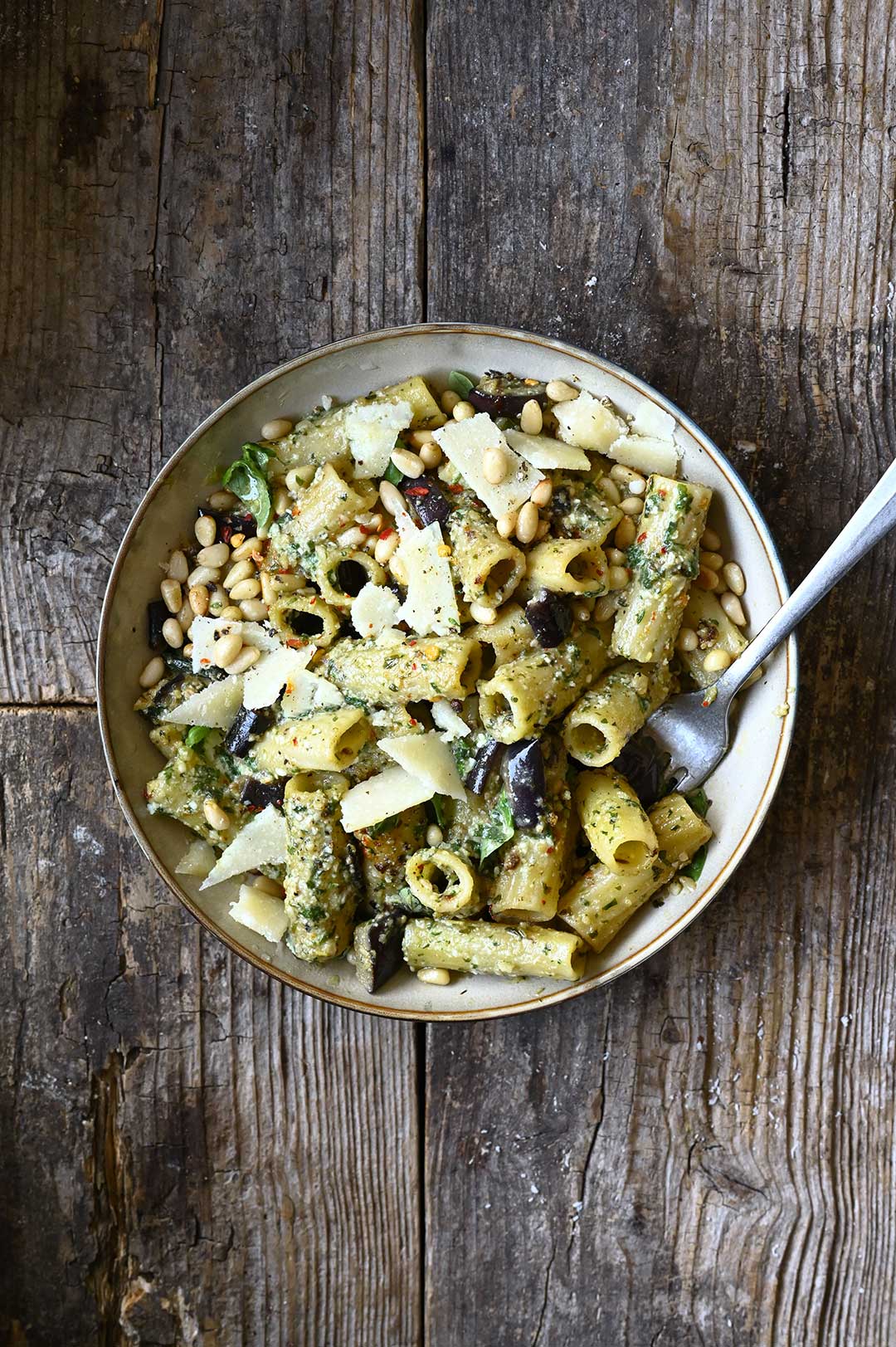 Danie pełne jasnych, świeżych niuansów, od cytryny, przez prażone orzeszki piniowe do delikatnego bakłażana. Proste, szybkie i niezwykle smaczne!
Zobaczcie wideo jak zrobić na moim Instagram Story Highlights.
Więcej przepisów z pastą miso:
Azjatycka zupa grzybowa z makaronem udon
Zupa z pieczonej dyni z ryżem i grzybami z miso
Mule w sosie z miso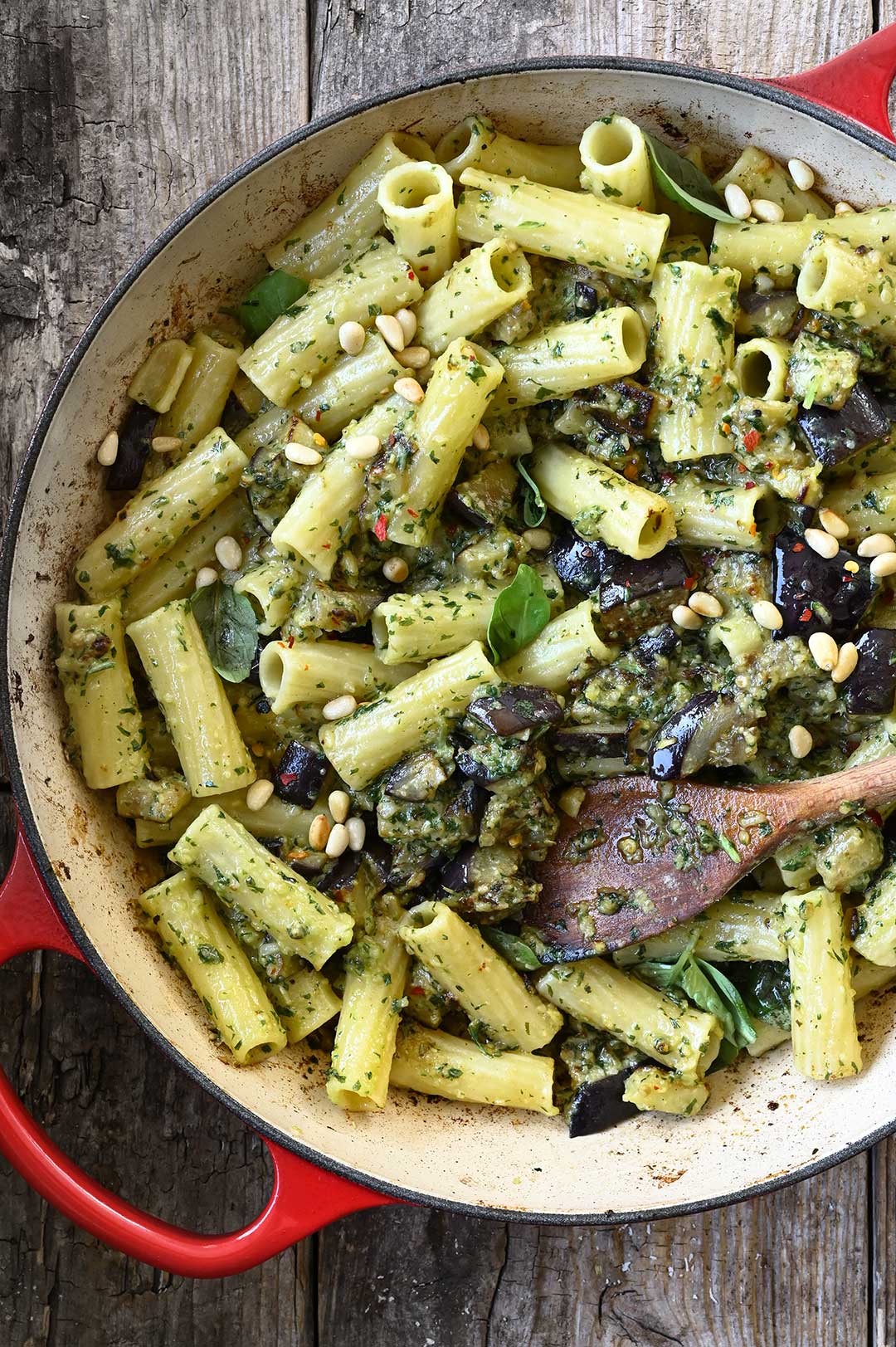 Zostańmy w kontakcie! Zapisz się na mój bezpłatny  NEWSLETTER, by otrzymywać powiadomienia o najnowszych przepisach.
Potrzebujecie
250 g makaronu
1 bakłażan, pokrojony w kostkę
3 łyżki oliwy z oliwek
3 ząbki czosnku, drobno posiekane
sól + czarny pieprz
1 łyżeczka płatków chili
miso z pesto
30 g (2 szklanki) liści bazylii
40 g (1/4 szklanki) orzeszków pinii, prażonych
2 łyżki pasty miso
2 łyżki soku z cytryny
80 ml (1/3 szklanki) oliwy z oliwek
50 g tartego parmezanu
pieprz czarny
+
4 łyżki prażonych orzeszków pinii
liście bazylii
tarty parmezan
płatki chili
Tak zrobicie
Makaron ugotować w osolonej wodzie. Odcedzić, zachowując 1/4 szklanki wody po gotowaniu makaronu.
Zrobić pesto. Do blendera włożyć liście bazylii, orzeszki piniowe, miso, sok z cytryny i parmezan. Zacząć miksować. Podczas miksowania, powoli dodawać oliwę aż do uzyskania jednolitej masy. Doprawić pieprzem do smaku. Odstawić.
Na dużej patelni, rozgrzać oliwę na średnim ogniu. Dodać bakłażana i smażyć przez około 5-8 minut lub aż bakłażan się zrumieni. Dodać czosnek, smażyć jeszcze około 3 minuty. Doprawić solą, pieprzem i płatkami chili.
Dodać pesto z miso, makaron i odrobinę odrobinę wody po gotowaniu makaronu. Dokładnie wymieszać. Podać od razu, z tartym parmezanem, bazylią, orzeszkami piniowymi i płatkami chili. Smacznego!
Zobaczcie wideo jak zrobić na moim Instagram Story Highlights.
Jeśli wypróbujesz ten przepis, zostaw proszę komentarz poniżej lub oznacz mnie @anna_s_table na swoim profilu Instagram'a, chętnie tam zajrzę.