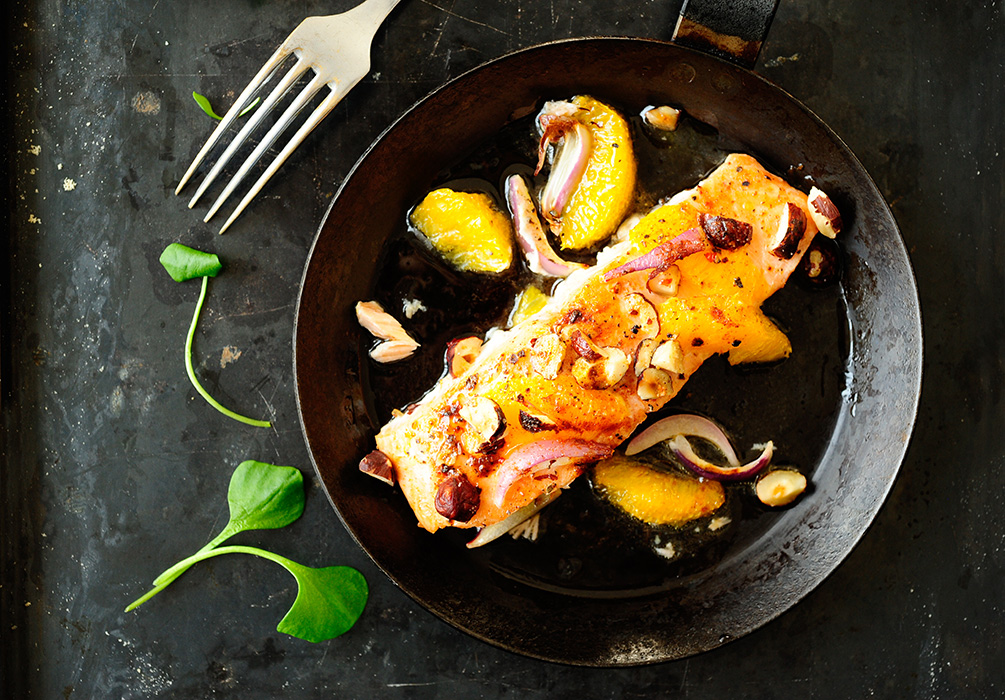 Jest to mój pierwszy łosoś zapiekany w pomarańczach, przyznaję się, nie mówcie nikomu! Za kaczką nie przepadam, dlatego nigdy nie jadłam jeszcze jej wariacji z pomarańczami. Przez to łosoś jakoś koło mnie przeszedł, ale wzięła mnie ochota i nie żałuję, zakochałam się. Może też dlatego, że za oknem piękna pogoda,  to danie jest takie lekkie, świeże i wiosenne.
Przedstawiam moją wersję, łososia zapiekanego w pomarańczach z sosem chili i orzechami laskowymi. Podałam z sałatką ze świeżej cykorii z jabłkiem, polecam:)
Potrzebujesz
4 filety z łososia bez skórki
1 czerwona cebula
1/2 cytryny
2 pomarańcze
4 łyżki łagodnego sosu chili
2 garstki orzechów laskowych
2 łyżki oliwy
1 łyżeczka słodkiej papryki
sól i świeżo mielony pieprz
Surówka
4 cykorie
2 jabłka
roszponka lub młode listki sałaty
sok z 1 pomarańczy
2 łyżki oliwy
1 łyżka octu winnego
sól i świeżo mielony pieprz
Przygotowanie
Rozgrzać piekarnik do 180 stopni.
Cebulę obrać i pokroić w cienkie plasterki. Pomarańcze obrać i pokroić na kawałki. Filety ułożyć w naczyniu żaroodpornym, pokropić sokiem z cytryny. Posypać papryką, solą i pieprzem. Ułożyć pomarańcze, cebulę oraz posiekane orzechy. Zalać sosem chili i oliwą. Włożyć do piekarnika na 15 minut.
W międzyczasie przygotować surówkę. Cykorię umyć, odciąć głąb i brzydkie liście, pokroić w krążki. Jabłka umyć i pokroić w słupki. Wszystko wymieszać z czystą roszponką, polać sokiem z pomarańczy, octem i oliwą. Doprawić solą i pieprzem.
Smacznego.