Jeśli lubicie chrupiącego kurczaka to ta miska z makaronem jest właśnie dla Was. Łatwe do zrobienia i gotowe w około 30 minut. Aromatyzowane miso i dużą ilością czosnku. Kremowe, lekko pikantne z  bogatymi smakami umami. Polecam!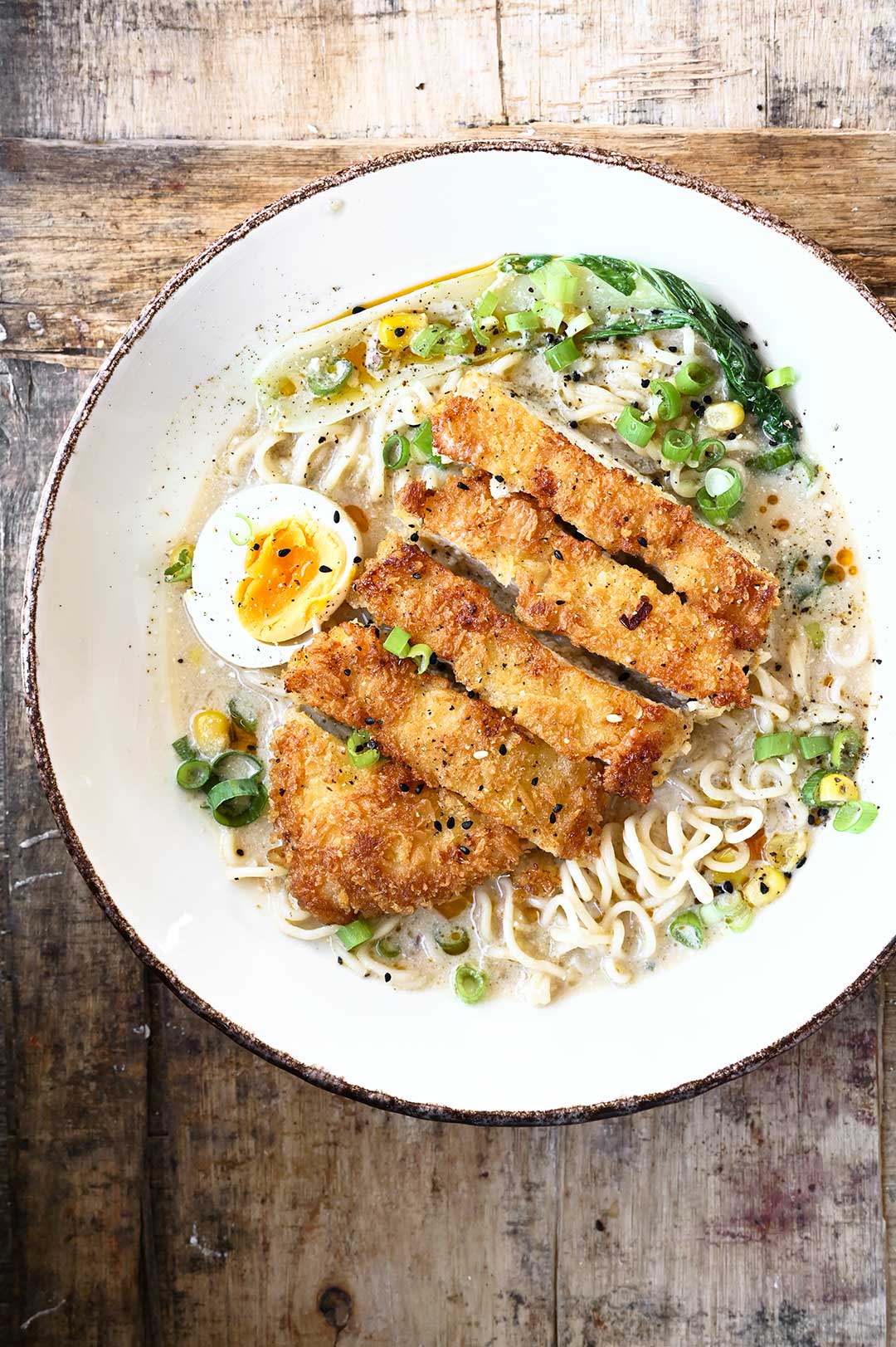 Kurczak Katsu to w zasadzie japońska wersja smażonych kotletów z kurczaka. Skórka jest wyjątkowo chrupiąca dzięki bułce tartej panko. Kotlety jak zwykle maczamy w mące, jajku i panko, a następnie smażymy na złoty kolor. Łatwe jak bułka z masłem.
Makaron podajemy z blanszowaną kapustą pak choi i kukurydzą, oraz niezastąpionymi  cebulkami dymkami i gotowanymi na miękko jajkami.
Możecie podać z innymi warzywami, jak brokuły, szpinak, grzyby lub dodać świeże kiełki sojowe. Jeśli lubicie bardziej pikantne dania, spróbujcie dodać papryczki jalapeño.
Zobaczcie moje VIDEO jak łatwo zrobicie ten przepis.

Zobaczcie także:
Pierś z kurczaka z miodem i czosnkiem
Pikantny makaron po chińsku z grzybami shiitake
Makaron ramen z serem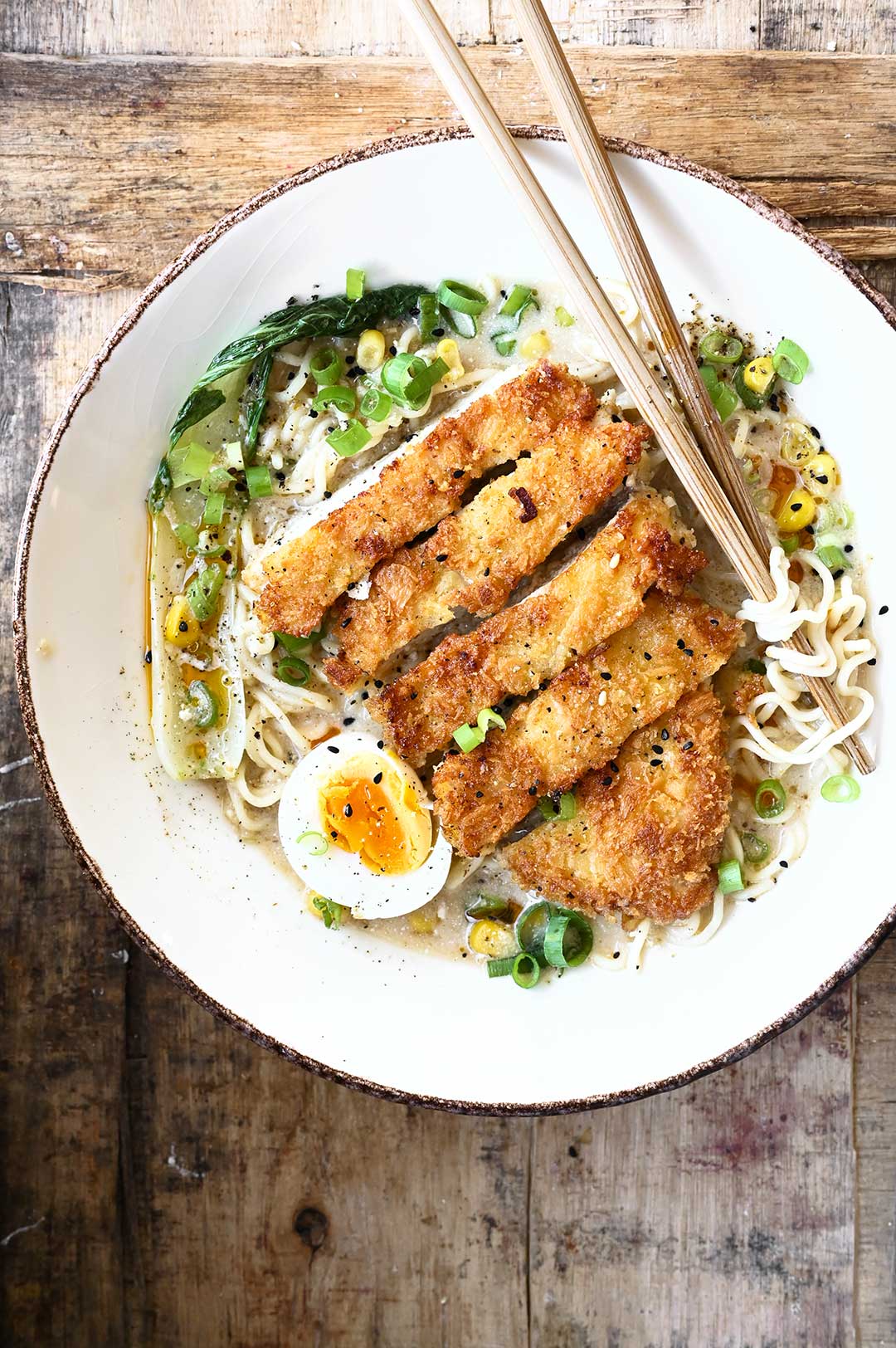 Potrzebujecie
kurczak katsu
1 duży filet z kurczaka
3/4 szklanki panko
3 czubate łyżki mąki
2 małe jajka
1 łyżka mleka
1 łyżeczka soli
po 1/2 łyżeczki: czosnku w proszku, pieprzu cayenne
1/4 szklanki oleju roślinnego
bulion
1 łyżka oleju roślinnego
6 ząbków czosnku, startych
1 łyżka startego imbiru
1 L (4 szklanki) bulionu drobiowego
2 łyżeczki octu balsamicznego
3 łyżki sosu sojowego
1 łyżka sosu sambal
1 łyżka oleju sezamowego
1/2 łyżeczki białego pieprzu
3 łyżki białej pasty miso
120 ml (1/2 szklanki) śmietanki sojowej
1 mała kapusta pak choi
1 mała puszka (150 g) kukurydzy
2 kwadraty błyskawicznego makaronu ramen
do podania
2 jajka, ugotowane na miękko (7 minut)
4 cebulki dymki, drobno posiekane
2 łyżki nasion sezamu
olej chili
Tak zrobicie
Zobaczcie moje VIDEO jak łatwo zrobicie ten przepis.
Przygotować kurczaka Katsu. Filet z kurczaka przekroić na pół poziomo, aby uzyskać 2 równe części. Rozbić tłuczkiem na 1 cm kotlety.
Mąkę wsypać so płytkiej miski. W średniej misce ubić jajka z mlekiem, solą, czosnkiem w proszku i pieprzem cayenne. Panko wsypać na duży talerz. Obtoczyć kurczaka w mące. Następnie zanurzyć w jajkach. Na koniec obtoczyć w panko. Gdy mięso pokryje się panierką, delikatnie poklepać je ze wszystkich stron, tak aby każdy kawałek bułki przywarł do warstwy jajka. Przełożyć na talerz.
Rozgrzać duży garnek na małym ogniu, dodać 1 łyżkę oleju, czosnek i imbir. Zeszklić. Wlać bulion, dodać sos sojowy, ocet balsamiczny, sambal, olej sezamowy i biały pieprz. Doprowadzić do wrzenia, przykryć i dusić na małym ogniu.
Przygotować kotlety. Na dużej patelni rozgrzać olej na średnim ogniu. Włożyć kotlety, smażyć na złoty kolor, około 3-4 minuty z obu stron. Zmniejszyć ogień, jeśli zbyt szybko zaczną się rumienić. Przełożyć na deskę do krojenia. Pokrój w cienkie paski.
W międzyczasie, ugotować jajka na miękko.
Makaron ugotować zgodnie z instrukcją na opakowaniu, al dente. Odcedzić i przepłukać pod chłodną wodą, aby zatrzymać proces gotowania.
Do bulionu dodać pastę miso, mieszać do rozpuszczenia. Następnie dodać kapustę i ziarna kukurydzy, blanszować przez 30 sekund. Wyłączyć ogień i dodać śmietankę sojową. Dodaj więcej sosu sojowego lub sosu sambal według własnego smaku.
Rozdzielić makaron pomiędzy miski i zalać bulionem. Na wierzchu ułożyć kurczaka i jajka. Dodać dymki, nasiona sezamu oraz skropić olejem chili. Smacznego.