Aromatyczne curry z mlekiem kokosowym, bakłażanem i jajkami. Kremowe, trochę pikantne i gotowe w około 30 minut.
Mleko kokosowe i bakłażan wspaniale pasują do siebie, ich smaki uzupełniamy czosnkiem w połączeniu z przyprawami. Wystarczy dodać ugotowane jajka i podać z chlebkiem naan. Danie powalające na kolana, serdecznie polecam.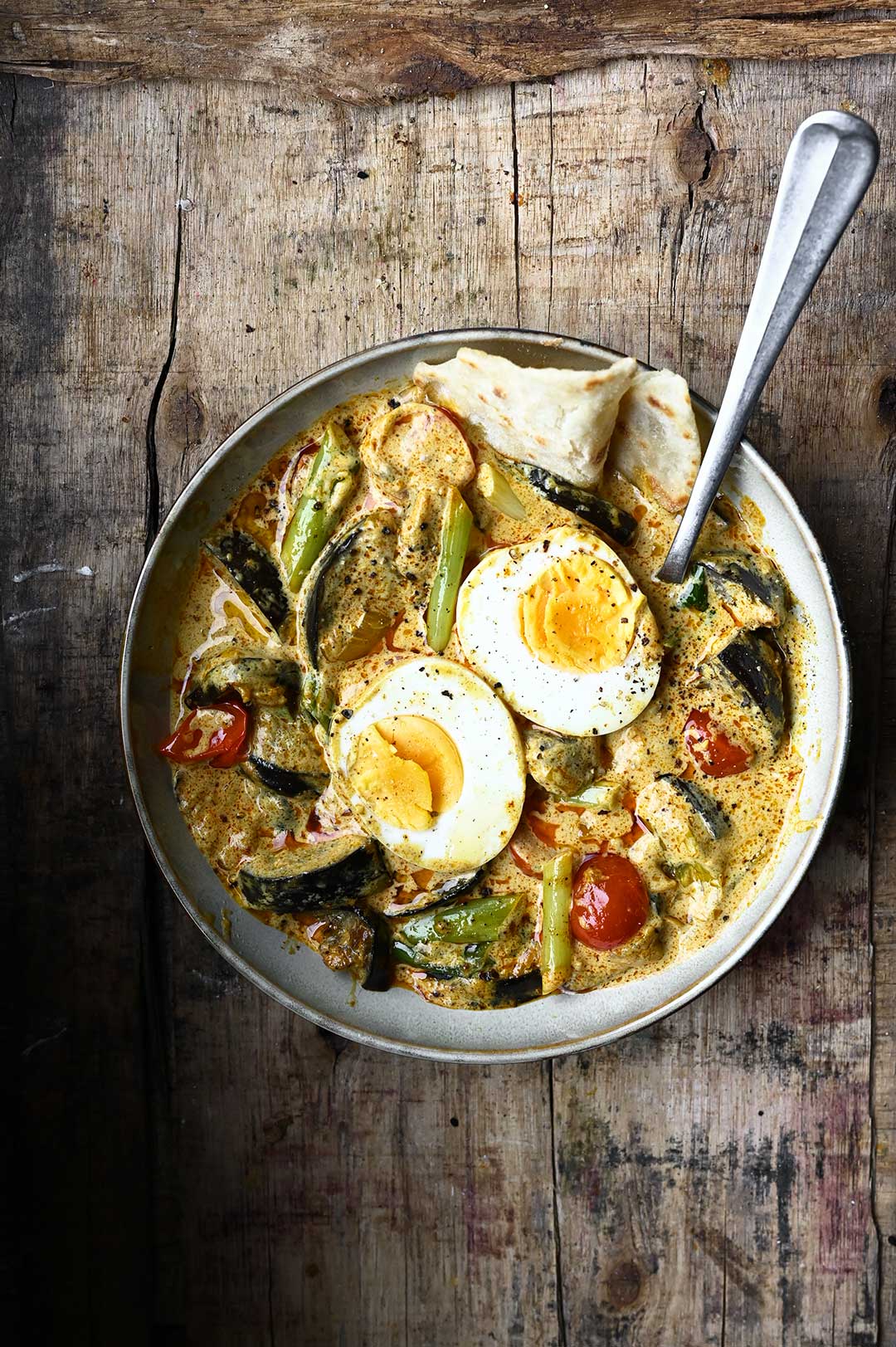 To danie jest bardzo wszechstronne, bakłażana lub pomidory możecie wymienić na kalafiora, dynię, szpinak, brokuły, bataty lub cukinię.  Zobaczcie moje VIDEO jak łatwo zrobicie ten przepis.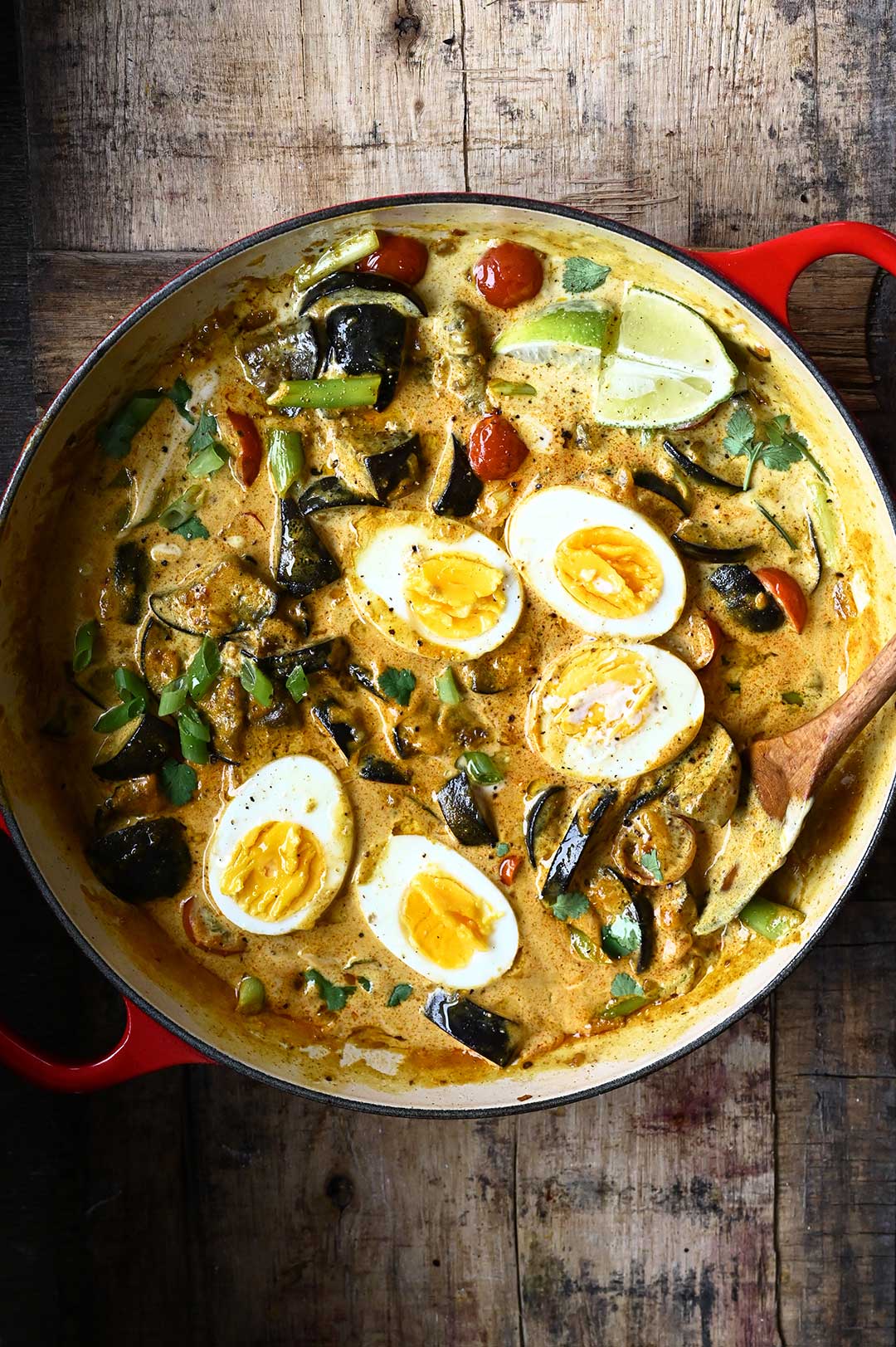 Zobaczcie także:
Kurczak w maśle orzechowym
Kalafior w sosie Kung Pao
Dorsz ze szparagami w kokosowym sosie z wasabi
Zostańmy w kontakcie! Zapisz się na mój bezpłatny  NEWSLETTER, by otrzymywać powiadomienia o najnowszych przepisach.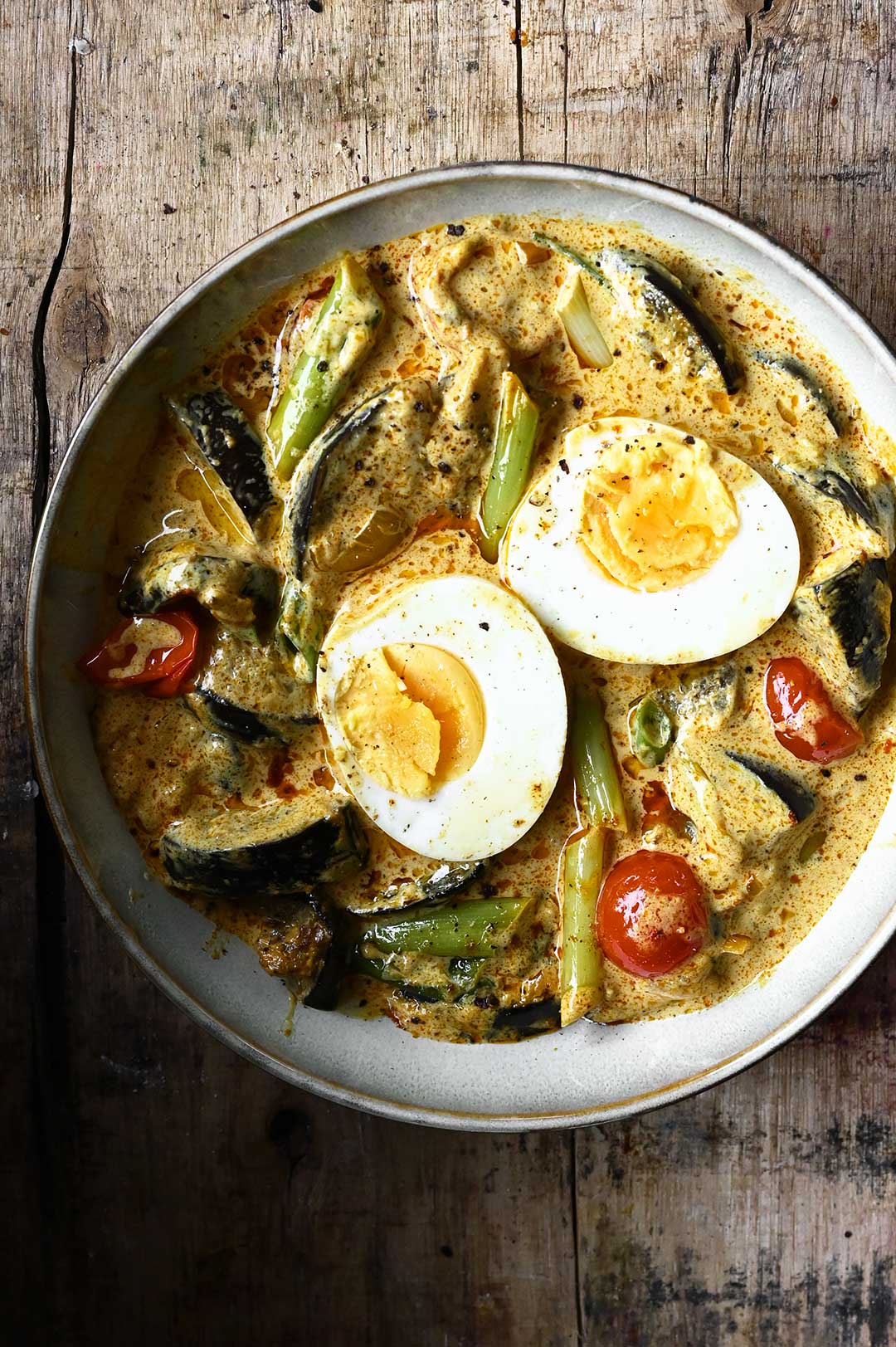 Potrzebujecie
1 duży bakłażan, pokrojony na duże kawałki
100 g pomidorów koktajlowych, przeciętych na pół
4 ząbki czosnku, drobno posiekane
1 mała cebula, drobno pokrojona
1 łyżka tartego imbiru
3 łyżki oleju kokosowego, lub oleju roślinnego
1 puszka (400 ml) niesłodzonego mleka kokosowego
2 łyżki soku limonki
1 łyżka czerwonej pasty curry
5 dymek, pokrojonych na długie paski
4 jajka, ugotowane na twardo
sól + czarny pieprz
kolendra, do podania (opcjonalnie)
przyprawy
po 1 łyżeczce: kurkuma mielona, kolendra mielona, kminek mielony, papryka wędzona
2 łyżeczki pieprzu cayenne
Tak zrobicie
W małej miseczce, połączyć wszystkie przyprawy.
W małym rondelku doprowadzić wodę do wrzenia, dodać jajka, gotować na wolnym ogniu przez 10 minut. Spłukać pod chłodną wodą, odstawić.
Nagrzać dużą patelnię na wysokim ogniu, dodać olej kokosowy. Włożyć bakłażan, smażyć na złoty kolor, około 10-15 minut. Jeśli bakłażan zacznie się za bardzo się przypiekać, obniżyć temperaturę i dodać 1 łyżkę oleju kokosowego, jeśli konieczne. Przełożyć na talerz.
Jeśli patelnia wygląda na suchą, rozpuścić jeszcze jedną łyżkę oleju kokosowego. Dodać czosnek, imbir i cebulę. Zeszklić na małym ogniu, przez 1 minutę, dodać przyprawy i smażyć jeszcze przez 1 minutę. Wmieszać pomidory koktajlowe i dymki, zeszklić, 2 minuty. Włożyć bakłażan z powrotem do patelni. Doprawić solą i czarnym pieprzem. Wlać mleko kokosowe, lekko zagotować, zmniejszyć ogień i dodać czerwoną pastę curry. Dusić, aż curry lekko zgęstnieje, około 10 minut. Zdjąć z ognia i pokropić sokiem z limonki. Skosztować i doprawić solą i czarnym pieprzem.
Jajka obrać i przeciąć na pół. Dodać do curry, odstawić na 5 minut przed podaniem.
Podać z kolendrą lub dymkami, chlebkiem naan lub ryżem. Smacznego! Zobaczcie moje VIDEO jak łatwo zrobicie ten przepis.
…IF YOU LOVE THESE RECIPES … please consider supporting my work for just the cost of a cup of coffee.

Jeśli wypróbujesz ten przepis, zostaw proszę komentarz poniżej lub oznacz mnie @anna_s_table na swoim profilu Instagram'a w zdjęciu, chętnie tam zajrzę.