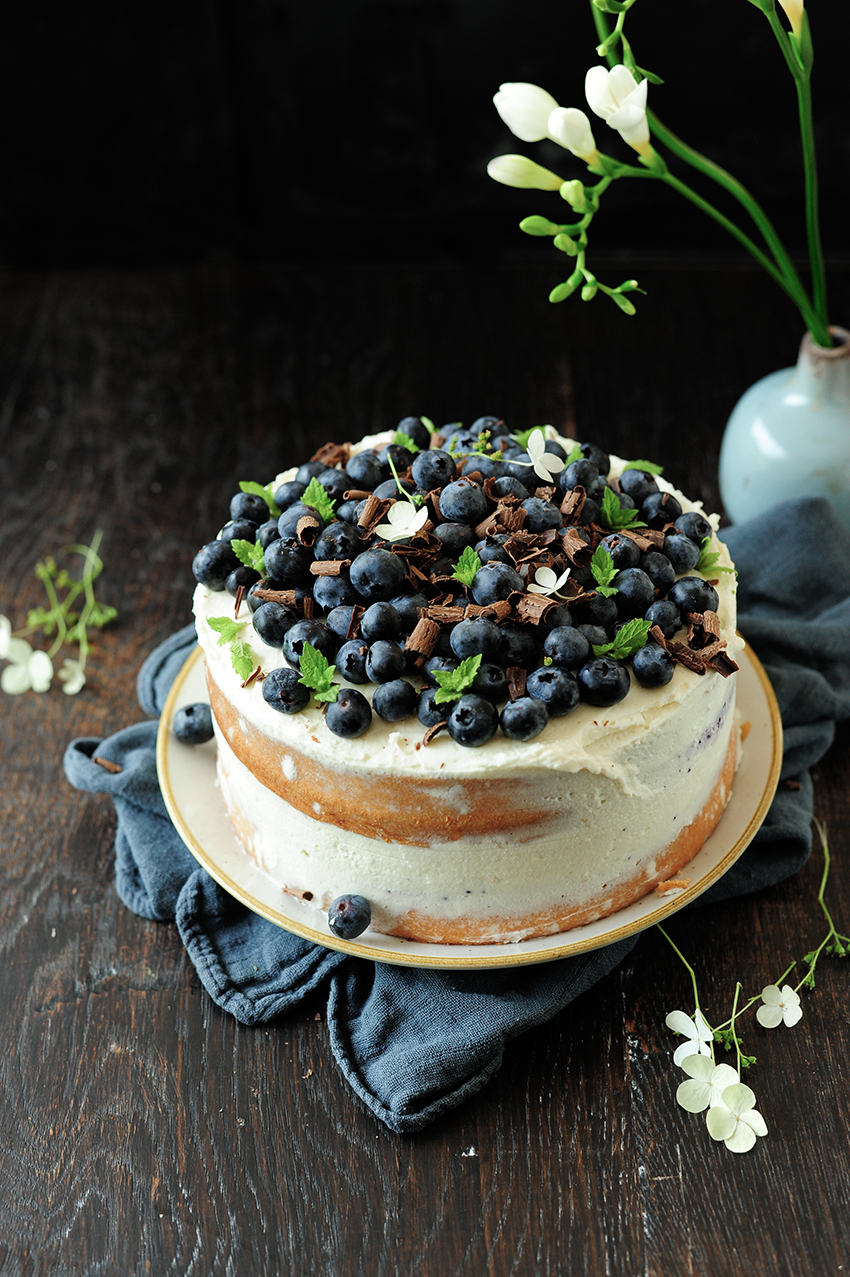 Een lichte biscuit met een romige mascarponecrème en veel verse bosbessen. Dit is een heerlijke naked cake voor elke gelegenheid!
Ik word kinderlijk opgewonden als het bosbessenseizoen begint. Hoe kan je er niet van houden? Zo sappig, zoet en heerlijk recht uit de hand of in een taart!
Deze taart met bosbessen is verbazingwekkend snel en makkelijk te maken. De combinatie van mascarpone en bosbessen is een complete klassieker, een absolute viering van het bessenseizoen. Hij is ongelooflijk lekker, de verse bosbessen ploffen in je mond, je moet hem gewoon proeven!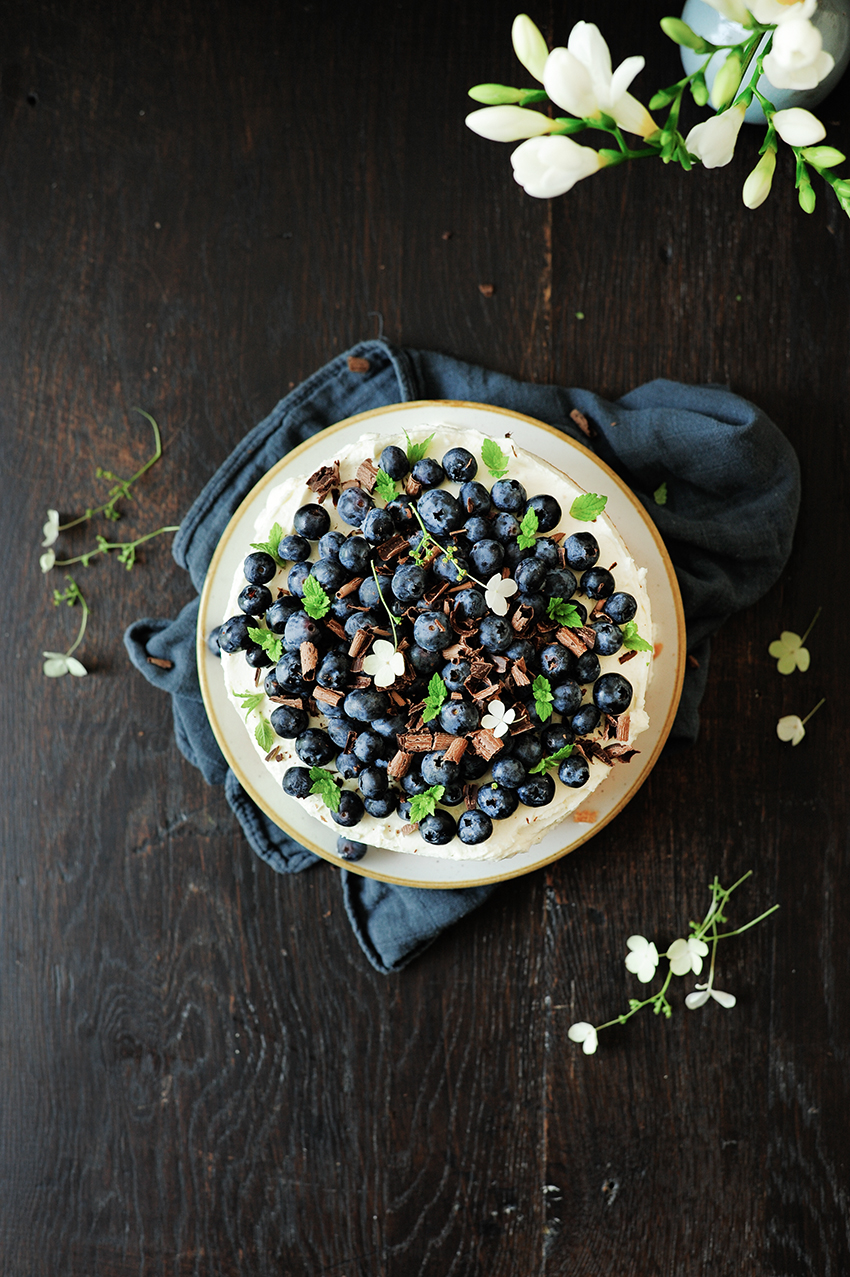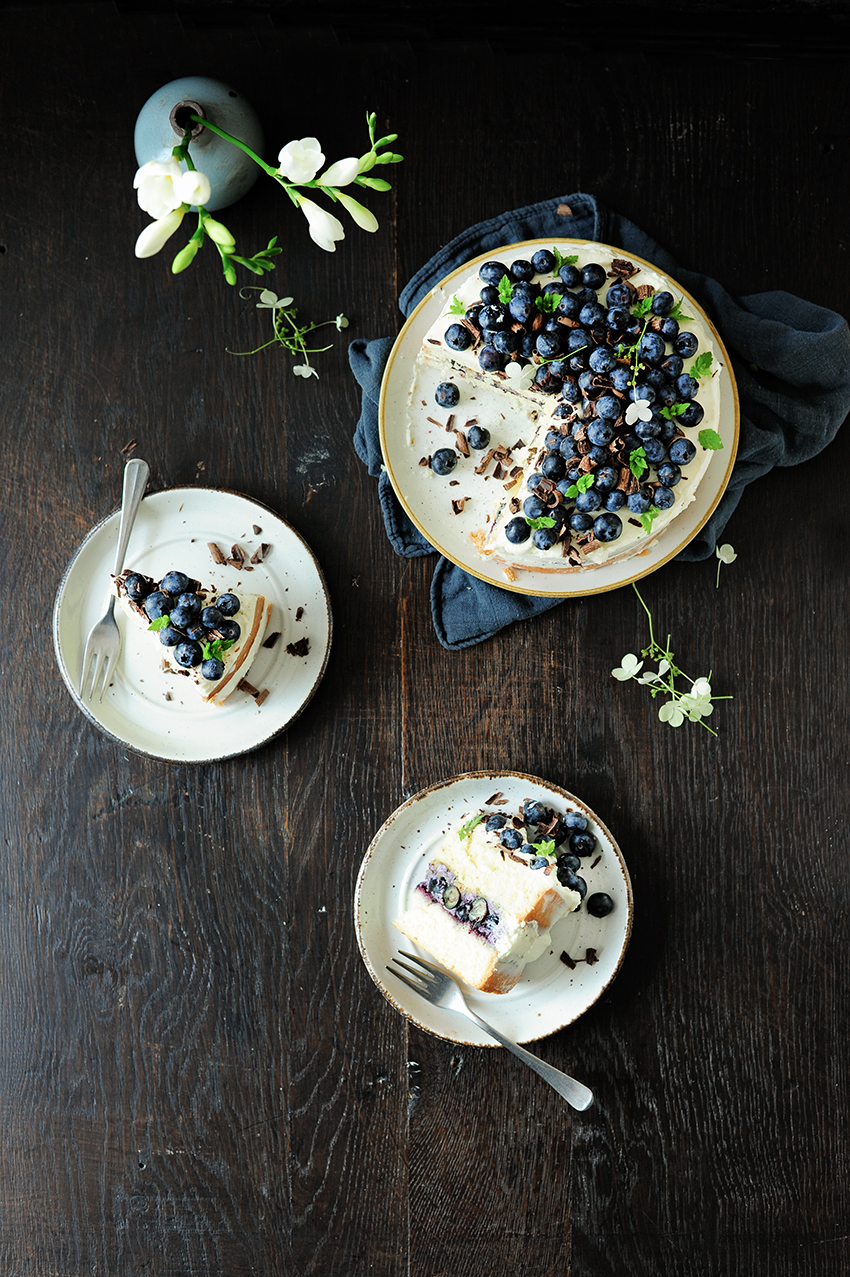 Zo maak je het
zorg dat alle ingrediënten op kamertemperatuur zijn
de biscuit met citroen en maanzaad
90 g bloem
50 g aardappelzetmeel
150 g suiker
4 bio eieren
1/2 tl bakpoeder
snuifje zout
zaadjes van 1/2 vanillestokje
mascarponecrème
250 g mascarpone
250 ml volle room
50 g bloemsuiker
alsook
1 el gedroogde bosbessenpoeder (optioneel)
3 el bosbessenconfituur
250 g verse bosbessen
2 el geraspte donkere chocolade
verse munt voor decoratie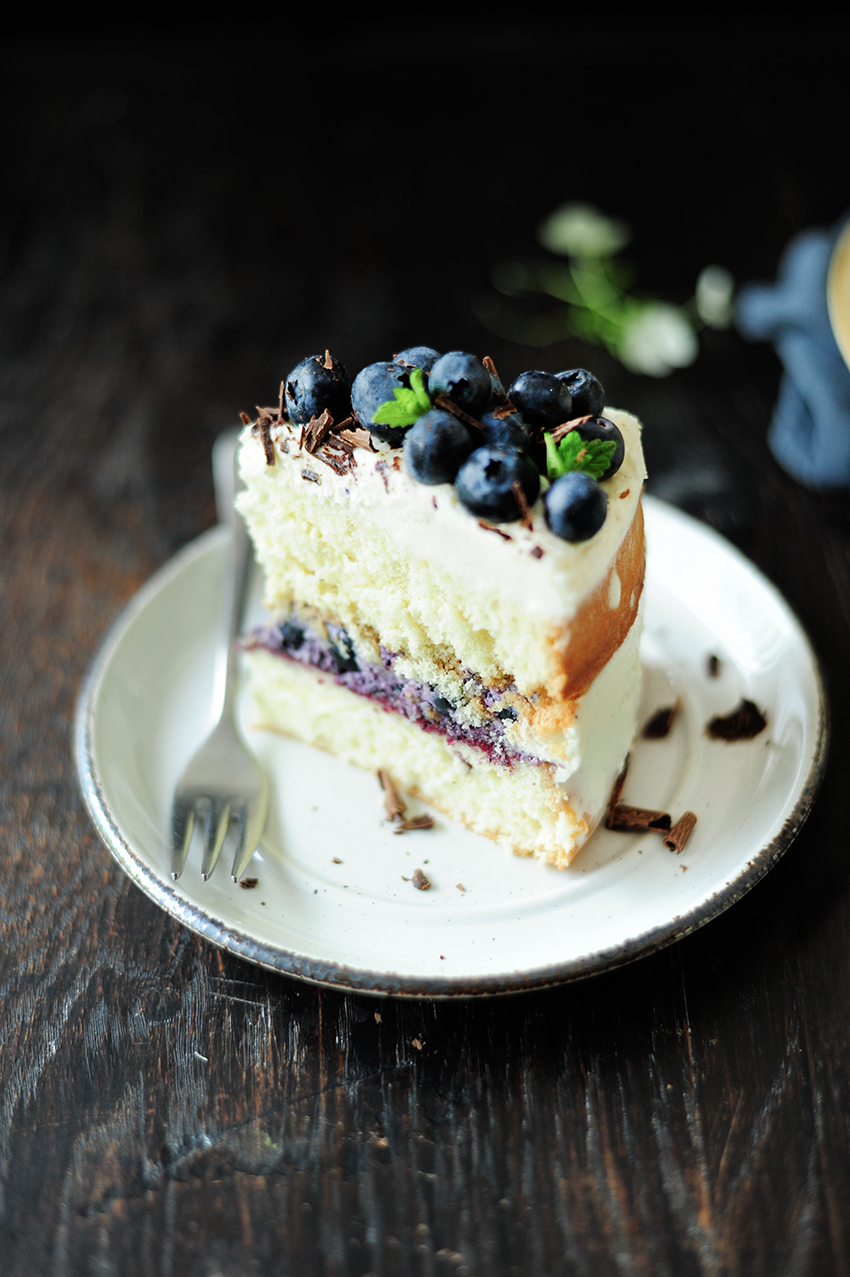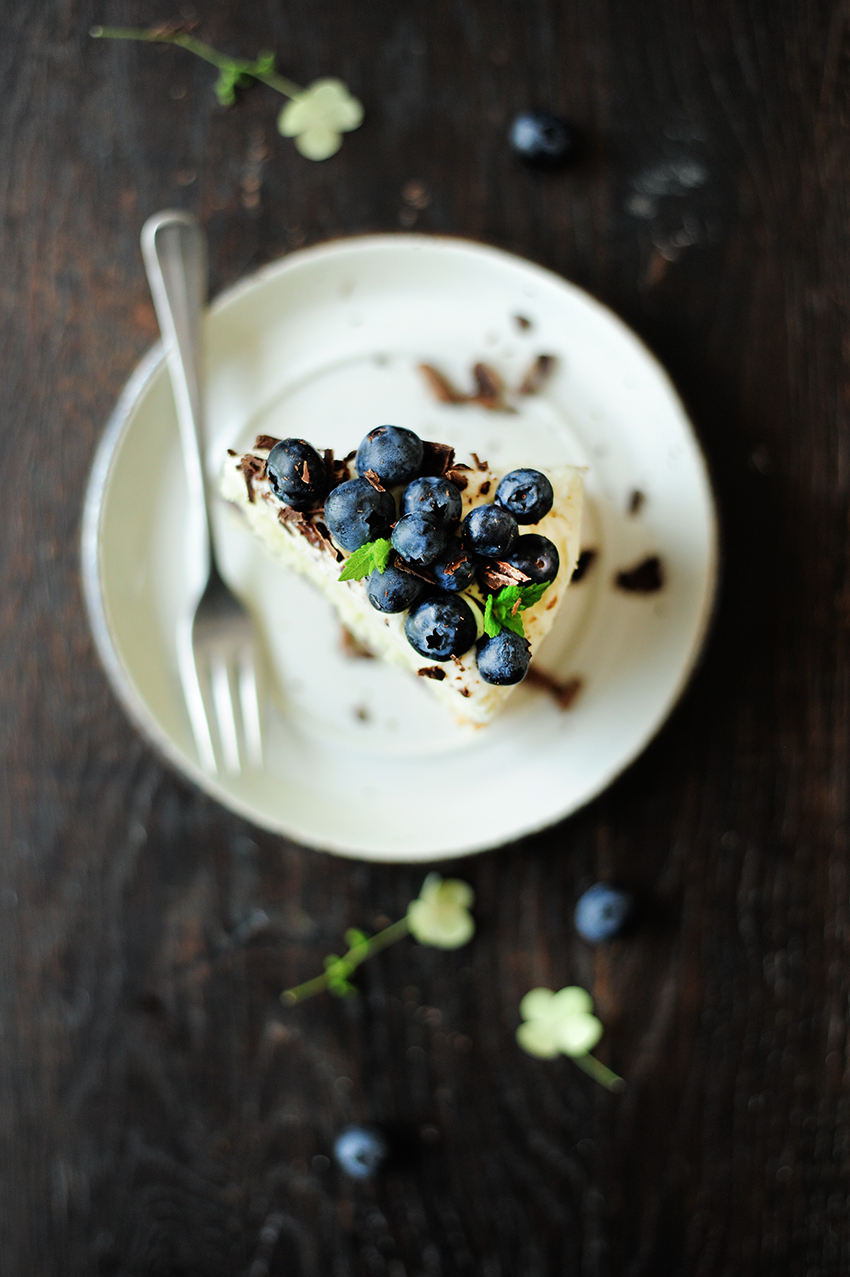 Zo maak je het
Meng de bloem met het aardappelzetmeel en het bakpoeder. Scheid de eieren en klop de eierdooiers op met de helft van de suiker tot een zeer licht en luchtig mengsel. Klop de eiwitten stijf, voeg dan geleidelijk het zout en de rest van de suiker toe, blijf voortdurend kloppen tot een stijf en glanzend mengsel. Voeg de eidooiers toe en roer voorzichtig met een spatel. Voeg vanillezaadjes toe, zeef dan de droge ingrediënten erin en roer voorzichtig met een spatel.
Bekleed een 18 cm springvorm met bakpapier en vet de zijkanten in met boter. Giet het beslag erin en bak ongeveer 35-40 minuten op 170°C, controleer met een satéstokje door in het midden te prikken. Laat volledig afkoelen.
Klop in een grote kom de room tot de consistentie van yoghurt, voeg bloemsuiker en mascarpone toe.  Klop de room op totdat het stevige pieken heeft.
Meng 1/3 van de mascarponecrème met het bosbessenpoeder.
Snijd de taart in twee gelijke lagen, plaats de eerste laag op een bord of een taartenstaander, verspreid de bosbessenconfituur, 100 g verse bessen en de mascarponecrème met het bosbessenpoeder. Plaats de tweede laag en bedek de bovenkant en de zijkanten van de taart met een dun laagje crème. Versier met bosbessen, chocoladeschilfers en munt. Laat gedurende 30 minuten opstijven in de koelkast. Smakelijk!