Aardbeientaart met vanille en mascarponecrème! 
Licht en luchtig, boordevol verse zoete aardbeien. Met een royaal laagje mascarponeroom en extra aardbeien erbovenop. Het is een heerlijke zomertaart voor elk moment van de dag… brunch, bij de koffie of als dessert.
Deze taart is gemaakt zonder bakpoeder, maar is toch luchtig dankzij het opgeklopte eiwit. Je kunt het vergelijken met een biscuit, maar dan absoluut niet droog! En je kan de aardbeien vervangen door elk ander soort fruit, zoals bosbessen, kersen of frambozen,… Dit is zonder twijfel een must-make zomerdessert!
Deze taart verschijnt heelt vaak op mijn tafel tijdens familiefeesten, lange weekenden of dinners met vrienden. 
Voor een heerlijk resultaat en een lekkere vanillesmaak marineer je de aardbeien met bloemsuiker en vanille. Daarna laat je ze rusten in de koelkast terwijl je de taart afmaakt. Een echte aanrader!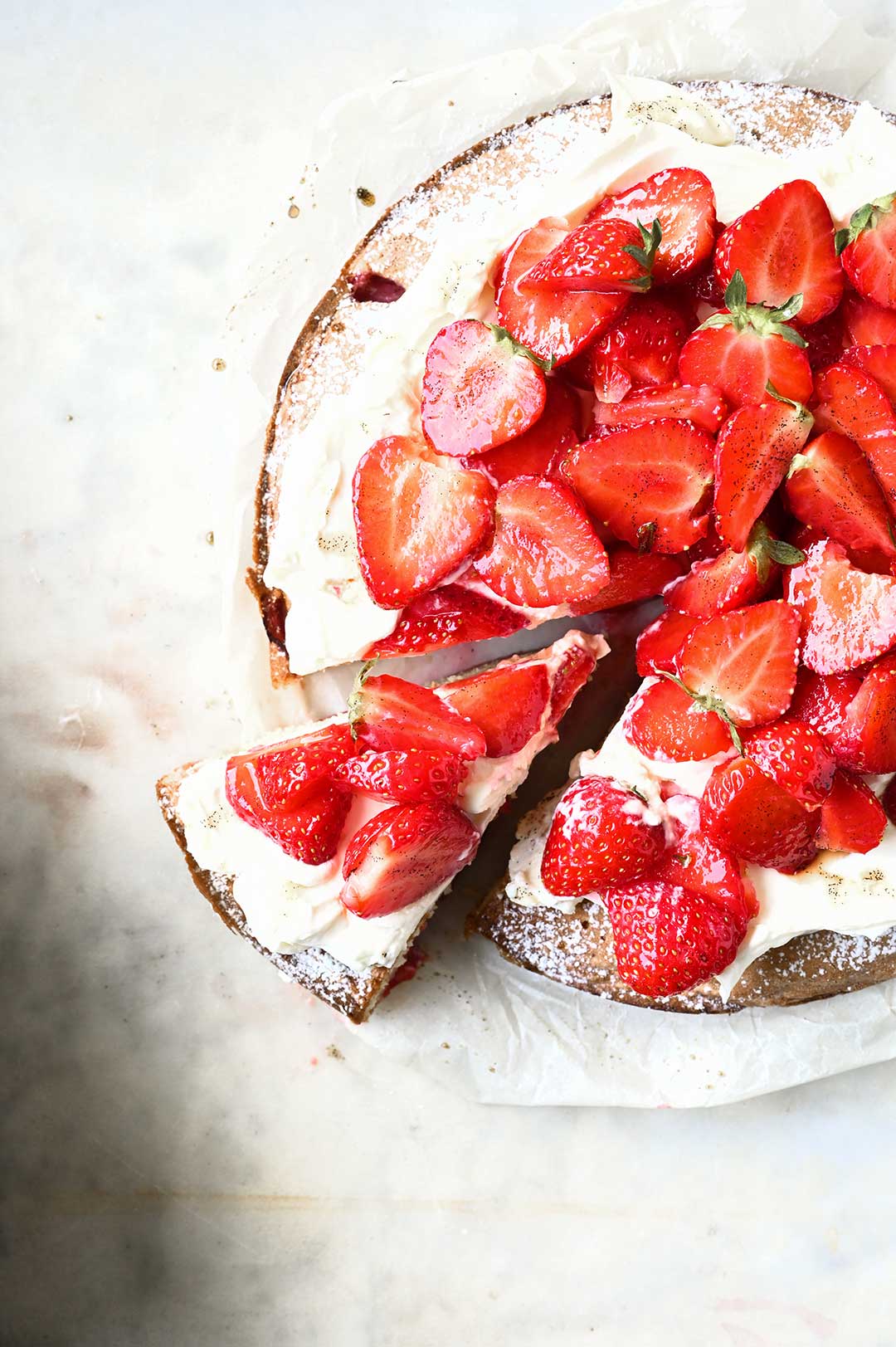 Meer heerlijke zomerse desserts:
Abrikozentaartjes met honing
Ricotta cake met aardbeien
No-bake cheesecake met bosbessen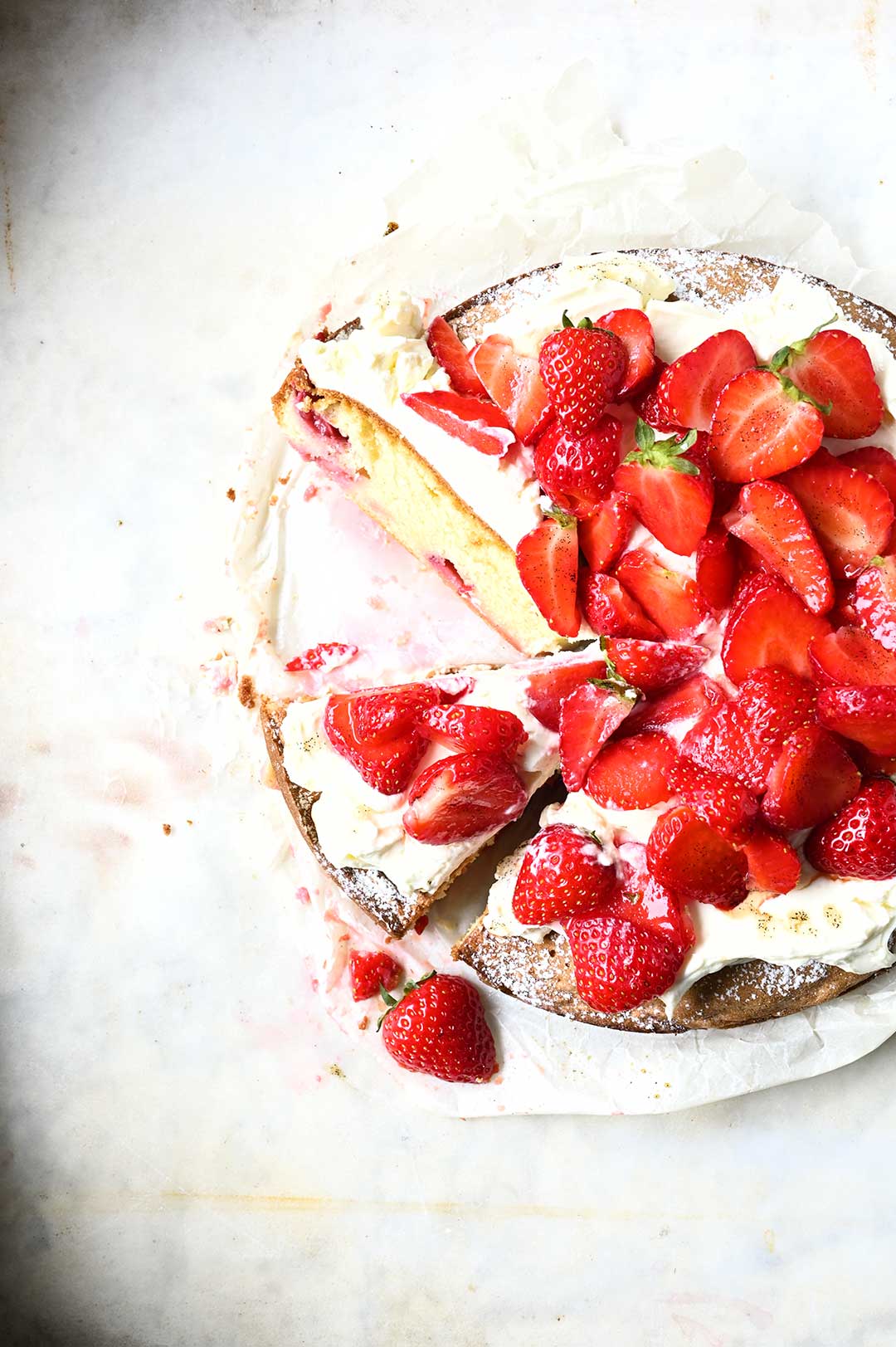 Dit heb je nodig
taart (deze ingrediënten op kamertemperatuur)
110 g bloem
180 g suiker
80 g boter
4 eieren
1 tl vanille-extract
120 g aardbeien, steeltje verwijderd en gehalveerd
mascarponeroom
200 g mascarpone, koud
200 ml volle room, koud
3 el bloemsuiker
1 tl vanille-extract
gemarineerde aardbeien
250 g aardbeien, steeltje verwijderd en in vieren of in plakken gesneden
1 tl poedersuiker
1 tl vanille-extract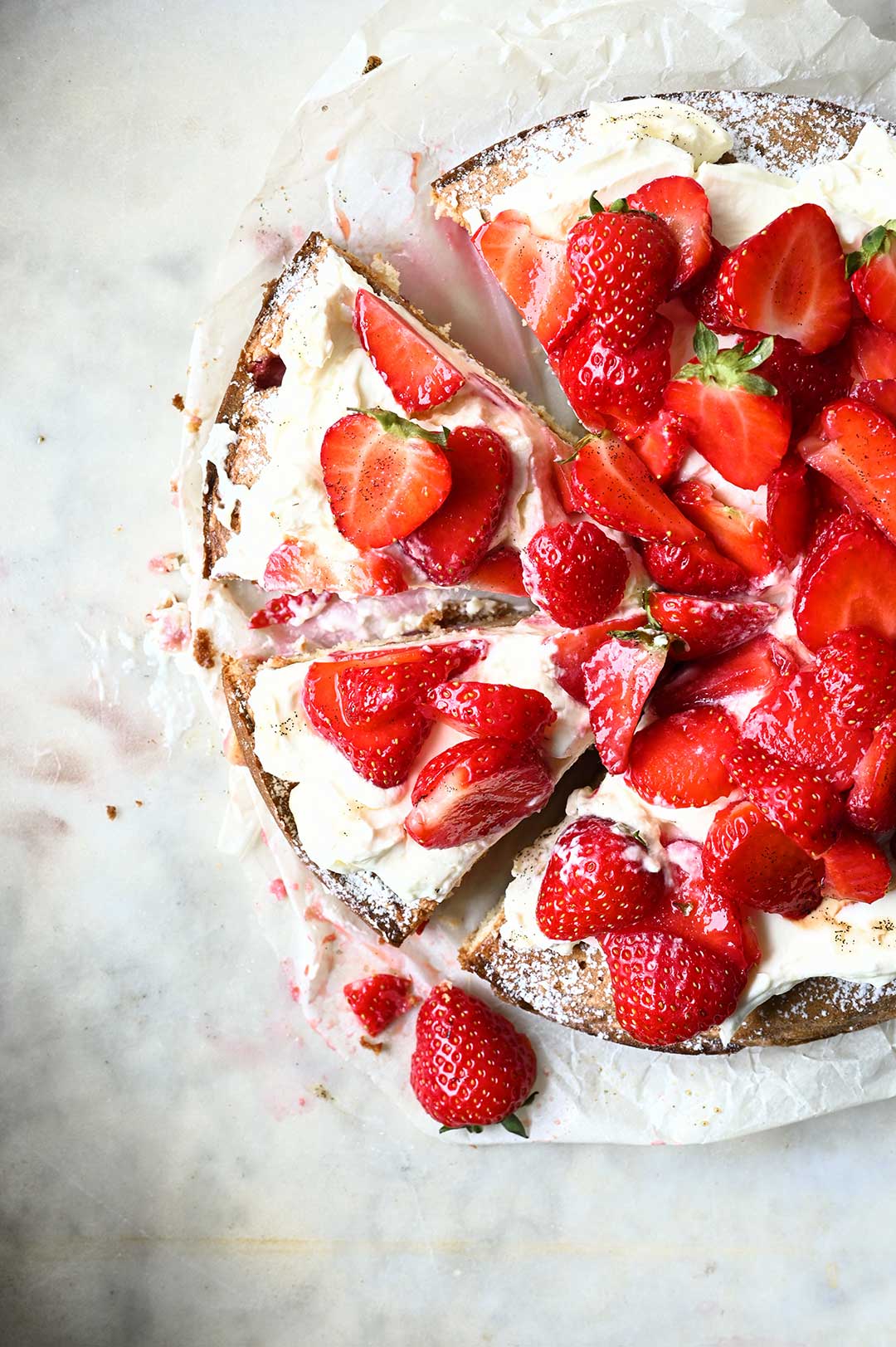 Zo maak je het
Verwarm de oven voor op 170°C.
Bekleed een springvorm van 24 cm doorsnede met bakpapier en vet de zijkanten in met boter.
Splits de eieren. Klop de eiwitten stijf met een handmixer. Klop de eidooiers met suiker tot ze licht en luchtig zijn. Doe de boter en de vanille erbij, mix. Zeef de bloem en mix tot het helemaal opgenomen is in het mengsel. Spatel voorzichtig de eiwitten eronder. Voeg vervolgens de aardbeien toe.
Doe het beslag in de vorm en strijk de bovenkant glad met je spatel.  Bak gedurende 45 minuten goudbruin of tot een tester droog eruit komt. Laat volledig afkoelen.
Meng ondertussen de aardbeien met bloemsuiker en vanille. Laat ze even rusten in de koelkast.
Klop in een middelgrote kom de mascarpone met room, bloemsuiker en vanille tot een glad en romig mengsel. Lepel de mascarponeroom over de taart en beleg met de gemarineerde aardbeien. Smakelijk!