Een eenpansgerecht met zalm in een romig mascarpone sausje met zongedroogde tomaten en geroosterde paprika's. Dit alles op smaak gebracht met knoflook, parmezaan, citroen en basilicum. Kortom super lekker, vooral met wat crunchy amandelen en frisse bieslook erbovenop. Doe er nog een heerlijk stukje knapperig brood bij…  en smullen maar!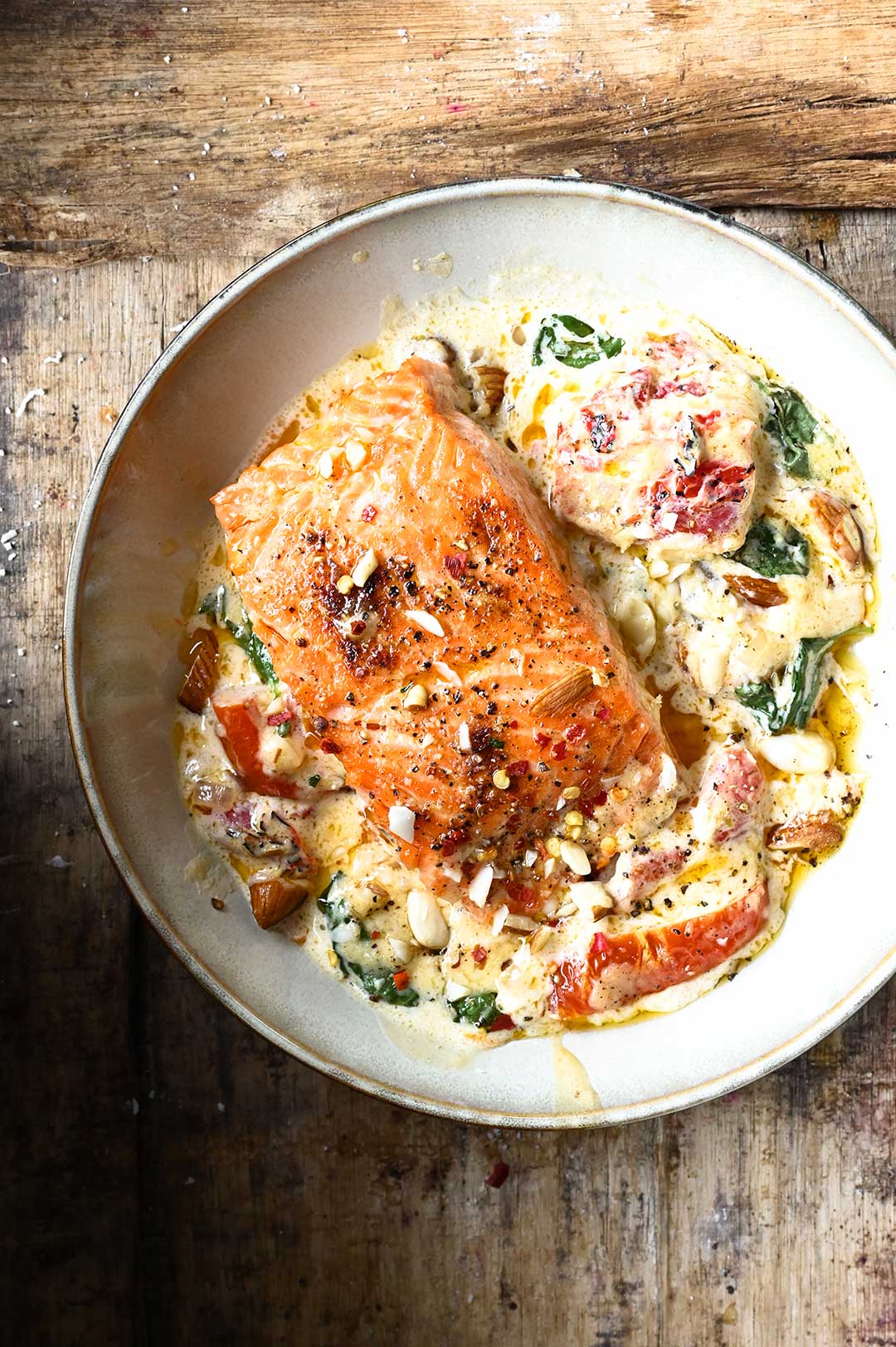 Dit gerecht is uiterst geschikt als doordeweekse maaltijd, maar speciaal genoeg om een stijlvol etentje net dat tikkeltje extra te geven.
Het is makkelijk te maken en klaar in ongeveer 20 minuten. Eerst bakken we de zalm, maken de saus, dan nestelen we de filets terug in de pan en laten we alles even kort sudderen tot de smaken samensmelten. De saus zit boordenvol verrassend lekkere smaken en je zal een mix van texturen ontdekken. Het resultaat is werkelijk overheerlijk. Bekijk mijn VIDEO om te zien hoe makkelijk je dit gerecht kan maken!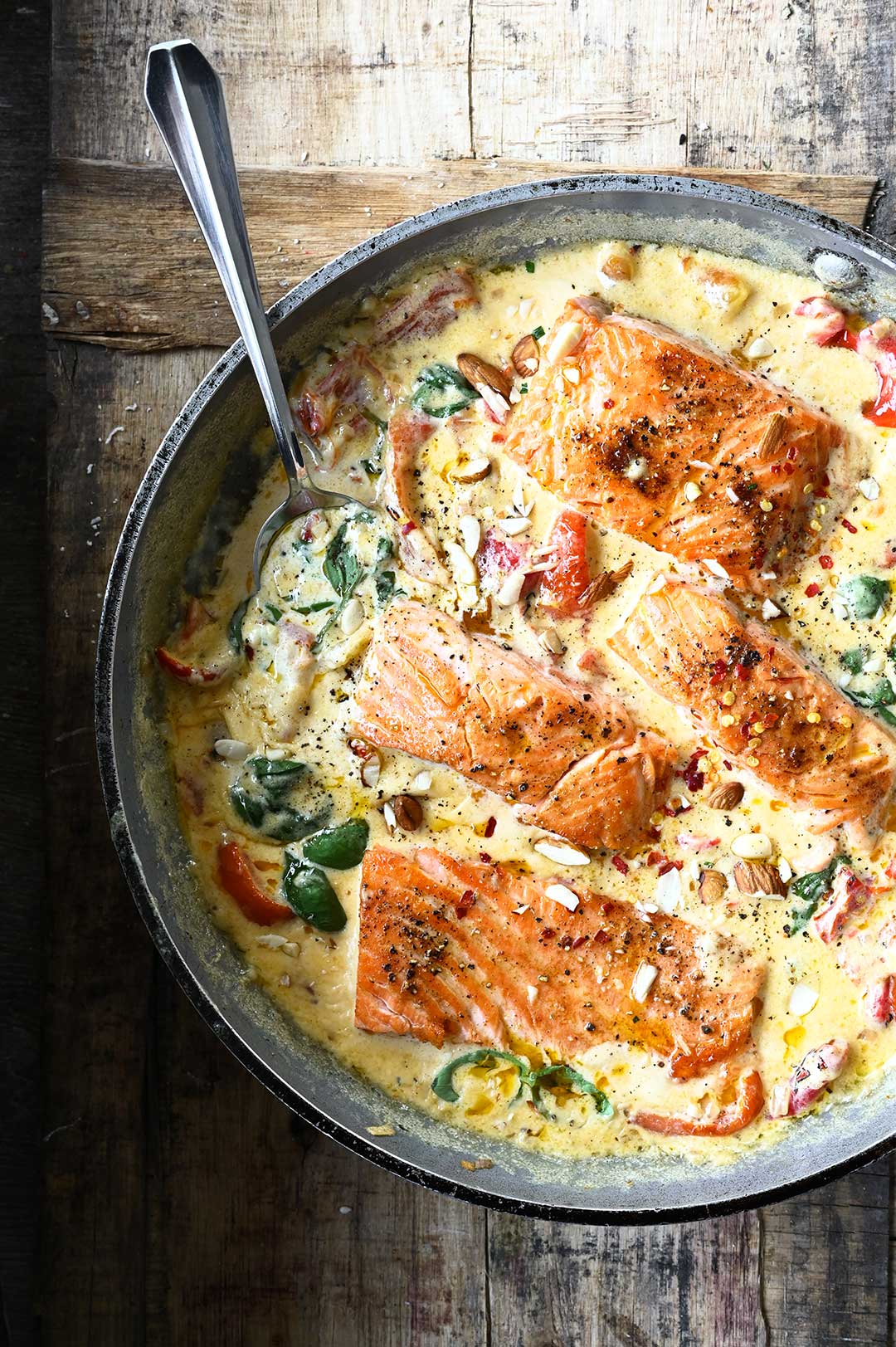 TIPS
– je kan voor dit recept ook witte vis gebruiken, zoals koolvis, heilbot of kabeljauw
– voeg broccoli of spinazie toe aan de saus
– serveer met je favoriete groenten of een eenvoudige salade
– met pasta, zoodles, rijst, orzo, krielaardappelen of met wat knapperig brood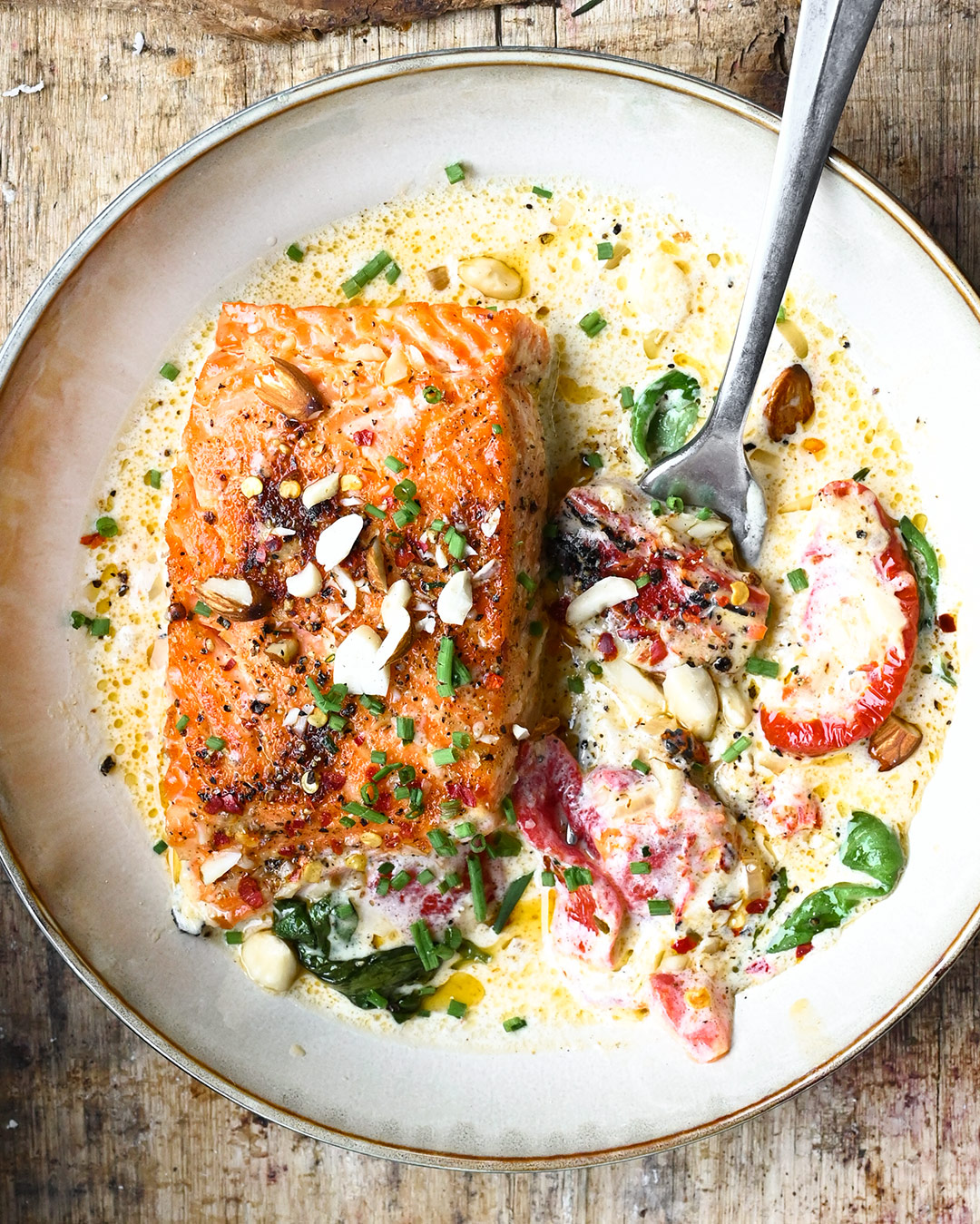 More salmon, please!
Penne met gerookte zalm en mascarpone
Zalm met een romige tomatensaus en crunchy chorizo
Geroosterde zalm met pittige zwarte bonen salsa
Wil je op de hoogte blijven van mijn nieuwe recepten? Abonneer je dan op mijn NIEUWSBRIEF.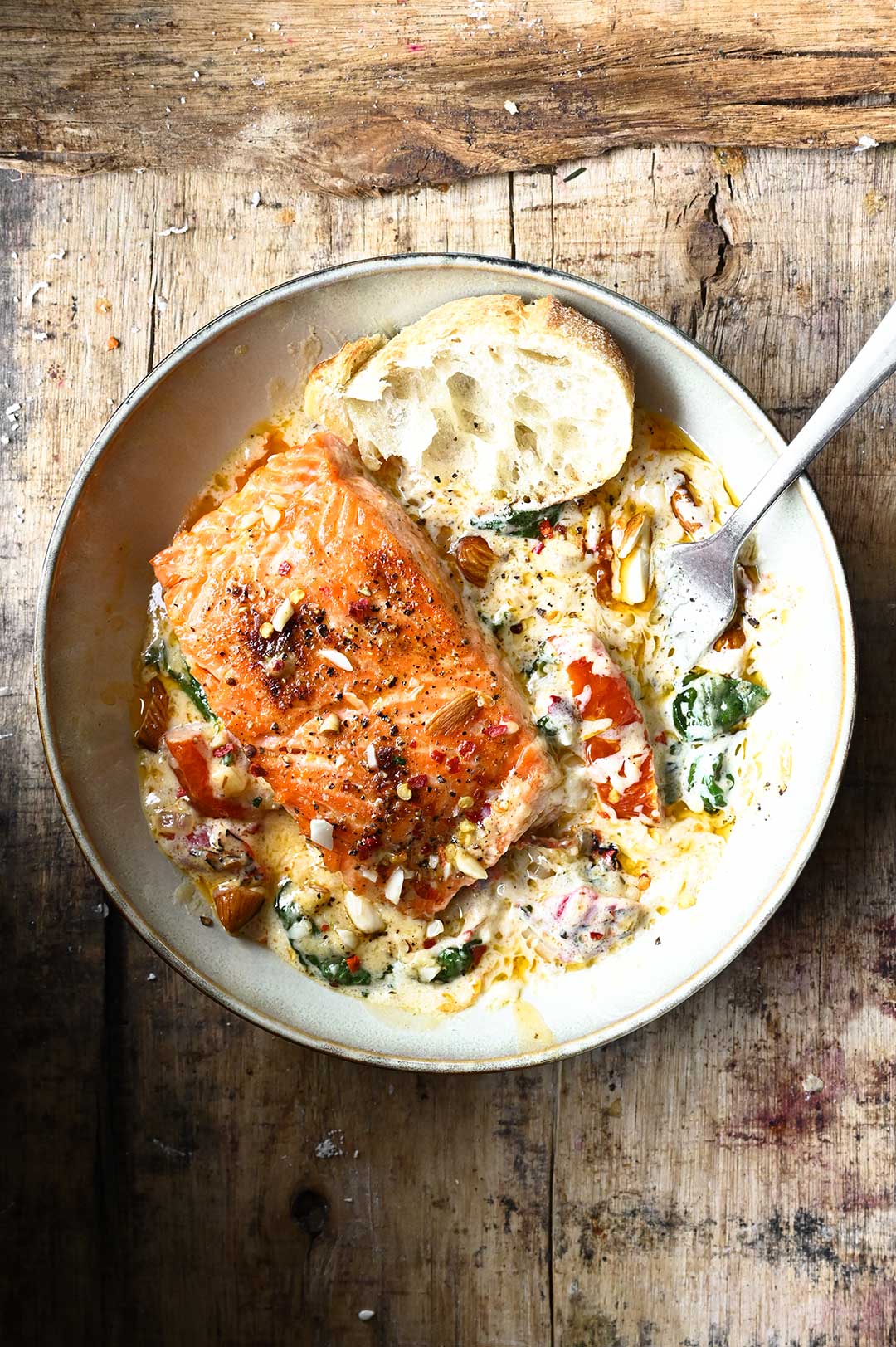 Dit heb je nodig
4 zalmfilets, zonder vel
110 g zongedroogde tomaten, afgegoten, olie gereserveerd
1 kleine pot (280 g) geroosterde paprika's, olie afgegoten
1 sjalot, fijngehakt
4 teentjes knoflook, fijngehakt
100 g mascarpone
40 g geraspte parmezaanse kaas
200 ml room 20%, of volle melk
1 el citroensap
1 tl zoete paprika
zout + zwarte peper
20 blaadjes basilicum
2 el gehakte bieslook, voor de afwerking
4 el gehakte amandelen, voor de afwerking
1 tl rode pepervlokken, voor de afwerking
Zo maak je het
Dep de zalmfilets droog met keukenpapier en kruid met zout, peper en paprikapoeder. Verhit 3 eetlepels olie van de zongedroogde tomaten in een grote koekenpan met antiaanbaklaag. Voeg de zalmfilets toe en bak op hoog vuur, ongeveer 3-4 minuten aan beide kanten. Haal uit de pan.
Voeg in dezelfde pan de sjalot toe en fruit op een laag vuurtje, ongeveer 2 minuten. Voeg de knoflook toe en fruit gedurende 1 minuut. Voeg zongedroogde tomaten en geroosterde paprika's toe en bak 2 minuten. Breng op smaak met zout en peper.
Giet de room erbij. Zodra deze begint te koken, voeg mascarpone toe en roer tot één geheel. Doe Parmezaanse kaas erbij en roer deze eronder. Leg de zalm in de saus. Besprenkel met citroensap en laat nog 3 minuten sudderen of tot de zalm net gaar is en de saus iets is ingedikt. Haal van het vuur. Roer de basilicumblaadjes erdoor en serveer.
Strooi er gehakte bieslook, amandelen en chilipeper over. Smakelijk!
Bekijk mijn VIDEO om te zien hoe makkelijk je dit gerecht kan maken!  
En … ALS JE DEZE RECEPTEN LEKKER VINDT … overweeg dan om mijn werk te steunen voor de prijs van slechts een kopje koffie.

Als je dit recept uitprobeert, laat dan hieronder een reactie achter of deel je foto's op Instagram en vergeet niet om mij te taggen @anna_s_table. Ik kijk ernaar uit!