Een eenpansgerecht met zalm in een romige tomatensaus en crunchy chorizo. Makkelijk te maken en klaar in 30 minuten, dit is de perfecte oplossing voor een snelle, maar smakelijke maaltijd. Superlekker met brood of een salade.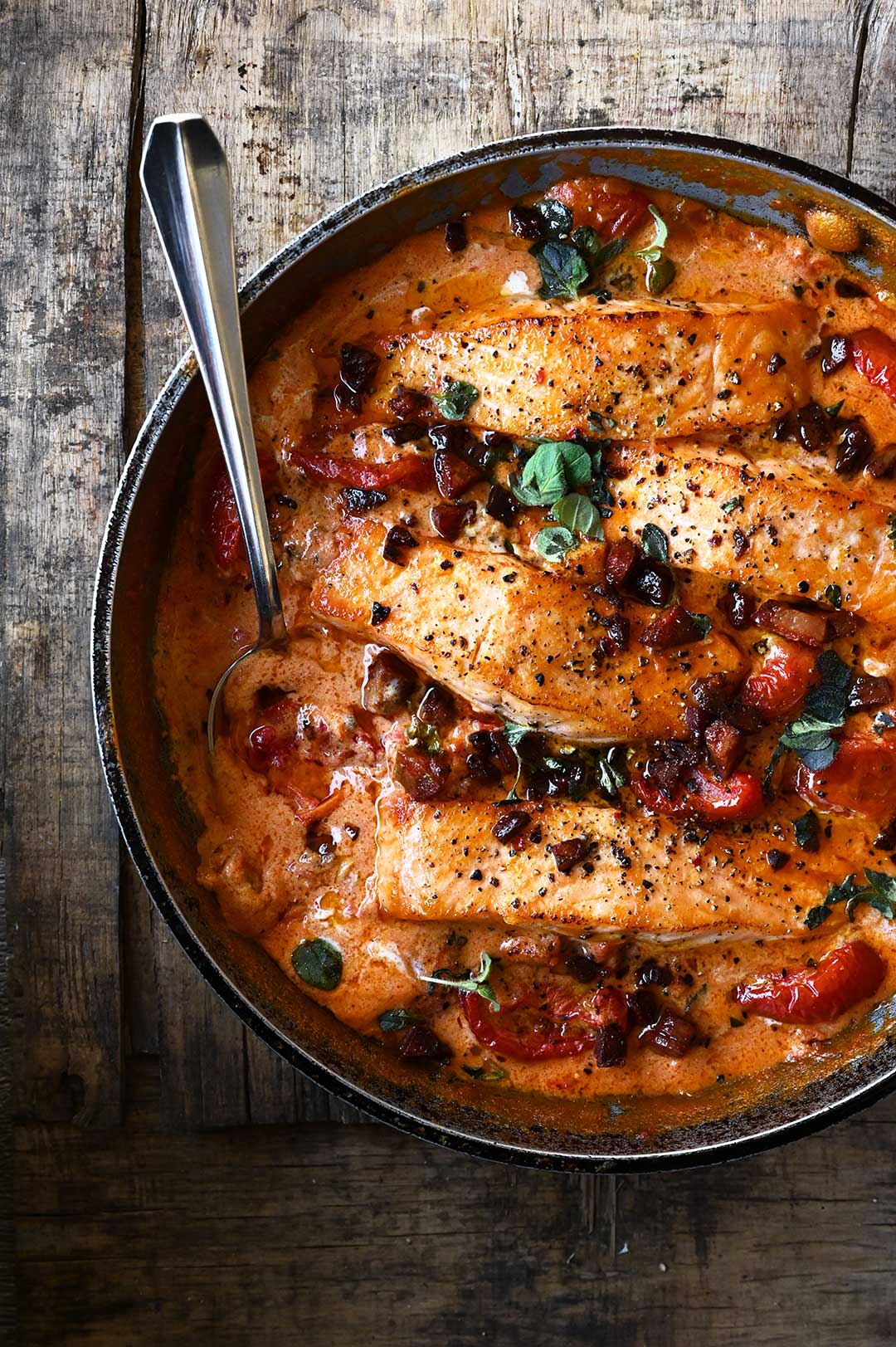 Deze romige tomatensaus zorgt voor een echte smaak-explosie en samen met een heerlijk stukje zalm, een echte aanrader.
Eerst bakken we de chorizo, halen deze uit de pan en gebruiken de achtergebleven pikante olie om de zalmfilets te schroeien en de saus te bereiden. Zongedroogde tomaten, verse oregano en parmezaan maken op hun beurt de saus af. Een aanradertje!
Ga naar mijn WEB STORY om te zien hoe makkelijk je dit gerecht kan maken!
Andere eenpansgerechten:
Gehaktballen met orzo in tomaten-paprikasaus
Zalm met asperges, lookboter en citroen
Kipfilet met Parmezaan, spinazie en orzo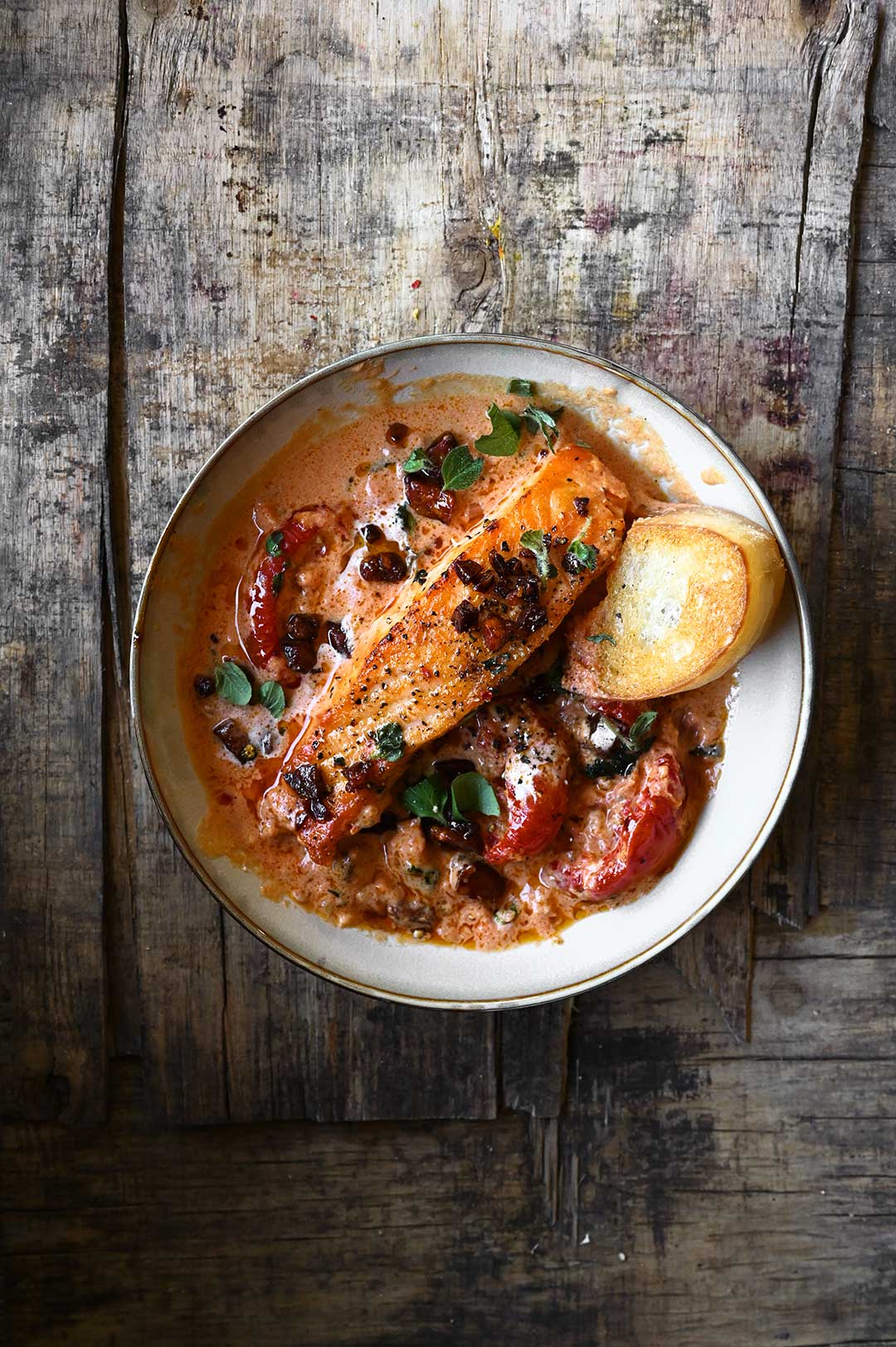 Wil je op de hoogte blijven van mijn nieuwe recepten? Abonneer je dan op mijn NIEUWSBRIEF. 
Dit heb je nodig
4 zalmfilets, zonder vel
100 g pikante chorizo, fijngehakt
3 el olijfolie
4 tenen knoflook, fijngehakt
1 sjalot, fijngehakt
250 ml tomatensaus
200 ml room 20%
40 g geraspte parmezaan
120 g semi-zongedroogde tomaten
1 tl gedroogde chilipeper
2 el verse oregano, fijngehakt
zout + zwarte peper
Zo maak je het
Verhit een grote koekenpan op hoog vuur. Doe de olie en vervolgens de chorizo erbij, bak gedurende 3-4 minuten of totdat de chorizo goudkleurig en knapperig wordt. Haal uit de pan, maar laat de olie erin zitten.
Dep de zalmfilets droog met keukenpapier en bestrooi aan beide kanten met zout en peper. Bak in de chorizo-olie, ongeveer 3-4 minuten aan elke zijde. Haal uit de pan en zet opzij.
Voeg nu de sjalot en knoflook toe, fruit ongeveer 2 minuten. Giet de tomatensaus erover en breng het geheel aan de kook, laat 5 minuten sudderen.
Roer de room, parmezaan, oregano en zongedroogde tomaten eronder en laat het geheel ongeveer 3 minuten sudderen. Breng op smaak met zout, peper en gedroogde chilipeper. Leg de zalm terug in de pan. Laat nog 3 minuten meekoken of tot de zalm net gaar is en de saus licht ingedikt is.
Serveer met verse oregano en knapperige chorizo. Smakelijk!
Ga naar mijn WEB STORY om te zien hoe makkelijk je dit gerecht kan maken!
Als je dit recept uitprobeert, laat dan hieronder een reactie achter of tag mij in je foto's op Instagram met @anna_s_table of met #servingdumplings. Ik kijk ernaar uit!
AND… IF YOU LOVE THESE RECIPES … please consider supporting my work for just the cost of a cup of coffee.