Zalm met scampi's in een miso-kokossaus. Dit super licht eenpansgerecht zal uw honger naar comfort-food ongetwijfeld kunnen stillen. Het is verbazingwekkend lekker en klaar in ongeveer 30 minuten. Voeg hierbij nog een tikkeltje extra pit, en dit recept zou weleens je nieuwe favoriet kunnen worden.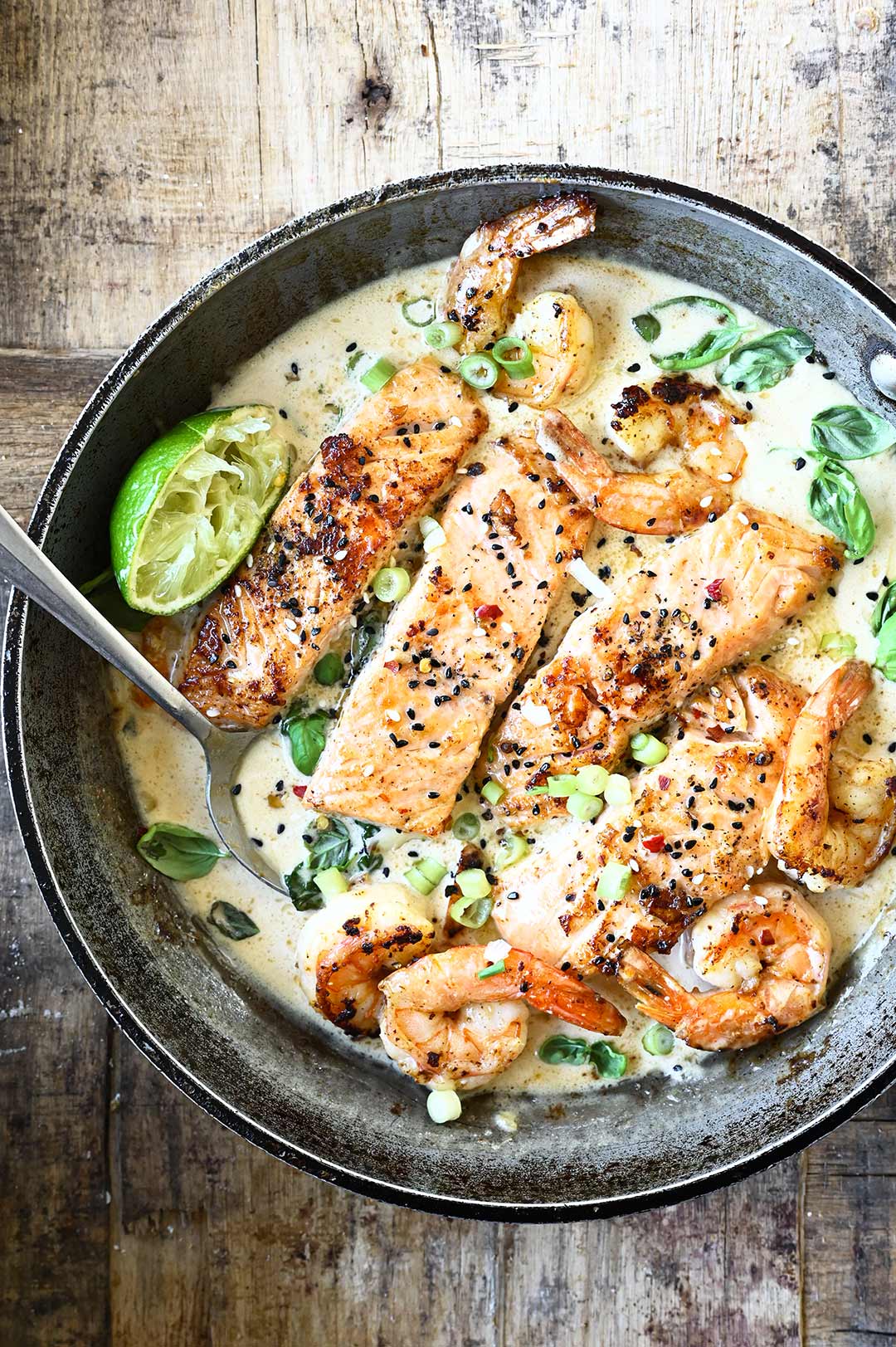 Omdat scampi's en zalm verschillende gaartijden hebben, bakken we ze in dit recept even apart voordat we ze aan de saus toevoegen. Deze extra stap bezorgt ons perfect gebakken zalm en scampi's.
Om een rijke saus te creëren gebruiken we kokosmelk, deze gaat heel goed samen met zeevruchten. Aan het eind doen we de miso erbij en voegen een scheutje limoensap en wat verse kruiden toe. We maken het geheel af met een geut sesamolie en wat chilivlokken.
Om het nog wat pittiger te maken, voegen we een theelepel sriracha toe. Gebruik 1 theelepel voor ietwat pikant, 2 voor medium, en 4 als je het niet erg vindt dat er enkele zweetdruppels op je voorhoofd staan. Bekijk mijn VIDEO om te zien hoe makkelijk je dit gerecht kan maken!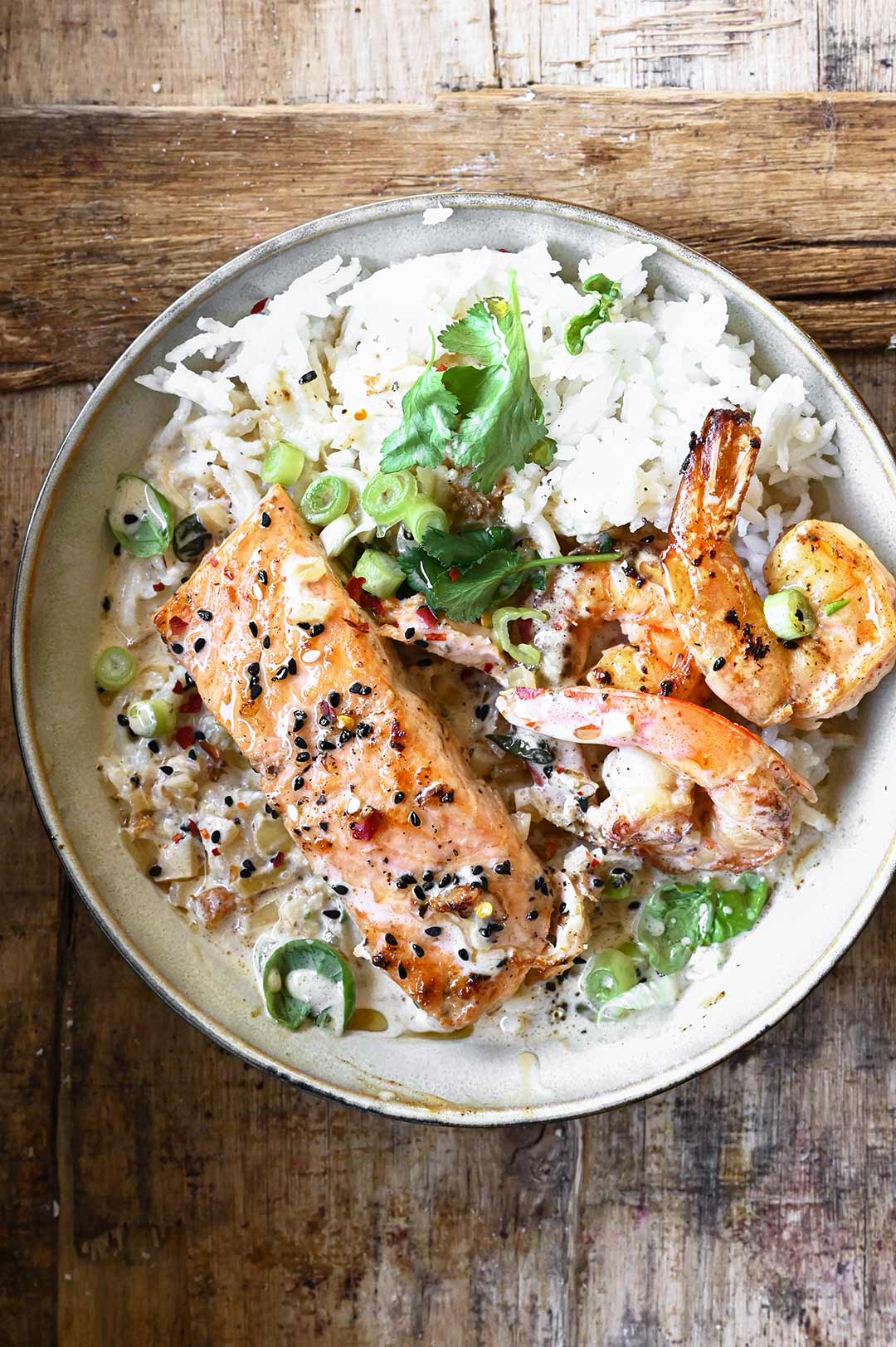 TIPS
– je kan spinazie of broccoli aan de saus toevoegen
– serveer met rijst of een frisse komkommersalade
– je kan voor dit recept ook witte vis gebruiken in plaats van zalm
More salmon, please!
Sashimi van zalm met miso dressing
Zalm met een romige tomatensaus en crunchy chorizo
Penne met gerookte zalm en mascarpone
Wil je op de hoogte blijven van mijn nieuwe recepten? Abonneer je dan op mijn NIEUWSBRIEF.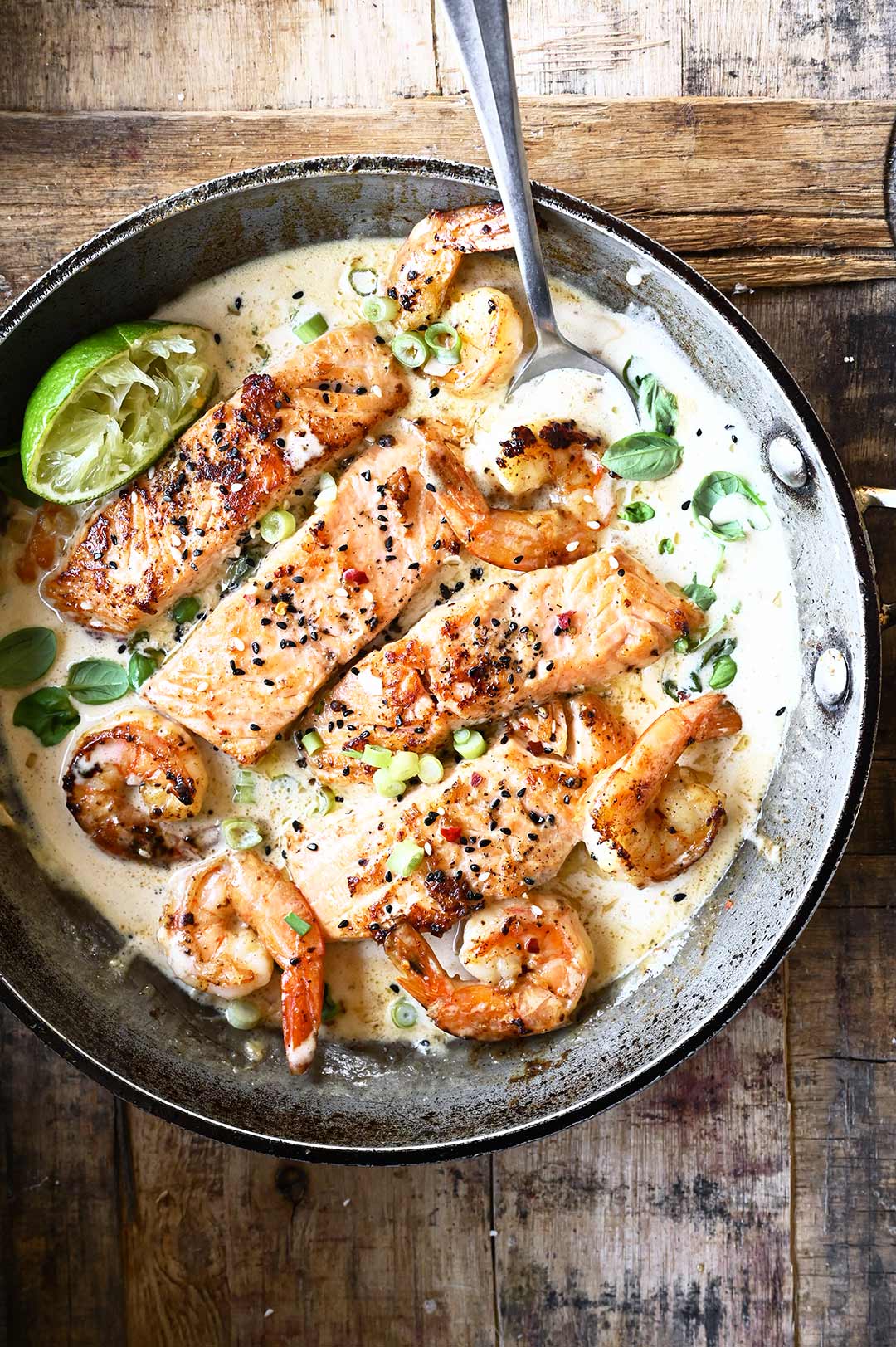 Dit heb je nodig
4 zalmfilets, zonder vel
12 scampi's, gepeld
3 el kokosolie, of plantaardige olie
50 ml witte wijn
1 kleine ui, fijngehakt
4 teentjes knoflook, fijngehakt
2 el geraspte gember
1 el witte miso pasta
1 tl vissaus
1 el natriumarme sojasaus
1/2 tl witte peper
1 tl sriracha, voeg meer naar eigen smaak toe
1 blikje (400 ml) ongezoete kokosmelk
200 ml water
sap van 1/2 limoen
20 blaadjes basilicum
zout + zwarte peper
+
verse koriander
lente-uitjes
zwarte sesam
geroosterde sesamolie
rode pepervlokken
jasmijnrijst
How to
Dep de zalmfilets droog met keukenpapier en bestrooi beide zijden met zout en peper. Verhit een pan met antiaanbaklaag op middelhoog vuur en smelt de kokosolie. Voeg de zalmfilets toe en bak ongeveer 3-4 minuten aan elke zijde. Haal uit de pan en zet opzij.
Voeg aan dezelfde pan de scampi's toe en laat ze gedurende 1 minuut bakken. Breng op smaak met zout en peper. Draai om en bak nog 1 minuut. Haal uit de pan.
Voeg nu de knoflook, ui en gember toe aan de pan. Laat 5 minuten op laag vuur fruiten. Blus met witte wijn en laat 1 minuut inkoken. Voeg kokosmelk toe en breng aan de kook. Roer de miso erdoor tot deze helemaal is opgelost. Voeg vissaus, sojasaus en witte peper toe. Voeg vervolgens het water en sriracha toe.
Doe de zalm terug in de pan. Laat 2 minuten meekoken. Voeg de scampi's en basilicumblaadjes toe en laat nog 1 minuut sudderen. Besprenkel met limoensap en serveer.
Verdeel rijst over de kommen. Garneer met zalm, scampi's en kokossaus. Serveer met koriander, sesamzaad, rode pepervlokken en lente-uitjes. Besprenkel met een beetje sesamolie. Eet smakelijk!
Bekijk mijn VIDEO om te zien hoe makkelijk je dit gerecht kan maken! 
En … ALS JE DEZE RECEPTEN LEKKER VINDT … overweeg dan om mijn werk te steunen voor de prijs van slechts een kopje koffie.

Als je dit recept uitprobeert, laat dan hieronder een reactie achter of deel je foto's op Instagram en vergeet niet om mij te taggen @anna_s_table. Ik kijk ernaar uit!