Dol op aardbeien? Goed! Deze yoghurtcake zit boordevol verse aardbeien, is eenvoudig te maken, luchtig en overheerlijk. Je hebt slechts 1 kom nodig, met makkelijke ingrediënten en als je wil, kan je ook andere vruchten gebruiken.
Deze aardbeiencake is misschien makkelijk, maar je zal je verbazen hoe goed hij is. De aardbeien zijn in het beslag verzonken en naarmate de cake bakt, zal ook de aardbeiensmaak intenser worden. Zacht en fruitig met crunchy amandelen. 
Deze cake zal er ongetwijfeld voor zorgen dat je eventjes chocolade of gezouten karamel vergeet.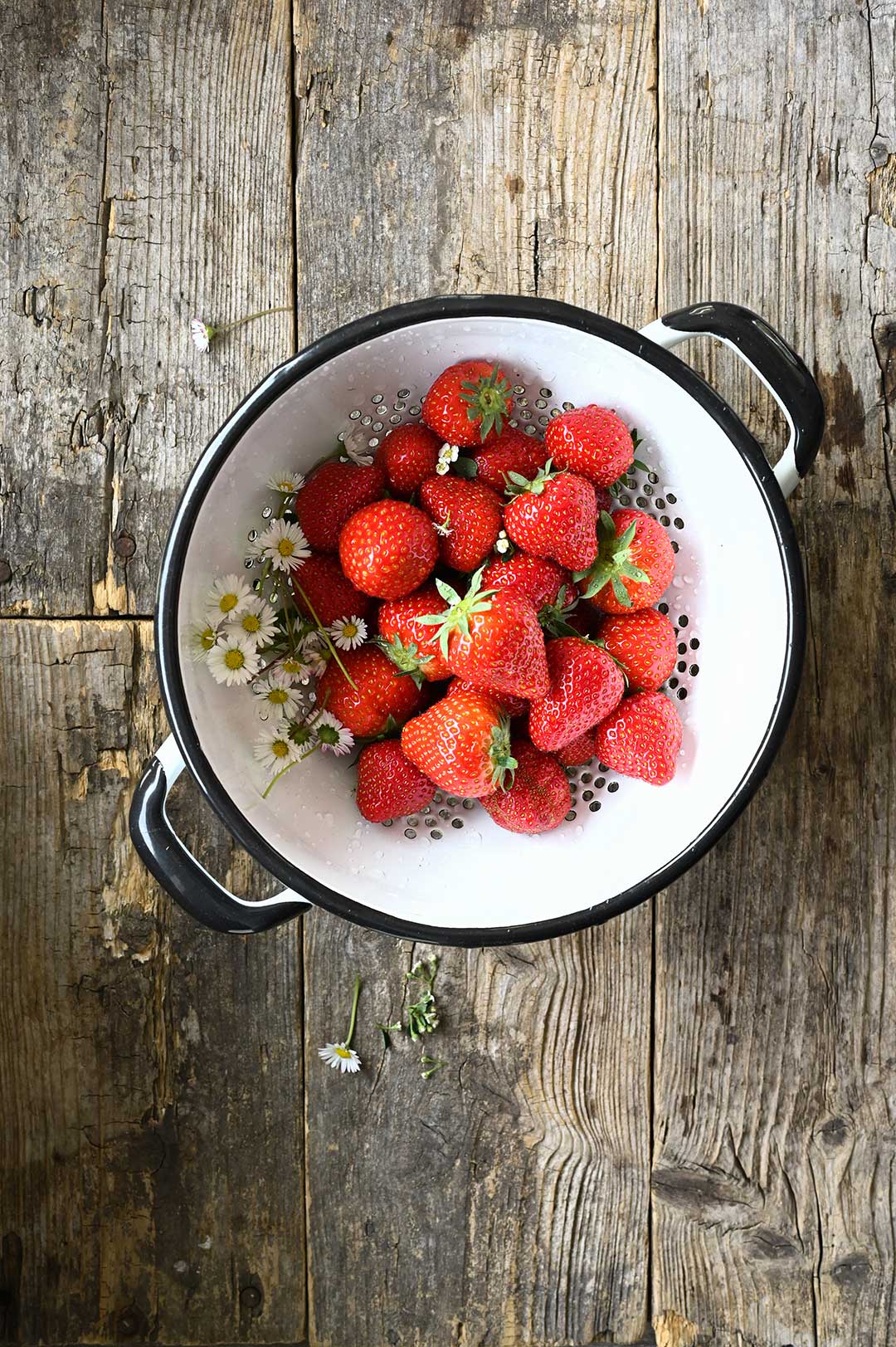 Een taart die je naar de keuken doet rennen en dit hyper-geplande zogenaamde volwassen leven even doet vergeten. Een taart die ervoor zorgt dat je wil gaan zitten, een pauze inlassen, ontspannen en genieten. 

Wil je op de hoogte blijven van mijn nieuwe recepten? Abonneer je dan op mijn NIEUWSBRIEF.
Dit heb je nodig
alle ingrediënten moeten op kamertemperatuur zijn
300 g aardbeien, van kroontje ontdaan en gehalveerd
240 g bloem
150 g suiker
120 g volle yoghurt
60 g boter
50 g amandelschilfers, grof gehakt
1 ei
2 tl bakpoeder
1 tl vanille-extract
1/4 tl zout
zeste van 1/2 citroen
+
30 g amandelschilfers, grof gehakt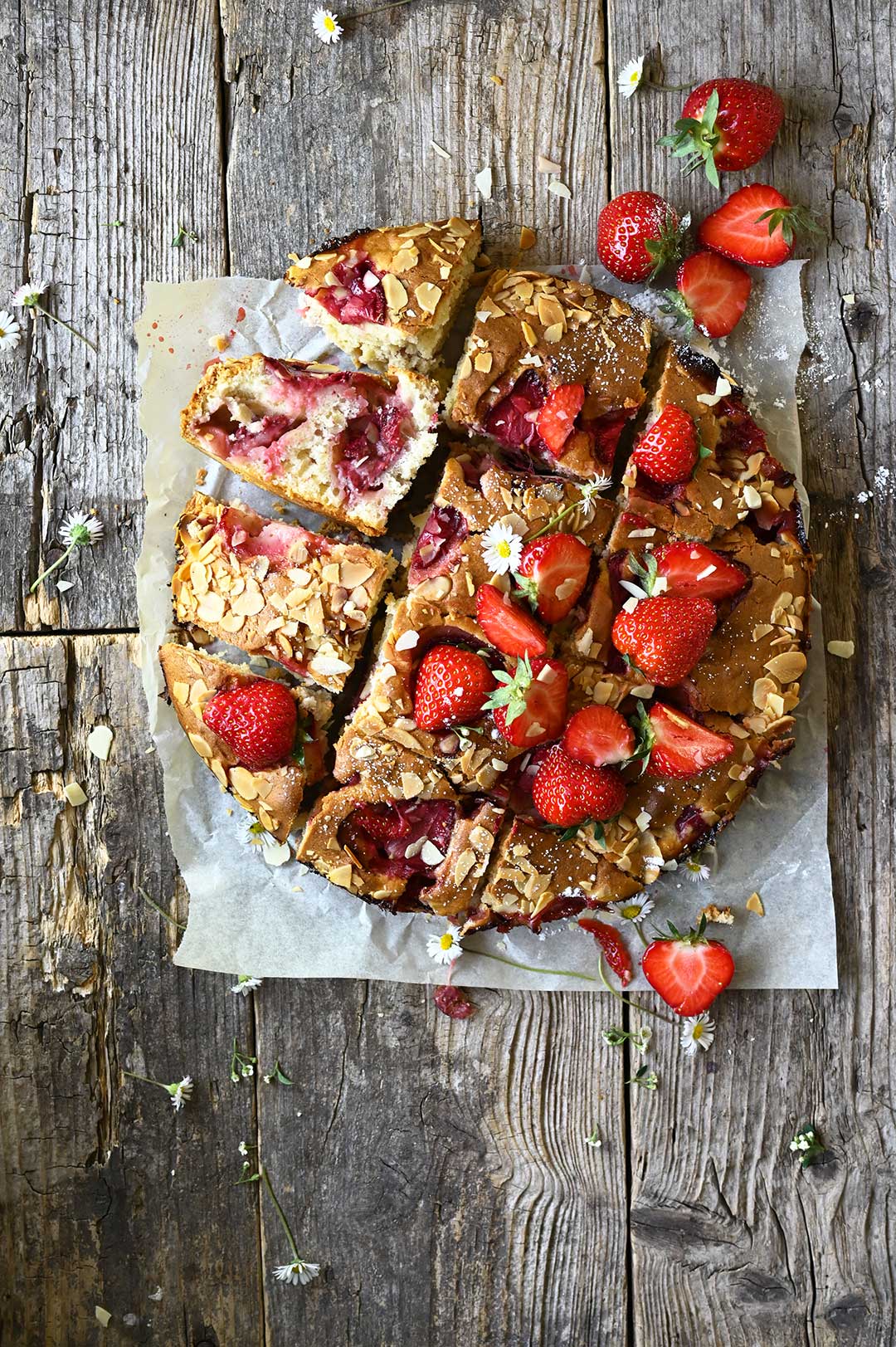 Zo maak je het
Mix in een grote kom, met een handmixer, de boter met de suiker. Voeg het ei toe en klop tot een lichte massa. Voeg het vanille-extract, zeste, bakpoeder en zout toe.
Klop 1/2 van de bloem, dan 1/2 van de yoghurt erin. Voeg vervolgens de rest van de yoghurt en de bloem toe en mix tot een smeuïg deeg. Meng voorzichtig de aardbeien erdoor.
Bekleed een springvorm van 22 cm doorsnede met bakpapier en vet de zijkanten in met boter. Doe het beslag erin en strijk het glad. Bestrooi de bovenkant met gehakte amandelschilfers.
Bak gedurende 15 minuten op 180°C, verlaag de oventemperatuur tot 170°C en bak goudbruin, gedurende ongeveer 45 tot 50 minuten. Laat afkoelen in de springvorm op een rooster.
Bewaar de restjes op kamertemperatuur, afgedekt tot 2 dagen… maar veel succes daarmee.
Als je dit recept uitprobeert, laat dan hieronder een reactie achter of deel je foto's op Instagram en vergeet niet om mij te taggen @anna_s_table. Ik kijk ernaar uit!